What became of the Delahaye 145 V12 chassis no. 48771?
Author
Date
Related articles
Who?

René Dreyfus

What?

Ecurie Bleue Delahaye T145

Where?

Pau

When?

1938 Pau GP
Why?
So what became of the Delahaye 145 V12 chassis no.48771 after the Million Franc Prize in 1937 and the Pau Grand Prix and Cork Grand Prix in 1938? Just to conclude Leif Snellman's excellent article published in October 1999: after these three races only seven more were attended in 1938 and none in 1939… and then came the war!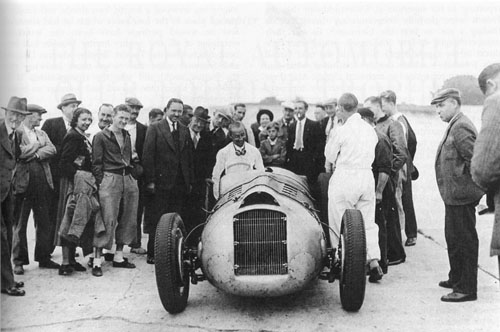 Just after the victory in the Million Franc Prize on 27 August 1937 (photo Jean-Maurice Gigleux collection)
| | | | | |
| --- | --- | --- | --- | --- |
| dates | race | no. | driver | finish |
| 27/08/37 | Million Franc Prize | - | Dreyfus | victory |
| 10/04/38 | Pau Grand Prix | 2 | Dreyfus | 1st |
| 29/04/38 | Cork Grand Prix | 14 | Dreyfus | 1st |
| 15/05/38 | Tripoli Grand Prix | 60 | Dreyfus | DNS |
| 24/07/38 | German Grand Prix | 22 | Comotti | DNF |
| 05/08/38 | La Turbie hillclimb | 23 | Dreyfus | 2nd.cat.race |
| 06/08/38 | Coppa Ciano | 48 | Dreyfus | 5th |
| 14/08/38 | Coppa Acerbo | 48 | Comotti | 4th |
| 24/09/38 | Dunlop Jubilee | 24 | 'Raph' | 7th/10th.race |
| 22:10/38 | Donington Grand Prix | 10 | 'Raph' | DNF |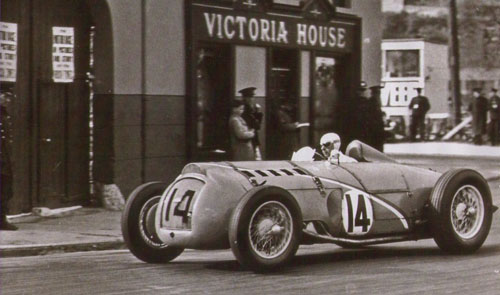 Also winning at Cork in 1938 (photo Jean-Maurice Gigleux collection)
The car had lost its initial performance, probably due to insufficient development in the hands of the Ecurie Bleue and later E.L.O.R.S. These were very amateur organisations compared to the German, Italian and British stables.
After the war the car was bought by an unknown person who ordered a very futuristic two-seater roadster from famous coachbuilder Franay, but he disappeared without paying the bill! The car was seized by the Domaines, a government organisation, and sold by auction to Marius Franay.
It was then shown at the Paris Motor Show in 1946. In 1947, it obtained the Grand Prix d'Excellence at the International Concours d'Excellence held at the Palais de Chaillot. A few years later, Franay wanting to sell the car had to obtain a new chassis number from the Service des Mines (because it had been rebodied). Its identity became 151-53-75. The car was registered with Paris license plate 7292 CC75 in July 1953.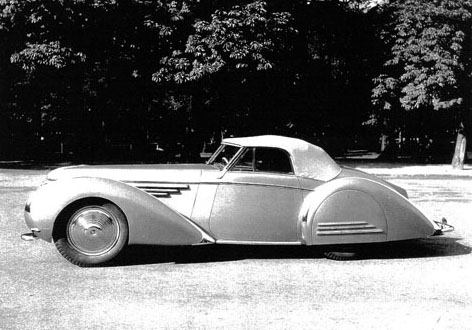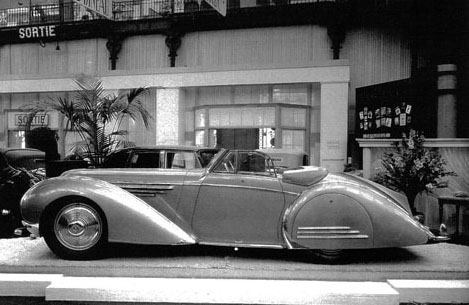 Rebodied by Franay in 1946
Franay went bankrupt in 1956 and the car was sold to an old car dealer, Francis Mortarini, who had it registered 6898 BW78 in Seine et Oise in January 1957. It was shown for some time at the Le Mans museum and in 1963 it was present at the Paris Motor Show again, where it featured in the "most beautiful cars in the world" exhibition. In October 1964 it was sold to the Marquis de Goulaine and registered 198 MQ44 in the Loire Atlantique. In January 1966 the marquis sold it to baron Gourgaud du Taillis who showed it in his museum Autorama de la Grange in the Essone, where it was registered 245 AZ91. The museum closed down in 1972 and as a result the car was bought by Philippe Charbonneaux, the well-known automobile stylist, who displayed it in his museum at Villiers en Lieu.
A new chapter in the car's life started in 1980 when the Franay roadster coachwork was deposited* of, to be replaced with a 1938 Mille Miglia-style racing body which it never carried during its racing life. It was then exhibited at the new location of the Charbonneaux museum at Saint Dizier, participated in the Grand Prix de Nice in 1984, was then on display at Rétromobile in 1987 for the 50th anniversary of the Prix du Million on August 27 before being driven a few laps at the Monthléry race track by René Dreyfus himself accompanied by Hervé Charbonneaux, son of Philippe.
The car was then restored by Paul Grist in England in 1993-'94. In 1998 it was sold to Samuel Mann to become one of the most important cars in his New Jersey museum. Mann now drives it at historic racing events and has the intention of restoring the Franay roadster body back on the original chassis.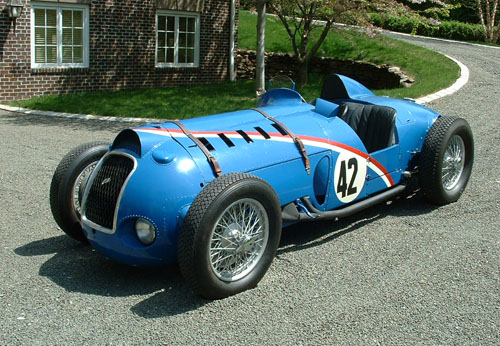 The Delahaye in its Sam Mann guise (photo Sam Mann collection)
* The Franay roadster body was fitted to a 135M chassis; cut down to 2m70 and sold to Michel Seydoux in 1981 who had it registered in Paris as 1334 DZ75. It was shown at Rétromobile in 1983, painted red. It then passed on to the Blackhawk collection, to Richard Gorman of Vantage Motor Works in Florida, who repainted it dark blue, before being sold to the Yuzen car collection in Japan, who then in 1997 sold it to Sam Mann!