2018 Dijon Motors Cup report
Indian summer historics
Author
Date
Related articles
Who?

Leo Voyazides/Simon Hadfield

What?

Lola-Chevrolet T70 Mk3B

Where?

Dijon

When?

2018 Dijon Motors Cup (October 12, 2018)
Why?
Autumn had set in for weeks – meteorogically, at least – but all present at mid-October Dijon Motors Cup were experiencing a true Indian summer, with temperatures of around 25 degrees before the arrival of clouds made for a cooler Sunday. Still, the final meeting of the season for many of the competitors – apart from those travelling on to the Algarve – was held in near-perfect circumstances, and the racing was exciting too.
The two FIA Masters Historic Formula One races were prime examples, especially now that champions Nick Padmore and Greg Thornton – both crowned at Zandvoort – weren't present. This meant that both races were wide open, with Mike Cantillon (Williams FW07C) and Matteo Ferrer (Ligier JS11/15) vying for the wins. Indeed, the two fought hammer and tongues over Saturday's race, that on the road was won by Cantillon after the two had taken turns at the lead. Cantillon's final pass of Ferrer, however, came just ahead of the finish line after a safety-car restart, for which he was slammed with a drivethrough penalty that he chose to ignore. The result was a 30-second time penalty that dropped him to fourth, handing the win to Ferrer, and a demotion to the back of the grid for Sunday's race.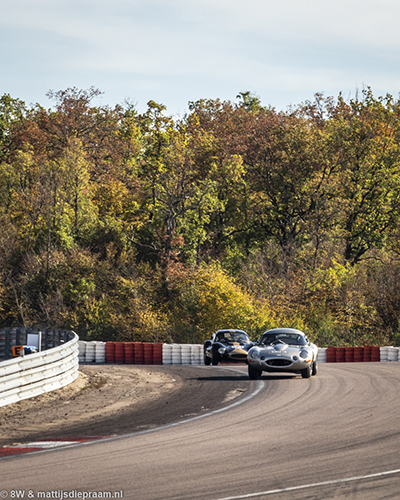 The Julian Thomas/Calum Lockie Jaguar-E-type adding its silver to the autumn colours of the trees surrounding the track. (photo 8W)
On Sunday, though, Cantillon was unleashed, charging through the field to take the lead on lap 6, helped by the fact that Ferrer shot himself in the foot with a start infringement and got penalised. Once in front, Cantillon had no need to look back and took a storming final win of the season. In all honesty, even without a penalty Ferrer was unlikely to have kept up with him. Taking the penalty with Ferrer was Jamie Constable, who switched Ferrer's starting number 26 around in his head to form his own starting number 62 – remarkable… especially since this was the second time this error was made during the weekend! The Tyrrell 011 driver then had to fight his way back and still claimed third behind Steve Brooks in the Lotus 81. Brooks and Constable also fought hard over third place on Saturday, which became second place for Brooks and a podium spot for Constable when Cantillon was handed his time penalty.
Meanwhile, Jason Wright (Shadow DN8) took two pretty dominant pre-78 class wins, with only Christian Perrier's ATS HS01 coming close. The Frenchman led home Keith Frieser's Shadow DN1 in race 1 but lost the place on Sunday when he ran dry towards the finish line, handing the place to Frieser.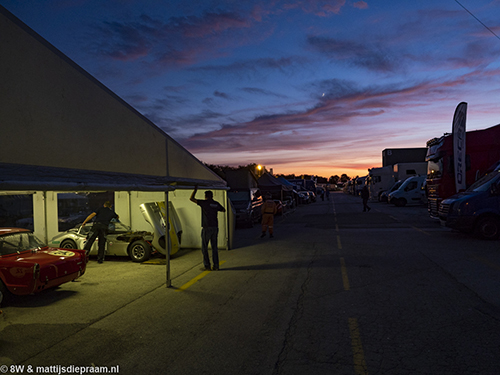 Night falling over the MG Triumph & British HTGT camp in the paddock. (photo 8W)
The strange scenario that befell Jamie Constable was actually a repeat of a similar mistake that cost Simon Hadfield the win in Saturday afternoon's Masters Gentlemen Drivers race. In the Motohistorics-run Shelby Cobra Daytona Coupé started by Leo Voyazides, Hadfield was rapidly closing on Andy Wolfe driving solo in the Wolfe Manufacturing AC Cobra when five minutes before the end, with Hadfield hot in Wolfe's tail, the Cobra Daytona Coupé came into the pits for a drivethrough penalty. Curiously, though, it wasn't Hadfield's! The penalty had been issued to the No.6 Lotus Elan of Rick Carlino/Jonathan Lewis, but Hadfield made the error of mixing the starting number of his FIA Masters Historic Sports Car Lola T70 Mk3B with the number 2 on his Masters Gentlemen Drivers machine… It was a shocking mistake to make, and probably the first time ever that a certain win was lost in this fashion. Even more remarkable was the fact that a mistake that virtually never happens occurred once again with Constable the very next day. And so, Wolfe – who was slowed by a Cobra short on brakes and tyres – was able to breathe and coax his car across the line to take the win after all, instead of being treated to a copy of his dramatic last-gap defeat to Hadfield at the Nürburgring. As a bonus, Wolfe became champion of the series too.
The day after, looking to avenge themselves, Voyazides and Hadfield took a dominant flag-to-flag win in the FIA Masters Historic Sports Cars, as Voyazides handed their T70 Mk3B to Hadfield having defended his lead from Jason Wright's similar machine. The American had an ace up his sleeve in the shape of Manfredo Rossi taking the second stint but the Italian could do nothing against a Hadfield wanting to very much make amends. Steve Brooks and Martin O'Connell made it a T70 Mk3B 1-2-3 by claiming the final podium spot in the ex-Sidney Taylor Lola. Julian Thomas and Calum Lockie took a dominant Bonnier class win in their Chevron B8 to take the overall title while Keith Ahlers and Billy Bellinger repeated their 2017 pre-65 title despite missing their first Masters meeting in eight years, their Cooper Monaco King Cobra having suffered an engine failure the week before at Estoril.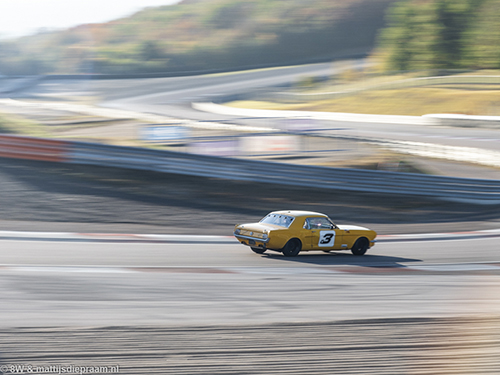 Peter Klutt's Mustang attacking the slopes and curves of the Burgundy track. (photo 8W)
Wolfe was hoping to take away a second win from the weekend but was denied by Craig Davies in the Masters Pre-66 Touring Car race. Ultimately, Davies took a dominant win in his Mustang but he was still led by Peter Klutt's similar machine when the Canadian was called in for a drivethrough, having overtaken a backmarker while not adhering to the track limits. Klutt then battled hard over second place with Wolfe who had taken over from Mike Gardiner in the Ford Falcon Sprint. Having Klutt in his mirrors and even losing second place for a short period of time forced Wolfe to look behind instead of focusing on closing the gap to Davies, who took a comfortable win. Gardiner and Wolfe did take the title.
In a poorly supported duo of Masters Endurance Legends races, the wins were split between Swiss LMP2 drivers Ralph Meichtry and Niki Leutwiler. Both former Le Mans drivers made the first race one to watch, as there was rarely a second between the two of them. Meichtry then looked set for a second win on Sunday, having had an easy run after Leutwiler spun on the first lap, but a fuel-pump issue caused him to slow on the final lap to allow his rival through for a dramatic win. Keith Frieser, in another ORECA-Nissan 03, took third on both occasions, which was enough for the Canadian to claim the inaugural title.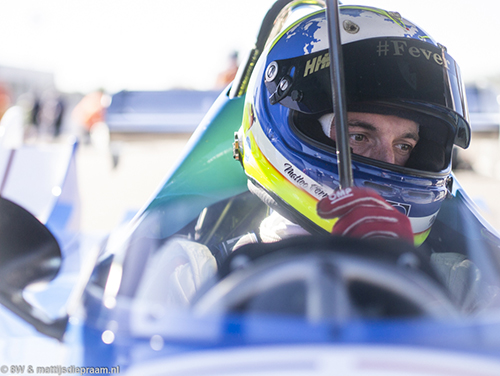 Matteo Ferrer shared the FIA Masters Historic Formula One wins with Mike Cantillon. (photo 8W)
Most of the Dijon Motors Cup programme consisted of single-seater racing, the German/Dutch-based MG Triumph Competition & British HTGT being the single exception. In this, Philippe Vermast's TVR led almost the entire first race before being pipped to the line by Paul Conway's Morgan Plus 8, with Robert Hamilton's Marcos 1800 GT ending up third. Sunday saw Andy Newall take over from George Nolte to catch and pass Vermast in the German's E-type, while the third-placed Marcos was shared by Charles Allison and Peter Thompson.
The rest of the days were filled with F2, F3 and F Junior, though, with Ben Mitchell ruling the F2 roost in the ex-Stephen South March 782, beating Matthew Watts on Saturday and being treated to an easy win on Sunday when Watts' March 772 faltered. With 24 cars, the F2 grid was healthier than ever, even boosted by the cars normally seen in the rival Euro F2 Classic series, that will cease to exist at the end of this year, bringing back a single HSCC-run championship for 2019. The Classic F3 grid for 1000cc screamers was slightly disappointing in numbers but the show was great, Geoffroy Rivet (March 703) winning twice after endless slipstreaming battles with Christoph Widmer (Brabham BT18A), Enrico Spaggiari (Lotus 41) and François Derossi (Chevron B17). Pier Enrico Tonetti was the double FIA Lurani Trophy winner, as the Italian's Brabham BT6 twice fended off the Lotus 22-mounted attentions of Manfredo Rossi and Bruno Weibel.