France's final golden age
Author
Date
Related articles
Who?

Jacques Laffite, Patrick Depailler

What?

Ligier-Cosworth JS11

Where?

Interlagos

When?

VIII Brazilian GP (February 4, 1979)
Why?
It came up with the city-to-city races. It gave the world the Grand Prix. Now, the cradle of motorsport has hit one of its roughest patches ever. No Grand Prix team, no Grand Prix drivers, no Grand Prix. No F3 championship, no touring car championship and a sportscar presence kept alive by virtue of Le Mans and Peugeot. While France awaits the arrival of Jean-Eric Vergne we look at the country's final golden age – the seventies and eighties – and how it all slipped away until the next 'new Prost' wasn't even worth the wait.
Many people unaware of the country's up-and-down history in motor racing believe that France has hit rock-bottom after a steady downhill slide from a high plain stretching back to the earliest days of motorsport when Renault and Peugeot were Grand Prix winners. Bugatti, Delage, Delahaye, Jean-Pierre Wimille, Raymond Sommer, Jean Behra – they all built on that legacy. Reims, Rouen, Clermont-Ferrand, Paul Ricard – surely France went on occupying its rightful position in the center of motor racing.
And agreed, this modern-day slide is quite out of the ordinary. The Ligier/Prost team is now long gone. The final incarnation of the Renault team was no more than a British-based outfit doing a French cameo appearance. Discounting Romain Grosjean's brief foray into F1, Olivier Panis and Sébastien Bourdais were the last Frenchmen to race in Grands Prix competitively. Other upcoming talents like Alexandre Prémat, Olivier Pla and Nicolas Lapierre were never likely to make the grade. After years of struggle the Grand Prix with the oldest history was finally killed off in 2009. Only the FIA seated in Paris and the greatest race in the world traditionally held at Le Mans act as reminders that France, in more heroic times, invented the bloody sport.
While Europe's largest nation has indeed fallen from grace through its rapidly disappearing interest in Grand Prix racing, not all of its racing pedigree is up to Alain Prost's uncannily high level, though. France has seen tough times before. In the thirties, the French – and everyone else for that matter – were blown away by the Germans to the extent that they simply gave up and began racing amongst themselves. In the post-war era the French outfits continued that pattern. They loved being the underdogs. Their status as underfunded minnows became so proverbial that Peter Ustinov used it to good effect in his brilliant Gibraltar GP parody.
A French revolution
That is why France's rise to prominence in the seventies, and its continued presence at the top of the sport in the eighties is all the more remarkable. The first signs of a French revolution became visible in the mid-sixties when Matra joined the single-seater world with both cars and engines. They were soon joined by another major force in pushing French talent into the limelight: oil company Elf Aquitaine, personified by the generous and sensible François Guitier. The number of Elf Winfield racing school graduates reaching at least F2 shot through the roof into the seventies, while Motul was a second French oil company making its way into formula racing by supporting French drivers. The Elf programme was preceded by the Magny-Cours-based 'Volant Shell' award, the original scholarship scheme created to help French talent move forward. Jaussaud (1964) and Cevert (1967) were amongst the Volant Shell winners, while in the seventies the Volant Elf prize was grabbed by the likes of Tambay (1972), Pironi (1973) and Prost (1976). When state-owned cigarette firm Gitanes also joined the fray a healthy financial bedrock for Gallic motor racing prowess was firmly laid out.
While Matra itself never really succeeded in Grand Prix racing – not with their own engines at least, however glorious they may sound – the oil and tobacco money was distributed so prolifically that success was imminent. For a while in the early to mid-seventies, F2 was almost an all-French affair, bursting later GP veterans such as Jacques Laffite, René Arnoux and Patrick Depailler onto the scene, tagging along smaller manufacturers like Elf/Alpine, Martini and Pygmée in their wake.
The eventual Matra failure – in F1 that is, not in sportscars – fits in with the pattern set by earlier French teams running on national pride. SEFAC and CTA-Arsénal were bitter disappointments of the very same kind, and embarrassments compared by which Matra's achievements in Grand Prix racing will have felt like winning the lottery. Matra's V12 engine got its Grand Prix victory after all when former F1 privateer Guy Ligier decided to diversify his sportscar team into F1, and put the bellowing twelve-pot in the back of his car, but the real performance leap came when Ligier decided to use Cosworth power, just as Ken Tyrrell had done when Jackie Stewart was busy winning races and a championship for Matra. It's this hands-on approach that made the difference compared with the SEFAC and CTA disasters.
Meanwhile, Matra's presence in the World Championship for Makes received a follow-up in the form of Alpine-Renault, that like Matra fulfilled a dream of a French team winning Le Mans with a French car and French drivers. But that was sportscar racing, and at its lowest ebb.
Despite the manufacturer success enjoyed by Matra and Renault, France's final golden age was still mostly about a wonderful generation of drivers, culminating in the arrival on the scene of France's most successful driver of all time, Alain Prost. All elements combined – the Winfield racing school, money from Elf and Gitanes, and nifty and effective cars supplied by talented designers – helped sprout dozens of gritty French pilotes who all tried to lay claim on the title of the real Michel Vaillant, before that crooked-nosed four-time World Champion made every youngster try to be the new Prost.
The first wave: Beltoise, Pescarolo, Cevert
The first wave was led by Matra and their drivers Jean-Pierre Beltoise, Jo Schlesser and Eric Offenstadt, but Henri Pescarolo, François Cevert, Johnny Servoz-Gavin and Jean-Pierre Jaussaud quickly made their mark. Behind the all-conquering Brabham-Hondas, Beltoise (already the 1965 French F3 champion) came fourth in the 1966 French F2 championship and Schlesser sixth. This all happened while Guy Ligier's private Cooper-Maserati was the only way France made its presence felt in F1. Beltoise improved to third in the 1967 F2 European Trophy, winning at Tulln-Langenlebarn and Enna while also making his Grand Prix debut. New team mate Servoz-Gavin ended up seventh, with a second place at Jarama his best result. Jaussaud (for Matra International) and Pescarolo made end-of-season F2 debuts.
In sportscars, Matra dabbled with the BRM-engined M620 while Ford France financed Guy Ligier and Jo Schlesser in a GT40 and later a MkIIB, alongside their single-seater support of Schlesser. Alpine entered A110s and A210s in the sports and small prototype classes to grab some lower placings and the occasional class win, such as for Grandsire/Rosinski at Le Mans in 1967, but there was nothing to suggest that les bleus were on the verge of returning to the center of motor racing.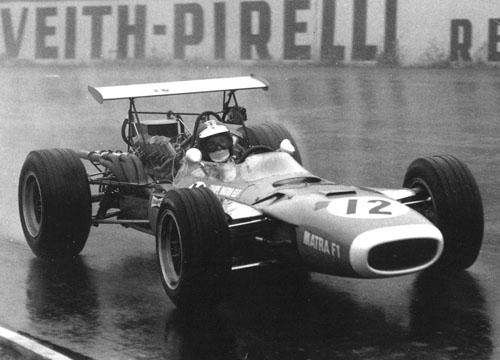 Jean-Pierre Beltoise's Matra MS11 in the 1968 German GP, the race so convincingly won by Jackie Stewart's Cosworth-powered MS10 sister car.
The French breakthrough came in 1968. Propelled by Ford power – DFV in F1, FVA in F2 – Jackie Stewart handed Matra its first GP victories as Beltoise and Pescarolo dominated the F2 season, Beltoise winning five of the first six races and Pescarolo, fresh from his 1967 French F3 title, finishing second on four occasions. The fast but hitherto erratic Johnny Servoz-Gavin got his Tyrrell break in F1, replacing the injured Stewart. The Frenchman with the playboy image sensationally led the Monaco GP and took a strong second place at Monza, suddenly marking himself out as one to watch.
The trend continued in 1969, with Ken Tyrrell giving Matra a double whammy, Stewart claiming his first and Matra's only F1 title. Johnny Servoz-Gavin easily won the F2 championship as the top non-graded driver, with Cevert (for Tecno) third and Pescarolo fourth.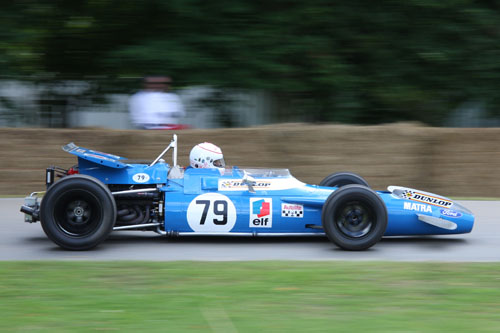 Matra-Cosworth MS80 at the 2008 Festival of Speed at Goodwood. (photo Brian Snelson)
French prominence in sportscars was still far away but the occasional successes helped pen the writing on the wall. In 1968, a young Depailler teamed with later Peugeot designer André de Cortanze to finish third overall at Monza in Alpine's A211. For the moment though, Jo Schlesser was grabbing the headlines as a works Porsche driver, a role taken over by Gérard Larrousse after Jo's premature demise. At Spa, Matra first entered its MS630 but their Le Mans debut ended in retirement. In 1969, Depailler/Jabouille took sixth at Monza in the Alpine prototype follow-up A220. Matra's MS650 development, however, brought the first large manufacturer success when Courage/Beltoise and Guichet/Vaccarella took fourth and fifth at Le Mans. Meanwhile, the number of French privateers in Porsche 911Ts and Alpine A110s mushroomed to figures unseen before.
Cevert and Jaussaud signing for the Italian Tecno F2 team was a first sign that national pride was allowed to be swallowed, even though it didn't seem quite that way when Matra asked Tyrrell to switch to Matra engines in 1970. Tyrrell wasn't quite so happy about that request. The result was that the mutual tolerance in place between Matra International (Tyrrell) and Matra Sports (Matra proper) in F1 in 1968 and in F2 in 1969 ceased to exist, with Matra going it alone in 1970, continuing with the drivers with whom they dominated F2 in 1968: Beltoise and Pescarolo. Significantly however, Elf didn't end their involvement with Tyrrell. This led to Servoz-Gavin continuing with the British team, but when the happy-go-lucky Johnny suddenly announced his retirement, he was replaced by Cevert, who two-timed the second Tyrrell seat with another season for Tecno in F2, also bankrolled by Elf. He would continue to do so in 1971.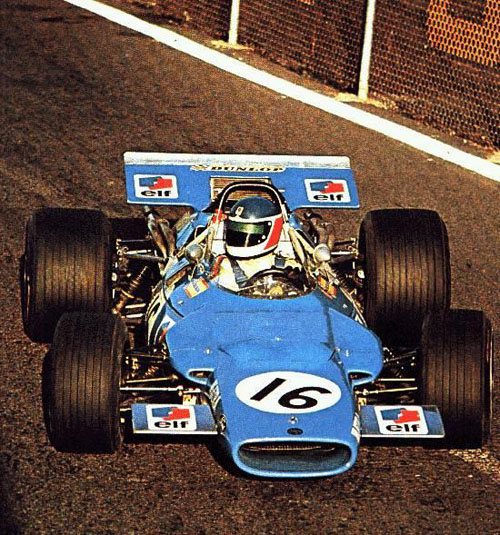 Johnny Servoz-Gavin was entrusted with Matra 4WD project, the MS84, in 1969. At Watkins Glen, he scored the only World Championship point for a 4WD F1 car, albeit with the drive to the front axle disconnected...
Blue cars had moved quietly towards centre stage in sportscars, with Matra employing an all-star line-up of Beltoise, Pescarolo, Cevert and Servoz-Gavin to race their Matra-Simca MS650 and MS660, while the likes of Jack Brabham and Dan Gurney were persuaded to guest. The 3-litre cars trailed the big 917 vs. 512 battle but class wins against Alfa's T33/3 were on the cards. The Matras were still hampered by unreliability, though, and the factory withdrew its effort to focus on F1. For a moment, Gérard Larrousse was the only big French name in sportscars. In the meantime, Guy Ligier had come up with the JS1, the first sportscar of his own.
With the 5-litre cars outlawed, Matra saw their opportunity and returned in 1972, focusing on the big race, and what a return it was. Pescarolo/Hill and Cevert/Ganley gave the French a double at Le Mans with their pair of MS670s, in a race that also saw Ligier's Maserati-engined JS2 make its debut. Matra was perhaps helped by Ferrari's non-presence, as the 312PB won everything else that season, but always take things as they come. Encouraged, Matra entered for a full season in 1973 and the strong pairing of Pescarolo/Larrousse proved that the MS670 could indeed be the equal of the 312PB, with wins at Vallelunga, Dijon, Zeltweg, Watkins Glen and Le Mans itself, to hand Matra-Simca the makes title.
The second wave: Depailler, Jabouille, Jarier, Laffite
Meanwhile, the second and most influential wave of French talent was preparing for attack. Jean-Pierre Jabouille joined the international scene together with Pygmée, the brain child of Marius Dalbo. Stepping up from Formula France/F3, helped by ubiquitous Elf money, Jabouille was joined by Patrick Depailler (the 1971 French F3 champion), graded driver Beltoise and Marius' son Patrick Dal Bo, for whom the MDB designs were originally created. Four cars strained the team, and Dal Bo's efforts tailed off into 1971 and '72.
At the same time, Depailler's career was only getting started, the same applying to the three Jean-Pierres, Jabouille, Jarier and Jaussaud. The latter's career had stalled since his 1964 Volant Shell prize but his 1970 French F3 title got him going again. Jarier and Jaussaud now raced Marches in F2 for the Shell-Meubles Arnold team, Jarier also appearing in F1 at Monza. Meanwhile, Motul sponsorship and Bob Wollek gave the Rondel team of Ron Dennis and Neil Trundle some French flavour, while Motul also helped prolongue Henri Pescarolo's F1 career with Williams. The following year, Depailler, Jabouille and the now graded Cevert shone at Elf Coombs Racing, racing Hart BDA-powered Marches. Cevert, of course, was turning into a true F1 star at Tyrrell and into 1973 he was being groomed as the crown prince to JYS. Beltoise was now a BRM driver, having his day of days at Monaco in 1972, while Jarier and Pescarolo drove works Marches in F1.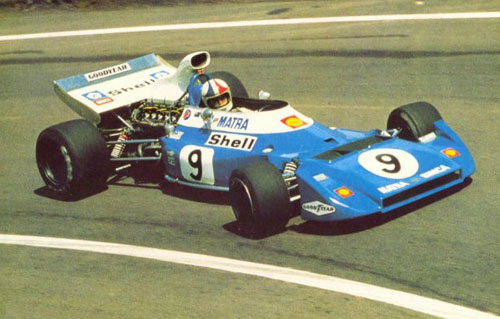 Another one that got away. The luckless Chris Amon in Matra's MS120 at Clermont-Ferrand in 1972.
These early signs of the proliferation of French driving talent into British teams coincided with Matra's French national effort taking a dive. At the same time, smaller French outfits were beginning to create an impact on F2. Meanwhile, there was no stopping the influx of French juniors, as Michel Leclère (the 1972 French F3 champion), Jacques Laffite (Leclère's successor in 1973) and José Dolhem also came knocking on the door. From a talent point-of-view, France could 'afford' Jean-Luc Salomon and Denis Dayan getting killed at Rouen.
By 1974, Formula 2 was rapidly becoming a French-dominated championship. Jarier had already won the 1973 title for the works March team, with Depailler third in the Elf 2, which was in fact an Alpine A367 largely penned by Jabouille, who proved to be as good a designer as he was behind the wheel. A year later, five of the first seven in the championship were of Gallic origin, Depailler claiming the title ahead of Stuck, followed by Laffite, Jabouille, Purley, Leclère and Tambay. The latter three Frenchmen were racing the Elfs of this very successful Jabouille/Larrousse-led outfit that for some years to come would turn Formula 2 into 'Formula Elf'.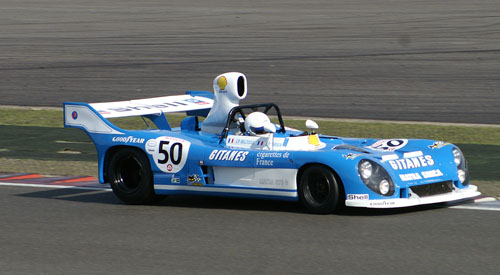 Matra MS670C at the 2009 Silverstone Classic. (photo Dave Merrett)
Even though Matra had pulled out of F1, the C update of their MS670 was still showing its mettle in sportscars, now taking on Alfa's T33/TT/12 and the Gulf-liveried Mirage-Cosworth for overall glory. Having switched from Shell to Gitanes colours, Matra's cars won at Spa (Ickx/Jarier), the Nürburgring, Paul Ricard, Brands Hatch and Watkins Glen (Beltoise/Jarier), and Imola, Zeltweg and Kyalami (Pescarolo/Larrousse). Again, Le Mans fell prey to Pescarolo and Larrousse. With nothing else to gain, Matra also withdrew from sportscar racing at the end of 1974. However, with the talents of Jacques Laffite and Alain Serpaggi, Ligier began climbing the results sheets as well. At Le Mans, the duo took eighth in their JS2.
In 1975, the first five places in the F2 championship were monopolised by France, Tico Martini now also having moved up from F3, helped by Laffite, Migault, Dolhem and Coulon pushing the gritty French manufacturer along. His first F2 design, the straightforward but well-prepared MK16, stormed the championship, Laffite taking six wins on his way to the title. The following year, the Jabouille-designed Elf 2 – now aptly renamed 2J – narrowly beat Martini new boy René Arnoux in the hands of its creator. With Tambay third and Leclère fourth, for Martini and the Jabouille team respectively, but all four of their cars heavily donned in Elf stickers, this was the culmination of French F2 success. That the cars were now also powered by Renault-Gordini engines instead of the all-conquering BMW M12/6s made their triumph taste even sweeter.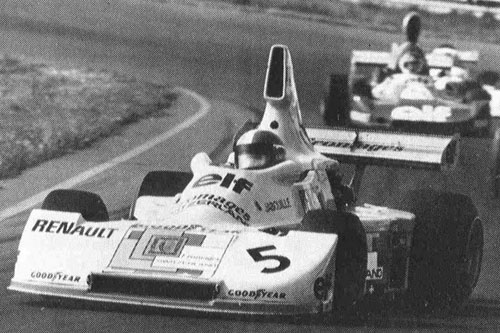 Jean-Pierre Jabouille racing the Elf-Renault 2J in the Rome GP at Vallelunga in 1976.
In F1, success had been sparse, however. On the wave of F2 success, Jabouille and Dolhem had made their F1 debuts in 1974 but were halted in their progress, the same applying to Leclère in 1975. Oldtimers Beltoise and Pescarolo sank away at now Motul-sponsored BRM. Migault, previously campaigning for Connew and BRM, missed his breakthrough and got stuck at Williams and Hill. French honours werd held up by Patrick Depailler, now a full-time member of the Tyrrell team, while Jarier occasionally shone at Shadow.
In sportscars, Ligier and Alpine-Renault had filled the void Matra had left behind. In 1975, now armed with a Cosworth-powered JS2, Ligier took the next step, as the Gitanes money and the lethal combination of Beltoise/Jarier were passed on. It was the duo of Lafosse/Chasseuil, however, that gave Ligier second place at Le Mans, one lap short of Ickx/Bell's Gulf Mirage. Laffite and Pescarolo temporarily joined the enemy, teaming up with Merzario in the now Willi Kauhsen-run Alfa effort.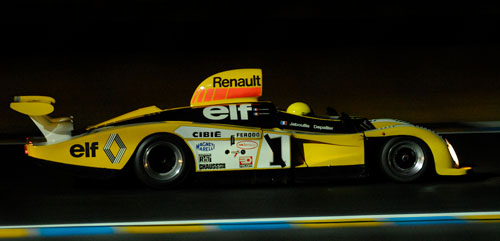 Alpine-Renault A442 racing at night in the 2006 Le Mans Classic. (photo Frank van de Velde)
At the same time, with the help of Elf, Alpine-Renault returned to the frey, putting Larrousse and Jabouille in their lead car. For a short moment in time, the French influence of sportscar racing was now felt to almost the same degree as in F2. They were of course helped by the manufacturer exodus that reduced the world sportscar championship to a privateer Porsche benefit in the second half of the seventies, but then Renault itself also pulled out of the championship in 1976 to fully focus on Le Mans in 1977, failing dramatically, and again in '78. While Ligier moved to F1 to make way for the similarly small but plucky Inaltera, Rondeau and WM efforts, the Alpine-Renault A442 in the hands of Pironi/Jaussaud did eventually succeed in defeating the only car still acting as a worthy rival in prototypes, the Porsche 936, before the category's complete collapse. This allowed Jean-Pierre Jaussaud to pull off a win for Rondeau in 1980. After that, it would take quite some time before France returned as a force in sportscar racing.
The third wave: Pironi, Arnoux, Tambay, Prost
There were no such worries in Grand Prix racing, even though France was still waiting for the third wave to push the boundaries. Matra, with Beltoise, Pescarolo and Cevert, had paved the way for a French return to Grand Prix racing. Elf, with Depailler, Jarier, Jabouille and Laffite, turned Formula 2 into blue paradise. Now, Pironi, Arnoux and Tambay were called upon to create a similar effect in F1. And perhaps that 1976 Volant Elf winner Alain Prost would be a good bet for future success. Two brand new French F1 projects would help them achieve their goals: Ligier and Renault. Using the experience of men hardened by the first and second waves – Guy Ligier, Gérard Larrousse, Jean-Pierre Jabouille, Jacques Laffite – the two new teams provided the platform for Pironi, Arnoux, Tambay and Prost to become regular Grand Prix winners and title challengers.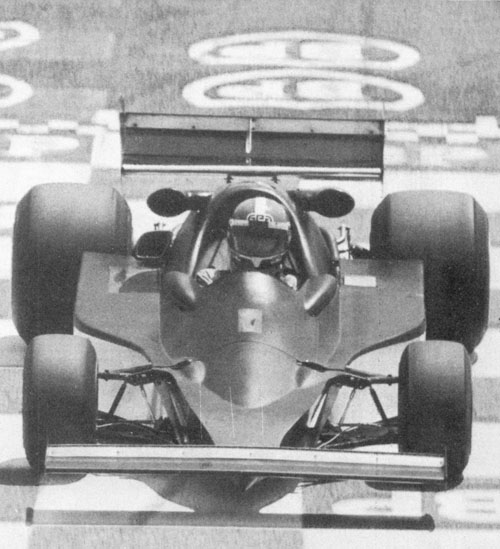 JPJ testing the Renault turbo's Alpine A500 test hack at Paul Ricard in 1976.
Some of the more experienced blokes would get their first, though. Even with Matra V12 power, Laffite's Ligier took a first win at Anderstorp in 1977, albeit one gifted by Mario Andretti. Patrick Depailler finally took his win for Tyrrell at Monaco in 1978. Pironi succeeded him as team leader for 1979 while Depailler switched to Ligier, which had swapped its Matra engines for DFVs. Suddenly Ligier looked like the likely bet towards French Grand Prix domination. Early 1979, the Gitanes cars were steamrollering the overseas races, Laffite storming the Argentinian and Brazilian GPs from pole, backed up by Depailler, who turned the tables with a win in Spain.
As for Renault, here's some alternative history to ponder: the Régie might have been on top of its engine problems sooner if the Tyrrell deal instigated by Elf had materialized instead of the French factory acting on its delusions of grandeur by dividing its attention between chassis and engine. Soon enough though, Renault was managing to cure the unreliability of its turbo engine, or at least occasionally. Mid-way into 1979, it all came together at home when old faithful Jabouille ran away with the French GP at Dijon. He didn't score any points elsewhere all season but the victory showed what a turbo car was capable of. In third, after a legendary no-holds-barred battle with Gilles Villeneuve, came René Arnoux, who had debuted in GP racing along with Tico Martini in 1978, before being picked up at Renault's new number two. In 1977, Arnoux had picked up where Jabouille had left off in '76 to maintain the Elf-Renault stranglehold in F2. The Elf 2J car was pensioned off but Martini's latest machine, the MK22, proved effective as well, allowing Arnoux to take three wins on his way to handsomely beating Eddie Cheever in Project Four's Ralt-BMW to the 1977 title.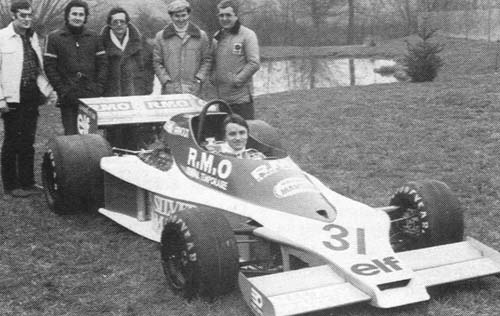 René Arnoux and the Martini people in happier days – the 1978 pre-season...
Arnoux followed Martini to the top echelon of the sport in 1978, leaving Formula 2 back into the hands of March and BMW to finish the category's French years. Tico Martini's underfunded entry into F1 with his bulky MK27 was an unhappy one, however. He would stick with lower-category production cars after an abortive single season in GP racing that almost pulled to rug from under him.
Martini's comeback car was magnificent. In 1977, people already started whispering about a return to Formula 3 in France, which had been F3-less since Laffite's 1973 title. Martini penned the MK27 for the championship that would be revived in 1978. A young Alain Prost was signed to drive, and he delivered at his first attempt, sharing the title with Jean-Louis Schlesser in a Toyota-powered Chevron. In 1979 however, Prost would waltz the both the French and European F3 championships. Especially in his European campaign he left almost nothing on the table. Prost took seven wins out of 11 races, including the blue-riband Monaco event, in a dedicated one-car outfit run by experienced engineers to fully restore morale in the Martini camp. From now on, all eyes were on the next French F3 champion, but while most would indeed reach F1 (Streiff, Grouillard, Raphanel, Dalmas), it was the 1987 French champion who became one of the last French greats: Jean Alesi.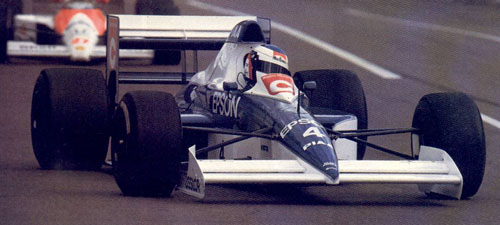 Jean Alesi in the days the French-Sicilian was the flavour du jour: starring for Tyrrell at Phoenix in 1990.
The early eighties brought numerous Grand Prix wins to France, thanks to that illustrious quartet of Prost, Arnoux, Pironi and Tambay, who as Renault and Ferrari works drivers were mostly in the camp of their countryman Jean-Marie Balestre during the FISA/FOCA war, as was at one time Ligier (through its shortlived Talbot association in 1982) and his veteran driver Jacques Laffite, who was still taking in the odd win here and there. As a recurring theme, though, the final step to ultimate success only came when the top driver switched to a British team while the French national effort – Renault in this case – faltered. Prost at McLaren would be the very top of the highest crest in this French tidal wave that had grown in force since its modest start in the mid-sixties.
It then plummeted. Alain Prost had been the successful culmination of all the efforts les bleus put into their creation of a French World Champion. At the same time, Prost winning championships at McLaren and Williams was all about Prost and his mercurial talents. When was his birthground ever considered when le professeur stood in front of class and taught them a lesson? Prost was a unique talent that comes about once in every generation, and France simply got lucky. The French themselves, however, must have thought that from then on the new Prosts would keep on coming on their own. The methodical system carefully built to raise drivers in order for them to become Grand Prix regulars and, with any luck, Grand Prix winners was left to neglect. By waiting on the next Prost they forgot about the next Jarier, the next Depailler, the next Laffite. That was what France's final golden age was all about: French drivers and cars being present everywhere, in large numbers, not necessarily dominating but being there and not going away, acting as a force to be reckoned with, this season and many seasons to follow.
In the years since Prost's retirement, Ligier was reduced to a midfield team until its takeover by Prost – a genius as a driver but no messiah as a team owner. AGS came and went in Martini-style – small, plucky, resourceful but underfunded – although it took some more time and sprung a few surprises along the way. The country's driver honours were held high by Jean Alesi, Olivier Panis, Philippe Alliot, Erik Comas and Eric Bernard but the majority of French F3 champions – most of them lauded as the new Prost – only barely made it to F1 (Gounon, Lagorce) or stumbled at F3000 level (Hélary, Cottaz, Belloc, Redon, Ayari). Even though the Winfield school carried on into the 21st century, delivering Volant Elf graduates such as Bernard, Comas and Panis, several other winners of the coveted scholarship went straight into sportscars, Stéphane Ortelli and Romain Dumas the two prime examples, taking Emmanuel Collard with them. Others disappeared off the radar. Where are Steeve Hiesse or Jean-René Fournoux?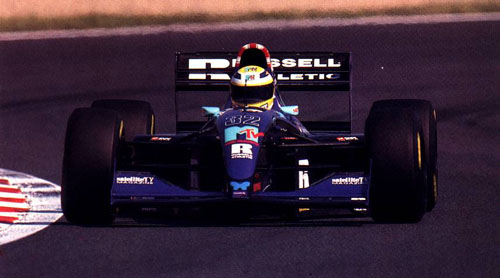 In the nineties, the latest French talents were in and out of F1 before you knew it. Here is Jean-Marc Gounon for Simtek in the 1994 French GP.
The support that was so omnipresent throughout the seventies had simply vanished. The French government's ban on tobacco sponsorship took care of Gitanes (and Gauloises) while Elf's privatisation stopped the oil money flowing as well, although of late Total has been trying to somewhat revive the Elf tradition. In the meantime, huge talents such as Christophe Bouchut and Laurent Aïello were overlooked and forced to carve out a profitable career in sportscars and touring cars respectively. Lately, the rate at which French talents are offloaded from GP2 or F3 to prototypes, GTs and tourers is staggering: Nicolas Minassian, Olivier Pla, Nicolas Lapierre, Alexandre Prémat, Tristan Gommendy, Guillaume Moreau, Franck Mailleux, Laurent Groppi – the list goes on. Today, it's Peugeot and ORECA's sportscar programmes that is keeping these youngsters busy, or one of many LMP or GT privateers. Another way out that helps make a living is provided by Japan, where Benoit Tréluyer and Loïc Duval really carved out a niche for themselves in recent years.
Finally, the Renault Driver Development programme of the 21st century failed miserably to produce new French talent, perhaps also for the simple reason that there was no specific French national drive behind the programme. Instead, RDD simply focused on the best international drivers around but then again, it also failed on that front (with the possible exception of Heikki Kovalainen) through a multitude of idiosyncratic decisions, impatiently signing and dismissing hopefuls one after the other. And now that Renault has all but pulled out of F1, it remains to seen how it views its role in the lower European single-seater categories, which through GP2, GP3 and the World Series by Renault has been nothing short of fundamental.
Sometimes it needs a single exceptional talent to turn it all around. Michael Schumacher did it for Germany, Fernando Alonso pulled it off for Spain. As a result, the racing scenes in both countries are thriving. So it doesn't need an infrastructure of sponsorship and talent scouting per se. One lucky shot could be enough. France is now hoping that Jean-Eric Vergne is that man. Grabbing a lift on an Austrian-funded junior scheme (Red Bull), the reigning British F3 champion might be the one to succeed. Jules Bianchi, supported by an Italian junior programme (Ferrari Driver Academy), might even beat him to it.
And if that doesn't help, perhaps a Frenchman at the helm of the FIA does. That final French golden age just happens to coincide with the last time a Frenchman headed the governing body…