Fiasco Italo-Brittanico
Part 14: 90CA on active duty - wrestling through the second week of practice and qualifying
Author
Date
Related articles
March-Alfa Romeo 90CA - Fiasco Italo-Brittanico, by Henri Greuter
March-Porsche 90P - The last oddball at the Indianapolis Motor Speedway, by Henri Greuter
Who?

Roberto Guerrero

What?

March-Alfa Romeo 90CA

Where?

Indianapolis

When?

1990 Indianapolis 500 (May 17, 1990)
Why?
Track action was possible on Thursday May 17, though with yet another handicap: strong winds. Roberto Guerrero was back out, driving a car numbered 20T, which had USAC ID number 82 on the roll hoop. Strangely enough, this car was primarily white instead of black and initially had Miller High Life decals on the rear wing. The sidepods had "Genuine Draft" decals. Given the fact that the black "Genuine Draft" car was the regular entry and the white "High Life" an `Indianapolis only', it was surprising that the back-up car was painted in the colors of the "High life" entry.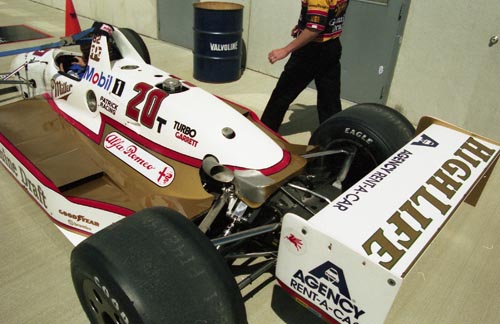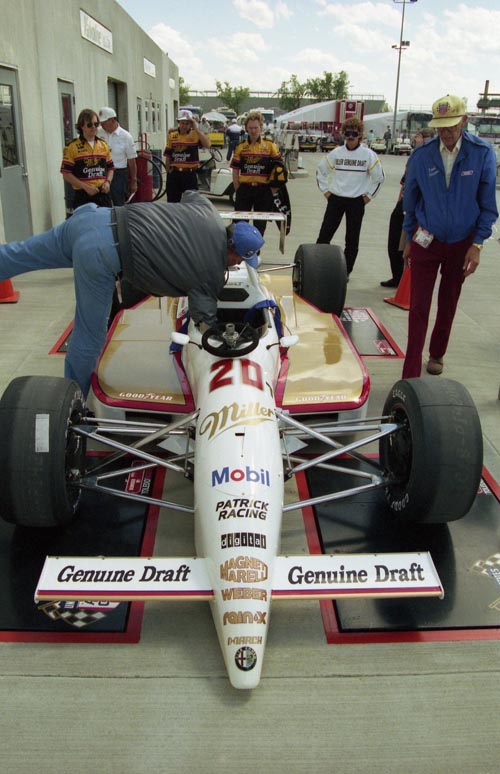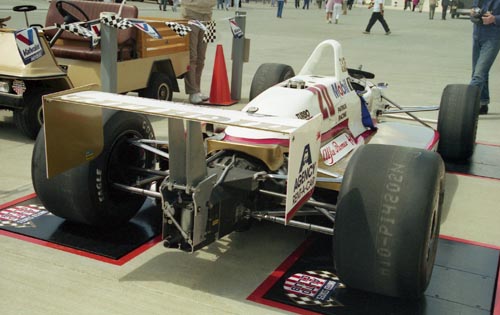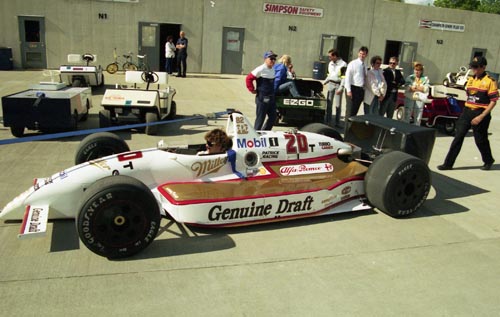 The third 90CA prepared for active duty, the backup car, entered as 82. In appearance a mixture of both primary cars, carrying the names of one, painted in the colours of the other. The car is photographed on Thursday May 17, in front of the USAC headquarters where it was presented for inspection and permission to get on the track. (photo HG)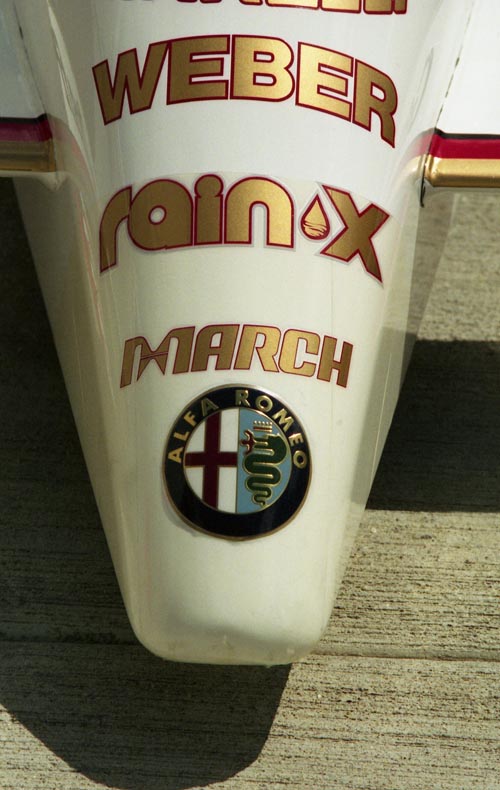 Detail of the nose cone: displaying two names famous in racing. (photo HG)
With Unser also practising, there were two white Alfas out on the track.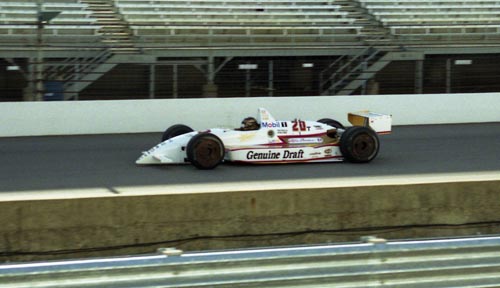 Something getting used to: Guerrero out on the track, but not in a black car as usual but in a white one. (photo HG)
For those who saw it happen, Unser's car was involved in a hilarious moment in the garage area. While being towed through the area and passing the Penske garages, the Alfa almost collided with a Penske car that was pushed into the garage by some mechanics. To hear the mechanics involved yell against another was a sight to see and hear…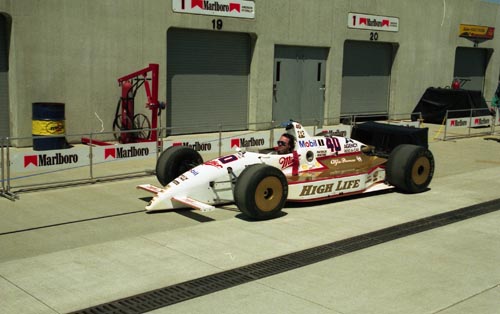 The 40 heading for… (photo HG)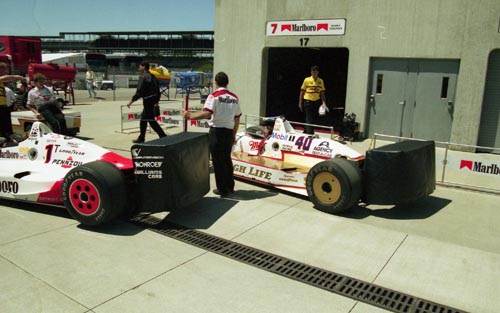 A slow speed near miss by a Penske backup car! (photo HG)
Two white Alfas on track was a sight that continued the next day, another day with less than ideal weather conditions. It was windy again but at least it was dry and very sunny. Guerrero managed to find a speed of 213.174 with the 20T. His fastest average with the crashed 20 had been 212.384, a speed registered on Friday May 11. Despite the fact that he had a bit more practice in one and the same car, Al Unser did not go any faster during that second week of practice compared to the 214.592 set that same Friday 5/11.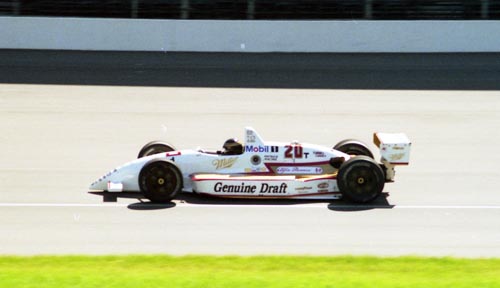 Guerrero making up for lost time as much as he could. (photo HG)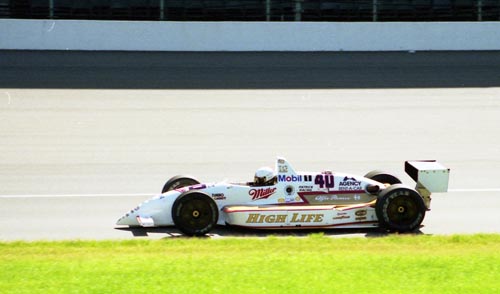 Al Unser Sr was also out for practice that day. As they flashed by at speed it was not easy to keep the two Alfas apart. (photo HG)
The following day was the third day of qualifying. Roberto (his car still white) was the first to make an attempt but he called it off prematurely with a sick sounding engine.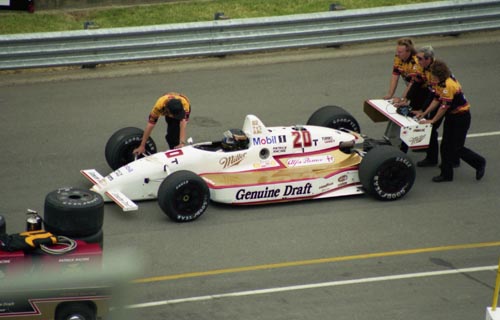 Roberto after returning back into the pit lane after his first qualifying attempt was waived off. (photo HG)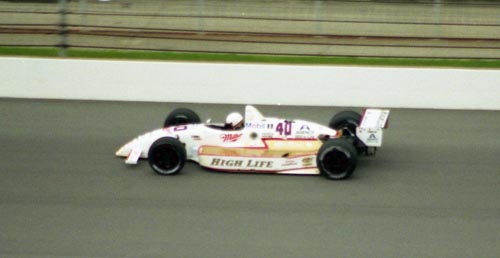 Al Unser Sr. during his qualifying attempt. (photo HG)
Thus Unser was the first of the Alfa drivers to make the field with a 4-lap average of 212.087. A bit later, Roberto outdid his team mate narrowly and averaged 212.652.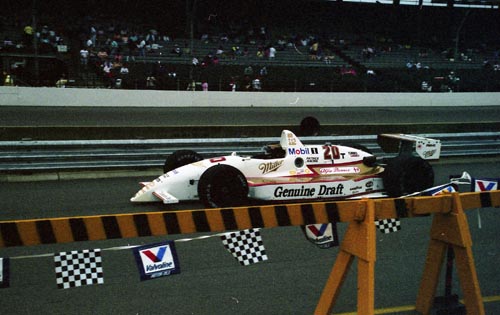 Guerrero after his qualifying attempt, on the pitlane heading for the Q-picture photo shoot. (photo HG)
Roberto praised his crew for its efforts to get the back-up chassis running when he stated: "I don't know when these poor guys went to sleep" (Hungness '90 Yearbook).

The following can be told as to indicate what kind of speeds the Alfa drivers reached during their qualifying attempts. Between 5 PM and 6 PM ABC television followed the qualifying activities during a live program. They also showed recordings of the attempts by Guerrero and Unser Sr. In these clips the achieved trap speeds at the end of the back straight and coming out of Turn 3 were shown. During his last qualifying lap, Unser reached 218 on the straight and 213 coming out of Turn 4 in a lap which had an average of 212.3 mph. Guerrero's speeds as shown for his last two qualifying laps were: 219.9 and 209.7 for a 212.8 mph average and 217.8 with 209.1 for a 211.6 mph average. To put this a little more into perspective: several of the Buick-powered cars easily surpassed 220 on the straight. Stan Fox qualified a 1987 Lola-Buick, reaching trap speeds of 225 on the back straight. The older cars had no chance against the new 1990 cars, with the exception of the March-Alfa Romeo.

Polesitter Emerson Fittipaldi set a new one-lap record in the last of his four qualifying laps. His figures for entering Turn 3 and getting out of it were 228.033mph and 222.816mph respectively in a lap with a 225.575 average.

After Guerrero had qualified, 30 of 33 spots in the field were taken and only Jeff Andretti and Mike Groff had posted a slower average than the Alfa drivers. When the field was filled, only five cars had slower averages than the Alfas. Without backup cars to re-qualify just in case, Patrick Racing looked a bit vulnerable. Bumping started that very same afternoon already and after qualifying ended that afternoon, the two Alfas were 28th and 30th fastest in the field.

Fortunately for Alfa, there was not much danger of their being bumped. The final qualifying day saw only one car qualify with speeds higher that those of Roberto and Al Sr, while two other drivers qualified with speeds still below those of the Alfa drivers.

It had been tough and difficult, but at least the two cars were in the race. Their chances to do well looked remote. Only on reliability and being there at the finish did it look as if Guerrero and Unser had a chance to score a decent finish. They eventually were 28th and 30th within the field, but ranked according to speeds, both men were one position lower.

Al Unser Sr summed up his feelings about the cars perfectly during a press conference with his son. Al Jr was asked about his 228 banzai lap of May 11 and he answered that at such speeds the short chutes between the Turns 1 and 2 and Turns 3 and 4 became very short and the two successive turns becoming almost one long bend. Al Sr then joked that the car he drove this year was so slow compared to cars he had driven in previous years that he had almost forgotten how long those short chutes actually were!

One statistic about Al Unser Sr is worth mentioning. In 1976 he had been the first ever driver who qualified and raced a turbocharged Ford Cosworth DFX engine at Indianapolis. Then, 10 years later, in 1986 he had given the Ilmor-Chevrolet V8 its Indy baptism. The Alfa V8 was to be the third different engine he would be the first to qualify for the "500". To top it up: back in 1987, he had been the driver debuting the Porsche Indy V8 in its first-ever race, although that happened at Laguna Seca.