The playboy who became a Ferrari racing driver
Author
Date
Related articles
Who?

Alfonso de Portago

What?

Ferrari D50

Where?

Silverstone

When?

IX RAC British GP (July 14, 1956)
Why?
Alfonso António Vicente Eduardo Ángel Blas Francisco de Borja Cabeza de Vaca y Leighton was born in London on October 11, 1928 as the 13th count of Majorada and the 17th marquis of Portago, but better known to the world as Alfonso de Portago. His father was a Spanish nobleman named António and his mother a former Irish nurse called Olga Leighton. His godfather was Spanish king Alfonso XIII. He was part of an ancient family line, thus inheriting his titles.

One of Alfonso's forefathers was Alvar Nuñez, a man who crossed the USA by foot. Most of his childhood Alfonso lived on the family estate in Biarritz, on the West coast of France. His father fought in the Spanish civil war at the side of general Franco. De Portago had nothing to worry about in his youth, neither financially nor in any other way. His education was exclusive. He liked music and literature and spoke several languages, including French, English and Spanish. Still young, Alfonso claimed he wanted to be famous.

At the tender age of 17 he could already be found in Paris, where he enjoyed the nightlife the city is famous for. Whether it was midnight or 10 in the morning, he always said "buenas tardes" (good evening). De Portago was extravagant, always chasing the girls and loving the adventure. Fon, as his nickname was, married a North American millionaire, and they had two sons. When he died, he was in the middle of a divorce procedure, having an affaire with actress Linda Christian.

When he moved to New York, in 1953, he started to make a name for himself as a playboy. He had many affairs with women like supermodel Dorian Leigh, or Crystal Pretty, the ex of Tyrone Power, although that is still to be argued.

Alfonso didn't know the word fear, as he was fearless as could be. He was fast in everything he could get himself in to, but hard on what he was driving. One of his best friends was Dutch nobleman Carel Godin de Beaufort, who copied Alfonso's reckless way of driving. But if the car survived the race, the results were invariably very good.

With his long hairs, his four-day beard and his old leather coat, he looked more like a gipsy than the god-son of the Spanish king. But he never lost his ability to attract women, not even his marriage prevented him from doing so.
The great sportsman Alfonso de Portago
Except for being a playboy and a speed devil, Alfonso was one of the most diverse and excellent sportsmen ever seen. He was a Spanish diving champion, horse jumping champion of France and he swam at an international level. All for fun.

As another hobby, he decided to learn how to fly a 'plane, and indeed, at the age of 17, he duly got his flying licence. But the American pilot organisation decided to take away his licence because of him being too dangerous. What had happened? He had made a bet with one of his friends that he could cross a bridge with his 'plane – by flying underneath it!

That wasn't all. He played polo, he hunted (not just after women), and he was a fine fencer and even a bobsleigh driver too. Back in 1955, Fon created the Spanish national bobsleigh team and took on three good friends as his runners: the count of Marino, Gonzalo Taboada and Luis Munoz. Together they went to the 1956 Olympic winter games in Cortina d'Ampezzo. They registered for competition and ended up fourth in the final results, only beaten by Switzerland, Italy and the US!

His first love was horse riding, though. One the best amateur riders of his time, he was very talented too at jumping and playing polo. Because of taking part in steeple chases, he decided to lose weight and started to eat normally. He managed to drop 14 kgs but still thought he was too heavy. Setting high standards he quit riding, even though he had become the French steeple-chase champion and twice took part in the world's most prestigious steeple chase, the Grand National.
How he got involved in racing
In 1953, De Portago lived in the Plaza in New York and made himself a new friend: Edmund Nelson. Nelson was an Air Force veteran who was working as a liftboy at the Plaza. One day, Edmund told Alfonso about a car show, and off Alfonso went. Over there he got acquainted with Luigi Chinetti, the American Ferrari importer. Chinetti was the one who introduced Phil Hill to Enzo Ferrari and asked De Portago whether he wanted to be his Carrera Panamericana co-driver, later that year. Alfonso thought it would be quite a challenge and agreed. The result of the day was Alfonso buying himself a brand new Ferrari 250MM.

So, in November 1953, he drove his maiden race. In Mexico. The two retired with a blown engine.
The rising star
In 1954, the famous and talented American racing driver Harry Schell convinced Fon to start racing with his Ferrari 250MM. Schell learned him about racing and together they entered several long-distance races. Their first race together was the 1000 miles of Buenos Aires. It was Fon's first race in his own car and the De Portago/Schell-entered Ferrari finished second. In their second race they were less lucky, if you please, ending up retiring with a broken rear axle.

Halfway into 1954, Alfonso headed back to Europe to compete in the Le Mans 24 hours while Harry Schell warned him that a manual-shift car would slow him down. Fon was eager to prove Schell wrong, although he had never raced anything else than an automatic. He drove Le Mans in a Maserati, a car he bought to compete in Europe. Although the car was his, he was entered by the Officine Maserati and retired with a broken engine. His second and final race for Maserati was at Metz, where he finished first in the two-litre class.

After that, De Portago took his Ferrari and left for the Bahamas. To race, that is, taking part in the International Speed Week at Nassau. The first race he came second, and the second race he took the flag, all without factory support. But Alfonso was waiting for that call from Enzo.

In 1954, the waiting would be in vain, but in 1955, Ferrari did contact him, just to sell him an F1 car, not a seat. Fon duly bought it and started in the International Trophy. That was the only race he would drive it, as he wrecked it completely. Not only did he break the car, but also one of his legs, in several places. So he lost most of the 1955 season while recovering. Sitting at home, he received the long-awaited call, being proposed to sign a contract as soon as he recovered. Thus it happened, and in 1956 Fon was a works Ferrari driver in both sports cars and Formula 1. With just two years of racing experience!

Once recovered it soon became obvious that he had lost nothing of his ambitions and he picked up where he temporarily left off: racing in Europe with his 250MM. With his privately entered Ferrari he was able to give the works drivers a hard time. Although he again retired from the Sebring 12 hours, this time due to a broken gearbox, his results were getting better all the time: third in the Coupé de Paris, second in the Grand Premio Venezuela at Carácas, then first in the first race of the Nassau Speed Week – the Governors Cup – and only two days later he took second place in the Nassau Trophy. All in his privately entered Ferrari.
Ferrari works driver
Thus, in 1956, Fon became a Ferrari works driver. Although he had raced only for two years he got a seat in both sports cars and F1. He was partnered by Juan Manuel Fangio, Peter Collins, Luigi Musso and Eugenio Castellotti. Although at first he would only compete in sports cars, he was later given the chance to start in F1. His very first GP was the French GP, in which he retired with a broken gearbox. But the next one in Britain would be better. Lining up 12th on the grid, he moved up places to be third when he was asked to hand over his car to team mate Peter Collins, who went on to finish second to Fangio. It would be the best result of his brief F1 career. In the other three races he started in 1956, Fon retired from them for various mechanical failures. Although he didn't finish four out of five GP starts, he finally got rid of the "pay driver" moniker.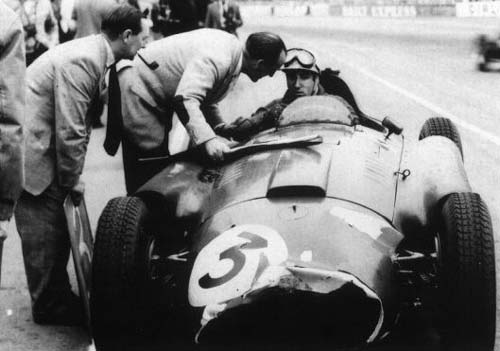 1956 British GP: Having handed over his own mount to Collins, De Portago took over Castellotti's battered car to finish 10th. Fon received half points for Collins' subsequent drive to second place.
In January 1957, he claimed fifth in the opening race in Argentina, and was already looking forward to the Monaco GP. He would never see the day.
About his accident
The 1957 Mille Miglia edition turned out to have been the last in history. The reason was the fatal accident of Alfonso de Portago. Alfonso had entered himself with an underpowered Ferrari 355S and started well on this May 12th, 1957. During a service check, his mechanics offered to change the badly worn right front tyre, but De Portago refused. He went on. It was 16:00 and the Ferrari with number 531 was racing with a speed of about 250kph though Guidizollo. Alfonso was racing now for about 13½ hours, having started at 05:31, with only 50 kms left to the finish. Only one tight corner, and then pedal to the metal, on to Brescia.

So the Ferrari was doing about 250kph through Guidizollo when the right front tyre exploded. The car was out of control, hit a telephone pole, jumped over a brook, hitting a few spectators in the process. Then the car bounced back on the road, hitting more spectators, slid over the road, spinning, and ended up, wheels down, in a brook at the other side of the road. Besides De Portago and his navigator Edmund Nelson, ten spectators – among them five children who were in the first group of spectators – lost their lives. Twenty more got hurt. That was the end of the Mille Miglia – forever. And it was the start of a long trial against Enzo Ferrari and tyre manufacturer Englebert, on a charge for manslaughter. It took about 4½ years to clear both names from any blame.
So how good was he actually?
Although De Portago's career was short, he surely made quite an impression on all the well-known drivers. And his results were good. Alfonso started only in 36 races, from which he retired in 10. Most of them were long-distance races. He made it to the podium 18 times, so 50% of his starts. Seven of these podium finishes were wins. Not bad at all for a Spanish nobleman who was only in it for fun. He was a natural, but for him a car was either a device to take him from point A to point B, or to race in as quickly as possible, or even faster. But it was just a car, nothing more. He had, as he claimed himself, an absolute lack of technical knowledge. Once, as a joke, he scared the hell out of his mechanics just by taking a screwdriver and walking to his racing car. Also, De Portago liked to follow drivers like Fangio or Moss at short range, rather than leading them. Not that he was unable to pass them, but he found it easier to find his braking points when he was following. After his accident at Silverstone, he declared he wanted to be F1 World Champion before the age of 35. He was perhaps talented enough, but it wasn't meant to be.