Rouen-les-Essarts: France's forgotten treasure remembered
1964 – It's Gurney again!
Author
Date
50th Grand Prix de l'A.C.F.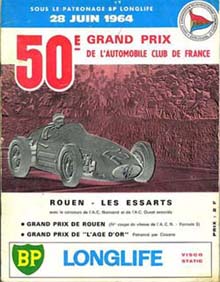 The weekend of the 25th-28th June, 1964 was a special occasion at Rouen, with the F1 circus coming to town for the fourth time. But this wasn't just another French Grand Prix, it was the 50th Grand Prix de l'A.C.F. no less, adding further spice to the race that traditionally was rated the greatest Grand Prix of all.

Entry and Practice
Much interest centred on lap speeds… how much faster would the Formula 1 cars be than on their last visit here in 1962? With the advances in car design and tyre technology particularly, it was expected that lap times would be lower. But few expected what did happen: reigning World Champion Jim Clark produced a lap of 2m 9.6s, an average speed of 188mph, on the very last lap of Thursday practice, a time a full 7.3 seconds than Graham Hill's old lap record of 2m 16.9s! In fact, 10 of the 18 drivers were under the old lap record, showing the incredible advances in just two years.

All the big names turned out for such an illustrious occasion, all hoping for the right result. Lotus entered a pair of Coventry-Climax engined cars for World Champion Scot Jim Clark and Englishman Peter Arundell. Jack Brabham's team arrived with two similarly engined Brabhams for himself and the 1962 Rouen winner Dan Gurney, the American understandably happy to be back at the site of his first Grand Prix win. Ferrari missed the Thursday session, but arrived on Friday with two scarlet cars for John Surtees and Lorenzo Bandini. Cooper entered two Coventry-Climax engined cars for Kiwi Bruce McLaren and 1961 World Champion, American Phil Hill. BRM arrived with the standard two cars for 1962 World Champion Graham Hill and American Richie Ginther. Then there was the British Racing Partnership entering their self-built BRP-BRMs of Trevor Taylor and Innes Ireland. A number of privateer teams also turned out: the Reg Parnell-entered Lotus-BRMs of Peter Revson, Mike Hailwood and Chris Amon, a DW Enterprises Brabham-Climax for Bob Anderson and the self-entered Brabham-BRM for Swiss driver Jo Siffert and BRM for Maurice Trintignant.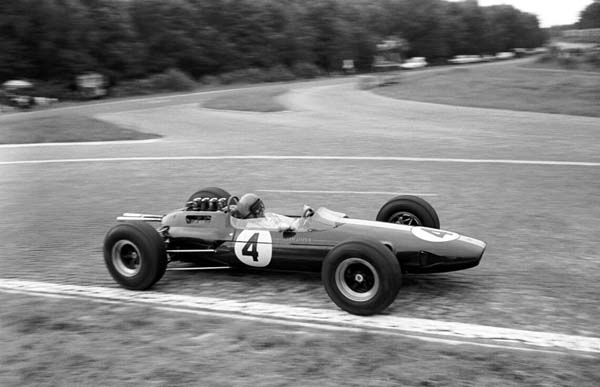 Peter Arundell going through Scierie
Following practice, Jim Clark's Thursday time secured pole position, with Dan Gurney 5/10ths back in second, John Surtees rounding out the front row a further second back for Ferrari. Arundell, Brabham, Graham Hill, McLaren and Bandini filled out the second and third rows, Ginther's BRM next up a further second behind Bandini. Phil Hill, Ireland, Taylor, Hailwood, Amon and Anderson filled positions 10-15, with Trintingnant 12 seconds behind Clark in 16th, and Siffert unable to set a decent time after suffering an engine failure. Revson was forced to pull out of the event after having a similar thing happen to him, and Siffert looked likely to do the same until Reg Parnell came to the rescue with a spare BRM engine for Siffert's Brabham, which was gratefully received. Following practice, Jim Clark gave the more nostalgic fans a thrill with three laps in Pat Lindsay's pre-war ERA, turning in a best lap of 2m 48s, a great time for such an elderly machine.

Race
Raceday dawned overcast and dull, although no rain was expected. As the cars assembled on the dummy grid, there was panic in the Lotus pit, as Clark's car started leaking oil. The start was delayed as the mechanics frantically worked to fix it, but finally the Lotus tooks its place at the front of the grid. The flag was waved, and the 50th Grand Prix de l'A.C.F. was underway.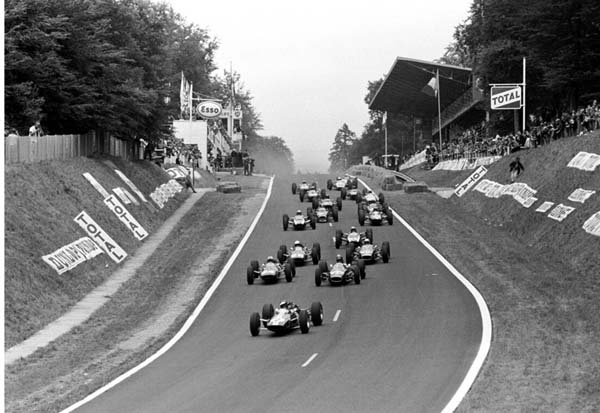 The start of the 50th A.C.F. Grand Prix
Clark shot away from pole, with Gurney leading the rest. Surtees and Phil Hill were almost side by side at Nouveau Monde, but Brabham shot past the Cooper at Gresil to move into 4th. Clark completed the first lap in 2m 22s, with Gurney snapping at his heels. Surtees and Brabham shot by in 3rd and 4th, but the BRMs of Graham Hill and Ginther had fallen behind Ireland and Bandini early. Clark completed lap 2 just 0.8s ahead of Gurney, with a gap opening to Brabham. Surtees who had been in third, had dropped back dramatically with an engine complaint, and he stopped at the end of lap 3 to have his sick Ferrari worked on. Meanwhile Clark and Gurney were keeping up a furious pace, and had opened up a 10-second gap to Brabham in 3rd as they crossed the line to complete 3 laps. Slowly however, Clark began to slip away from Gurney, while Surtees emerged from pit lane with a sick sounding Ferrari, and Taylor and Siffert visited the pits. Behind Brabham the dice of the race was taking place, Arundell and Phil Hill both very keen to keep 4th spot, while Graham Hill began to make progress, taking Ireland for 6th. After ten laps the order was 1.Clark, 2.Gurney, 3.Brabham, 4.Arundell, 5. P.Hill, 6.G.Hill, 7.McLaren, 8.Ginther, 9.McLaren, 10.Bandini, 11.Amon, 12.Hailwood, 13.Anderson and 14.Trintignant.
The field is charging through the sweeps for the first time
Surtees had returned to the pits by this time, and his Ferrari was wheeled away into retirement. Lap 11 saw Clark set a new race lap record of 2m 13s, and on lap 14 Clark lapped both Anderson and Trintingnant and had increased his lead to 11 seconds. Gurney was now 45 seconds clear of his team leader, while G. Hill had got past P. Hill, and was now chasing down the impressive Arundell. Gurney closed the gap to Clark by 2 secs, and the Lotus pit signalled for Clark to speed up again. Further back Hailwood and Bandini were fighting hard for position. On lap 21 Taylor came in to retire, while Siffert's engine began to struggle. He did not want to ruin the borrowed engine, and so came in to retire. On lap 22 Clark broke the lap record again, setting a time of 2m 12.7s and in so doing opening up the gap back to Gurney, who had not given up and was giving his all. Graham Hill meanwhile made it past Arundell into 4th, while Phil Hill began to fall down the order after his fast early pace, being overtaken by both Ginther and McLaren. Lap 28 saw Clark reduce the record still further, as he banged in a scorching 1m 12.2s lap.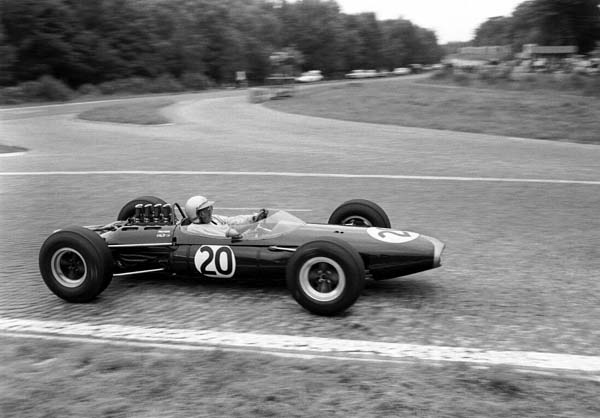 Black Jack at Scierie
Then the sensation of the race on lap 30, as Clark headed into the pits, his Coventry-Climax engine sounding sick. He emerged 15 seconds later, but after a slow and noisy lap he retired the car, with a holed piston the culprit. This left Gurney with an enormous 1m 4s lead over Brabham, who had fallen into the clutches of G. Hill and Arundell, and now was involved in a fantastic dice. Trinitignant, who had been cruising along at the rear of the field, now pitted to change his shoes, he had suffered badly blistered feet. Amon also had problems, falling down the field as he spent time in the pits with a gearbox problem. Gurney then, was serenely in the lead, so attention turned to the three-way fight for second between Brabham, G. Hill and Arundell, and also the battle between McLaren and Ginther. Meanwhile the second Parnell car retired after Ireland crashed just before Nouveau Monde.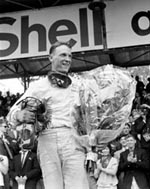 G. Hill now made his move, passing Brabham on lap 37. Brabham was in no mood to relent however, and their battle increased in intensity, with Arundell unable to keep up. Their speed was such that they pulled back 10 seconds out of Gurney's comfortable lead, and the crowds were thrilled with this no-holds-barred fight. On the 44th lap Brabham gave his absolute all to pass Hill and shattered the lap record with an astounding 2m 11.4 lap, but Hill held firm. Both gained 2 seconds on Gurney on this lap alone. By lap 50, Gurney had lapped McLaren and P. Hill, while Ginther had broken away from the Coopers. Hill and Brabham continued their high-speed squabble, bringing Gurney's lead down to 40 seconds by lap 52, but he had it all in hand, and duly crossed the line for his second win at Rouen, and Brabham's first win as a manufacturer.

Could they make it a 1-2? Every one excitedly watched as Hill and Brabham almost touched at Nouveau Monde, and they were side-by-side all the way from Grésil to Scierie. But Hill had done enough, holding off Brabham as he crossed the line to finish second. Brabham came home third, from Arundell, Ginther and McLaren rounding out the top six. It was a great day for Gurney as he received his winner's laurel, but also for Brabham as they broke their duck. Much more was to come from the Australian/English team, with two World Championships to come inside the next three years.