Rouen-les-Essarts: France's forgotten treasure remembered
1967 – It's Rindt's Rouen but Six Frères claims its first victim
Author
Date
F2 Grand Prix de Rouen

Rouen was originally marked down to be the Grand Prix de France for 1967, but politics saw that particular race awarded to the Le Mans Bugatti circuit. This news was greeted with dismay, Graham Hill famously describing the Bugatti circuit as a "mickey-mouse" track. Instead, Rouen hosted round 3 of the French Trophees de France on the 8th and 9th of July, 1967. This race clashed with a round of the European Formula 2 Championship, but with more money and prestige at Rouen, the entry was only slightly down on expected levels.

The early races as usual featured the Renault Gordini high-speed dash, followed by the F3 championship race. During the Gordini event, Rouen claimed its first victim. As speeds had increased over the years, the danger of the circuit had become more and more obvious. High-speed accidents came along with increasing regularity, with drivers being carted off to hospital with serious injuries or miraculously escaping unscathed. During this particular race, there were three major incidents: one driver lost control and crashed down a 20-foot drop into the forest just after the 1st corner. Another unlucky driver crashed through a hedge at Six Frères. The third was not so lucky: Jean-Claude Bernasconi lost control entering Six Frères and had an enormous accident, his car rolling several times and throwing the driver clear. Poor Bernasconi passed away in hospital two weeks later.

Meanwhile almost 40 cars greeted the starter for the F3 event, the field featuring some future big names, such as Francois Cevert, Patrick Depailler and Jean-Pierre Jabouille, who would go on to successful F1 careers, and Henri Pescarolo, who went on to become a multiple Le Mans winner. After a strong fight with Philippe Vidal, Pescarolo eventually broke away to win the race in his Matra, from Vidal in another Matra and Mike Walker in a Brabham. Depailler finished 4th after suffering gear-shift problems, while Cevert crashed out at Scierie, and John Ralph finished up in hospital with serious chest injuries after a huge crash at the same spot.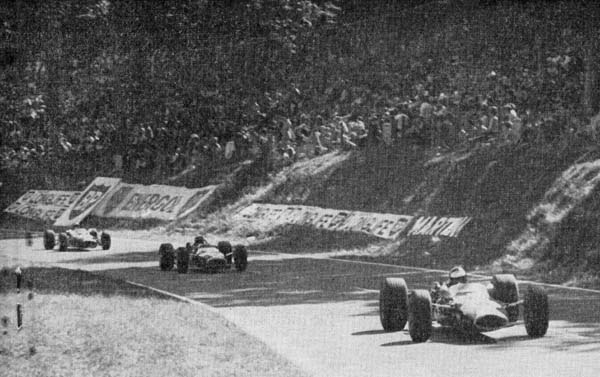 Clark leading a group as the crowd watches the race unfold itself
F2 practice was brief, confined to Thursday and Friday evening after the road had been quickly closed. Jim Clark in his Lotus 48 immediately produced a blistering lap, timed at 2m 2.6s. To compare this with previous years, the old lap record for F2 cars was 2m 14.6 by Jack Brabham, while the previous F1 race in 1964 saw a best time of 2m 11.4s, also by Brabham. Clearly, Clark was really going for it. Jochen Rindt in the Winkelmann Brabham BT23 was closest, producing a lap of 2m 3.8s, while Jack Brabham managed a 2m 4.6s in his works Brabham. On the Friday, Clark went even faster, trimming 0.3s off his Thursday time, but Rindt was determined, claiming pole with a 2m 1.9s stunner. Jackie Stewart made it onto the front row with a 2m 3s time in his Ken Tyrrell-entered Matra MS5, while Brabham was 0.5s slower. Bruce McLaren in his McLaren M4A improved his Thursday time of 2m 8.1s dramatically to claim 5th with a 2m 4.2s lap, his time equalled by Denny Hulme in the second of the works Brabhams. Jo Schlesser, who hadn't practiced on the Thursday, claimed 7th in his Matra MS5 with 2m 4.8s, while Jean-Pierre Beltoise endured changing a tyre and running out of fuel to claim 8th on 2m 4.9s in his Matra MS7. Alan Rees in the second Winkelmann Brabham was next, followed by Graham Hill in the second Lotus, Johnny Servoz-Gavin in a Matra, Jackie Oliver in a Lotus 41B, Jonathan Williams in a brand new Ferrari Dino 166s, Chris Lambert in his McKechnie Racing Brabham BT21/23, and finally Brian Redman in his Lola T100, 15 starters in all. Cooper, BMW, Lola and Protos elected to concentrate on the European F2 race at Hockenheim.

There was drama at the start, with Graham Hill finding he could not select 1st, 2nd or 4th gears, while Schlesser could not find bottom gear. Hill warned those behind him he may be slow away, as his mechanics tried to fix the problem on the grid. The flag dropped, and Rindt made an excellent start, getting well ahead of Clark and Stewart by the 1st corner. Hill managed to get off the line, but then couldnt find 2nd gear and was quickly relegated to last. After the 1st lap the order was Rindt, Stewart, Brabham, Clark, McLaren, Hulme, Beltoise, Servoz-Gavin, Rees, Oliver, Lambert, Schlesser who had been slow away with his gear slection problems, Williams and Redman, with Hill way back struggling to find any gears. Stewart was keeping Rindt busy, getting alongside on a couple of occasions, but Rindt remained in front as lap 3 began. Hulme squeezed by McLaren, Clark and Brabham were side-by-side for the majority of the lap, Oliver and Schlesser were moving up, and Hill had passed Redman and Williams as he found more gears.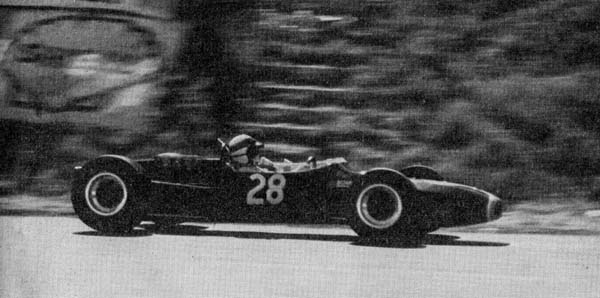 Jackie Stewart crashed the Tyrrell Matra out of the lead
On the completion of lap 3 however, Hill came in to see if something could be done about his gearbox, and lost nearly two laps in the pits. Lap 4 and Rindt, Stewart and Clark were very close, with Brabham not far behind and McLaren and Hulme disputing 5th spot. Williams' Dino meanwhile began sounding sick, and he started slowing. On lap 6 Rees came in with "spongy" handling, and had a shock absorber changed. On the same lap Hulme became the first major retirement, when his Brabham's clutch failed. Meanwhile Clark hit the front, closely followed by Stewart, with Rindt falling back into Brabham's clutches in 3rd. On lap 7 Clark ran wide at the left - hander before Nouveau Monde, allowing Stewart to take the lead. The reason for this became clear on lap 8, as Clark was suffering from a deflating tyre, which lost its remaining air as the rounded the left-hander again, throwing the Lotus into a spin. Rindt went one side and Brabham the other, but while Rindt got through unscathed, Brabham collected Clark's Lotus, forcing both into instant retirement. On the same lap Beltoise locked a wheel heading into Nouveau Monde and came to rest in a ditch. Suddenly we were down to nine runners.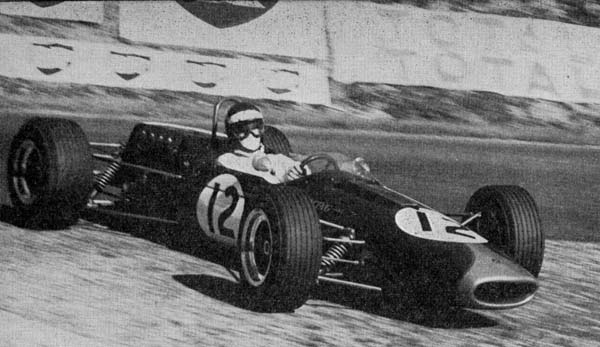 Rindt was lucky to miss the spinning Clark
On lap 10 Stewart just led from Rindt, with Graham Hill not far behind, although two laps down. Bruce McLaren was in a lonely 3rd, with Schlesser 4th, ahead of Oliver, Servoz-Gavin, Lambert and Redman, with Rees finally emerging from the pits after his shock absorber change. Between laps 11 and 16 Rindt and Stewart passed and repassed each other at the front, neither driver giving an inch. Oliver forced Schlesser into a huge spin at Nouveau Monde on lap 12, but was passed by Servoz-Gavin as he did so, but Schlesser was back in 4th by lap 16. Hill was forced to pit on lap 17 with more gearbox troubles, resuming after losing another lap. Stewart and Rindt were still going at it hammer and tongs, but the coup de grace appeared to have come on lap 22 when Rindt had a bit moment at Scierie, losing 8 seconds to Stewart. Oliver was now forced into retirement, something loose at the back of his Lotus causing massive vibration, making the car undriveable.

Hill was going really well now, and was the fastest man on the circuit. Lambert came in complaining of fuel starvation, but was sent out again. He then had a big accident at Scierie when a rod came through the block, locking his rear wheels and sending the car head-long into some straw bales. Meanwhile Rindt had not given up and was setting fastest laps as he strove to catch Stewart. On lap 27 the lead was 6 seconds, on lap 28 it was 5 seconds. Servoz-Gavin reduced the field further by retiring with Hydraulic break failure on the same lap, while Rees was still struggling with his Winkelmann and came in to have it checked. With 12 laps to go, Stewart was holding Rindt at bay by 5 secs, with McLaren still 3rd, Schlesser 4th and Redman 5th. Then at the start of lap 29 Rindt came by in the lead, with no sign of Stewart. He had got a back wheel in the gravel at Scierie, and had crashed. Redman was shown the black flag at the same time as a loose piece of his tailpipe was trailing, and he came in quickly to have it ripped away. However on the same lap his clutch began to pack up, and Scierie claimed its 3rd victim as he spun into a ditch attempting a clutchless gearchange.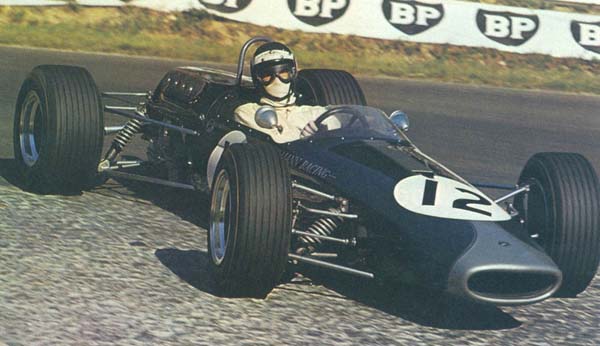 Eventually, Rindt took an unchallenged win
Rindt cruised through the final five laps to victory, 1m 24s ahead of McLaren, with Schlesser a futher 38s back and Hill and Rees four and six laps behind respectively.