2023 Brands Hatch Masters Festival report
Whitsunshine action
Author
Date
Related articles
Brands Hatch - Brands Heat, 2017 Brands Hatch Masters Festival report, by Mattijs Diepraam
Brands Hatch - Spring surprise, 2018 Brands Hatch Masters Festival report, by Mattijs Diepraam
Brands Hatch & Donington Park - A British doubleheader, 2019 Brands Hatch Masters Historic Festival & Donington Masters Race Weekend report, by Mattijs Diepraam
Who?

Nick Sleep/Alex Montgomery

What?

AC Cobra 'Hairy Canary'

Where?

Brands Hatch

When?

2023 Masters Historic Festival (May 27, 2023)
Why?
Masters Historic reconvened at Brands Hatch for its traditional self-organised Masters Historic Festival on the final weekend of May, this time coinciding with Whitsun. For the first time in its history, the organiser brought six grids to the meeting – a new record – and all were blessed with sunshine lighting up the Kentish green hills across which the old-school racing circuits undulates its way around.
Half of the Masters grids saw a healthy turnout while the other three disappointed – still work to be done there. In the Masters Racing Legends for 1966-'85 Formula One cars, however, an 18-car entry after last month's 25 at Hockenheim was not too bad, and of those the Williams FW07B of Mark Hazell proved to be the stand-out machine in qualifying. Having truly gelled with an 07 car now fully dialed in to suit his style, a confident Hazell already shone at Hockenheim with a pair of podiums but this time he further improved on that with pole and a strong win in race 1. It was strong in particular because Hazell failed to succumb under the heaps of pressure piled on by Nick Padmore in the Lotus 77 and Jamie Constable in the Tyrrell 011B, who sat on the Williams' tail for 20 minutes until a red flag cut the race short.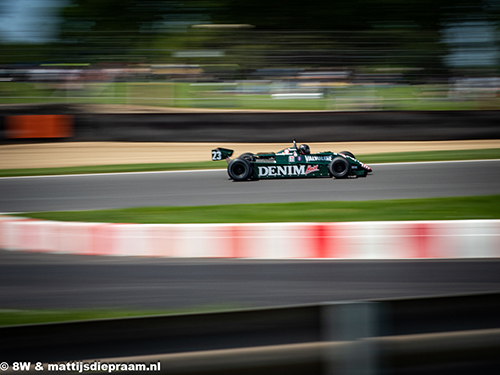 A strong run in Sunday's second race handed Ken Tyrrell a career-best second place in Masters Racing Legends. (photo 8W)
The red flag was for Steve Hartley going off in his McLaren MP4/1, after the reigning champion had clawed his way up to fifth as a result of a strong drive from the back of the grid. He had been put there after failing to record a time in qualifying practice, the clutch of his McLaren having gone in free practice already. With the results of race 1 declared on the basis of the lap preceding the red flag, Hartley was allowed to keep his fifth place and this good fortune handed him pole position on the reversed grid for the first five from race 1. In his rapidly patched up MP4/1, Hartley duly ran off to an unassailable lead before disaster struck yet again, as the McLaren went off at exactly the same spot as where it crashed in the first race…
As the leading pursuer, Padmore was the one to profit, as the runaway double pre-78 class winner added a second shock overall win to his 2023 tally. Behind Padmore, Mark Hazell in third place found himself surrounded by three teammates who each took their best ever result in the series, with Ken Tyrrell (who has already been on pole) in the Tyrrell 011 in second place while Warren Briggs in the McLaren M29 and Mark Higson in the McLaren MP4/1B took fourth and fifth respectively. Ewen Sergison's Shadow DN9A took a distant second place in the pre-78 class in race 1 while Max Werner bounced back from his race 1 mishap to take second place in class in his Hesketh 308C. Meanwhile, Peter Williams in the Lec CRP1 took a pair of thirds. With his third place in race 1, Constable was a comfortable post-82 class winner in the morning, but the Tyrrell 011B went off on cold tyres straight after the start of race 2, handing the class win to Ian Simmonds in the Tyrrell 012.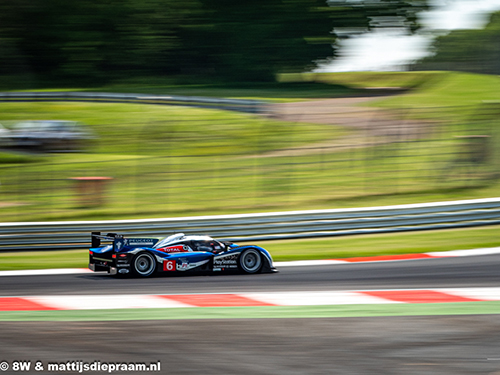 Stuart Wiltshire vainly chased Steve Brooks in the rival Peugeot 90X but vowed to come back stronger at Zandvoort. (photo 8W)
In Masters Endurance Legends, no less three Peugeot 90Xs topped the disappointing 13-car entry, and it was Steve Brooks who like at Hockenheim had the legs of his rivals Stuart Wiltshire and Richard Meins. Having already a searing pace in qualifying, Brooks ran home a confident win over Wiltshire in Saturday's race but limped across the line with fifth gear having gone towards the end. This stopped him from taking part in Sunday's race, allowing Wiltshire to equal Brooks' tally of three race wins. Meins was the unlucky one of the three, tangling in race 1 with Jason Green's Ligier JSP3 at Paddock Hill Bend, an incident that ruled him out of race 2.
Behind the Peugeots, the David Purbrick/David Brise Lola B12/60 and the Jamie Thwaites/Dean Forward ORECA-Nissan 03 proved to be early casualties too. In race 1, Brise had managed to get himself among the Peugeots, initially leading Meins, but the Lola soon hit trouble. The ORECA hadn't even come that far, as it crashed early in first qualifying after seemingly something broke at the back. It was a big off for the ex-Pecom Racing machine fettled in period by AF Corse, and it will force Thwaites back to the Morgan-Nissan LMP2 that he and Forward campaigned at Donington Park. The crash also meant that the P2 class wins were up for grabs for the James Hagan/Chris Atkinson ORECA-GM FLM09 and Mike Furness in the Courage-Judd LC75. Most of the spectacle was thus provided by the four Ligier JSP3s battling it for LMP3 honours. Marcus Jewell and Ben Clucas twice prevailed, as did Colin Sowter's Ferrari 458 GT3 in GTs.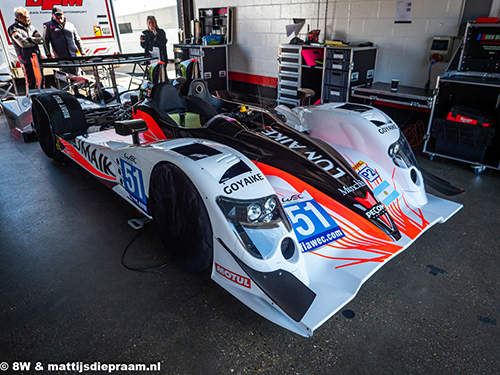 When it was still in pristine condition... The ORECA 03 funded in period by Argentinian gentleman racer Luis Pérez Companc was a glorious addition to the field until its unfortunate off in qualifying. (photo 8W)
Chris Beighton looked on course for a pair of wins in the Masters Sports Cars Legends, which rather unique ran two 40-minute races instead of the customary single 60-minute race. Although Beighton did indeed storm off to unchallenged victory in Sunday's race while coming through from the back, he was cruelly denied on Saturday when his Lola T70 Mk3B was stopped with a flat tyre five minutes from the end. This handed the spoils to a happily surprised Nick Sleep and Alex Montgomery in their earlier non-B-spec T70 Mk3. They were chased home by Jason Wright's T70 Mk3B, with the American on Sunday adding a third place to Saturday's second place after he was caught and passed on the final lap by a resurgent Nigel Greensall, also storming up from the back in John Spiers' pre-66 class winning McLaren M1B.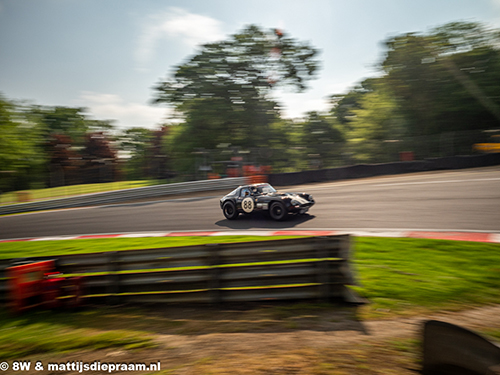 John Davison was absolutely spectacular in his lead fight with fellow Griffith pedaller John Spiers. (photo 8W)
The duo would leave Brands with a whole collection of trophies, as arguably their biggest win came in the 90-minute Masters Gentlemen Drivers race that despite three lengthy safety-car periods proved to be a tense thriller. Much of the initial entertainment was provided by Johns Spiers and Davison who in their pair of black TVR Griffiths were at it hammer and tongs for the lead during their opening stint. Soon after the stops, though, Davison put a foot wrong resulting in car damage that forced race control to give him the meatball. Dropping right back, Davison went on to salvage fifth.
Meanwhile, having taken over from Spiers but only after a lenghtier pitstop due to his elite-driver penalty, Greensall was also coming from the back, chasing spectacular Lotus Elan driver Giles Dawson who had similarly starred at Donington Park and now found himself in the overall lead instead of 'only' leading the CLP class by a country mile. Dawson gave it his all but was unable to prevent Greensall from snatching the win after all. Mike Whitaker took third in his Griffith while Nick Padmore hauled Robin Ellis' striking Elan 26R Shapecraft up into fourth overall, ahead of the John & Sam Tordoff Elan in sixth.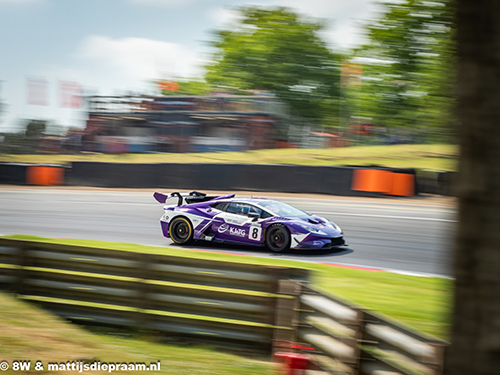 In the Masters GT Trophy, no-one could keep up with Craig Wilkins in the Lamborghini Huracán Super Trofeo Evo. (photo 8W)
Craig Wilkins proved to be an unstoppable force in the pair of Masters GT Trophy races for out-of-homologation Trofeo, Challenge, Cup and GT4 cars. Each time leading home a trio of hugely effective Lamborghini Huracán Super Trofeo Evo machines, Wilkins had to deal with Jason McInulty in race 1 first, but with McInulty forced to start from the back in race 2, the double winner had it easy in the afternoon bout. The Neil Glover/Aaron Scott Lambo lifted a pair of thirds ahead of Cup and GT4 class winners Sam Tordoff (Porsche 997.2 Cup) and Ray Harris (Ginetta G55 GT4).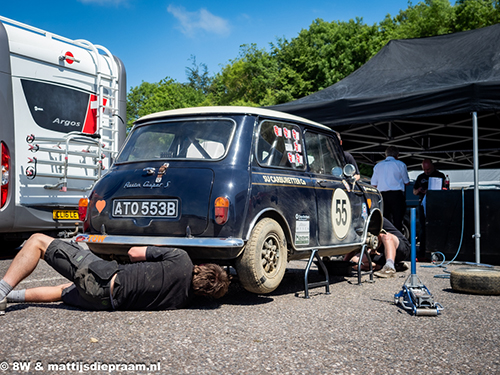 Despite an off in Friday testing, Jeff Smith proved invincible in the Masters Pre-66 Touring Cars' Mini class. (photo 8W)
Having dominated qualifying in his Ford Falcon, Tordoff was the man to beat in the one-hour Masters Pre-66 Touring Car race, and the multiple BTCC race winner lived up to his reputation by sailing to victory in his JRT-run barge. He was run closest by his teammate Michael Whitaker Jr whose Ford Mustang led after the stops when Tordoff was forced to sit out his elite-driver penalty, but the youngster was unable to keep the Falcon behind.
Spiers and Greensall took another podium in their freshly delivered Mustang while Josh Cook won the Cortina class in fourth overall. However, racing Mike Gardiner's car, the BTCC driver saw his class lead shrink up to a point where he was leading a train of four JRT-fettled Cortinas all wanting a slice of Cook's pie. It was great to watch, but eventually only the JRT cars moved back and forth in positions, as Cook held firm at the head of the group. In the Mini class, no-one could live with Jeff Smith, as for the entire length of the race the renowned Mini specialist managed to keep a group of bigger cars between himself and his nearest pursuers led by Ian Curley/Aaron Smith and Phil Bullen-Brown.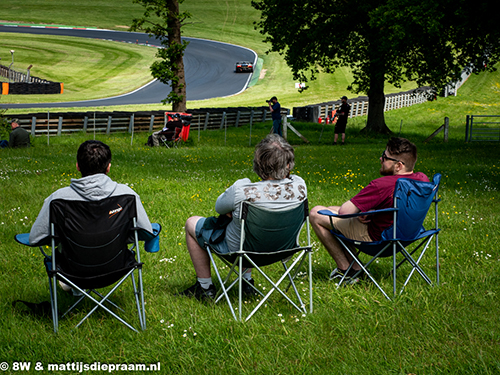 No better place to be than on the inside of Druids on a sunny day in May. (photo 8W)
Providing the only non-Masters support act to the programme, the HRDC Gerry Marshall Trophy tried their hardest to emulate the best of their Goodwood Members' Meeting showings, and succeeded with flying honours. In a 40-minute race that proved to be an attention grabber from start to finish, the sting was right in the tail when race leader Fred Shepherd beached his Ford Mustang Boss going into Paddock Hill Bend on the final tour. And so Spiers and Greensall took home yet another trophy, their Hermitite Capri profiting from Shepherd's untimely demise, with the plucky Jim Morris Golf GTI ending up an incredible second overall after several of the Rover SD1 frontrunners fell by the wayside.