Birmingham Superprix - Britain's most controversial circuit?
Drivers' and motorsport fans' views of the Birmingham Superprix
Author
Date
Back to BSP index page

I personally emailed John Cleland about his experience about the Birmingham Superprix track and I cheekily asked him about his views about the controversial last-lap incident between Frank Sytner and himself during the 1990 BTCC race.


Dear David

I did compete twice at this race once in a Vauxhall Astra and once in the Cavalier and yes it was bumpy in places but a great atmosphere.

The track was very narrow in places particularly where Frank removed us both !!!

I am sure it was not deliberate on his part but it took both of us out of what was a great race at a wonderful venue. I would love to do it again should it ever come back.

  regards
John Cleland


Also Allan McNish, who drove in the Vauxhall Lotus support race in 1988 and for the DAMS team in the F3000 race of the last ever Birmingham Superprix, gave me a very detailed description about his experience there.


Dear David

Thank you for your email.

In response to your query, I drove in the support race to the F3000 Superprix in 1998 in Vauhxall Lotus. My team mate, Mika Hakkinen, and I qualified on the front row but the race was cancelled due to the several accidents/race stoppages in the feature event and legally as there was a 6 o'clock limit that the roads could be closed we all went home.

I returned 2 years later for the F3000 race but had a bad qualifying and an engine failure in the race after only a few laps.  The circuit layout/pits were the same. The pits were not easy to get in/get out and everyone was cramped in the paddock and pit lane but it was accepted as part of the event. 

The track was quite basic in layout with most corners being 90 degrees or around a roundabout, however, it was very bumpy with a few points where the car wheels could leave the ground which looked spectacular for spectators but not nice to be driving, this was bad into the hairpin (roundabout) at the top and on the straight that ran parallel behind the pits going towards the veg market.

This meant it was a very uncompromising track which penalised mistakes badly as there was no run off area at all before the barrier.

The track would not have been allowed now as pretty much all street tracks are resurfaced before races like that but that was the way it was 16 years ago and we just got on with it. However, the Bullring area has also changed beyond all recognition since then.

That was the last Birmingham Superprix.

Hope this helps.

Best regards
Allan McNish


When I discovered that Tommy Bryne had registered on the The Nostalgia Forum at autosport.com, I jumped at the chance and asked him about his experience and description of the track at the F3000 race at the 1986 Birmingham Superprix. He replied:

...As a matter of fact that was the only race ever that I was s*** scared before the race even started.

Eddie Jordan recruited me from America and I had never driven a F3000 car before and with so little time in testing, I ended up way back in 14th or worse. [Author's note: 13th to be exact!]

(At one stage in one of the sessions, I was 2nd or 3rd then something happened and it all went to s***.) [Author's note: according to Autosport, he qualified 7th in session]

As anyone who was there that day knows it was raining cats and dogs. I have never seen anything like it, but I was not too worried as I knew that we could not race in those conditions, but I was wrong and I never started so far back in any race never mind the blinding rain.

I was sh***ing myself and I had nothing to prove and I know I was going to be injured, it was a given. There was no way we were going to get through the first turn without a major crash.

I tried getting out of it but I had to do it when the light went green which I could not see from where I was. You could not see the steering wheel in front of you I had to listen to the car in front to know when to brake for the first turn when his engine died then I braked. It was a miracle that we all got through that turn.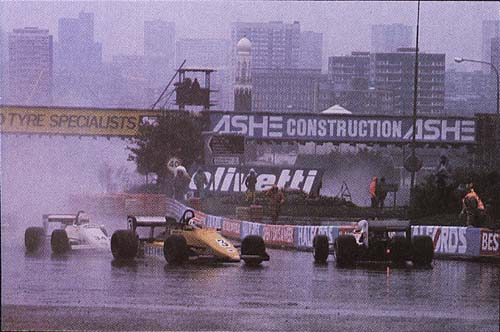 A dicing Andrew Gilbert-Scott and Gabriele Tarquini find Tommy Byrne facing the wrong way down Peter Barwell Hill - an unnerving sight at over 120mph in wet conditions!

[On lap 7 at the Halfords Corner] I spun off in the race and stalled the engine. What was the track like? I have no idea as I can not remember. It was no Monaco, I would usually remember if there was something special about it. Maybe I was traumatised by the start and forgot all the good things. Sorry."