Springbok legend
Author
Date
Who?

Mike de'Udy

What?

Ferrari 250 GTO

Where?

Enna

When?

Coppa CittÓ di Enna (August 15, 1965)
Why?
British gentleman racer Mike de'Udy was a familiar face in sportscar racing in the sixties, both in Britain and Europe, while also making a name for himself in the African Springbok Trophy Series.
Michael Grace de'Udy was born on April 27, 1941 in England but lived in Bermuda during his childhood years before returning to England to attend school in Sussex, Inverness-shire and Somerset. Graduating from the Jim Russell Racing School set him off in motor racing. Two years in Formula Juniors was enough to cure him from single-seaters, and in late 1964 Mike made the switch to sportscars. A Porsche man from the start, de'Udy soon became a sportscar stalwart in Don Moore's 904 GTS, teaming up with Paul Hawkins or David Piper for the long-distance events. A sixth with Hawkins in the Reims 12 Hours, along with several fine placings in minor events, was his best result of the 1965 season - interluded by his only race in a Ferrari 250 GTO, at Enna - before he set off to South Africa to join Peter de Klerk for the Kyalami 9 Hours in the Lindsay Saker 904 GTS. Their 4th-place finish was the start of a cooperation that would see Mike move to the southern hemisphere on a regular basis in later years.
Having done the full Springbok trail in South Africa, including the races at Pietermaritzburg, East London and Killarney, Mike returned to Britain for a glorious start of his campaign in his new Porsche 906, winning at Castle Combe. With De Klerk coming over to Europe, the pair attacked many of the World Championship events, supported by Porsche Great Britain, but not with much to show for. In several local events, however, Mike driving the 906 solo proved more successful, resulting in a win in Silverstone's Martini Trophy, and second places in Oulton Park's Gold Cup and Zandvoort's Trophy of the Dunes. The next African winter with De Klerk brought a fourth at Lourenšo Marques, second places at Pietermaritzburg and Kyalami, and a third at Killarney.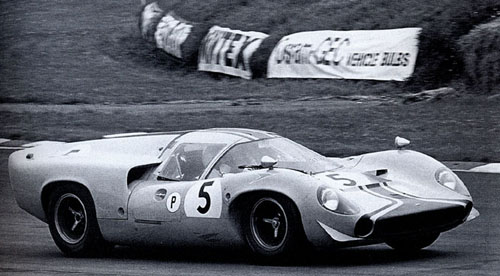 Racing SL73/105 in the 1967 BOAC 500 miles at Brands Hatch.
In 1967, de'Udy switched back and forth between the 906 and a new Lola T70 Mk3 GT with chassis number SL73/105, occasionally sharing with Hugh Dibley, David Piper or Peter Westbury. After a second place in the Anerley Trophy at Crystal Palace, Mike's finest hour came through the Portuguese streets of Vila Real, bringing his T70 home for the win. The Lola brought less luck in the Springbok Trophy, however, a single fourth at Killarney the only result to show for next to a series of DNFs, as the Chevy-powered Lola proved woefully unreliable in endurance events. In fact, the engine blew right at the end of the Killarney race while Mike was leading. The same happened to Mike at the Kyalami 9 Hours, where he was robbed at the last hurdle by a drop in oil pressure.
Lolas became de'Udy's prime mount well into 1970. At Sebring in 1968, Dibley and De'Udy qualified the Mk3 GT ninth but failed to make it to the end. Sprint races were better suited to the car: Mike ran home third in the Guards Trophy at Mallory Park and doubled up at the Vila Real 500 in 1968, before seriously crashing SL73/105 at Crystal Palace, forcing him to race the 906 one last time. The wrecked chassis was sold to David Prophet after which De'Udy acquired Jackie Epstein's car, chassis 112, that in the hands of Paul Hawkins had won the three 1967 Springbok races that Mike had failed to finish. With his new mount Mike went on to win the Gold Cup at Oulton Park two weeks later. He also found a new partner in Australian Frank Gardner, the two sharing the new T70 for the Kyalami 9 Hours, the traditional opener for the annual Springbok Trophy. De'Udy and Gardner managed fifth place after which De'Udy ran the car on his own for the rest of the series, a win at Kumalo forming the highlight of the campaign.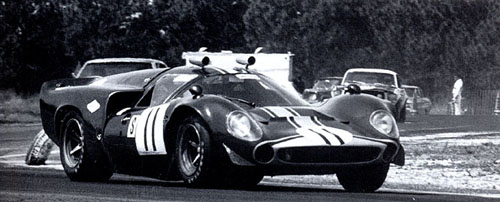 Even though SL73/105 was repainted in dark green with white stripes, the periscope air inlets still made Mike's car instantly recognizable at Sebring in 1968.
112's final fling became De'Udy's successful attempt at a new South African land speed record (191.8mph), after which the most enduring of T70s was sold to South African local Tim Stock. For 1969, Gardner raced De'Udy's new T70 Mk3B chassis SL76/149 in the British RAC Sports Car Championship and helped Mike defend his Vila Real honours, but this time De'Udy had to cede to David Piper and Chris Craft in a Porsche 908.
With De'Udy's latest Lola, as always easily recognized by its typical periscope air inlets, the Aussie and the Brit became a formidable pairing in the 1969 Springbok Series, claiming wins in the Cape Town 3 Hours at Killarney and the Lourenšo Marques 3 Hours in Mozambique while also finishing second in the Kyalami 9 Hours and being beaten by hometown hero John Love in the Bulawayo 3 Hours at Kumalo in Rhodesia. Mike bought the car that beat him on the spot but only raced it once in 1970, retiring it with a broken camshaft in the BOAC 1000kms at Brands, before selling it on to Paul Vestey. As his number of races diminished into 1970, another attempt at the Sebring 12 Hours, sharing with Hailwood, resulted in a non-finish. Back in South Africa at the end of the year, De'Udy and Gardner switched to a Ford Mustang Boss to contest what was now called the Shell Drivers Cup. Matched against prototype Ferraris, Lolas and Chevrons, the two fought for midfield places during the entire series, finishing off with a sixth at Goldfields on January 2, 1971. And that was the end of it.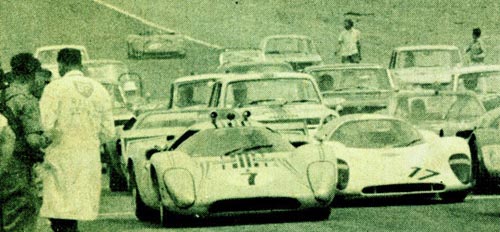 On the front row for the Bulawayo race in Rhodesia, three hours before being pipped by local hero John Love in a similar Mk3B.
Unlike some of his contemporaries, Mike managed to live through his manic days as a racer after deciding to retire from the sport at the age of 30, at a time when motor racing was at its most violent. In 2000, de'Udy returned to Goodwood, a place he still dislikes for its habit to kill the good guys (or at least cut their careers short), where he was tempted into reliving the past one more time. Now, his cousin Arabella Andrup has collected those lively memories of the period in an e-book entitled Living in the Fast Lane that is now available on Blurb.com, where you can read the first 15 pages for free.
Mike has graciously allowed us to exclusively publish three more excerpts from his book: