2022 Donington Park Masters Race Weekend report
Sunny days are here again
Author
Date
Related articles
Brands Hatch & Donington Park - A British doubleheader, 2019 Brands Hatch Masters Historic Festival & Donington Masters Race Weekend report, by Mattijs Diepraam
Who?

Martin Stretton

What?

Tyrrell-Cosworth 012

Where?

Donington Park

When?

2022 Masters Race Weekend (April 15, 2022)
Why?
So, after the cold of Barcelona, Masters Historic Racing was surprised when its Easter weekend at Donington Park provided the reverse experience, as perfect spring weather blessed its self-organised meeting that welcomed the Historic Grand Prix Car Association and the Formula Junior Historic Racing Association as its guests.
With Monaco fast approaching, no-one was expecting a large entry for the two Masters Racing Legends races for 3-litre F1 cars but still some 14 cars showed up, several of which opted to test their Monaco cars in live racing conditions, as opposed to what the majority seems to prefer, keeping their mounts undamaged until they reach the no-margin-for-error streets of Monaco. In fact, not just race Steve Hartley and Martin Stretton made use of this 'testing' opportunity, but so did Katsu Kubota (Lotus 91), Steve Brooks (Lotus 91), Mark Hazell (Williams FW08C), Dave Abbott (Arrows A4), David Shaw (in another Arrows A4), Ken Tyrrell (Tyrrell 011), Marc Devis (Surtees TS16) and Masters boss Ron Maydon (Lec CRP1), all having earlier gained a Monaco entry.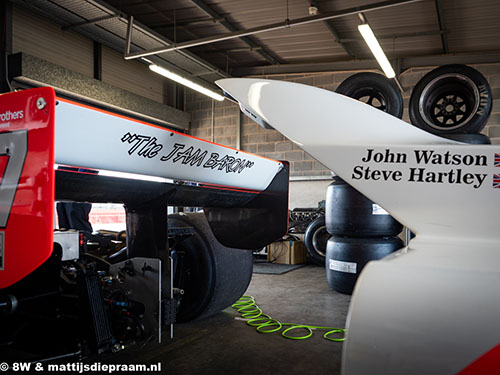 'Jam Baron' Steve Hartley took his second win of the season to take the lead the championship. (photo 8W)
In the first race, Stretton looked set to conquer the first win of the weekend before his Martin Adams-owned Tyrrell 012 developed a fuel pick-up problem. Weaving to persuade the last drops of fuel into the Cosworth DFV, Stretton was defenseless against Hartley's McLaren MP4/1, the car that had doggedly followed the Tyrrell for the entire race. Both had to pass a surprise polesitter, though, as American Ken Tyrrell proved that over the winter he had got even better since debuting his 011 last year. Right at the end, Greg Thornton took third in his Lotus 91 but was full of praise about Tyrrell's driving.
With Friday's top-four starting in reversed order for race 2, Tyrrell found himself in his second pole position in two days, and this time he held on to the lead until his car lost drive shortly after a brief safety-car period for David Shaw's stranded Arrows. Thornton took over but lost out to an attacking Martin Stretton coming all the way from the back, having been forced to start from the pitlane. Hartley's McLaren was an early casualty when its clutch failed, leaving Brooks and Kubota to war over third, the Spitfire pilot prevailing after a long, tense and error-strewn battle, the Japanese driver going off on several occasions in his efforts to pass the older, Essex-liveried Lotus.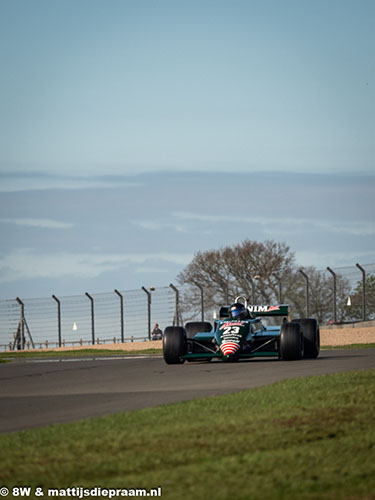 Ken Tyrrell surprised everyone including himself by taking his first Formula One pole. (photo 8W)
In two similarly fraught conflicts, Ron Maydon and Marc Devis fought over the pre-78 class win, Devis finding his way past in race 1 before his Surtees gave up, and then chasing the Lec all the way until powering past in the final few yards that mattered.
The two HGPCA races proved straightforward affairs as Will Nuthall drove off towards the horizon, leaving his Cooper T53 well out of view of any of his competitors before receiving the chequered flag on both occasions. On Friday, Nick Fennell's Lotus 25 stole second from Tim Child's Brabham BT3/4, but on Saturday, Child held on to second – and a much closer second to Nuthall too – ahead of Peter Horsman's Lotus 18/21, Fennell coming in fourth. With a fifth and sixth overall, John Spiers dominated the front-engined runners in Maserati 250F, finishing well ahead of the fleet of Cooper-Bristols.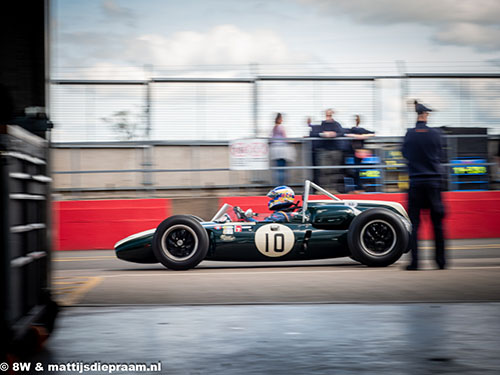 Will Nuthall powered serenely to two HGPCA victories. (photo 8W)
The four Formula Junior races were all about two men each, Alex Ames (Brabham BT6) and Clive Richards (Lotus 22) disputing the rear-engined category while Ray Mallock (U2 Mk2) and Chris Drake (Terrier T4) left no stone unturned in their efforts to taste front-engined glory. In the end, Ames and Mallock both came out as winners twice, but Mallock's victory over Drake in the second front-engined race was as close as it could be.
Masters Sports Car Legends proceedings were dominated by Tom Bradshaw until halfway into the race when the runaway polesitter and runaway leader of the race came in for his mandatory pitstop. To Bradshaw's utter despair, the Chevron B19 failed to restart for the duration of two full laps, as a result dropping the odds-on favourite to sixth at the end. Andy Willis said thank you in Stephan Joebstl's Lola T212 and capably managed his lead over Dean Forward in the B19 owned by the debuting Jamie Thwaites. Held back by an elite-driver pitstop penalty and the lack of safety cars, the Mark Hazell/Martin O'Connell B19 finished a distant third.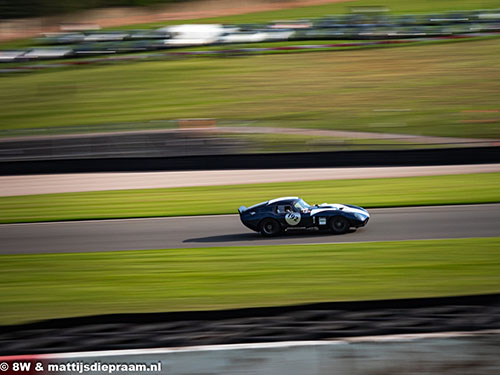 Sheer dominance - no-one could stay with the Julian Thomas/Calum Lockie-pedalled Shelby Cobra Daytona Coupé that steamrollered the Masters Gent Drivers opposition. (photo 8W)
Julian Thomas and Calum Lockie did convert their superiority into a win, as their Shelby Cobra Daytona Coupé led from start to finish in the Masters Gentlemen Drivers race. Thomas practically had the job after a searing opening stint that saw him usurp polesitter Andrew Jordan in a similar Daytona Coupé before leaving the former BTCC champion behind and handing a commanding lead to Lockie who then only needed to drive the car home. Jordan then proceeded to drop behind Nigel Greensall in John Spiers' TVR Griffith, Spiers doing enough in his stint to capture second place ahead of fellow TVR driver Mike Whitaker, while Roy Alderslade – having taken over from Jordan – dropped to fifth behind the E-type of John Pearson and Alex Brundle, Brundle 'elite driver plus' penalty proving too powerful to overcome in a relatively quiet race that lacked safety-car-induced opportunities for catching up.
This concept worked to a T for Craig Davies, however, as he was well out of contention in a Masters Pre-66 Touring Car race previously dominated by the two Ford Falcons of Julian Thomas/Calum Lockie and Sam Tordoff. Tordoff's example dropped out but Lockie seemed to have done enough for the win. A safety car helped Davies to close to within striking distance, and when the Falcon began developing excessive oversteer, Davies' Mustang powered through to take the win, even though the Mustang was driving anywhere but straight itself. Poleman Steve Soper's new Mustang having exited the scene after seven laps, third place was contested by no less than six Lotus Cortinas, with the John Spiers/Nigel Greensall example coming out on top, partly helped by the fact that their competition was hit by numerous time penalties for exceeding track limits. Having finished third on the road, father and son Peter and Guy Smith saw their podium evaporate because of it, as their Cortina found itself classified fifth when the dust had settled, the Michael Cullen/Paddy Shovlin car also profiting.