Greetings from Copacabana
Author
Date
Related articles
Who?

Fritz D'Orey

What?

Ferrari-Corvette 375 F1

Where?

Interlagos

When?

1958 Interlagos 500km
Why
From 2000 onwards, nine Brazilian drivers have been taking part in at least one F1 Grand Prix. Nowadays Brazil is the most represented country among F1 drivers. It is due to the influence of drivers such as Fittipaldi, Pace, Piquet and, of course, Senna. There was a time when Brazil was a small country in the F1 world. During the fifties only four drivers came from this country. Among them, Fritz D'Orey was the latest before Emerson Fittipaldi arrived in Europe.

Frederico José Carlos Themudo d'Orey was born in Sao Paulo on March 23rd, 1938. He was surely nicknamed "Fritz" because his grandfather came from Germany. Fritz, the son of a rich Packard dealer, grew up in the car business environment. As he was young, dynamic and keen to live in action, he was bound to go car racing – and that's what happened!

Fritz began racing with a Porsche Spyder but his career really started off in 1958, when he was only twenty. He had just bought the ex-Chico Landi's Ferrari 375 F1 from Celso Lara Barberis. The peculiarity of this car was its… Corvette V8 engine (sacrilege!). This car was typically built for the Mecanica Continental Championship, a kind of series for single-seaters with big American engines. When European drivers began to come to South America to take part in the Temporada races of Argentina, they used to sell their cars to local drivers in order to make some money. These locals had neither the expertise nor the money to maintain Ferrari or Maserati engines. Indeed, it was easier to service with a single-seater chassis than a racing engine. That is why the sophisticated engines were replaced by cheaper and more reliable American V8s. So, from the thirties to the fifties, Brazilian racetracks were full of such exotic cars.

With his Ferrari-Corvette, young D'Orey won many races, not only in his home country but also in Uruguay and Argentina. Thanks to his victories he won both the São Paulo and Brazilian championships.

His main victory was undoubtedly the 500km of Interlagos, on September 7th, 1958. 40,000 spectators attended the second edition of this race. The first one, in 1957, was won by Celso Lara Barberis, the man from whom Fritz bought his car. This race still exists and is one of the most important on the Brazilian calendar.

In the first laps of the 1958 race D'Orey was second behind Barberis (Talbot-Cadillac) and ahead of Christófaro, Nastromagario and Chico Landi. Ciro Caires, at the wheel of a Ferrari-Corvette, was in 25th and last position on the first lap but overtook the other drivers one by one. But he did not get the time to overtake D'Orey, Caires' race ended in a spin. Thus D'Orey took the lead by passing Barberis whose Talbot was less stabile than the Ferrari. Fritz won the race in about 3h30', two laps ahead of Christófaro and five laps ahead of Barberis/Margarido. Unfortunately, the death of a marshall, hurt by Landi's Ferrari-Corvette, cast a shadow over the event.

Soon after D'Orey again performed brilliantly and won the 1958 Circuito da Barra da Tijuca with the Ferrari 500 Mondial (chassis 0560). The car had previously been driven to victory by Castellotti in the 1955 Bolzano-Mendola hillclimb as well as to the second place in the Coppa d'Oro delle Dolomiti.

Then, the year 1959 began in a wonderful way. D'Orey went to Argentina to take part in some Buenos Aires races. There, he led a race but failed to finish because of mechanical trouble. However, the great Juan Manuel Fangio, who had retired from racing the year before, was really impressed by the young Brazilian's talent. The Argentinian champion decided to hire him in the team he wanted to create in order to help some South American drivers race in Europe.

Thus, D'Orey was on the entry list for the Monaco GP with a Maserati 250F run by the Argentina team, but never took part in qualifying. Fortunately, Fritz had another project: he bought a Ferrari 250GT LWB Berlinetta Scaglietti (chassis 0787GT) from Countess Elvira Vaselli, a car originally built for Venetian gentleman driver Oscar Papais. Thanks to this buy-out he became a true professional driver even if "he raced for the love of competition. It had nothing to see with money" according to his proper words. He then decided to live in Modena. His first race was in Monza, in the Lottery Grand Prix meeting. In spite of a spin after a shock with another Ferrari, he was 7th.

One week later, Fritz was on the grid of his first Grand Prix, in Reims. He qualified 18th out of 21. His Scuderia Centro Sud Maserati 250F was too old to give him hope for a good performance. It was chassis 2522 previously driven by another Brazilian, Hermano Da Silva Ramos. This three-year-old car had won the 1956 Glover Trophy and the 1956 Monaco Grand Prix driven by Stirling Moss. Fritz lapped in 2'34"0 to compare with the 2'19"4 set by poleman Tony Brooks (Ferrari 246). However, D'Orey was the fastest of the 250F drivers. Beaufort set a time of 2'35"4 and Giorgio Scarlatti did a 2'35"6. Moreover, Colin Davis and Ian Burgess, his two Centro Sud team mates, qualified their brand new Cooper-Climax T51s by setting times of 2'32"3 and 2'35"2. So given the circumstances the result was not too bad. But the race was like qualifying, Fritz running far behind the leaders. He eventually finished 10th, behind Scarlatti and Beaufort, and ten laps behind winner Tony Brooks.

One week later the 21-year-old Brazilian was back in his own Ferrari 250GT LWB, starting the Trento-Bondone hillclimb. The result was much more satisfying thanks to a second place in the GT category. Then, on July 18, Fritz was back in a Scuderia Centro Sud Maserati 250F for the British Grand Prix at Aintree. As in France there were three Centro Sud cars: D'Orey's Maserati and two Cooper T51s for Burgess and Hans Herrmann. The Brazilian driver was 20th on the grid (2'05"6), just behind Herrmann (with exactly the same lap time) whereas Burgess was 13rd (2'03"0). The Cooper drivers retired on lap 21 and 31 because of gearbox trouble whereas D'Orey had an accident on lap 57 while he was 15th and last. In fact, D'Orey's driving style was full of passion: "I was a child and very crazy (…) Racing meant sitting down in a car and accelerating. We did not use seat belts", he remembers.



At the beginning of August, D'Orey drove a Porsche 1500 RS in Avus and retired. But in the Wurzenpass hillclimb and the Gaisberg hillclimb he finished 2nd (Ferrari) and 3rd (Stanguellini-Fiat).

Then D'Orey participated in various Formula Junior races in Europe with the Stanguellini-Fiat. The first one, in Messina, proved to be a real success: he won ahead of Christian "Bino" Heins, another Brazilian driver. The next result, at the Nürburgring, was less impressive as he retired. At the beginning of September he raced at Cadours. He won the first heat ahead of Henri Grandsire, Giovanni Alberti and Lorenzo Bandini. Unfortunately, the final was much more disappointing as he was only 7th behind Bandini and one lap from the winner, Bill de Selincourt. The following race was set in Monza for the Coppa Inter Europa where D'Orey drove his Ferrari 250GT. He retired and had to give up the idea of taking part in the Tour de France with Italian driver Piero Drogo.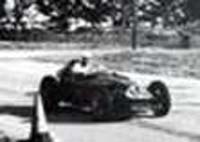 In late 1959, Fritz d'Orey was in Sebring to take part both in a Formula Junior race and the US F1 Grand Prix. He was second in the F Junior race behind Walt Hansgen but ahead of Ed Hugus and Briggs Cunningham. Moreover, he set fastest lap, which again proved his speed. For the F1 race D'Orey took the wheel of the TecMec-Maserati F415 belonging to the Camoradi USA team. In 1958 Maserati withdrew from racing but Valerio Colotti, the chassis and transmission engineer at Maserati, decided to create his own company with the financial help of American Tom Meed - Studio Tecnica Meccanica, based in Modena. Giorgio Scarlatti, the Italian driver, asked him to design a single-seater with a Maserati 250F engine.

Then Hans Tanner, a Swiss journalist, and Gordon Pennington, a US businessman, bought out the business and decided to give the car the name of TecMec. Some drivers such as Bob Said, Jo Bonnier, Piero Drogo and Giorgio Scarlatti himself tried the car and all agreed it wasn't fast. So Tanner retired from business and let Pennington entered the car under the Camoradi banner. In fact D'Orey was not confident with the TecMec and considered it a dangerous car. He qualified 17th out of 19 and retired after seven laps because of oil leakage. This put an end to both D'Orey and TecMec's F1 careers…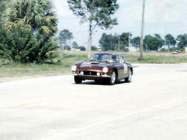 The year 1959 ended in Sebring and 1960 also began on the Floridian track: Fritz D'Orey was the very first Brazilian to take part in the famous 12 Hours race. On the left he is seen coming down the short straight between the esses and the hairpin (picture courtesy of barcboys.com). He was at the wheel of a Ferrari 250 GT SWB belonging to William Sturgis, who was also D'Orey's co-driver. The pair finished in 6th position (4th in the S3.0 category), thirteen laps behind winners Herrmann/Gendebien (Porsche 718 RS60).

It was planned that Fritz would continue for the Ferrari sportscar team for the whole 1960 season but three months after Sebring he was one of the three drivers in Scuderia Serenissima's Ferrari 250GT SWB n°14. The two other drivers were Carlo Maria Abate and Gianni Balzarini. This was the first time D'Orey would enter the prestigious French race. Unfortunately it wouldn't happen: during practice he crashed against a tree at 270kph. The car was split in two and Fritz suffered head injuries. Some newspapers even reported his death. The 22-year old Brazilian stayed in hospital for eight months to recover. After that, he decided that it was better to quit racing. He kept his word.

This is how the short career of a talented young driver ended. He went back to Brazil to work in his father's construction and garage business. Later on, he lived in Paris during five years.

Nowadays, Fritz D'Orey lives in Copacabana. "There is no more beautiful view than this one (…) I prefer living here and watch this rather than to following the F1 world, which is very unpleasant", he says. He shares his time between his passions of computers, photographs and old racing cars. Sometimes he takes part in historic events and does not hesitate to give his opinion about modern F1. As it is said above, his opinion is not always positive. I often understand why.