The race when Nuvolari waved the steering wheel
at the crowd and a forgotten Championship
Author
Date
8W Special, March 17, 2001
Related articles
Who?

Tazio Nuvolari

What?

Cisitalia D46

Where?

Parco del Valentino

When?

1946 Coppa Brezzi
Why?
'Look mum! No hands!' Well, that is, Italy's hero from Mantua had his hands on the steering wheel alright but the wheel wasn't attached to the car... On the rebound from the death of his son Nuvolari was the showman as ever as he pulled a stunt that became instant motor racing history. Strangely, it happened as part of a championship that no-one seems to remember: the 1947 Italian Championship for unsupercharged 1.5-litre cars. As a side point, with detachable steering wheels being compulsory today, why hasn't Eddie Irvine done the same trick up till now?
Introduction
Piero Taruffi, in his very interesting book of memoirs Bandiera a Scacchi [1], lists, among his achievements for the year 1947, the title of Champion of a rather unusual Campionato Italiano 1947 per vetture corsa 1500 senza compressore, i.e. the 1947 Italian Championship for unsupercharged 1.5L single-seaters. It is a mysterious achievement, that it is certainly by now forgotten but also a bit difficult to believe, since the mere existence of the new Cisitalia D46 1.1L should have led to a more natural 1100 boundary for a series. Besides, Paul Sheldon in volume 4 of his monumental and authoritative work "A record of GP and voiturette racing" repeatedely states in the reports for 1946/47: "...unlike the 1100cc races in Italy which were only for unsupercharged cars..." ([6], p.161), or "...not counting the many Italian races for unsupercharged 1100 cars..." (loc.cit., page 203). There should be no good reason to have doubts about this information since, as I said, it is a very natural deduction, but, on the other hand, there should be no reason either to challenge information coming from such a notoriously meticulous man as Taruffi ("Do not be like Taruffi", Ferrari used to say to drivers too fussy about details!). The idea of an unprecedented series for 1.5L u/c cars, valid for just one year, with no known analogy in other countries, at least until the 1956/65 F2/F1, seems peculiar enough to deserve to be given some look into it.

This is a report on the findings about this matter that lead to the following conclusions:

- there never was racing in Italy for 1.1L single-seaters with, maybe, the exception of one race:
May 18th, 1947, 2° Circuito di Asti - Coppa Asti Spumante
- there was indeed an Italian Championship for unsupercharged 1.5L singleseaters in 1947, contested in six races:
June 1st, 1947, 1° Circuito di Vercelli
June 8th, 1947, 1° Circuito di Caracalla
June 15th, 1947, Circuito di Vigevano
July 6th, 1947, Circuito di Forlì - Gran Premio Luigi Arcangeli
August 24th, 1947, 20° Circuito del Montenero
September 14th, 1947, 2° Circuito del Lido di Venezia
- the point scoring system could not be found, but it is clear from the results, that are complete for the finishers of each race and that have never been checked, apparently, since 1947, that Taruffi would have won the Championship under any system.
1. Cisitalia D46
A new-born factory from Turin gave the signal of post-war rebirth both in production of new cars and in racing in Italy. Its name was Cisitalia, and it was the fruit of ideas and money of textile industrialist and merchant and real-estate operator Piero Dusio, an enthusiast private entrant and team organizer in pre-war racing both in the GP and the Voiturette classes. In post-war Italy Cisitalia was the first factory to build entirely new cars, beating by a distance all other manufacturers, from giant Fiat to then tiny Ferrari.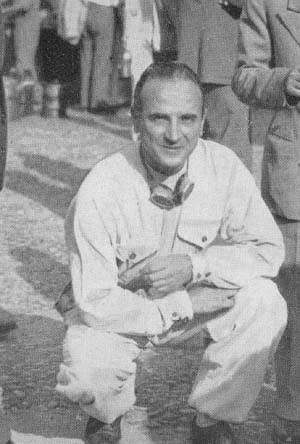 Piero Dusio

Dusio's idea was the same as Ferrari's, albeit with a much less fortunate outcome: to find in racing the promotional input to successfully market their commercial production. As is well-known, it was a story of gallant failure, nonetheless in the four years of existence in its original form, Cisitalia gained everlasting fame for its cars. Dusio had started to work on his ideas in 1939 building a Fiat 1100 special and spent the war years organizing a true miniature car factory, with design, production and development & racing departments, making projects progress on the drawing boards and raising money to finance the operation. A shrewd and vital man, he was also able to "store" some chrome-molybdenum. At the outset of peace everything was ready to put into production a sportscar and a single-seater both powered by an engine based on the popular Fiat 508C "Millecento", but this description is reductive since the two cars were not just another Fiat Special. They were of very advanced design particularly in the chassis, an unusual feature for Italian sports and racing cars, at least until about 1960. The sportscar, the Cisitalia 202, is moreover a milestone in body design setting the trend of the "Italian style"; it came out from the fortunate meeting between Dusio and famous coachbuilder Battista "Pinin" Farina. In the words of Pinin Farina's heirs Sergio Pininfarina and Guido Carli: "...styling developments took their cue - as critics have universally recognised - from the Cisitalia produced by Pinin Farina straight after the war in 1947. This shape marked a turning point between the past and future of the car considered in its new role as a stable factor in the human landscape. The Cisitalia set up an almost physiological bond between car bodies and artistic culture…" [2]

Beyond words, it is certainly true that whenever, more than 50 years later, we imagine a GT car, we think about a shape that is an abstraction of the one of the Cisitalia 202. Its mechanicals were the brainchild of famous Fiat designer and father of the Fiat 500 "Topolino" Dante Giacosa with the help of young designer Giovanni Savonuzzi who was thus beginning a splendid career. They also designed a single-seater of advanced concept with independent front suspension and space frame chassis, putting to good use the chrome-molybdenum and taking advantage of Giacosa's aereonautycal experience. When structural computations had to be reviewed, famous Turin Polytechnic professor Cicala was called on. This impressive staff was completed by Piero Taruffi, a gifted engineer himself, who was hired as chief of the development department, team manager and test driver. It was a car conceived for giving reasonably high performance - with a weight of 400kgs it was able to reach a maximum speed of 175 kmh - at low cost (how much exactly is not clear: the only figure that I could find is 1000 pounds at the 1970 value), the ideal for a feeding formula. The engine was a tuned Fiat 1100 giving a power output between 55 and 60 bhp, connected with the transmission by a preselector gearbox activated by the clutch pedal - another unusual choice in Italian racing engineering. In truth, engine power was going to be the Achilles' heel of the car that could never be properly developed because Dusio ran into financial problems very soon. Only in 1948 a twin carburettor was installed, raising the power output to 62 bhp and a few more horsepowers were found raising the engine capacity to 1.2L. Dusio claimed that his factory was able to build one D46 per working day, but a total number between 30 and 40 were built though a precise figure cannot be found. It was a remarkable achievement for the times and stands comparison with the yearly output of Lola, Lotus or Cooper in the FJ years. The car was called D46 for "Dusio 1946".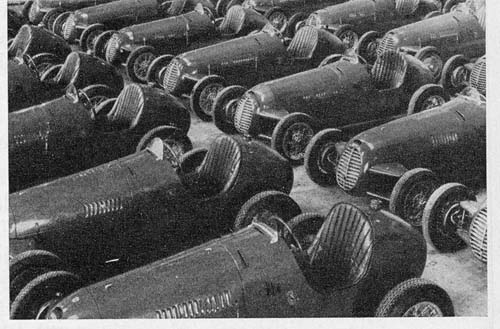 2. The "second" formula in 1946/'47
Racing classes in early post-war years were determined by the cars that had survived war. 1.5L supercharged voiturettes were raced in GPs together with unsupercharged 4.5L cars from the pre-war GP formula, so that a "second" formula had to be found. French organizers having ascertained the existence of some Amilcar, Salmson and other French or British cyclecars and of Peugeot, Citroen and BMW 2L unsupercharged specials that could be raced both as sportscars and single-seaters, organized a series of races for 1946 and 1947 reserved to 1.1L supercharged and 2L unsupercharged cars. New blood was transfused in the class by the Simca-Gordinis 11 and 15, 1.2L - later 1.5L - unsupercharged cars built along the same principles as the Cisitalia D46. The Gordinis were less well engineered than the Cisitalia but more powerful and they proved to be the dominant car in the class. The same regulation was followed in Great Britain mostly with pre-war MGs and Rileys. The situation in Italy was quite different since there was no existing material of that kind. Before the war Maserati had built a very small number of 4 cyl. 1.1L supercharged engines one of which was mounted on Lurani's Maserati 4CM. After the war, apparently only one of these engines was used, in France.

In Italy three engines were easily available from production: the Fiats Topolino and 1100 and the Lancia Aprilia. The first two were very apt to be tuned and with dry sump and special cylinders head they were giving enough power to give birth to a myriad of specials built before and after the war that were contesting very lively 750 and 1100 sportscar classes. Casa dell'Auto from Turin made several hundreds of Testa d' Oro cylinder heads that were used also on everyday cars. Coachwork was picturesque: it ranged from pseudo MGs to pseudo BMWs, from pseudo Alfa 8Cs to ante-litteram Barchettas to the more practical form with cycle wings and unincorporated lights that was lighter and could be stripped down to a "single-seater". Also the "true" cars Cisitalia and OSCA were available with bodies in the two versions as were Ferrari's first two cars. Most of the specials used the Topolino front suspension and brakes; the chassis were rudimentary but the cars were amazingly fast and versatile being used with success in such different events as hill-climbs, town circuits and long distance races as the Mille Miglia or the Tour of Sicily. Some of the builders went as far as to become racing car manufacturers: earlier SIATA, Giannini and Moretti, later Stanguellini, Ermini, Taraschi, Volpini, Bandini and others.

The sophisticated Lancia Aprilia was a completely different matter. One of the most extraordinary touring cars in history, it dominated its class in racing from 1937 to about 1952 when it was already out of production. The tuning of its 16° V4 engine was very difficult and only a few specialists were able to work on it, among them Dagrada and Facetti in Milan. Nonetheless, a few specials were built before the war and in 1946/47; their makers are hard to find today and in the records the cars are usually listed as Lancias or Aprilias with a few exceptions such as Paganelli or Pacini. Usually the suspension layout of the original car was retained and the cars were rather expensive to maintain and fragile. As single-seaters, Lancia Aprilia Specials were to race in Italian F2 until as late as 1951, their best result possibly being the third place by local driver Luigi Bellucci in the 1948 F2 Naples GP.

The Italian 1946 racing season had consisted of quite a few meetings held on town circuits. There were usually three separate races for the 750, 1100 and over 1100 sportscar classes. It came as a big surprise to this writer to discover that most of these meetings ended with a fourth race, a handicap one: handicap races being further away from the "Italian racing culture" than any other kind of racing. It is a now forgotten experience and it was never repeated. It is not clear when the Italian governing body of the sport decided to introduce the 1.5L single-seater class for 1947 thus providing organizers with an alternative for the fourth race in their meetings; very likely it was judged that the existing Fiat and Lancia specials were enough if some new Cisitalias were added, but how this decision was linked with Dusio's one of selling most of his D46 - which was not his original idea at least in the numbers in which he was forced to do - could not be found. The structure of the calendar, with its late Spring/early Summer start and the first four races concentrated in six weeks, could indicate a late decision. In this case the announcement of the new Ferrari and Maserati sportscars could also have been a factor: of the two Ferraris 125C one had cycle wings and Maserati was said to have a 1.5L version of their new AGGCS engine. Indeed Ferrari and Maserati entered these races sporadically, and with little success. In any case the idea of this new class met an excellent response from the organizers and one of the Championship races, in Rome, was not part of a meeting but just run as a single event. Furthermore, prize money was more than adequate and, in the Leghorn case, lavish. Thus everything was set up for a good racing season that was going to be the forerunner of some very spirited racing in Italy for the new international Formula B (F2) in the years 1948/'51.
3. The maiden race for the Cisitalia D46
It is amazing to discover how - from many details - Dusio and his team of engineers were ahead of their times. For instance Piero Taruffi had a testing ground made, and he provided it with, among other devices, the "Steering pad" (i.e. speed trials along a circle of fixed radius) and the now famous "Elk trial" (i.e. a sequence of S-curves) to test the curving power of car and tyres, the stability of the car and its maximum possible entering speed in curves. He believes that he was the first one in the world to use these kinds of trials. Also comparative tests with other cars were made. By the Summer of 1946 the D46 were ready to race and the supporting sportscar race for the GP del Valentino was hastily opened to unsupercharged single-seaters up to 1.5L by the Turin Autoclub. The race was named Coppa Brezzi from pre-war Dusio's Voiturette driver Andrea Brezzi who had died in the war and was going to be held on September 3rd, 1946, the Tuesday after the GP. The number of entries was originally limited to 20, but the organizers had to accept 25 [3] or 26 [5]. Dusio fielded an all-star team with Nuvolari, Chiron, Sommer, Taruffi, Biondetti, Cortese, reserving one car for himself. The great aces were keen to race new cars and Dusio's notorious generosity was no obstacle. From nearby France, Equipe Gordini came with four cars for veteran cyclecar drivers Scaron, de Saugè Destrez, Mestivier - one of the organizers of the GP de la Liberation one year earlier - and Gordini himself. Gordini in 1946 usually fielded a type 11 for himself and three Simca 508 Specials. The lineup for this race is unknown. Of the numerous Fiat 1100 Specials only a few Stanguellini are listed with the name of the builder; the 1.5L cars were three Lancia Aprilia Specials, one 815, Ferrari's first car, now properly named AAC, i.e. Auto-Avio Costruzioni and one Maserati, from photographic evidence an old 6CM, necessarily unblown, driven by former Brezzi's teammates Lanza [3] or Puma ([4] and [5]) or by both, an unproved but very likely guess. The three best practice times were set by Taruffi, Sommer and Nuvolari and the Cisitalias occupied the two front rows.

The start was given at 5.45 p.m. to allow spectators to show up after work and 50.000 people came! Among them a particularly excited group of Cisitalia workers and employees. Sommer shot out in front followed by Taruffi. During the second lap the famous "steering wheel episode" occurred. The steering wheel of the D46 could be lifted to allow better access to the driver's seat. It rotated around a hinge at the end of one of its spokes and it was the hinge that broke down in Nuvolari's car. Great old Tazio stole the show: ageing, distressed by the death of his second son - ten years later than his elder one - suffering from the first symptoms of the illness that would slowly kill him, he frenetically waved the wheel at the crowd with his right hand. The spoke ending with the hinge had an upper part that could be lifted and a lower part solid with the steering shaft so that Tazio with his left hand drove for a lap steering with the lower part. The crowd went beserk: the old showman had done it again! Then he stopped and repairs were long before he could resume with the race. In the while Sommer and Taruffi were leading from Dusio, Chiron and Cortese when the brakes in Taruffi's car failed on lap 6. Taruffi went straight past Sommer into the straw bales with the usual fireman standing on the top. When Sommer also had troubles, Dusio took the lead and Cortese passed Chiron. Dusio had in this way the great pleasure of being the driver in the first victorious race of his cars and apparently there had been no foul play. The Gordinis were not a factor and Amédée had to start to think about the necessary measures to be taken.

Race Table [3,4,5]:

Coppa Andrea Brezzi
September 3rd, 1946 (Tuesday)
Turin, Circuito del Parco del Valentino,


30 laps x 4.720 kms = 141.600 kms
750 up to 1100 cc u/c sportscars and single-seaters and 1100 up to 1500 u/c sportscars and single-seaters
Prize money: 840.000 Lit
Spectators: 50.000
22 starters
Entries
Cisitalia D46 (works): 32. Piero Taruffi, 56. Tazio Nuvolari, 12. Louis Chiron, 6. Raymond Sommer, Clemente Biondetti, Franco Cortese, Piero Dusio
Simca-Gordini (works): Amédée Gordini, José Scaron, Raymond de Saugé, Maurice Mestivier
Maserati 6CM: Ugo Puma or Dioscoride Lanza (*)
Fiat Stanguellini 1100: Franco Bertani, Guido Scagliarini, Alberto Comirato
Fiat 1100 Spl: Giovanni Quintavalla, Piero Torelli, Franco Mosters
Auto Avio Costruzioni 1500: Enrico Beltracchini
Lancia Aprilia 1500 spl: Giovanni Bracco, Eugenio Minetti, Enrico Adanti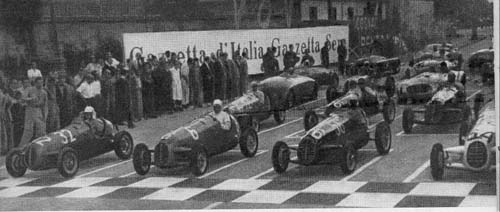 The start

Results
Piero Dusio, 30 laps in 1.22'07", 103.273 km/h
Franco Cortese, 1.22'48"4
Louis Chiron, 1.23'06"
Ugo Puma (or Dioscoride Lanza), 1.24'38"5
Raymond Sommer, 29 laps
Franco Bertani, 29 laps
Guido Scagliarini, 28 laps
Alberto Comirato, 28 laps
José Scaron, 27 laps
Giovanni Quintavalla, 27 laps
Piero Torelli, 26 laps
Enrico Beltracchini, 25 laps
Tazio Nuvolari, 24 laps
Fastest lap: Sommer (lap 20) and Dusio (lap 22) 1'38"8, 107.200 km/h
DNF: Piero Taruffi, 6 laps, brakes
DNF: Giovanni Bracco, 8 laps
DNF: Franco Mosters, 8 laps
DNF: Enrico Adanti, 9 laps
DNF: Eugenio Minetti, 11 laps
DNF: Amédée Gordini, 18 laps
DNF: Clemente Biondetti, 18 laps
DNF: Raymond de Saugé, 20 laps
DNF: Maurice Mestivier, 20 laps
(*) Note: It can be conjectured that Lanza and Puma shared the car, but no evidence could be found.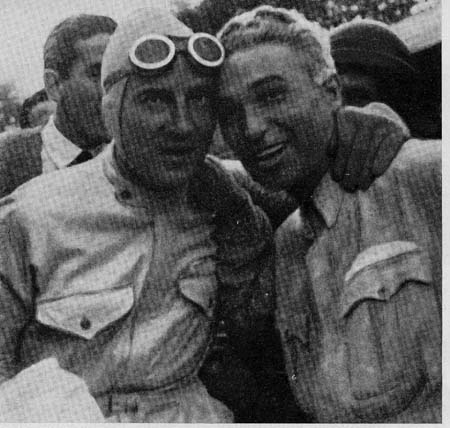 Dusio & Taruffi
4. The Egyptian catastrophe
It had been a wonderful start. The D46 had proved that it was fit to attain the purposes for which it was built. Of course drivers used to more powerful and heavier cars had found it a little bit too nervous because of its short wheelbase and jumping in acceleration because of the limited excursion of the suspensions but these defects could become assets when the purpose was to train to make reflexes sharper. So Taruffi took one car to the Circuito di Milano to compete against the best F1 machinery. Though the fastest in the chicane on the main straight, where the speed of the new car caused sensation, Taruffi finished sixth in heat not qualifying for the final. One D46 entered by Raymond de Saugé Destrez finished 4th later in the year in the 3-hour long Penya Rhin GP against lesser F1 opposition. But this was not what Dusio had in mind for his cars; he had built enough D46s to think that they could race in a class by themselves in events organised by him. From the experience of the Coppa Brezzi he knew that for single races he could sign some of the best drivers around and that the cars were spectacular enough, so he decided to organize a "circus" that could be hired by organizers around the world sharing the profits. In these races international aces would compete against young new drivers. Once again Dusio was ahead of his times; different experiences in recent decades show that nowadays monotype and monomarque racing can be well received both by public and organizers but in those years it was doomed not to succeed. One of the reasons could be that pre-war nationalism made even bitterer by the war led the public to think in terms of nationality of the makers more than the drivers' and that a race was a kind of football match between national teams - still today it is not very important in Italy who drives a Ferrari as long as Ferrari wins. The "driver's race" in Italy was the Mille Miglia, where almost all drivers and cars were Italian. In any case Dusio, who had invested most of his company's assets in setting up the first series of 500 of the 202GT car, found some financial backers in Switzerland for his project.

The first race for the "Cisitalia Circus" was going to be held, of all places, in Egypt on March 9th, 1947. The Egyptian royal family was said to be very keen on racing and it was hinted also that King Farouk wanted, by organising a car race, look more British than his British protectors! 16 cars were shipped under the supervision of Piero Taruffi who was going to act as team manager and driver. The drivers were established ones such as Chiron, Cortese, Tadini, Lurani, Brivio (in one of his sporadic post-war appearances) with Taruffi and Dusio plus a very distinguished bunch of "motorcyclists" as Auto Italiana calls them in their report: Tenni, Serafini, Pagani, Ghersi and Alberto Ascari. It is interesting that among them there are three of the greatest bikers ever, Tenni, Serafini, Pagani, and that Auto Italiana still considers as "motorcyclists" Ghersi, number three in motorcycle racing in the 20s behind Nuvolari and Varzi, who had consistently entered GPs and Voiturette races for all of the 30s, and Ascari, a moderately successful biker, in his first post-war race. The entry list was completed by Frenchman de Saugé, Swiss Basadonna, Mille Miglia specialist Banti and unknown Marinotti, an indication that Dusio had probably sold some other of his cars besides the de Saugé's one, another indication being the fact that Taruffi decided to draw by ballot the cars among only "the top drivers in the group" [1].

The race was held on a twisty track laid in El Gezirah, a small island on the Nile in Cairo's residential district. Only 6000 spectators showed up on a sunny day, mostly sitting on the top rows of the stands, leaving the bottom ones unoccupied, probably by fear; the cars wore race numbers also in Arabic on the right side of the tail. After heats won by Cortese and Taruffi, ten cars qualified for the final. Taruffi started in front from Cortese, Dusio and Ascari who overtook Dusio after ten laps. Towards the end of the race the nuts fixing the carburettor in Taruffi's car got loose and he had to slow down and was passed by Cortese and Ascari. Cortese won and was awarded a cup of solid gold presented to him by King Farouk in person.

Race Table [4],[5]:

Sehab Almaz Bey Trophy
March 9th, 1947
El Gezirah (Cairo), Egypt
2 heats: 25 laps x 1.480 km = 37.5 km, final 50 laps = 75 km
Monotype race for Cisitalia D46
Weather: sunny
Spectators: 6000
16 starters
Results:

Heat 1
Franco Cortese, 25 laps in 23:24,4, 96,147 km/h
Piero Dusio, 23:30,8
Mario Tadini, 24:14,2
Nello Pagani, 24:33
Ciro Basadonna, 24:38
Omobono Tenni
Giovanni Lurani
DNF: Raymond de Saugé, accident
Heat 2
Piero Taruffi, 25 laps in 23:05,6, 97,451 km/h
Alberto Ascari, 23:27,6
Dorino Serafini, 23:28,9
Sergio Banti, 23:43
Pietro Ghersi, 24:44
Antonio Brivio
... Marinotti
DNF: Louis Chiron, oil leak
Final
Franco Cortese, 50 laps in 45:49,3, 98,2 km/h
Alberto Ascari, 46:02,1
Piero Taruffi, 46:03,3
Pietro Dusio, 46:04,4
Mario Tadini
Ciro Basadonna
Dorino Serafini
Fastest lap: Piero Taruffi, 51", 108.112 (?)
DNF: Nello Pagani
DNF: Sergio Banti
DNF: Pietro Ghersi
While the drivers were lavishly entertained by the Egyptian court and thoroughly enjoyed their trip, the event was a financial desaster. Dusio's Swiss partners backed off not seeing any future in this kind of racing and he had to pay them out digging deeply into his personal assets. His company never recovered from this financial loss: when the production of the series of 500 202 GT cars, where most of the company assets were invested, proved to be too slow making its costs excessive, Dusio had no more money to invest to try to save the situation. At this time, apparently, most of the existing D46s were sold: in France de Saugé's car was joined by two bought by Lucy O'Reilly, one by Boyer, two by Loyer and "Robert" to be raced under the Ecurie de Paris banner, and one by Robert Manzon, who considered the D46 the appropriate car to train his considerable skills. In Switzerland at least four cars were sold besides Basadonna's and raced privately or for Ecurie Autosport and Ecurie Helvetia. Stuck used one D46 in the first afterwar races in Germany, winning with it the very first one: the 1947 Maipokalrennen in Hockenheim. In Britain the D46 was not raced until 1949, by former Magnette driver Frank Kerrington. In Italy Scuderia Ambrosiana raced at least two and sometimes more cars, two went to Rome to gifted amateurs Bernabei and Venturi, two to Biella for Scuderia Biellese with Grolla and Porrino as drivers and others to less known individual entrants.
5. The Italian 1947 Championship for 1.5L unsupercharged single-seaters
Only a few D46s were retained by the factory for the works team and comeback man Felice Bonetto was signed as works driver to join Piero Taruffi. The early demise of the "circus" and the fact that Dusio's main interests concentrated on the GT car and on the F1 project meant little or no development of the D46 so its buyers found themselves with a car with good potential but with not enough power for international racing. A comparative assessment of the merits and results of the D46 with contemporary Gordinis will be made later, for the moment we will remark that by Spring of 1947 the Cisitalia D46 was back to a more natural status, that of the car for an Italian feeding formula. It is likely that the Italian Championship for 1.5L unsupercharged single-seaters was instituted at this time, but there is no evidence of that, as already said. The situation of the Italian governing body of the sport in those difficult times was very complicated and of no interest here, but it is enough to say that the various committees were headed by men such as Aymo Maggi and Tonino Brivio with Giovanni Lurani acting as some sort of minister of foreign affairs. These men knew the sport from deep inside and they were instrumental to its very quick recovery and in setting the path for Italian worldwide preminence that was going to last until the late 50s. A new car, the D46, was available together with a bunch of specials and maybe Ferrari and Maserati would enter their new cars also, so a calendar was hastily put together. It was also estimated ([7], p.10) that the older drivers had to be maintained in form since they were underutilized in international races, so that the participation in Championship races of Taruffi, Bonetto, Nuvolari, Cortese, Lurani, Minetti, Villoresi alongside the new drivers was not considered contradictory. Three of the races had the status of Nazionali a partecipazione straniera (i.e. national races open to foreign entries), an odd denomination always present in Italian racing, while the Rome, Leghorn and Venice ones were truly Internazionali.

The organizers of the Asti sportscar meeting - sparkingly named Coppa Asti Spumante - decided to add one race for the Cisitalias two weeks before the beginning of the Championship. Ten D46s showed up with Bonetto and Taruffi on the works cars. Scuderia Ambrosiana entered two cars for its President Eugenio Minetti and young Franco Mosters. All drivers with the exception of Taruffi were racing the Cisitalias for the first time. Taruffi easily led the 32-minute race for half an hour before clutch problems forced him to slow down so much that Bonetto and Brandoli overtook him on the last corner. Taruffi barely finished the race. Newcomer Brandoli's performance was highly praised by the Auto Italiana reporter. Brandoli, a former mechanic, finished at Bonetto's tail; his further career did not develop at a level higher than small capacity sportscar classes. Franco Mosters beat his President, the more experienced Minetti, slowed down by brake trouble, for fourth place. The facilities of the circuit were said to be "in the Spartan mode" by the same reporter.

Race Table [4],[5]:

2° Circuito di Asti - Coppa Asti Spumante
May 18th, 1947
Asti,


20 laps x 2.810 kms = 56.200 kms
Up to 1100 unsupercharged single-seaters or Cisitalia monotype race
Weather: sunny, hot
10 starters
Results (all on Cisitalia D46):
Felice Bonetto, (#96, Cisitalia SpA), 20 laps in 32'26"4, 103.945 kmh
Marino Brandoli, 32'27"8
Piero Taruffi (#98, Cisitalia SpA), 32'39"4
Franco Mosters (Scuderia Ambrosiana), 33'09"2
Eugenio Minetti (Scuderia Ambrosiana), 33'19"4
Mario Porrino, 33'20"7
Alberto Neri, 33'43"
Piero Truffo, 19 laps
... Pinco, 19 laps
... Malgoni, 16 laps
Fastest lap: Taruffi, 1'33"8

The Championship was going to take off at Vercelli on June 1st. Two more races were to follow at only one-week distance between each other, the international one in Rome and the meeting in Vigevano. Vercelli, the center of the flat rice-growing region, only 30kms north from Asti, hosted the race on a hot sunny Sunday. Reports do not say anything about mosquitos, but there must have been quite a few of them on a hot Sunday when Taruffi found himself to compete against opposition that never could be more appropriately called local: indeed his stronger adversaries were Bracco, Grolla and Porrino, all from Biella, the center of another rich district, this time of the wool industry, that is located 2Okms uphill from Vercelli. Biella had a very good tradition of racing drivers, from Carlo Felice Trossi to Umberto Maglioli through Giovanni Bracco.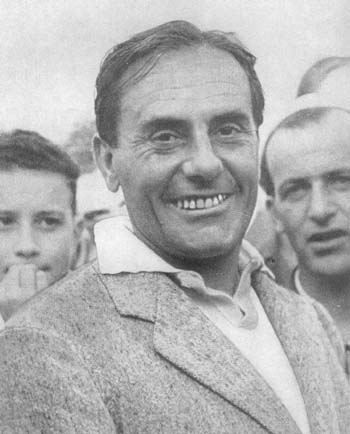 Giovanni Bracco

The latter was a huge talent, never completely expressed. He was one of the fastest of the many fast Lancia Aprilia drivers in touring car racing before and after the war when he found himself also as the owner of a 3L Delage 6-cylinder and of one of the new AGGCS Maserati 2L sportscars. At the Modena meeting on September 28th, 1947, Bracco crashed the Delage into the crowd killing several spectators. He did not have any responsabilty for the accident, but its memory always haunted him since: when he resumed racing on the Maserati, at Pescara in 1948, he stopped after two laps, since he could not bear the sight of the stands full of spectators. After a long stop, Bracco found himself more at ease in coupé-bodied cars, winning hiss class in the 1950 Mille Miglia with young Maglioli on a Ferrari. At this moment he found the car that was going to give him most of his successes: one of the new Lancia Aurelia 2L GTs. With this car he took many class wins, amongst them at Le Mans (with Lurani), and a miraculous second overall at the Mille Miglia, always with Maglioli. He reached the top at the 1952 Mille Miglia when he drove his Ferrari to a legendary second half of the race: 12 minutes behind Kling's Mercedes 300SL in Rome, he won by 10 minutes driving the last surviving car from Maranello. It was one of those drives that greatly appeal to the general public: a comeback victory in appalling weather conditions in the last red car, drinking from a flasque of cognac and chain-smoking cigarettes, brushing aside the threat of the mighty Silver Arrows. In all fairness, technically, the best drive that day was put on by veteran Luigi Fagioli in his everyday car, a Lancia Aurelia GT, in which he beat his old foe Caracciola for third overall. After that, Bracco, already in bad health, drove well his personal Ferraris for a couple more seasons and died shortly afterwards. This kind of heroics was not to be expected in Vercelli's 40-minute race that, behind Taruffi - who shot out in the front to be never seen afterwards by his adversaries - was pretty lively anyway. Porrino, Brandoli, Mosters, Bracco and Grolla fought in that order with abandon and when the first three had to stop, Bracco closely beat Grolla for second. Porrino resumed after a pitstop to finish fourth. Bracco was the only one not driving a Cisitalia but an unspecified Maserati, possibly an A6GCS with a 1.5L engine. As the Auto Italiana reporter wrote, Taruffi finally won after four tries (Turin, Milan, Cairo and Asti).

Race Table [4],[5]:

1° Circuito di Vercelli
June 1st, 1947
Vercelli
30 laps x 1.827 kms = 54.810 kms
Unsupercharged 1.5L single-seaters, Italian Championship, 1st round
Weather: sunny, hot
? starters
Results:
Piero Taruffi (#6 Cisitalia SpA), Cisitalia D46, 30 laps in 40B7"6, 81.942 kmh
Giovanni Bracco, Maserati AGGCS?, 29 laps in 40'26"6
Lamberto Grolla, Cisitalia D46, 29 laps
Mario Porrino, Cisitalia D46, 28 laps
no other finishers
DNF: Franco Mosters (Scuderia Ambrosiana). Cisitalia D46. driver's illness
DNF: ... Pinco, Cisitalia D46
DNF: Marino Brandoli, Cisitalia D46, gearbox
etc.
From hot Po river Valley, some of the drivers moved hastily to Rome for the first international race of the series. It was going to be a much longer race on the Terme di Caracalla circuit that had just seen Cortese's famous first Ferrari victory in the sportscar Rome GP. It was a circuit laid out in one of the most beautiful parts of town on the slopes of the Aventino hill in a forest of Roman pines. In truth it was a slow and twisty affair, but a lot of public showed up on a glorious Roman Spring Sunday. Among the foreign entries the two that could be found are particularly interesting: Madame Anne-Cécile Rose Itier and George Abecassis. Madame Itier, already much involved in the government of the sport in France, was at the wheel of a Cisitalia in one of her few after-war racing appearances. Abecassis was driving a works Cisitalia. It was interesting that Abecassis was in Rome rather than in Berne where the Swiss GP was raced on the same day. It would be also interesting to know how Abecassis got the invitation: was it an early effect of the Anglo-Italian connection of Scuderia Ambrosiana-Parnell with Johnny Lurani as a link? Cortese was taking a Ferrari 125 to the series for the first time, probably the cycle-wings 02C, and for Scuderia Ambrosiana there was a full line-up with Ascari, not yet on the semi-official F1 Maseratis of the Scuderia, Minetti and Lurani [1] or Castelbarco [5]. Porrino and Grolla had also come from Vercelli. Prize money was adequate if not as generous as for the Coppa Brezzi; its value was about half of that, taking into account a 33% devaluation of the Lira during the winter.

Taruffi took an early lead from pole position, with the fastest opposition of Cortese, Ascari and Serafini soon disappearing from the race, and won easily much to the delight of his home crowd. Abecassis finished second causing sensation in one of the best if less known drives of his career, from quick local amateur Inico Bernabei who put on the usual strong show on his home ground. Steady Grolla and Porrino completed the list of finishers. As for Madame ltier she was up to her nickname of "moving chicane" attributed to her by the chauvinistic drivers of the 30s ([9], p.84) over sixty years before it was used by Häkkinen for the Minardis: Grolla found her obstructing his way and pushed her out of the track and the race. Only the number of entrants is known and it consisted of 21 cars. Its list and the list of starters is not yet satisfactorily reconstructed from discrepant sources and lack of photographic evidence.

Race Table [4],[5],[8]:

1° Circuito di Caracalla
June 8th, 1947
Rome, Circuito delle Terme di Caracalla,


45 laps x 3.211 kms = 144.500 kms
Unsupercharged 1.5L single-seaters, Italian Championship, 2nd round
Weather: sunny, warm
Prize money: 600.000 Lit
21 entrants
? starters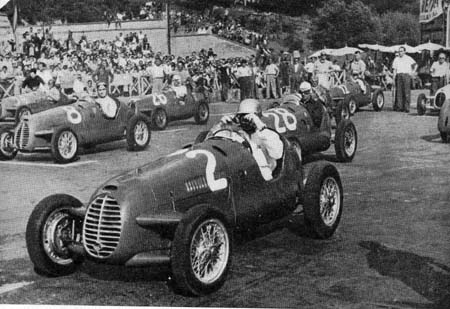 The start at Caracalla

Results:
Piero Taruffi (#2), Cisitalia D46, 45 laps in 1.39'27"4, 87.179 kmh
George Abecassis, Cisitalia D46, 1.40'37"1
Inigo Bernabei, Cisitalia D46, 1.41'14"
Mario Porrino, Cisitalia D46, 43 laps
Lamberto Grolla, Cisitalia D46, 43 laps
no other finishers
Fastest lap: n.a.
DNF: Franco Cortese, Ferrari 125 (02C?)
DNF: Eugenio Minetti, Cisitalia D46, clutch
DNF: Anne-Cécile Rose Itier, Cisitalia D46, crash
DNF: Dorino Serafini, Cisitalia D46, gearbox
DNF: Alberto Ascari (#8), Cisitalia D46, gearbox
DNF: Felice Bonetto* (#26), Cisitalia D46
DNF: Giovanni Lurani* or Luigi Castelbarco* (#28), Cisitalia D46
DNF: Morison?
etc.
Notes: (#28) Castelbarco from [5], Lurani from photographic evidence, Bonetto (#26) only from photographic evidence. A special, Fiat 1100 or Lancia Aprilia, already seen at the Coppa Brezzi, was also racing from photographic evidence.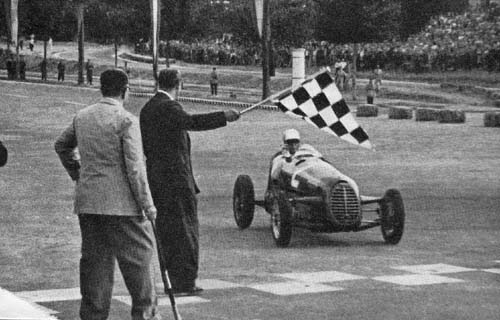 The finish at Caracalla

Back they went up to the Po river valley for the next race on the following Sunday: another 750kms on roads that still suffered from the damages of the war and that never were fast or easy (no Autostrada del Sole then). Taruffi did not go along: he stayed home after over one year of hard work in cold Turin enjoying his victory and the Spring weather. Besides, the June 15th weekend was free from international racing and Villoresi, one of the drivers in better form worldwide, was coming to the meeting to race a, supposedly, mighty new Maserati A6GCS with 1.5L engine - of course stripped of its cycle wings but with the distinctive cyclope-like single light in the center of the grille - so there would have been no race, it was thought. Thus Cortese elected to drive the Ferrari 125 01C in the sportscar race. The meeting was taking place in Vigevano, both a rural and industrial center, this time of shoe-manufacturing. A small town located in the middle of the triangle of Novara, Milan and Pavia, Vigevano's main distinction is a Piazza, supposedly the largest in the country. Its pavement is, and was, cobbled with rather protruding stones with rounded-off tops and the circuit was laid mainly around the Piazza. The race must have been quite an ordeal for the bones of the drivers, the nuts and bolts in the chassis and the springs in the suspensions. In any case, Cortese won the sportscar race and it started to rain. Minetti and Villoresi jumped in front; the rain was falling harder, Minetti crashed and Villoresi, on his heavier car, had to slow down so that Bonetto, who was steadily picking up speed, passed him and won rather easily from Villoresi, the usual Porrino and Grolla in their third race in two weeks and newcomer Carmine. It was an unexpected victory for the D46, but it was by now clear that on that kind of track, moreover with that kind of weather, it would have been a hard match even for machinery faster than the new Maserati, a car that in its future career almost never distinguished itself for speed. Auto Italiana joked in its report saying that being a Championship race, its distance was longer than the sportscar race, a mighty... 72kms.

Race Table [4],[5]:

Circuito di Vigevano
June 15th, 1947
Vigevano
40 laps x 1.8 km = 72 km
Unsupercharged 1.5L single-seaters, Italian Championship, 3rd round
Weather: rain
? starters
Results:
Felice Bonetto, Cisitalia D46, 40 laps in 52'48"4, 81.807 kmh
Luigi Villoresi, Maserati A6GCS, 53'l3"8
Mario Porrino, Cisitalia D46, 54'03"6
Lamberto Grolla, Cisitalia D46, 54'04"6
Giovanni Carmine, Cisitalia D46, 36 laps
no other finishers
Fastest lap: Bonetto (lap 28) 1'16"2, 85.039 kmh
DNF: Franco Mosters, Cisitalia D46
DNF: Eugenio Minetti, Cisitalia D46, crash
etc.
The next race was scheduled for July 6th in Forlì, halfway between Bologna and the Adriatic Sea. On the same day the Coupe des Petites Cilyndrées was taking place in Reims where Minetti and Serafini entered Scuderia Ambrosiana Cisitalias together with five of the French-owned ones. No works cars showed up and the lack of development was painfully visible on the long straights of the Gueux track where the D46s were too slow and were soundly beaten by the works Gordinis. The meeting in Forlì became famous for Nuvolari's first victory on a Ferrari, in the 1.5L sportscar class on 02C, the next to the last victory for great Tazio in a race in circuit. On a hot day, Mosters and Grolla fought for the lead for the entire race with Mosters taking the best by less than two seconds. Tullini was third on a Fiat Spl, and newcomer Parriani fourth. Tullini was not unknown, having just won the 1.5L touring class in the Mille Miglia on the ubiquitous Lancia Aprilia and the Senigallia sportscar race possibly on the same Fiat Spl, while Parriani was to become a consistent Cisitalia driver for the next two seasons. The exhaust pipes in the D46 were just three short segments protruding from the bonnet and lack of ventilation meant that the drivers inhaled the fumes of the alcohol-based fuels during the race and they all became sick. In one of the weirdest reports ever, Auto Italiana graphically and lengthily described the effects of the poisoning on the drivers, concluding that drivers should not be allowed to get sick in public...

Race Table [4],[5]:

Circuito di Forlì - Gran Premio Luigi Arcangeli
July 6th, 1947
Forlì
40 laps x 1.680 kms = 67.200 kms
Unsupercharged 1.5L single-seaters, Italian Championship, 4th round
Weather: sunny, hot
?starters
Results:
Franco Mosters, Cisitalia D46, 40 laps in 46'32"2
Lamberto Grolla, Cisitalia D46, 46'34"
Armando Tullini, Fiat Spl., 47'15"2
Federico Parriani, Cisitalia D46, 37 laps
no other finishers
Fastest lap: Mosters and Grolla 1'08", 88.941 kmh
DNF: Mario Porrino, Cisitalia D46
DNF: ........ Maserati
etc.
During the French Summer season, the best among the many Cisitalia private entrants had been, undoubtedly, former top motorcyclist Roger Loyer. He finished fourth in the F1 races in Albi, in front of Ascari's sister car, and Comminges, and third in the Bois de Boulogne Voiturette race. Loyer and three other usual French Cisitalia entrants - "Robert", Manzon and de Saugé took their cars to Leghorn where the international Montenero race was to be run on August 24th. It was going to be the 20th edition of the race and the first after the war. It is of some significance that the organizers had chosen the 1.5L usupercharged cars for their main race alongside a sportscar one. Unfortunately the classical Montenero circuit, that had seen many bits of great racing before the war, was slowed down by chicanes. It is not clear if Nuvolari, who had previously won this race five times with one of his greatest wins against the Germans in 1936, entered his Ferrari 125 in the single-seater or the sportscar race. Taruffi and Loyer were the natural favourites for victory and it came as a big surprise when young and talented Italian drivers Franco Venturi and Franco Mosters finished first and second respectively. Loyer was just beaten and as for Taruffi, Auto Italiana wrote: "…Taruffi started slow and finished even slower…". The longer original Montenero circuit had seen Taruffi's first GP race, back in 1931.

Venturi and Mosters did not keep up with the promises that they had shown during this season. Venturi is remembered for a second overall in touring car class at the 1949 Mille Miglia, one of the closest finish in that race's history, on his everyday Alfa 6-cylinder 2.5L a few seconds behind Donald Healey's son and a few more from Lurani's Bristol, third. He died young, unfortunately. As for Mosters, he was seen later racing a Ferrari 166 in Italian F2 and after that he had sporadic drives in cars always in the Scuderia Ambrosiana milieu, before fading into oblivion. The amount of the prize money for the Montenero race was extravagant, pretty much in line with the high standards set up in the pre-war GPs. One is led to conjecture that it was the total for the two races but in any case it was a lot of money. Of course the meeting was not a financial success and after a low-key effort to resume with racing in Leghorn with a small capacity sportscar race in 1953, the famous Montenero track was also pensioned off.

Race Table [4],[5],[8]:

20° Circuito del Montenero
August 24th, 1947
Leghorn Ardenza,



25 laps x 5kms = 125 kms
Unsupercharged 1.5L single-seaters, Italian Championship, 5th round
Prize money: 4.000.000 Lit.
? starters
Results (all on Cisitalia D46):
Franco Venturi, 25 laps in 1h13'51"2, 101.543 kmh
Franco Mosters, 1h14'39"6
Roger Loyer, 1h.15'10"
Piero Taruffi, 1h20'05"
Raymond de Saugé, 21 laps
Giovanni Carmine, 20 laps
no other finishers
Fastest lap: n.a.
?DNS: Franco Cortese, Ferrari 125
?DNF: Tazio Nuvolari, Ferrari 125
DNF: "Robert", Cisitalia D46, 2 laps
DNF: Mario Porrino, Cisitalia D46, 3 laps
DNF: Robert Manzon, Cisitalia D46, 5 laps
DNF: … Mallocchi, Cisitalia D46, 10 laps
DNF: Lamberto Grolla, Cisitalia D46, 11 laps
DNF: … Fezzia, Cisitalia D46, 17 laps


Etc.
The last Championship round was going to be held in Venice, of all places for a car race. Of course it was to be raced at the Lido, a sandstrip closing the lagoon eastward, where there are real streets. But still, cars have to be taken there by boat. The organizers were trying to do what was usual on the French Riviera during the high season in the late 20s and early 30s: an international car race to add to the appeal for tourists and visitors. For the Lido the high season had always been September, culminating with the film festival. So a car race was organized at that time of year in 1946 and 1947, but the Lido was losing its status of a Belle Epoque seaside resort to become one of Venice residential parts and the meeting was never organized again. Also very few cars arrived both for the unlimited sportscar class and the 1.5L single-seaters: after a season with many races and all very close to each other they were tired and there was difficulty in finding fresh replacement parts in those times. It is not clear whether the two classes raced together and if Taruffi had already clinched the championship. The main attraction was Tazio Nuvolari who was entered on a works Cisitalia. Very little of racing was left to Tazio after this one: the famous suicidal drive in the 1948 Mille Miglia, the F2 Mantua race named after his dead sons the same year and the two Sicilian races in 1950. The Mantua race was the last where Tazio, on a Ferrari, drove against his great rival Achille Varzi, who was on a Cisitalia. Tazio was ill after few laps and Varzi finished third a few days before the fatal accident in Berne. There is an extraordinarily beautiful picture of the two rivals before this race, very likely the last of them together [13]: Varzi talks relaxed - he seldom did so - while Tazio is looking straight into his eyes with an unusual tender smile. The limelights were going to be turned off very soon on two of the greatest ever.

Back to Venice where Mosters, who might still had some chance for the Championship, drove deliberately but Taruffi was faster. Old Tazio was, unfortunately, a rather pathetic third.

Race Table [4],[5]:

2° Circuito del Lido di Venezia
September 14th, 1947
Lido di Venezia, Venice
15 laps x 3.844kms = 57.660kms
? starters
Results (all on Cisitalia D46):
Piero Taruffi, 15 laps in 32'41"3, 105.848km/h
Franco Mosters, 33'25"2
Tazio Nuvolari, 34'01"6
no other finishers
Fastest lap: Piero Taruffi, 2'08"2, 118.111 km/h


So Taruffi won this forgotten Championship, [1],[4]. It had been a good racing season and Cisitalia had a good part in it. The performances of the D46 had proved excellent - for instance the first generation of Italian FJ, eleven years later, was not going to be much faster - so that the 1.5L cars, Aprilias - and Ferrari and Maserati, maybe - for which the 1.5L boundary was thought, seldom showed up. It is sort of curious that the Aprilias raced more consistely in Italian F2 in later years. The only other source that could be found mentioning the Championship is Nuvolari's official site [10]! If the information coming from there is correct, it could help to reconstruct the final table, if not the points system. According to that information, among the principles for the point scoring system there could have been: "only the first three placings counted and foreign drivers were not eligible", then: 1. Taruffi, 2. Mosters, 3. Bonetto and Venturi, 5. Grolla (or 3. Grolla, 4. Bonetto and Venturi, or 3. Grolla, Bonetto and Venturi), 6. Bracco and Villoresi, 8. Nuvolari, Porrino, Bernabei, Tullini.
6. Cisitalia vs. Gordini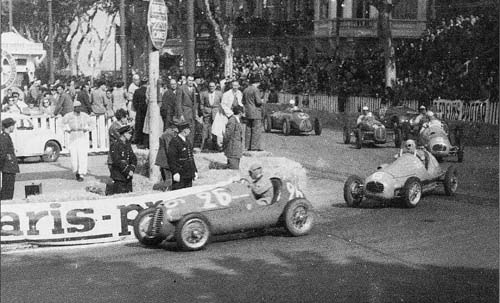 de Saugé (Cisitalia D46) and Trintignant (SIMCA-Gordini), Perpignan 1948

On the other side of the Alps, around 1935, SIMCA started building the model 508 under licence from Fiat. Its 1100 engine was, due to some difference in components, even livelier than its Italian counterpart and it was immediately used to build specials for racing even though not to the same extent as in Italy. Prominent among these special builders was Italian expatriate Amédée Gordini whose sportscars fared very well in pre-war French racing so that an official agreement between him and SIMCA was reached. Gordini was following a path parallel to the one of Dusio's without the industrial part of the production of GT cars. As Dusio, Gordini started with sportscar specials moving after WWII to build a dual purpose car using almost all SIMCA components. With a simple twin-tube chassis, independent front suspension and a rear live axle with torsion bars, the chassis was both light and strong. The car was powered by a SIMCA-Fiat 1.1L pushrod ohv engine tuned to give 65bhp and it gained a number of minor successes in 1946. After the beating at the Coppa Brezzi, for 1947 the engine size was increased to 1.22L and its power to an almost incredible 95bhp and the car was dressed in a true single-seater body.

Motoring historians are divided on assessing the 11-year long post-war activity of Equipe Gordini: some are putting their accents on the notorious unreliability of the cars, arriving to describe Amédée's work as some sort of humbug, others are more sympathetic to the romantic side of his endeavours. In any case, Amédée was not a designer, but a gifted mechanic who could improvise on the spot, but what the team always needed and never obtained was an engineer who could design from scratch rather than bodging up existing parts. Gordini always refused to take on such a man with the result that unreliability and lack of performance dogged the team to the end. It was a totally opposed philosophy to Dusio's one whose D46, though much less powerful, was the fruit of high-level engineering. The best years in the history of the Equipe Gordini were '46/'47 and part of '48 and privately entered Cisitalias constituted the main opposition in that period. As we have seen Dusio lost - or was obliged to loose - interest in the D46 pretty soon and as a consequence the underpowered Cisitalias were almost always beaten by the works Gordinis. For instance, in French and Swiss Voiturette racing we have (C stands for Cisitalia, G for SIMCA-Gordini):

1947
01.06, Nîmes: G (Wimille 1st), C (Sommer/de Saugé 2nd)
15.06, Angoulème: C (Manzon 2nd), G (no car finishing)
06.07, Reims: G (Bira 1st), C (Manzon 4th)
27.07, Bois de Boulogne: G (Wimille 1st), C (Loyer 3rd)
21.09, Lyon: G (Bira 2nd), C (de Graffenried 4th)
05.10, Lausanne: G (Bira 1st), C (Taruffi 3rd on a private car)
26.10, Monthléry: C (Schell 2nd), G (Troubetskoy 3rd)
1948
25.04, Perpignan: G (Trintignant 1st), C (Manzon 2nd)
02.05, Geneva: G (Sommer 1st), C (Schell 4th)
30.05, Monthléry: G (Trintignant 1st), C ("Robert" 5th)


(data from [6])

It is clear that the gap between Gordini and Cisitalia was widening as long as the private D46s were getting older, but something unexpected happened on July 4th, 1948. In one of the most distressing weeks in motor racing, with the deaths of Varzi, Tenni and Kautz, Cisitalia showed up for the Prix de Berne reserved to 1.1L cars, the supporting race for the European GP, with four works D46s equipped with engines with twin carburettors and new bodies to be driven by Bonetto, Farina, Stuck and Taruffi. No less than 10 private D46s were also entered against four works Gordinis driven by Bira, Manzon, Trintignant and Sommer and two private ones. It was going to be the final showdown between the two makes. Taruffi, always very strong at the Bremgarten, went off to a good start followed by Trintignant who tried to outbrake him on the fifth lap at the turn after Eymatt crashing disastrously with a fractured skull and coma as a consequence. Sommer's Gordini broke its engine trying to keep Taruffi's pace, Manzon also crashed, and Taruffi won in style from teammates Stuck and Bonetto with Bira, who had been slowed down by Trintignant's accident, fourth on the only surviving French car. It was the Cisitalia's swansong: its lack of power made it disappear from the international racing scene and the ailing company never entered cars officially again. Thus it is fair to say that when, only twice, Gordini and Cisitalia competed with the works teams, in Turin 1946 and Berne 1948, it was Cisitalia that had the best and by a large margin. As for Gordini, it also started an eight-year long decline from that day: the good results scored by Amédée's cars in '46/'47 and early '48 would seldom repeat themselves.
7. Piero Taruffi & Felice Bonetto
The leading personalities in the 1947 1.5L Italian Championship were, without a doubt, Piero Taruffi and Felice Bonetto. A bitter rivalry resulted in, with Bonetto a bit slower on the Cisitalia and always on the losing end in the following years on different cars until, in a bizarre twist of fate, he died right in front of Taruffi during the 1953 Carrera Panamericana.

For the Italian middle-aged enthusiast, Piero Taruffi will always be remembered as one of the most interesting characters in the century of motoring history. It is, for such a person, difficult to assess how much memory of Taruffi's is in fact still surviving. Two recent statements, both by leading historians, might add bewilderment to that difficulty. The first one, ([11], p.130), regarding Tony Brooks flatly reads: "…Brooks is almost forgotten today…". What about poor Taruffi, if one of the truly greatest in a period rich of great drivers, the 50s, is said to be almost forgotten in a much more history-oriented country? The second deals with Taruffi's driving itself, stating that to get an excellent second placing in the 1951 Swiss GP Taruffi had to drive "…way above his class…" ([12], p.186). This is unfair, if not plainly false: without looking at the entire record of the driver, it would be enough to know that he had won the GP of Berne in great style in 1948, as we have just seen, and that he was going to win the Swiss GP the subsequent year, 1952, all on the same track. In truth Taruffi was the greatest ever open-road racer: the only driver with the distinction of having won the Mille Miglia, the Carrera Panamericana, the Targa Florio and the more difficult but less famous Tour of Sicily and Giro delle Calabrie, so that he was very much at ease on tracks such as the Nürburgring, Spa, Berne and Dundrod. When the last Mille Miglia was ran in 1957 it seemed extremely fit that Taruffi was its winner: in 1949, '52, '54, '55 and '56 he had to retire while leading.

But he should be remembered mainly because he has been one of the more interesting all-round personalities in motoring history: GP winner both in motorcycle and car racing, a winner in international sportscar racing and hillclilmbs, absolute world speed record holder on a motorcycle (1935 and 1937), world speed record holder in a car in class, designer of racing motorcycles and of his very original record cars and motorcycles, team manager in motorcycle and car racing, development engineer and test driver both for cars and motorcycles, racing driving instructor and the author of the most respected treaty on race driving. Taruffi drove in the works team for Scuderia Ferrari, Maserati, Bugatti, Cisitalia, Alfa Romeo, Ferrari, Lancia, Mercedes Benz, ThinWall & Vanwall and General Motors and ran the all-conquering Gilera motorcycle team for many years before and after the war developing its famous 4-cylinder 500cc engine. Not much should be added to his very fair book of memoirs, its only defect, perhaps, being a distinctive lack of a sense of humour [1].

To the opposite of this story of self-assurance, coolness and technical precision and ultimately of wealth and success, there is one of bravery and failure, of mediocre talent and, apparently, of destitution. No books of memories and no recent biographical notes exist about Felice Bonetto. He was born in Manerbio, near Brescia, in 1903 and started racing with an Alfa Romeo Monza in the early thirties, with a best result of third, very characteristically in another one of the blackest days of racing, the 1933 GP of Monza. He had a famous row with Enzo Ferrari during the 1934 Mille Miglia where he almost ran Ferrari over: Enzo standing in the middle of the road with outstretched arms had tried to stop him thinking that it was one of his cars! After having entered his Monza in the Tripoli GPs in 1934 and 1935 - one can easily guess for the very rich starting money - he disappeared, not racing voiturettes as most of the Italian drivers did before the war. He came back in 1947 signing for Dusio and pursuing a professional driver's career with strong will. His best year with Cisitalia was 1948, when he won the F2 races at Vercelli and Mantua and was second in Bari and third in Berne. The Cisitalia was outclassed in F2 racing by the Ferrari 166 and Bonetto left in disgust.

After a second at the Mille Miglia on a Ferrari, Enzo took notice of Bonetto's efforts and signed him for the now all-conquering 166 F2 team. Bonetto was third in Bari and second in Monza, behind Fangio's similar car, finishing the season with a fifth in Lausanne. In F1, he was 5th in San Remo, 4th in Marseille on the F2 car, graduating to a blown 125 F1 for the Italian GP where he blew up the engine. A very upset Enzo Ferrari fired him after another wild row. It was by now clear what the problem was with Bonetto: he was a fearless driver trying very hard but he was not fast enough, always being a little slower than others with the same machinery, so his was a problem of talent, not of courage.

Bonetto was then signed by Alfa Corse. He drove one the weirdest mounts in the 1950 Mille Miglia: a sport Alfa Romeo consisting of a 1937 12-cylinder 4.5L GP engine and chassis, unblown and turned into a sportscar that was beautifully bodied by Vignale. With it he won a race in Portugal, but was not given Alfetta drives. He was instead sent to Mexico for the first Carrera Panamericana to drive one of two beautiful Alfa Romeo 6-cylinder 2.5L touring cars, the other one being driven by Taruffi. Taruffi finished 4th overall and Bonetto 8th… During the F1 season Bonetto also drove the unreliable Maserati-Milano. For the final and decisive race for the first WDC, the Italian GP, Alfa Romeo sent five cars to Monza, and six drivers: Farina, Fangio, Fagioli and Sanesi were to start, the fifth driver having to be chosen between Bonetto and… Taruffi after practice. Of course Taruffi was chosen and Bonetto did not start in the Maserati-Milano that he had also used in practice but he won, by sheer bitterness, the supporting race on an OSCA. In any case he was retained by Alfa Romeo and took the "monster" sportscar back to sixth place in the 1951 Mille Miglia.

He was retained by Alfa Romeo for the 1951 WDC. When Fagioli left the team and owing to the fact that Sanesi and de Graffenried were only used in special races, Bonetto became the third driver. His task was to cruise safely being ready to hand over the car to either Farina or Fangio. In this way he finished third in the Italian GP with Farina, tying for his best WDC placing. Again his practice times showed that he was not fast enough for a more active role. For his last seasons, 1952 and '53, Bonetto signed for Maserati in F2 and for Lancia in sportscar racing. Maserati used him as Alfa Corse had done previously: his WDC record shows several shared drives with Gonzalez or Fangio. He was driving a Lancia Aurelia in his most important victory, the 1952 Targa Florio; he finished pushing his car that had run out of fuel a few hundred meters before the line. This proud and independent man never got a break: on that occasion, patron Vincenzo Florio publicly complained about the thin entry for the race and the comparatively obscure winner.

His driving style used much of the width of the the track and he was difficult to overtake by the other drivers that in general did not like him. Taruffi writes: "… in Nuvolari's style, but with much less talent, [Bonetto] had a particular attire that reflected his personality: a white helmet with a big black pointed arrow, a white short sleeves shirt with black pants and a huge solid gold chronometer watch on his wrist", and "… I always admired self-assurance… when it is not ostentation. And [Bonetto] was the driver who showed the most of it...".

Taruffi also joined with the Lancia sportscar team in 1953. Gianni Lancia badly wanted a victory in the Carrera Panamericana and four of the beautiful D24 3L sportscars were entered for Fangio, Taruffi, Bonetto and Castellotti. Bonetto started the race very fast, winning the first leg, while Taruffi won the two legs on the second day and reduced Bonetto's advantage to 42", while Fangio, third, was over 10' behind: it seemed that victory was going to be a matter between the two Italian rivals. Cars would start at one minute intervals following the order of classification and after 100kms of racing in the first leg of the third day, Taruffi was able to reach Bonetto. They stayed together for another 200kms when Bonetto misjudged a turn and braked late and hard. Taruffi, taken by surprise, blocked his wheels and spun the car off the road to avoid him. Bonetto recovered control just for an instant but crashed into a lamp post having gone too fast through a ditch, right after the turn, made for a small river to cross the road during the rain season. Bonetto died immediately.

The press hinted that Bonetto's family was left in deep financial difficulties due to his not so successful career as a professional driver. I do not have recollection of a particular emotion among the Italian public: there were so many Italian drivers at that time in Bonetto's class or higher… Today, lack of good historical perspective, to be found in most of the plethora of repertories, both printed or virtual, of 50 years of WDC, is doing big justice to the unfortunate Felice. The space in general reserved to this genial and colourful Italian is for some reason certainly "way above his class". But there is also some further injustice: I understand from several of these sources that he has acquired a nickname, "the Pirate", of which there is no recollection neither in my memory nor in a quick overview of contemporary sources.
8. Acknowledgements
The author wishes to thank:
The editors at 8W, who have through their serious but thoroughly enjoyable approach to car racing history been the major factor of contribution to my late decision of adding new information to the one stored in youthful days and to my will of sharing it.
Ms. Donatella Biffignandi, curator, Museo dell'Automobile Carlo Biscaretti di Ruffia in Turin, and a distinguished author, for both her competence and kindness. In particular for finding references [3] and [5] for me, an unique possession of the Museum Library.
Felix Muelas, who has already been collectively thanked among the 8W people, also individually for his several acts of generousity.
Tony Kaye for the interest that he has shown in my work and for shedding some light on the "strange" Abecassis' presence in the Rome race.
9. References
[1] Taruffi, Piero; Bandiera a Scacchi, Artioli, Modena-Milano, n.d.: English Transl., Works Driver, Temple Press, London, 1964
[2] Pininfarina. Cinquant'anni, Automobilia, Milano, 1980
[3] Brochure for the Classic Car event held in Turin for the 40th aniversary of the Turin GP and the Coppa Brezzi, Turin, 1986
[4] Auto Italiana, yrs 1946 and 1947
[5] Race by Race files, Museo dell'Automobile Carlo Biscaretti di Ruffia, Turin, yrs 1946 and 1947
[6] Sheldon, Paul; Rabagliati, Duncan; de la Gorce, Yves; Gigleux, Jean-Maurice; A record of GP and Voiturette racing, vol 4, St. Leonard Press, Bradford, 1993
[7] Orsini, Luigi; Formula Junior, Aut. Club It., Ed. de l'Automobile, Roma, 1969
[8] Cohin, Edmond ; L'historique de la corse automobile, 1894/1978, Ed. Larivière, Paris, 2nd ed., n.d.
[9] Birabongse, Princess Cheryl; The Prince & I, Veloce Publishing, Godmanstone 1992, rev. Ed. 1998
[10] www.tazionuvolari.it
[11] Gauld, Graham; Reg Parnell, Patrick Stephens, Ltd, Sparkford nr. Yeovil, 1996
[12] Venables, David; First Among Champions, Haynes Publ., Sparkford nr. Yeovil, 2000
[13] Marinatto, Luigi; Il romanzo di Nuvolari, Edisport, Milano, 1956
10. Pictures (in order of appearance)
F. Zagari, G. Canestrini, ref. [1], ref. [8], ref. [1], ref. [1], author's archive, G. Canestrini, author's archive, ref. [1], ref. [1], author's archive, M. Louche