Pocket rocket man
Author
Date
Related articles
Who?

Bill Ivy

What?

Yamaha 250cc

Where?

Clermont-Ferrand

When?

1967 French GP
Why?
The photographer Roger Lane captured the displeasure on Jochen Rindt's face as he handled the puny victory trophy for the BARC Thruxton 200. After all, he had set a new lap record at the first round of the European F2 Championship on Easter Monday 1969. It appeared a paltry reward for the king of Formula 2. However, the motorsport weeklies wouldn't be hailing Rindt. Instead, Motoring News described 26 year old William David Ivy's Formula 2 debut as a performance that was "even more amazing than Rindt." Thruxton would be the beginning of a short, but stunning car career for the man from Maidstone.
Bill would become one of the biggest names in motorbike racing with 21 international wins. His father Morris worked for an agricultural repair business and on the combine harvesters motorbikes were carried. Childhood friend and later fellow competitor Roy Francis explained: "When the combine harvester went to the farm where it was due to work, the driver needed something to get home, so he'd take his old motorbike. When they pensioned that bike off, Bill's father bought it for Bill to ride at the allotments near his home in Sutton Valence. That soon annoyed a few people when you run down a few runnerbean rows! I was then going to school with him and my father had a farm so he brought the bike round to my father's farm and we rode around there for a few years."
At the Maidstone Aces Motorcycle Club in 1958, his friends persuaded the 15 year old to participate and he rode in a Triumph Tiger 80 in the grasstrack race where the members could bring along their old bikes. After leaving school he was apprenticed at the AJS factory in Plumstead. "He worked in the main factory but all they wanted him to do was sweep up and when he swept up the foreman would come along and kick it over the floor again," Francis said. "They didn't consider he was learning too much." Morris managed to get him apprenticed to the Don and Bill Chisholm dealership in Maidstone. Being racers themselves, they gave the young apprentice a second-hand 50 cc Itom and Bill broke the Brands Hatch short circuit record. He made his first foray in the Isle of Man's Tourist Trophy in the tiny machine in 1961 and retired early on. After missing the most of 1962 due to recuperating from a road accident, he modified a 175cc Gilera single and finished fourth in the British ACU Star Championship. That brought him to the attention of the late Frank Sheene who provided him with the Bultaco 125cc. One victory during that season would be the springboard for dominance for Geoff Monty in a 125cc Honda championship in 1964. He scored a double victory at Cadwell Park in the 125cc and 500 classes and the works Yamaha team recruited him for a drive at Brands Hatch. His determined drive to victory through the field after a cylinder cut out earned him a place on the Yamaha team in 1965 and his gutsy spirit was again demonstrated at the TT where running second, he crashed in the mist avoiding a slower rider. He then tried to ride it again and in the 125cc event, he netted seventh place and won the manufacturer's award for Yamaha.
Bill's success was noticed by the car world. The enterprising Geoffrey Clarke of the Motor Racing Stables driving school at Brands Hatch thought he would be a magnet for the crowds and invited him to do a course there. The pupil used his local knowledge of Brands to great effect. One of the MRS instructors and future F3 champion Harry Stiller recalled: "He was a natural and did take to the change remarkably quickly, getting down to F3 lap record times on his third or fourth outing under tuition. He was an excellent listener and in spite of his great fame in the bike world he was as humble as any first time beginner and took everything on board we explained and showed him." The qualities that Bill showed in bikes, "tremendous determination, great upper body strength" explained the times. Francis elaborated on his tremendous sense of balance: "He would have made a top-class acrobat really. When he was at secondary school they had a school concert and they dressed him in a monkey suit. He jumped and leaped about, swung on things, walked on his hands. He had natural feel for racing a vehicle; he would always try to get the ultimate out of whatever he was doing. He was confident, some people thought it was big-headed, but he was confident in his own ability to do things and going fast was one of them."
Bill then appeared in a Lotus Components entered Lotus 41 for qualifying in the Oulton Park BARC 200 in April 1966. One of the top performers in the "screamer era" of F3, Roy Pike, was in a Charles Lucas Lotus. He recalled: "We had breakfast with Bill, my wife and I and he struck my wife as a very charming chap. A nice chap, you know, really very nice." Unfortunately the Lotus 41 was not an ideal machine as Pike explained: "Very poor. I mean, Derek Bell described it as the worst car he ever drove so that about sums it up. It was pretty bad. It was very unstable under braking. You knew more or less which side of the road you were going to be on when you braked but where you were going to be you didn't know. It was very shaky in the front, it had this anti-dive on it and anti-squat and that seemed to wrap up the wishbones. It all just moved about. It pattered around and you really had no idea where you were." Whereas Pike managed to qualify third, Bill could only make it onto the penultimate row. A blizzard of snow led to the meeting being cancelled.
Bill went on to win the Dutch, Spanish and Japanese Grand Prix in the Continental scene in 1966. In 1967, he won 8 out of 12 races claiming the 125cc class. His success allowed him to own a succession of interesting cars. One was a Chevrolet Corvette which he bought through Luigi Taveri, the Swiss Honda works rider and his earnings from Yamaha allowed him to buy a Ferrari 275 GTB and the Ghibi which he christened the Gobbler. During that year, he formed a close friendship with the up and coming Piers Courage. Courage's widow Lady Sarah Aspinall had fond memories: "If there was a bike ride next door he would come over and one time we were at the Nürburgring he was amazing. There was a big race there and he suddenly turned round to me and said, ''Ere, Sal, ever been on a bike?' I said, 'Yeah, around London. He said, 'Fancy a turn on the Ring'? I said, 'Yeah, great let's do it.' Piers said, 'Where're you going? I said, 'I'm going round the Nürburgring with Bill Ivy on these huge and fast machines!' He said, 'Don't forget to wear your helmet!' We went the whole way round at top speed and I think it's the most exciting thing I've ever done. He was just great fun, he fitted in with everybody and he was just a really special character."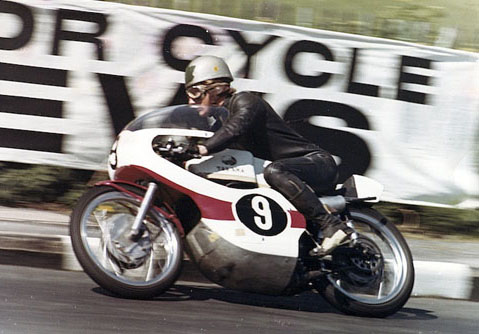 Bill on the 125cc bike at Clermont-Ferrand in 1967. (Yamaha archives)
1968 wouldn't be so fun for Bill. It centred over team-orders in Yamaha with Phil Read. Francis said: "They had a understanding between them that one was go for one championship and one the other. But when Phil learnt that the Japanese probably weren't going to be racing the following year, he thought he'd been in a better position if he won both of them." Despite a stirring ride at the TT, where he won the 250 Lightweight race with his right foot wrenched under the footrest and became the first man to ride over 100 mph in a 125cc machine, Bill was left bitter as Read won the 125 and 250cc titles. "He thought a gentleman's word was his bond," Francis added wistfully. "As I said to somebody else, he really could have done with a good PR man; somebody to look after that side. He did have a tendency to step on a few banana skins."
Cars once again became attractive for Bill. He bought an old F2 Lotus and taught himself at Thruxton. Motoring News journalist Mike Doodson spoke of what went on during these lessons: "One day he spun half a dozen times at every corner." At the Racing Car Show in Olympia, Bill bumped into Paul Watson who had written the F3 seasonal reviews for Autosport and had negotiated starting money and entries under the umbrella of the Paul Watson Racing Organisation. "He was a brazen little Cockney," Watson recalled. "He said to me, 'I believe you're the one who sorts all the entries out, the starting money, the hotels, the transport and all the aggro?' I said, 'Yep, that's what we do,' and he asked me to look after him." The plan for 1969 was Bill would have a contract with Jawa and spend the proceeds on Formula 2 racing. The car he bought was the ex-Alan Rees Brabham BT23C chassis No.11. A shrewd choice, compared to the Lotus of three years previously; the Brabham had been praised for its adaptability. Mechanic Pete Briggs, who had looked after the car for Winkelmann Racing said: "He had it based at Frank Williams' workshop at 365 Bath Road, Slough. We were under the bowling alley 800 yards away."
Things didn't get off to an auspicious start when the car was crashed at a private test in Oulton Park. Bill said laconically to the newspapers: "I'll think I'll go back to motorcycles." Nonetheless, he ventured to Thruxton. The then editor of Autosport Simon Taylor remarked: "I remember him turning up in his metallic red Maserati Ghibli, a tiny long haired figure with dark glasses, curly hair to his shoulders with the untidy interior of the Maserati strewn with rolls of Green Shield stamps." The Brabham was fitted with wings used in the Temporada series of the previous year.
When talking about Bill's approach to set-up, Briggs chuckled: "He had just no idea, it was brilliant. He actually asked Rindt and people how to start the car." At the end of the Saturday session it was Rindt with a pole time of 1.13.2. Billy was second with 1.15.4. With Rindt starting in the second heat, Bill had secured pole position. The paddock was astonished, but Bill kept his explanation simple. Watson said: "He was incredibly incredibly quick. I went up to him afterwards and I said to him, 'Bill, this is incredible your time, what do you put this down to?' He said, 'Well, what I do, Paul, is I just go for every bloody corner as fast I can effing well go - he used to use four-letter words fairly freely - and when I spin at that corner then I know I can't go any faster.'"
The speed was carried over into the first heat where Bill drove smoothly to finish fourth. In the final he was running fifth having led Clay Regazzoni's Dino when the engine failed after 34 laps. A big impression had been made and Bill soon bonded with the paddock off the circuit. "He used to travel in his Maserati and he used to flash past us, turn round, flash the lights and we'd find an old cafe or something to eat in," Briggs said. "He just liked to be one of the boys. Oh, mega. One of the good guys and that's how he was. He wanted to be down to earth, one of the lads which was even in those days was slightly unusual in motor racing. It was obviously the motorcycle background and in motor racing we were still a bit elitist cos we were obviously racing against each other, Stewart, Hill, Rindt and these people. And here's this lad who just turned up, got in and was quick."
The lad's inexperience manifested itself at Pau two weeks later when he spun at Station Hairpin to the tail of the field. At the Nürburgring after passing François Cevert's Tecno he had a major off. Approaching the left double bend at 130 mph before the Swallow's Tail, Bill clipped the first left apex, shot across to the right one and lost the back end. He then careered over the escarpment, through a hedge and ripped away the catchfencing knocking out 12 stakes before coming to a rest. Only one upright remained and the chassis was bent.
Pike, appearing in two races in a Lotus 59B, made the following observation about Bill at the Rhein-Pokalrennen round at the Hockenheim in June: "He passed me in practice going into the Stadium, because he took a tow off me down that back straight and I thought, 'Oh, cripes, he's quick isn't he?' Sort of brave as well. Three people I remember passing me like that, in under braking. One was him, one was Ronnie Peterson and one was Emerson Fittipaldi. You get the same sort of feeling when somebody goes by you like that, not out of control by any means, near the limit, put it that way." Nonetheless, he added: "Bill Ivy was a bit wild... I don't know how his motorcycling went because that's a pretty dangerous exercise and you could get hurt when you fall off. Of course, you got hurt when you crashed in cars then. But he was the sort of driver that was driving I would say, over his ability and over his experience. Consequently he would come off or be so near the limit that he could come off."
Watson concurred: "It was a question really I always thought, of whether he could survive long enough for that natural ability to come through and overcome the mistakes he was making. He was always spinning all over the bloody place. But there was something about his approach and the way he drove that you could see he had it all. It wasn't just courage, it was also a balance... I'm absolutely sure that if he hadn't had that balance he would have killed himself at the first race."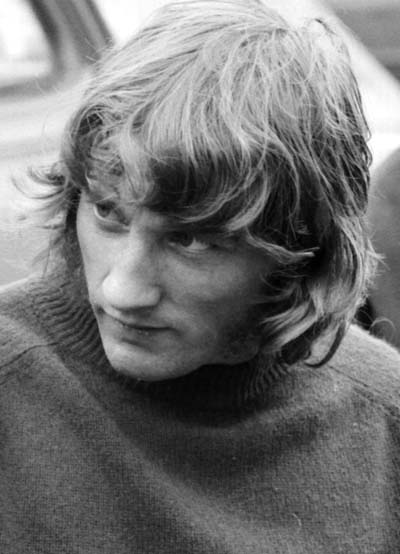 Bill in typical fashion, as seen at the Nürburgring in 1969 during the Eifelrennen event.
(photo Raimund Kommer, Wikimedia Commons)
Spinning aside, Bill's natural talent enabled him to mix it at the front and show that his Thruxton form was not a fluke. At the non-championship Limburg GP at Zolder, the Brabham was fitted with an integrated wing covering the engine after the FIA ban. Despite bending the nosecone after going off in practice, Bill was a tenth off Jacky Ickx and shared the second row with him. At Hockenheim two weeks later, Bill showed he could hold his own against the upcoming non-graded FIA drivers. He started on the front row and took the lead as soon as the flag fell. On the 22nd lap Hubert Hahne's Lola got past him at the Stadium section. He grabbed the lead again two laps after Roland Binder in the Tecno smashed into Peter Gaydon's stationary Merlyn at the Sachs Curve. The train of Hahne, Peter Westbury and Brian Hart found a way past him on lap 24 but he then fought back to second on lap 25. Cruelly a lap later, the gear selection rod broke and he coasted to a halt at the first right hander.
Such performances led Jackie Stewart to say that Bill showed "more natural talent than any newcomer I've ever seen." In the present day, he elaborated: "He was amazingly gifted to be able to come in and go on to four wheels as easily and comfortably as he did. Although John Surtees clearly made his mark, even Mike Hailwood, they hadn't made the adjustment as obviously as Billy. You know, Formula 2 was a very competitive formula. There was quite a lot of what I would call good drivers in Formula 2, they were easier to drive than Formula 1 cars so therefore it was more evenly balanced with regards to practice times and so forth." Furthermore Stewart spoke from experience before he started in his career. "I'd gone with Bob Macintyre down to Goodwood to have a test with Ken Tyrrell and he as a motorcyclist found it quite difficult to make that adjustment from two wheels to four on the basis that the car in those days was running with very narrow tyres. So the car slipped around a fair bit. Bill accommodated that much faster and took to it like duck to water."
The Monza officials would not be impressed with Bill when he turned up for the Monza Lotteria. The Brabham was at the head of the queue for Friday practice and having already handed over a scrutineering ticket, another official at the end of the pit lane demanded to see it. Doodson described what happened next: "Big mistake. All five foot three of Billy leaped out and tried to reason with Signor Jobsworth, who foolishly jostled him. Billy's mechanic stepped in, punches were exchanged." To add insult to injury, the officials insisted on a second medical examination to check for the influence of drugs! Declared clean, Bill declined to practice and spent the rest of the weekend sunbathing in the Gobbler. On Sunday night, as Doodson recounted: "He perked up at a party where race winner Robin Widdows whose entrant Bob Gerard, organised a competition which involved catching the Hotel de Ville's goldfish with one's bare hands..."
At the next F2 race at the Tulln-Langenlebarn circuit in Austria on 13 July: "I heard on the loudspeaker, 'Will Mr Paul Watson please go the Race Director's Office?' I didn't think much of anything because they were always asking me to go there; I had so many irons in the fire you know what with drivers and the journalism. I went to the Race Director and he said, 'I'm terribly sorry to tell you Mr Watson, but we've just had a message through that Bill Ivy's been killed." The Jawa contract had taken Bill to the Sachsenring in East Germany and the question of his survival was sadly answered there. Like other two-stroke machines of the period, the Jawa had a habit of seizing. "It just caught him wrong and unfortunately, there was something hard beside the track," Francis said. At the paddock in Austria, the wife of a Swiss privateer wept.
Watson admitted he didn't know him as a mate. Speaking from an experience where he'd overseen James Hunt's F1 debut in a Surtees at the 1973 Race of Champions, he had the following to say about Bill: "He was an incredible personality and amazing to be with. His attitude towards motor racing was so extraordinary, he was so sort of relaxed and it all seemed to come to him so naturally..."
"I managed racing drivers from 1965 to 1983 before I sold out to Peter Gaydon and he subsequently to Barry Bland and I must say looking back over that period, he is one of the most outstanding drivers of natural ability that I've ever come across. There were others, but he was the most outstanding."
The F2 paddock demonstrated its affection for Bill when John Coombs, Ken Tyrrell, Frank Williams, Phil Read and Mike Hailwood turned up for his funeral at St Peter's Church in Ditton near Maidstone. Doodson was there and added a humorous side to the solemnity: "The church was also full of young women, in a wide variety of skin and hair colour, some in mini skirts, others in tight jeans. All were sneaking glances at one another, as if to say, 'Surely not?'"