2014 Le Mans Classic report
A bigger-than-life experience
Author
Date
Related articles
Le Mans - A legendary challenge, 2013 Le Mans Legend report, by Mattijs Diepraam
Who?

Pierre Mellinger/Tommaso Gelmini

What?

Ferrari 365 GTB/4 Daytona

Where?

Le Mans

When?

2014 Le Mans Classic (July 4, 2014)
Why?
It's a treat that only comes once every two years. However, if you are looking to dive into the rich and exciting history of the Le Mans 24 Hours, there is only one place to go. Fittingly, that's Le Mans itself, where the bi-annual Le Mans Classic has quickly grown into one of the crown jewels on the historic motor racing calendar. We went to taste the atmosphere at the LMC's seventh edition and found that it was bigger than ever.
The economic crisis hitting motorsport? Whereas modern motorsport is obviously affected by it, and quite heavily so in some areas, historic motorsport seems to thrive like never before. The 2014 Le Mans Classic was a case in point. Entry fees were upped yet again, and still a very handsome amount of entries appeared for each of the six grids. In fact, each 'plateau' could have had a double helping if we are to believe the number of people whose application was rejected by organisers Peter Auto.
No crisis among the crowd either, since with 110,000 spectators this seventh Le Mans Classic was the best-visited since its inception in 2002. The paddocks of the bi-annual event were swarming with people, and that on a track that is bigger than life not just figuratively speaking, but literally as well. Prices were huge too, though. Not just in the shops and stands in the Village, but the food in particular was a case in point. Members of the press were treated to snacks and sandwiches in the media centre, and most VIPs were well looked after in the various hospitality units across the paddock, so they had no reason to complain, but you had to feel sorry for the regular paying visitor. Frankly, asking over 20 euros for a beer, some soggy fries and a charcoaled sausage is a disgrace, and one has to wonder at what time the French lost respect for their own food, since the choices on offer were usually between burgers, tapas, sushi and pies – all long-standing elements in French cuisine, of course…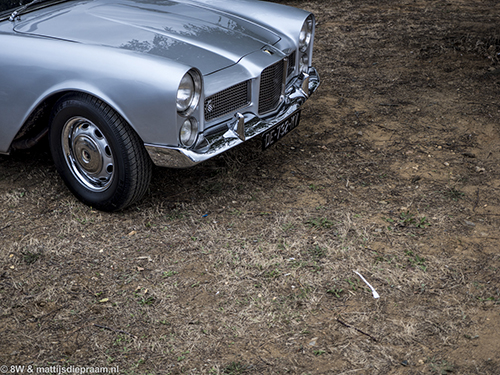 The Facel Vega car club had the most beautiful cars on display. (photo 8W)
More pictures of the atmosphere surrounding the 2014 Le Mans Classic
It's only a minor snag among all the good things that shape the Le Mans Classic, but something well worth looking into by the organisers. How else can they hope to evoke at least a shred of the Revival experience at Goodwood if things like this are not up to standard? Just one per cent of the visitors made an attempt at adhering to the 'smart but casual, and no jeans or shorts' dress code, the other 99 per cent flagrantly ignored it. Then again, what would you expect if people are treated to France's worst-tasting and most expensive food? Having said that, bad food, bare-chested Brits, and loud flags on campsites filled with party animals are very much a part of the Le Mans 24 Hours tradition – so why even try to create a Revival atmosphere that doesn't really suit the event that it was and is.
One of the joys of Le Mans is traveling to the race, gradually meeting up with the British contingent hitting French territory at Calais and Dunkerque. It's fun ahead of the regular 24-hour race, and even more so ahead of the Classic event. Driving the endless motorways towards the Sarthe, now also forcedly at radar-tolerant speeds, is made slightly less dreary when surrounded by Jaguars, Aston Martins, TVRs and Lotuses, and a good helping of Ferraris and Lamborghinis as well. It's almost more fun than strolling the infield circuit grounds from one car club to the other. Some 8000 classic cars turned up for that, and it was sheer joy to spend some time among them and chat with their owners. We particularly liked what the Facel Vega and Matra clubs had on offer near the Dunlop bridge.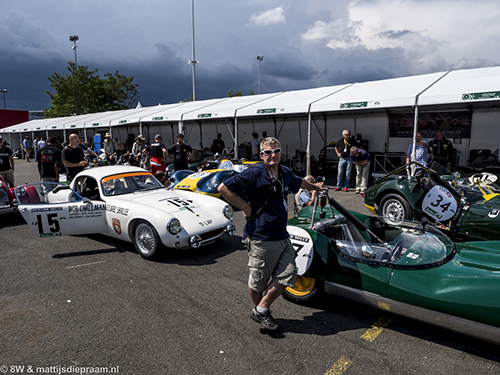 Rain threatened to fall on Friday but plateau 3 only got a few drops, as Elite, 17 and Knobbly are waiting to go out. (photo 8W)
More pictures of the 2014 Le Mans Classic paddock
This year's Le Mans Classic was made even bigger by several exhibitions from marques such as Porsche, BMW and Maserati, and a genuine concours, not to mention the drive-in cinema inevitably showing Steve McQueen's classic Le Mans, among other feature films more of less fitting with the theme. It being World Cup time, though, many people flocked around a different giant screen, as the Village square changed colours according to the nations playing the quarter finals in Brazil. We went to see parts of the Belgian and Dutch matches, and really enjoyed our time among the fans. It was fun to see how they were torn between the cars on track – heads turning every time a racing car was fired up or passing by – while their country still tried to put the score beyond doubt in their favour. Especially for Dutch, their side being forced into a penalty shoot-out against Costa Rica, the wait must have been endless. Those who stayed on to watch lost the entire night sessions of plateaux 5 and 6 – so the ones with the loudest and fastest prototypes. Their choice…
The racing fun was seen in so many places – and we found that even 24 hours are too short to take in the whole experience. Mechanics working their butts off in the paddock are always a sight to behold, especially when like in the case of an Alfa 33 TT/3, they need to use two paddock places to put all the excess parts and bodywork… The pitlane was a wonderful destination too. It's perhaps the place that best captures the Le Mans spirit, even though the Le Mans Classic isn't run as an endurance race. Instead the field is divided into six packed grids across different eras, each racing three one-hour races over a 24-hour period, all at least once during night time. The races do feature stoppages and the occasional driver changes, so the pitlane is usually a hive of activity. The tension on the faces of drivers awaiting their turn is always fascinating to watch.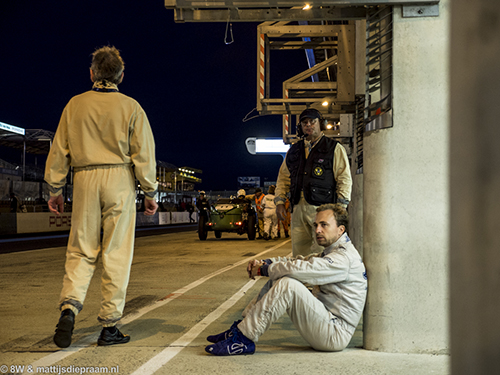 Typical Le Mans action-waiting-to-happen: tense faces in the pitlane. (photo 8W)
More pictures of the pitlane action and atmosphere at the 2014 Le Mans Classic
The first four grids all do the traditional Le Mans start ahead of one of their races, and although it's only done ceremoniously – the real rolling start takes place afterwards – they still add a nice touch. The 24-hour run of 18 races got underway with the drivers of the first plateau running towards their pre-war steeds. Christian Traber in his Talbot Monoplace Décalée started as the clear favourite, having won in 2012 with a minute in hand, but he didn't have such an easy time of it this year. In fact, Traber was beaten to the win by the Talbot 105 shared by Gareth Burnett and Michael Birch, and that despite a lengthy stop out on the circuit for the British duo.
Alex Buncombe was the clear favourite for grid 2 – he always wins! He certainly did so in the first two races of the plateau, and with apparent and familiar ease, meanwhile entertaining the crowd by sliding around in his beautiful bronze-coloured JD Classics Jaguar C-type. In the third race, however, he threw away victory by colliding with a backmarker at Arnage, gifting the win to another C-type, the Aubrey Finburgh example driven by Rob Newall and Nicholas Finburgh.
The third plateau with cars of the late fifties and very early sixties was a very popular grid, with overall victory going to Gary Pearson and Chris Harris sharing a Jaguar D-type. With the win, Harris proved that his good run in last year's Le Mans Legend driving the Lister-Jaguar 'Costin' was no fluke, while Pearson was his usual winning self. They beat Belgian Vincent Gaye, ever quick and spectacular in his gorgeous ex-Ecurie Francorchamps Ferrari 250 GT SWB, while third place went to Dutchman Karsten Le Blanc, who probably surprised himself most by grabbing an overall podium in the small 'Big Healey' run by the 'Anglo-Dutch' team at Denis Welch Motorsport. Now racing a Cobra, he hadn't driven the Healey since Octobe 2013, but he had to take the 3000 to Le Mans. "It's the pedigree", he said. "In period it's raced three times here, and five more times in the Le Mans Classic. Although the rain was a help I wanted more rain than we got, so I am really pleased. And I tell you, it's really something else to stand on that podium overlooking the pitlane and the grandstands!"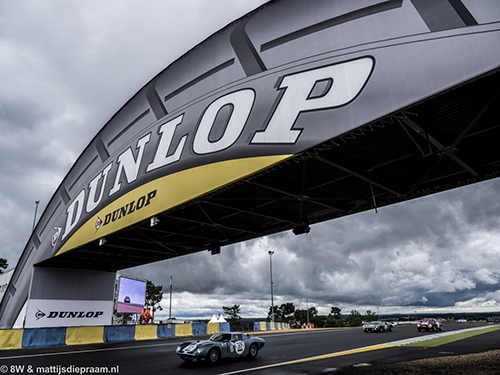 Bizzarrini passing underneath the Dunlop bridge on a damp and dreary Sunday morning. (photo 8W)
More pictures of the track action at the 2014 Le Mans Classic
Victory in grids four and five went to Dutchmen – so the fans from the Netherlands had more to cheer than their football side reaching the World Cup semi-finals. In the fourth plateau Ford GT40s ruled the roost, although the fastest ones ran into trouble one after the other. In the end, Hans Hugenholtz prevailed in his trusty ex-Racing Team Holland GT40, the one with the Gurney bubble – or Hugenholtz bubble to be more accurate – and a machine that has gone largely unaltered since the era in which it originally raced. It was a huge boost for the Dutchman, who tragically lost his wife last year and was entertaining plans to sell the GT40. "I will now do my best to hang on to the car. It is such a joy to drive, and then to win at Le Mans – unbelievable." It was hard to find another man on the podium who was more overcome with joy than Hans, and well deserved it was.
Meanwhile, David Hart fought valiantly in his AC Cobra, and surprised by leading in the early stages, but lost out later on. That didn't happen in plateau 5, though, Hart's Lola T70 Mk3B running faultlessly throughout the event, its able driver powering it to three straight wins and overall victory. However, it wasn't going according to plan in practice, Hart said. "The gearing in both the Cobra and the Lola was too long. Yes, that can also happen at Le Mans! Apart from that, the Lola's Chevy engine suffered from a bit of knock, so we will be looking into that now." And look into it the team did, but with potentially massive consequences, since the cylinder inspection light's cap fell into one of the cylinders! With the use of air the small plastic cap was eventually blown out but the team wanted to be sure. It took them quite a while before they actually found it somewhere on the ground near to the car, which saved them from taking the entire head off…
Plateau 6 went to one of the prettiest and most legendary-liveried cars in the field: Chris MacAllister's Gulf Mirage-Cosworth GR8. MacAllister also owns the ex-Niki Lauda Ferrari 312T but says he prefers the Mirage. "I love the Gulf colours, the DFV is a great engine and it really goes well here on the long straights. I don't drive the Ferrari often enough, which is why I only go at 90 per cent in it. I can drive this one flat-out. Oh, and of course I bought it since I can't afford a 312PB! I have a regular day-time job, I have to be back on Monday, and you can only spend your money once." When he won his plateau, though, it was hard to feel sorry for the American!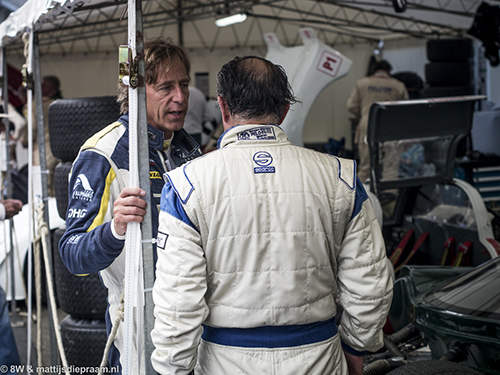 David Hart and Leo Voyazides talking Lola T70 Mk3B shop in the plateau 5 paddock. (photo 8W)
More pictures of the people at the 2014 Le Mans Classic
Apart from the on-track action the best fun is of course chatting to the men (and occasionally women) driving these beasts, which most of the drivers are very happy to do. In plateau 6, Marco Werner was down to drive an ex-Bellof Porsche 936. "Never drove it before! I expect it to be a lot tougher than the Audi LMP1s I've gotten used to. A lot less downforce, of course, and the power will be released all at once. So I will probably have to be careful around the corners, make sure that the steering wheel is entirely straight again, and then floor it!"
RDR Racing's Rae Davis came with a very special MGA carrying a one-off body. In period, it raced at Le Mans three times. "It belongs to a customer who did do a couple of Sunday drives in it, such as the Mille Miglia, but he really wanted it to race again. It's a beauty of a car, with its 2-litre twin-cam engine and its special streamline nose. Rain? No, I'd rather not have that." But Rae, we can already feel the first drops! "Oh, you go away from me, you awful man!"
Christian Dumolin and Adrian van der Kroft were happy to talk about the challenges of Le Mans. "It's a hard place to learn", Dumolin said, who was present with his white Ferrari 250 GT SWB and his yellow Ford GT40. "It's such a long lap, so you only have 7 or 8 practice laps to get used to it again since we only race here once every two years." Van der Kroft saw the plus side to that. "It's the perfect old geezer's lap! I can take a rest between the corners! Then again, each and every corner is more difficult than you would think, and that's where the track bites you…"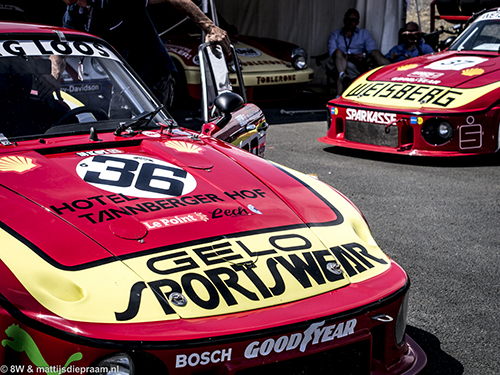 Georg Loos' Gelo Racing Porsche 935s were among the cars with the most iconic liveries. (photo 8W)
More pictures of details at the 2014 Le Mans Classic
Meanwhile, Multiple Revival winner Andrew Smith – and now a double Members' Meeting winner as well – was happy to engage in a long chat about the delights and pitfalls of switching back and forth between modern and historic racing, and several other topics. "Spa 24 hours is up next for me, in the Ecurie Ecosse BMW Z4 GT3. A different challenge, but it's good to get in some night practice here. Mind you, my maiden run in the night came in a Porsche 917. And that was my first time in the car too! How's that for a baptism of fire? Driving into the sunset at Goodwood is very different, though. You can still see something there. Here, it's often pitch-dark apart from the cars' lights."
And so the conversations went on and on, lasting well into the small hours. Rain finally struck the circuit on Sunday and lasted well into the morning, cooling down the atmosphere by quite a degree. But after Friday's heat that was more than welcome. It had been a marvellous three days, and travelling home past the remains of Rouen-les-Essarts (which were none) made our feelings of nostalgia ever more enduring. And endurance is what Le Mans is all about.