MEMORIES / You want me to what? Asking the (racing) impossible...
Author
Date
Related articles
Who?

Eliseo Salazar/Almo Coppelli/Thorkild Thyrring

What?

Spice Engineering Spice-Ford SE88C-001

Where?

Le Mans

When?

LVI Le Mans 24 Hours (June 11-12, 1988)


Why?
Have you ever thought that your mate, boss, or maybe wife/boyfriend/girlfriend/partner has asked you to 'achieve the impossible'? I know I have! One such example for me was at Le Mans in 1988. After 1986, Le Mans wasn't my favourite place, but it has always been special and so - largely because I had a lot of friends involved - I went along as usual. A pal and I walked down the grid and we eventually found Eliseo Salazar, who was sharing a Spice Fiero with Almo Coppelli and Thorkild Thyrring. "Just the man I was looking for!" he announced, and drew me to one side for a chat. It turns out that he'd recently opened a chain of Hugo Boss stores in Chile and Argentina, and as his deal with the Spice team happened at the last minute, it meant he hadn't had the time to organise any Boss logos for the race car.

That's where I came in - would I make some up for the nose of his car, please? Oh, and the four spare noses too...? Unfortunately for me, there was a precedent as the same thing had happened at the Birmingham Superprix two years earlier, with me doing the 'Salazar' and 'Lan Chile' on the cockpit sides. But more on Superprix happenings later.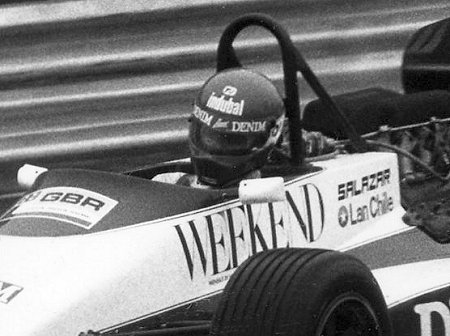 So he knew I could do it... My question, "OK mate, what references have you got that I can use?" was answered with the production of a business card and a somewhat sheepish smile.

The bloke I walked down the grid with captured the very moment. You can almost sense my disbelief at being asked (again) to accurately create something quite large from such a tiny reference...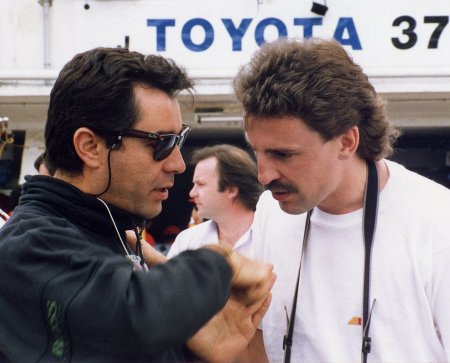 So off I went, with frankly no idea of how I was going to fulfill this particular favour. However, after nipping into a couple of friendly pits and blagging some raw materials - like some black plastic, a steel ruler, a pencil and a scalpel - I set about it. A wallpapering-style table being used for food was taken hostage for a flat surface and after something in the order of two to three hours, I'd done the lettering. Here you can see the aforementioned, as my mate Martin Haven drops in to enquire what I was up to...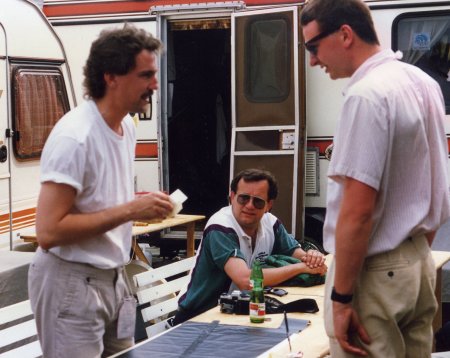 That done, the logos had to be applied to the noses. The old pits were still in use, which made life a lot more difficult, but eventually all the noses for car #103 were suitably adorned. And, if you look closely at your pics from Le Mans that year, you'll be able to 'time' ones taken of that Spice according to whether it has BOSS on the nose or not!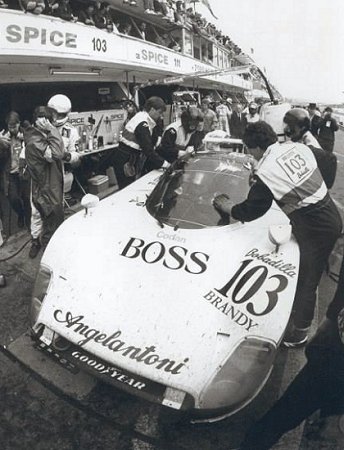 It didn't look too bad in the end, given the circumstances!

As for me performing a similar feat at the 1986 Birmingham Superprix, that wasn't the only strange activity I was involved in at that particular event. Birmingham was also where I made my soccer debut for Italy! Well, sort of...

Anyone present at the inaugural Birmingham Superprix F3000 meeting in 1986 will remember enormous delays on the first morning, due to vandalism by protesting locals done to the barriers, the PA system and so on.

As was the norm in those days, a football was produced in pitlane and some of the drivers started a kick-about. Then some mechanics joined in, and rolled out two pairs of trolley jacks as goal posts. The pits were in the Bristol Street Motors forecourt facing a big grandstand, and the impromptu action was going down well with the bored and frustrated spectators.

Within no time there were masses of players, and the goals had been made wider and the pitch lengthened. Such was the proliferation of our Italian friends in F3000 that season the players were split up to form Italy versus The Rest of the World.

So, with the 'international' well underway, I was enjoying the action sitting on the barriers by the halfway line with Eliseo Salazar (I was his manager that season) who didn't fancy a game. Then, out of the blue, the ball was propelled in my direction...

Without a second thought, I sprung to my feet and hit the sweetest half-volley towards the goalmouth to my left. It was one of those weird slo-mo moments as everyone watched the ball's looping trajectory... and saw it land plum in the goal - for the Italians!

They went completely mad; Ivan and Tarquini came rushing up to me and - in time-honoured soccer fashion - did all the embraces and stuff, and then turned me round to the grandstands holding my arms up to the crowd (and those who weren't laughing too hard generously applauded!)

It was just one of those brilliant, and totally spontaneous moments - and even Ivan still remembered it several years later. Oh, what I'd give for a photo of those goal celebrations...