MEMORIES / Mike Salmon and Team Ensign saved my weekend!
Author
Stuart Dent (words and pictures)
Date
Related articles
Ensign - Mo Nunn's talent for effectiveness, by Mattijs Diepraam
Who?

James Hunt, Clay Regazzoni, Niki Lauda, Henri Pescarolo, Mike Hailwood, Peter Revson, Jacky Ickx, Richard Robarts

What?

Hesketh-Cosworth 308, Ferrari 312B3, Ferrari 312B3, BRM P160, McLaren-Cosworth M23, Shadow-Cosworth DN3, Lotus-Cosworth 72E, Brabham-Cosworth BT44

Where?

Brands Hatch

When?

IX Race of Champions (March 17, 1974)
Why?
A little story from an as-was sixteen year-old I thought I'd share with you...

For the 1974 Race of Champions, I'd expected to be able to stay with a friend in Purley on the Saturday night, having travelled to Brands from the Midlands by train etc, and met him there on the Saturday morning. However, it transpired that there was only one problem; they were abroad! There was no way I was going to miss the meeting, so I went anyway - having told my folks all was well - but my secret plan was to kip in the pits in a sleeping bag. Imagine my horror, therefore, when I discovered that (and for the very first time) there were guard dogs patrolling them...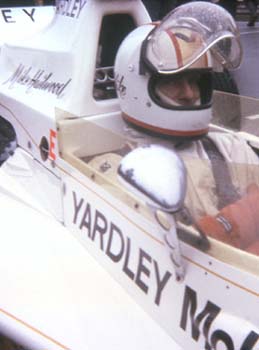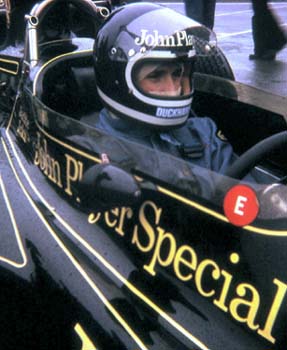 So, after the day's activities had concluded and with few options availble (actually, none) I went to the old pre-Kentagon bar (more accurately described as 'the Shed') on the Saturday night and luckily for me a rather drunk Mike Salmon - having heard of my predicament - offered to put me up in his tent. As by that stage of the evening I'd already suffered an indecent (and these days, extremely prosecutable) proposal from the then chief paddock marshal while I was in the loos, you can imagine my increased relief at being offered salvation; I was only 16, after all. It was very kind of Mike to help me that way, but I have to admit that I couldn't get out of that one-man tent fast enough in the morning; his feet smelled sooo bad! Once I'd returned to fresh air, I headed straight for a fry-up at the 'Cholesterol Castle' cafe at the top of Paddock Hill.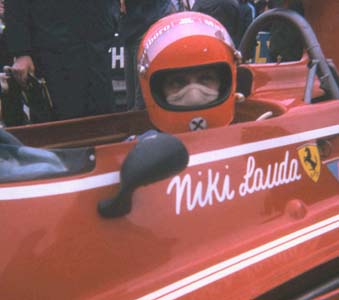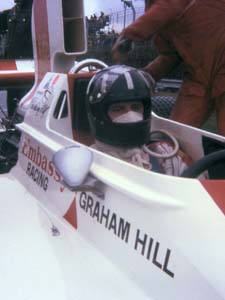 As we all know, the day was a weather horror story but, undeterred, I still got into the pits and onto the grids by merit of the fact that the day before I'd ('illegally', as was my habit) entered the Press Office behind Graham Macbeth (Press Officer of the time, IIRC) just as he dropped a big cardboard box full of passes. They went everywhere, and as I was first on the scene I naturally helped him gather them up. Fortunately, one just 'happened' to slip into my pocket...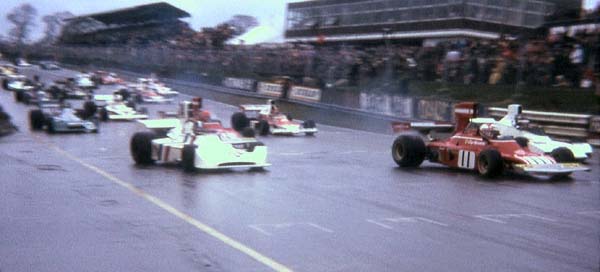 The main race was great - possibly even thanks to the weather - apart from a BRM win! And, like everyone else, I was sodden by the end, but I was still in my element as I sidled up with the Lotus personel, Chapman, Warr, Dennis and co, as they went to greet Ickx at the completion of his slow-down lap. I will never forget how Chapman - a man I considered almost God-like at the time - sounded so insincere as he spoke to Jacky while he was getting out of the car. Really; it sounded like he was reading from a script! Warr simply mimicked Chunky, and as anyone who's ever seen his grovelling performances on 'If you're not winning, you're not trying' will appreciate.

Here's a pic of that very moment. I'm in it, and so is 'Harry' - but I think he's worthy of a story of his own!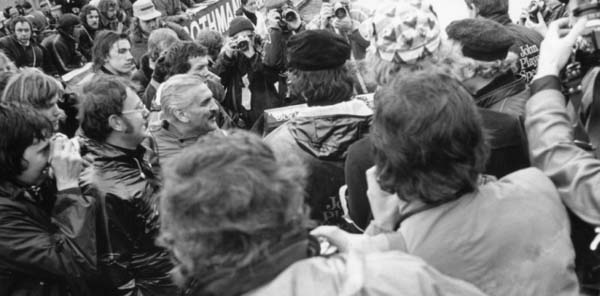 So, with the racing over I'm feeling cold, literally soaked to the skin, facing several hours of public transport and not relishing the prospect one bit. A last lap of the paddock was in order, and whilst doing so I had an idea... It occured to me that as the Ensign team were based only a few miles from wher I lived, perhaps they could give me a lift home? I approached Mo Nunn and politely popped the question. "Yeah, that should be no problem." came the reply, "Just check it out with him" as he pointed to one of his men. Sorted!!

The trip was long, but brilliant. The route took us right through central London (the M25 was a decade away) and I felt so proud to be travelling in this 'enormous' transorter with 'Team Ensign - Formula One Grand Prix Team' emblazoned in huge letters down the sides. Of course in those days it would have meant nothing to most folk who saw it passing, but that wasn't the point!

Plus I was now warm, dry(ing) and in the company of blokes whose conversation well and truly kept me awake the entire trip. To my astonishment, as we neared closer to home, the driver asked where I lived. I named the town, to which he said "No, which road?"! The guys duly dropped me about a hundred yards from my house... Unbelievable.

My folks had given me a bottle of wine to hand over to my theoretical hosts for Saturday night, so the Ensign truckie was handed that and I was more than happy that I had something, anything with which to show my appreciation for their kindness towards a complete stranger.

And so, another personal 'epic' to record in my racing memories ended. And, as I guess these words prove, one that wasn't going to be forgotten in a hurry!