2016 Monaco Grand Prix Historique report
F1 stars celebrate Monaco's F1 history
Author
Date
Related articles
Who?

'Mr John of B', Stuart Hall, Franco Meiners

What?

Matra MS120B, McLaren-Cosworth M19C, Ferrari 312B2-009 'Spazzaneve'

Where?

Monaco

When?

X Monaco Grand Prix Historique (May 15, 2016)
Why?
The tenth-anniversary Monaco Grand Prix Historique attracted more drivers than ever with a claim to Formula 1 fame. Adrian Newey debuted his Lotus 49 while several former F1 drivers graced the entry lists of the two 3-litre races that traditionally headline this biannual highlight on the historic motor racing calendar. On his debut in historics, Alex Caffi was the star among them, consummately taking pole in the 1973-'76 race before storming to victory on Sunday. Having fluffed his first start, the Italian was lucky when the race was aborted due to a monumental gaffe with the safety car. On his second try, Caffi made no mistake and beat Katsu Kubota to take the first F1 victory of his career.
If the Monaco Grand Prix proper is the jewel in the crown of the FIA F1 World Championship, then its historic counterpart is the same when it comes to the celebration of Formula 1's history. Nowhere else dozens and dozens of F1 cars can be admired all in one weekend, and it's all because of the bucket-list nature of the Monaco circuit. Everyone wants to race here and tick it off as a once-in-a-lifetime experience in the bigger-than-life principality on the French Côte d'Azur. And so even the rarest of sixties and seventies F1 machines will turn up at Monaco, if only once every two years, since especially the twelve-pot Ferrari, BRM, Matra and Tecno cars are too expensive for a full FIA Masters Historic F1 Championship campaign.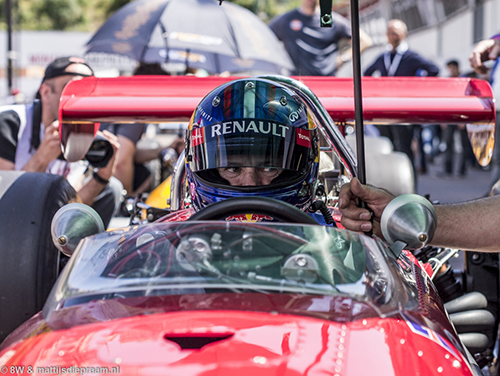 Adrian Newey focused ahead of his first single-seater race. (photo 8W)
Adrian Newey's story said it all. He wanted to be at Monaco instead of witnessing Max Verstappen's Red Bull debut at Barcelona – which turned out rather spectacularly. "I bought this Lotus 49 two years ago, and have worked on it ever since, all by myself", said Newey. "No, it didn't sit in the Red Bull windtunnel! This will be the car's debut. I've never driven here before, and it will be my first time in a single-seater, so it will be interesting. But I never shy away from a challenge."
This year, Monaco bathed in sunshine most of the time, with just one spell of light rain on Saturday afternoon, which made 1973-'76 qualifying pretty entertaining. That is, most cars stayed inside, with the grid now decided by their morning times, but the likes of ex-Audi factory driver Marco Werner and former Osella and BMS Scuderia Italia driver Alex Caffi wanted to have some fun and went out. The Italian was a joy to watch, drifting his Kessel Classic-run Ensign N176 through Casino Square while playing with the throttle. "This may be the start of a second career", Caffi said. "The team have only asked me for this race, but I wouldn't object against having another go. I really enjoy this, I'm still full of emotion! Did you see me at the Casino? That was fun!" Did he have a plan for the race? "There is no plan. I start at the front, so I just have to finish in front!"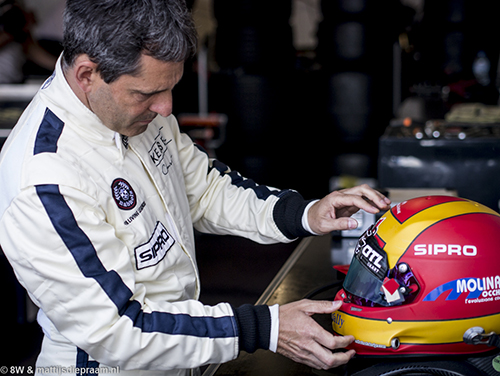 Alex Caffi impressed on his historic debut. (photo 8W)
He did do so but at his second opportunity. Race direction messed up the first rolling start when they showed the green flag to the first 12 cars, with the safety car storming onto the track right into the midfield pack after a car had spun in the back. The first ones to spot the safety car, such as Ron Maydon on a one-off return to his Amon AF101, got off the throttle at once, while others ran into the back of them. At the front, Caffi had been swamped by four other cars, effectively swapping places with Max Smith-Hilliard (Lotus 77) who from fifth on the grid charged into the lead even before the leading cars negotiated Sainte-Devote. It was all for nought, since the race was soon redflagged.
The Rofgo Collection duo of Stuart Hall and Roald Goethe himself were among the first-lap victims, with Hall's McLaren M23 receiving further torment when it fell off the crane it was hooked to. Still, he had had something to celebrate less than an hour before after he had dominated the 1966-'72 race in Goethe's M19C.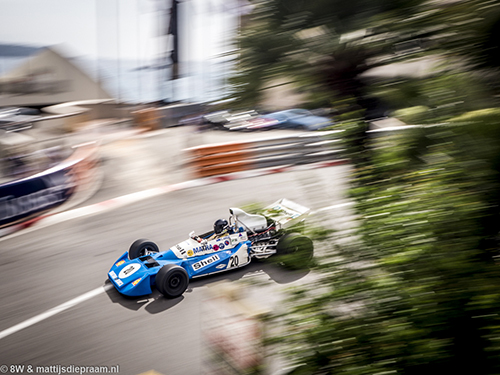 So typical of Monaco: 'Mr John of B' charging into view in the Fairmont hairpin. (photo 8W)
On the restart, Caffi made no mistake and led from lights to flag, only at the end hurried by Katsu Kubota closing in with his ex-Ronnie Peterson March 761. Another safety car would have been called for in a hectic situation halfway into the race when Ian Simmonds got entangled with an adversary while braking for Sainte-Devote. The Shadow spun and ended up in the bit of 'no man's land' between the pit exit lane and the circuit proper. Simmonds tried to turn the car back onto the track but found he didn't have enough steering angle. "I didn't want to light the rears, since I was unfamiliar with the car and didn't know if the gearbox would hold, but I just came up short."
Simmonds had been a late call-up for the Shadow DN5 earmarked for Nick Padmore, who would have been a shoo-in for victory or at least a fierce rival to Caffi, especially now that Michael Lyons was absent due to professional obligations as a Mercedes driver in the Blancpain Endurance Series. As it was, both Padmore and Lyons were missing from the grid, Padmore requested to act as a driver coach to Max Smith-Hilliard (a decision vindicated by Max taking second in the '66-'72 race). Simmonds was amazed when he got the call. "I thought they called the wrong one. It felt like an early Christmas present! My Tyrrell 012 is too young to compete here, so I never drove at Monaco. How do you say no to this!"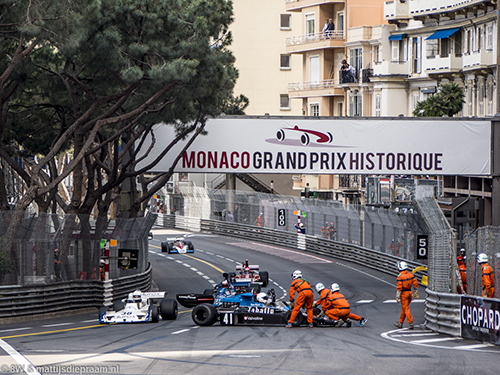 Scary moments for Ian Simmonds in the 1973-'76 race. (photo 8W)
It all went belly-up when Simmonds found himself blocking the track at the end of the not-quite-so-straight start-and-finish straight, out of view until the last two seconds. For the duration of almost an entire lap, Simmonds sat there, frantically waving to the cars barreling down towards him while the marshals pushed him out of harm's way. It was stupid. If any situation deserved safety-car deployment, it was this. It must have been the scariest minute of Simmonds' life. "I wasn't feeling too comfortable!", he quipped afterwards.
Third place fell to Joe Twyman's Shadow DN8-4A, the car in which Alan Jones won the 1977 Austrian GP to hand Shadow its only GP victory. In fact, it sported its GP-winning livery of 1977. So how did it get into a 1973-'76 race? "It's a 1976 tub!" said Twyman. "It came out of Don Nichols' warehouse in California, where it sat for years." As with Jason Wright's DN8-6A, they found that all the original parts were still on the car, with even the fuel tank marked 1976. The Tabatip-Ambrosio machine looks glorious and we hope to see it many more times.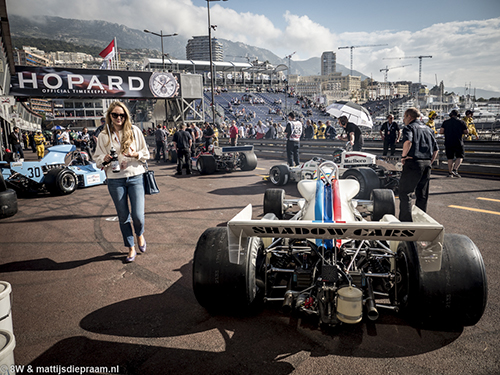 Glorious Monaco morning: Joe Twyman's Shadow DN8 and Ron Maydon's Amon AF101 get ready for qualifying. (photo 8W)
Another memorable moment came in the WDK Motorsport garages when Maki designer Masao Ono came to visit the Cosworth/Hewland kit car that he drew in the mid-seventies. Its driver, Belgian Marc Devis, invited Ono to sign the car's airbox, and the Japanese happily did so – in Japanese characters. "Ono, Ma-sao", he said while pointing to each of the characters. The car had been completed just ahead of the Zolder Masters meeting, where it ran with a misfire in the first race and only got as far as three corners in the second race. "We only finished at 3 AM on the Friday", said Devis, "so Zolder was really only the roll-out. Since then, we tested it extensively at Monteblanco, where it ran faultlessly. It should do OK here." Indeed, Devis finished a creditable 13th, one lap down on Caffi.
Incidentally, Marco Werner's wasn't the only Ferrari 312B3 out there this year. Driving Ernst Schuster's machine, the German sat in the car that his former Audi team mate Emanuele Pirro had demo'ed at the Goodwood Members' Meeting last year, but the Italian had swapped to a second 312B2 making its way to Monaco. This example had been in Monaco two years ago but didn't race. "I bought it from the man who wanted to race it here but found that he didn't fit", told Peter Read. The American said he would cherry-pick his events, the Ferrari being a lot more expensive to run than its DFV-engined counterparts. "I will probably race it in the US, mostly. Monterey will be next. But I really wanted to be a part of this. I did put in a proper driver with Emanuele. He has experience in the other car, although he says this one feels different, being an Italian-built tub instead of a Thompson chassis."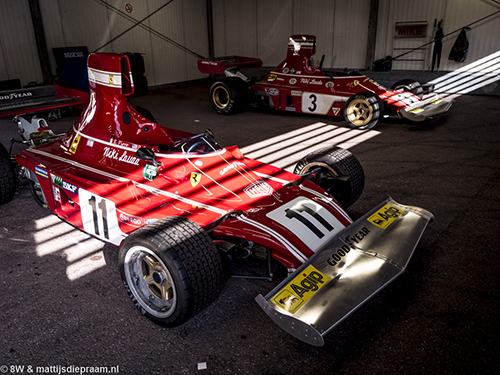 Much Ferrari goodness at Monaco this year: here's a double whammy of 312B3. (photo 8W)
Our pick for 'car of the meeting', however, went to David Shaw's Eifelland Type 21, with its outrageous Luigi Colani-penned bodywork. Shaw had completed the car just four weeks ahead of the Monaco meeting, and this would be its first outing. "The car was owned by Rudolf Ernst", Shaw explained, "who raced it in as a March 721. After its days at Eifelland, 721/4 was converted back into a 'normal' 721 by the Hexagon team where John Watson raced the car. When Ernst crashed it at Brands Hatch, I first offered to help him fix the car but then he said I could buy it! He also had all the original Eifelland bodywork. Then I heard that there wouldn't be a Formula 3 race at Monaco in 2016, so if I wanted to return here I couldn't bring the ex-Piquet Ralt RT1." Shaw had stuck the RT1 on pole in 2014, only to hit the barriers after coming across a patch of oil in the dying moments of qualifying. His mechanics set to work and finished the job well after midnight, so that Shaw could take up his rightful place at the front of the grid – where he stalled when the flag dropped... "I've just finished restoring the Ralt! When the meeting was done it turned out that it needed a bit more work than what the guys had done overnight. It had to be fully straightened again, but now it's back and ready to race."
But the Eifelland? "Yes, that seemed like a good way for Monaco to get myself in. I worked on it for about a year. Rebuilt the tub, had new bodywork made. It's not an entirely new car, however, some of the original parts were carried over. I do have all the original bits back home, which helped to get me here. A German-made replica also applied, so I had to prove I had the original 721-4 tub." And what about that periscope-style mirror in front of the driver? How does it compare to the 'halo' that the current F1 teams have been testing? "It's actually very similar. It needs a bit of getting used to at first, but then you simply stop noticing. It's only when you drive slowly that you start seeing it again. It doesn't work well as a mirror, though! I was getting blue flags in practice but didn't see a thing… I've now added a second mirror to cover the blind spots. Or maybe I should simply drive faster, then I would see a lot less blue flags!"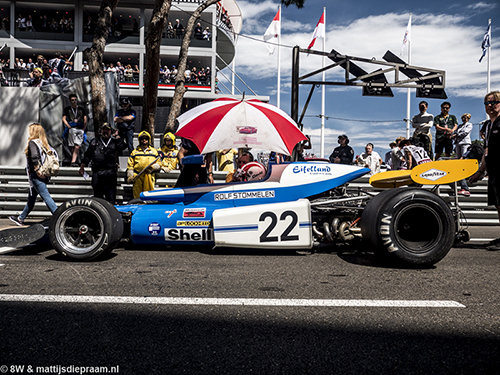 David Shaw on the grid with his amazing Eifelland March. (photo 8W)
The race that saw a proper battle for the lead – in the opening laps, at least – was the contest for 1.5-litre cars from the '61-'65 era. While Joe Colasacco led away from the start in his glorious Ferrari 1512, he had fellow front-row starter Andy Middlehurst's full in his mirrors for the next three laps, until the Classic Team Lotus driver pulled off a great overtaking move into Mirabeau. With a clear road ahead, the ex-Clark Lotus 25 opened up a gap that would only grow bigger towards the end, Middlehurst adding another great win to the car's amazing tally, in Grand Prix racing proper as well as historic racing.
Mirabeau would be Colasacco's unlucky corner, since he threw away the lead in the Formula Junior race by getting his Stanguellini into a spin right there. Jonathon Hughes said thank you very much in his Lola and went on to take victory ahead of Christian Traber and Ray Mallock. With two qualifying heats ahead of the main race, the Juniors treated the crowd to a format reminiscent of the past.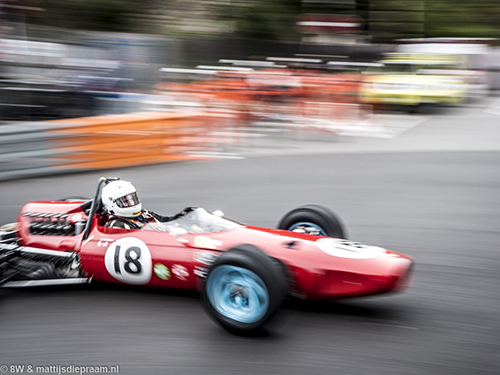 Joe Colasacco diving into Anthony Nogues corner in his Ferrari 1512. (photo 8W)
The battle for fifties front-engined F1/F2 honours was rather more straightforward, poleman Tony Wood taking the lead and never looking back, even though Julian Bronson's Scarab was never far away. The sportscar race brought us another unchallenged win. The same car that won two years ago did it again, but with a different driver. Two years ago, it was Alex Buncombe who was victorious in JD Classics' Jaguar C-type, this time it was Chris Ward who performed to the car's usual standard. It hadn't been so easy in practice, though, Ward hitting two other competitors in separate incidents, when both slowed unexpectedly right in front of him. The pretty brown machine looked quite battered when it rolled onto the grid. "Starting from the front, he'll be safe from further harm", Ward's mechanic said ahead of the race. True enough, but what when it starts hitting the backmarkers? "Well, then I hope he doesn't actually hit them!"
Even though Ward waltzed it, it was a race. Which couldn't be said of the half hour that the pre-war cars took to the track. Indeed, their race had been demoted to a parade. The Monaco GP going back to 1929, there had to be some pre-war presence, the ACM must have thought, but then they remembered the dramatic events of 2014 when the Bugatti contingent threatened to boycott the race because of the ERAs being too quick (which they always are!) – and most of them did. However, turning it into a demo wasn't quite the right answer: turnout was even poorer, and with large gaps between the cars it all felt a bit soulless.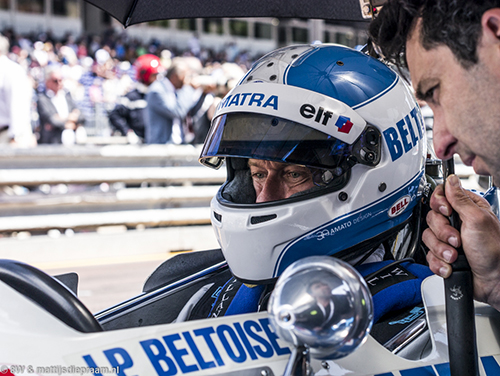 A Beltoise in a Beltoise car. Son Anthony drove his father's 1971 Matra MS120B. (photo 8W)
The sheer noise of the Porsche demo hosted by event sponsor Chopard made up for it, the 718 with Romain Dumas at the wheel and especially the 804 driven by Jacky Ickx were quite the acoustic treat. Dumas' co-stars from the Porsche WEC squad, Mark Webber and Brendon Hartley, were present as well, which always ensured a huge gaggle of photographers surrounding the two sixties F1 cars.
Ickx also made sure that he visited Anthony Beltoise, who was 'reunited' with the Matra MS120B that father Jean-Pierre drove in the 1971 season. 'JPB' took his only Grand Prix victory at Monaco, one year later, driving his BRM so superbly in the torrential conditions that even acknowledged rain master Ickx was unable to keep up.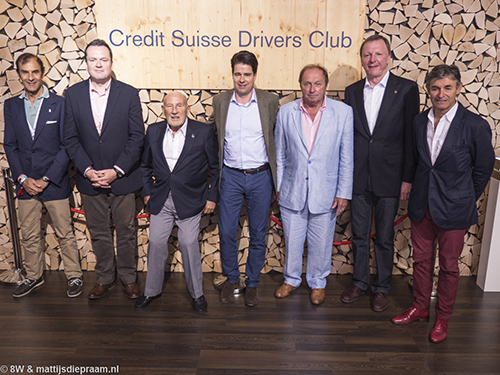 The Credit Suisse Driver Forum, with from left to right: Emanuele Pirro, Henry Hope-Frost, Stirling Moss, Karsten Le Blanc, Jochen Mass, Ray Mallock and Alain de Cadenet. (photo 8W)
The most famous Monaco name of all showed up as well, since amongst all the famous Monaco victories that 1961 win against all odds beating the Ferraris that would dominate the season must rank as the best ever. Stirling Moss was the star guest to the Credit Suisse Driver Forum that took place on Friday morning, hosted by Karsten Le Blanc. "I've pretty much recovered from my smash at Goodwood", said the Dutchman about his crash in the Cobra in the 74th Members' Meeting. "I've already raced again at Donington, even though I felt a bit sore afterwards. The car is now fully stripped but waiting in line to be repaired. It may be ready in time for the Spa Six Hours, but I'm hoping to do Sebring and Daytona with the car, in which case it should be on the boat ahead of the Spa meeting."
The Driver Forum members discussed the issue of racing with manufacturers or privateers, and Emanuele Pirro said it was a discussion that is fundamental to the sport. "Do we want to make a sport for technology or a sport for men? Manufacturers bring innovation and that is good for the sport. On the other hand, they often contribute to spiralling costs, which forces the amateurs out." Alain de Cadenet had lots of remarkable stories about his life as a privateer. "We operated very crudely. We used to chalk out our chassis measurements on the mews of our workshop, and went testing on the M4! Jacky Ickx once visited our place and was aghast. 'As a works driver', he said, 'I'm treated to champagne and the finest hotel rooms. But this looks like a prison!' Ickx's former team mate Jochen Mass could well imagine what Jacky was talking about. "Of course it always better to drive for a good team. If you get a good result in a bar car, it's by coincidence and not by design." Pirro disagreed. "I once drove a Lola against the Audis and Peugeots at Le Mans. It was such a simple car but it was flying! Manufacturers tend to make things too complicated for themselves." As usual, Stirling came with the right kind of perspective. "I always raced for fun. But it's more fun when you win, and get paid handsomely for it!"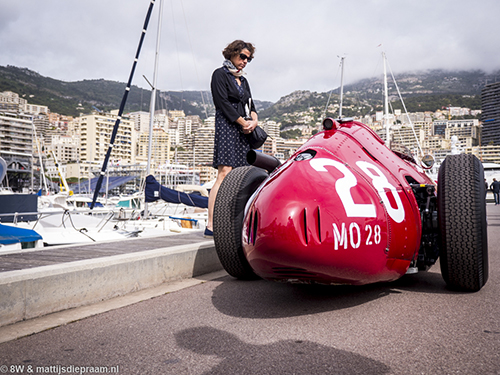 Stirling Moss' 1956 Monaco GP-winning Maserati 250F on a Friday morning in the Monaco harbour... (photo 8W)
Then it was time to go outside, where one of the jetties a Maserati 250F stood proud. It was the car in which Moss won the 1956 Monaco GP 60 years ago. A historic moment, but on Sunday many of us felt that new history was written on a track elsewhere, where an 18-year-old boy took the first of undoubtedly many GP wins…