Continental Grand Prix team in search for British excellence
A spoof period report on the 2003 Revival Meeting
Author
Date
Related articles
Continental Grand Prix team in search for British excellence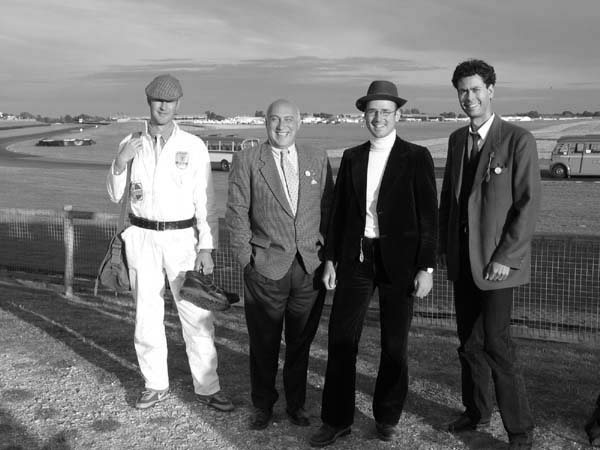 From left to right: Dr. Jeronimus Brun, 'Nando' Alonso-Muelas, Franck Vandevelde, Matt Deep
- Vandevelde's top brass lining up for our photographer at Goodwood's Lavant corner.
Some months ago it was brought to our attention that a Grand Prix team from the continent was to be set up for the new 3-litre formula planned for next season. Apparently, the funding will be furnished by Belgian eccentric millionaire Franck Vandevelde, who made his name through his eponymous toothpick manufacturing company. The Vandevelde team were seen scouring the paddock at the September Goodwood meeting, which saw a splendid turn-out of cars in an interesting collection of events. We spoke to Vandevelde and assorted members of his crew on their search for British drivers and engineers.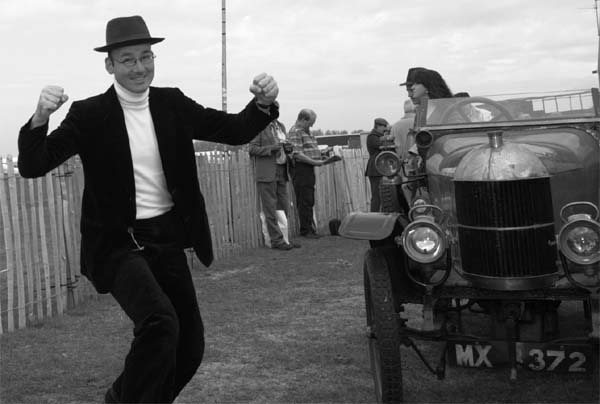 The Belgian eccentric showed remarkable ways of uttering his satisfaction with proceedings at Goodwood.
The Belgian toothpick tycoon was quite willing to share his plans with The Motor Racing Car. He is adamant that pouring funds into the project will lift the sport to new levels of commercialism. "Money is no obstacle. I want to have three Vandevelde cars on the grid for next year, all sporting yellow colours and VDV sponsorship, displayed by our Stetson hat mascotte. I have already arranged with Englebert to return as a Grand Prix tyre manufacturer and we are currently negotiating with various engine suppliers. We are here looking for British talent to bolster our effort, as we aware that British skill and racecraft have upped the ante in the past decade. So far, I have seen some interesting drivers. This young Dickie Attwood looks like a star in the making. I am happy to offer him a contract for our third car. Of course, we were very keen to see Stirling Moss come back after his dreadful accident here three years ago, and we had high hopes of signing him on. But he was driving like an old man, holding people up! I don't think we will be very happy to get him on our team now. I was very surprised to see a prize-winning youngster do so well in his first race [Mr Vandevelde was referring to Tuff Noodle, the boy who won our sister weekly's 'Be A Racing Driver' competition, ed.], so he could be one to watch for the future. I was charmed by Arturo Merzario, who we might just sign on for our second car. He will be an interesting choice for our Italian market. Now I only need him to wear our company's mascotte during promotional activities. I am still unsure about the lead car, though. I suppose Jackie Oliver deserves to be more than a number-two driver. We would like someone with a dedication to Formula One, however. I cannot understand how some of the British drivers can maintain their level of competitiveness while taking part in all sorts of scratch races, just for the enjoyment of it. There was one fellow competing in all 14 races of the weekend. No wonder he didn't win any of them [no doubt Mr Vandevelde had his eye on Barrie Williams, who took part in only five of 14 events, ed.]. I am afraid we will have to turn to the continent to find such a driver. My technical director, who is from West-Germany, is telling me that his country is an untapped resource for professional Grand Prix drivers. Let's hope he is right."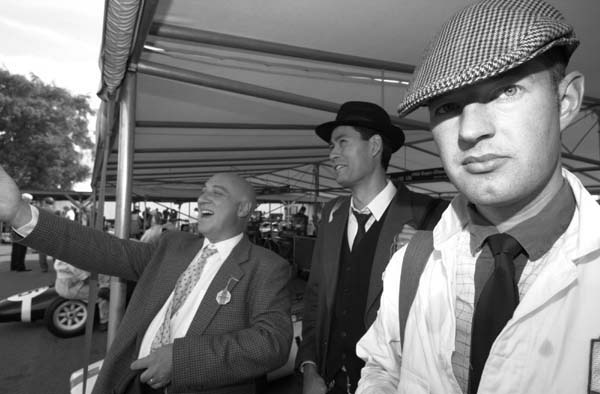 The three Vandevelde stronghands form an opposing set of characters.
Though Belgian-based, the Vandevelde Grand Prix stable is a genuinely continental assault, a truly multi-national outfit which cannot be originated to one single country. This became apparent as soon as we met with the core of the newly founded team. The well-humoured Mr Vandevelde has gathered some interesting characters to form the technical and sporting core of his effort. First we have senor 'Nando' Alonso-Muelas, acting as the Vandevelde team manager. Mr Alonso-Muelas became widely known for guiding the ill-fated Pegaso attempt at forming a Grand Prix team. To our knowledge the Pegaso effort failed because of Mr Alonso-Muelas' habit of turning simple things into very complicated exercises, but the Spanish Commendatore will have nothing of that suggestion. "What are you getting at, mister? I would say I am the opposite. As soon as the designers disagree with the mechanics, and affairs get extremely complicated, I step in and fire them all. Now how is that not simple, no? They all tell me I don't appreciate the complexity of constructing a Formula One car, but what's to it? They get me a fast car and I will be happy. If they don't? Bah, I fire them all."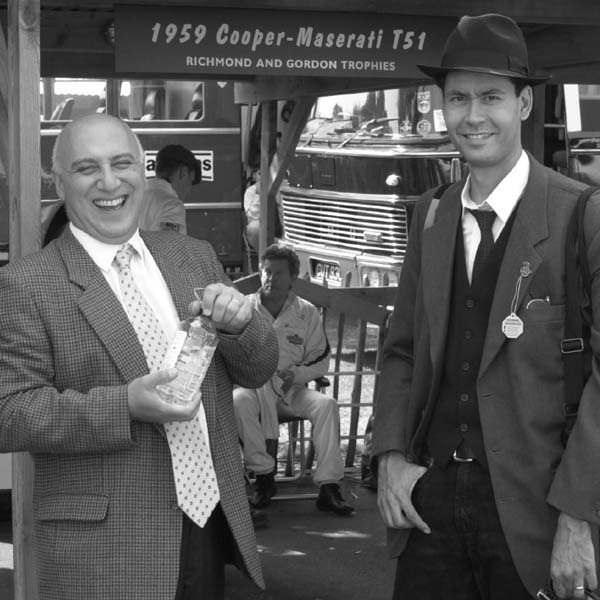 Anglo-Spanish team management for Belgian Grand Prix effort.
Mr Alonso-Muelas is assisted by young Briton Matt Deep, hitherto uninvolved in Grand Prix racing and, as has been suggested by some elsewhere in the paddock, previously engaged in the bookmaking profession. Mr Deep will be providing financial insight of all kinds to Vandevelde and Alonso-Muelas, and has offered his services as a bargaining agent towards any drivers that the team are intending to sign on. "To be honest, guv', I was glad to see that Moss character underperforming today. I've seen a list of his accomplishments, and his negotiating savvy has preceded him in the paddock. They all say he's invented the professional racing driver. Of course I was ready to hold his World Championship defeats against him but he's a hero, in'it? That's sheer market value, guv'. But at what price?" As we left Mr Deep pondering that philosophical issue, we asked ourselves what business men like him have in the paddock, so ostensibly showing their total absence of enthusiasm for the sport.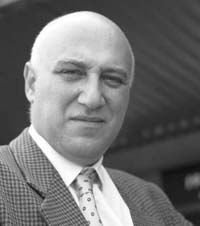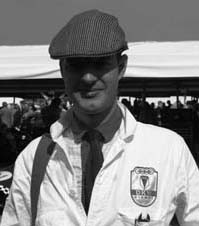 Brooding glances do not bode well for British dominance.
Meanwhile, the team's technical director, Herr Doktor Jeronimus Brun, was seen limping across the paddock as he gauged the future opposition's technical prowess. The former Messerschmidt designer was left unimpressed with British engineering standards. "It is unfazomable", he stated. "The British dominance of today's Grand Prix racing can only be explained through the absence of German works participation. The lack of meticulousness in their piping and welding is shocking. Also, they have failed to grasp the concept of streamlining, as they have constantly shown during the fifties. So I am quite certain that we will crush the enemy [we are quite certain that Dr. Brun meant to say 'opposition', ed.]. As it is, my new VDV2 will incorporate the latest turbine propulsion technology." Sadly, on that interesting note Dr. Brun had to leave our conversation as we heard the noise of a Spitfire coming over our heads, the Westhampnett airfield veterans turning their demonstration loopings into a terrific historic display. From the corner of our eyes we saw the Doktor duck away under the BRM awnings. "It is so hard to get used to!" we overheard him screaming to a hapless P261 mechanic before reaching in his pockets for a small bottle of pills. Afterwards, Herr Brun spent several hours at the Kieft pit, showing a keen interest in Coventry Climax's FPE engine. Kieft was participating in the Formula Libre Goodwood Trophy, against rival entries from Libre stalwarts such as ERA, Connaught, Alta and HWM. "Now this is an impressive piece of British engineering. The grandeur, the sheer ambition of it - they make me feel at home. This engine could form the basis of a strong 3-litre proposition. The preparation is immaculate - it looks like new." He could not understand, however, that the BRM team managed to run in the Formula One Glover Trophy and go unpunished, the Doktor accusing them of blatant cheating by running 2-litre engines. Now really…

So would we consider the Vandevelde outfit a dark horse for the forthcoming Monaco Grand Prix? We are having serious doubts as to their success in even showing up. (HMD)