Rouen-les-Essarts: France's forgotten treasure remembered
1966 – Hulme breaks his two-year drought
Author
Date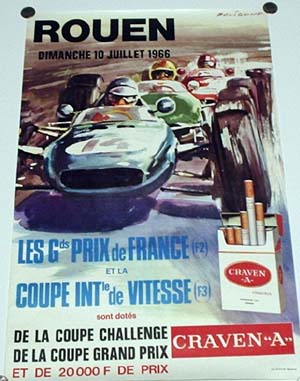 F2 Grand Prix de Rouen
The 1966 Grand Prix de Rouen was held on a typically busy weekend for racing in Europe. The F2 cars were brought over from the previous round at Reims the weekend before, and assembled in time for opening practice on the Thursday. Practice was scheduled on Thursday in Friday, to allow those who were also competing in the Martini Trophy race at Silverstone to practice, fly to England for that race, and return in time for Sunday's race.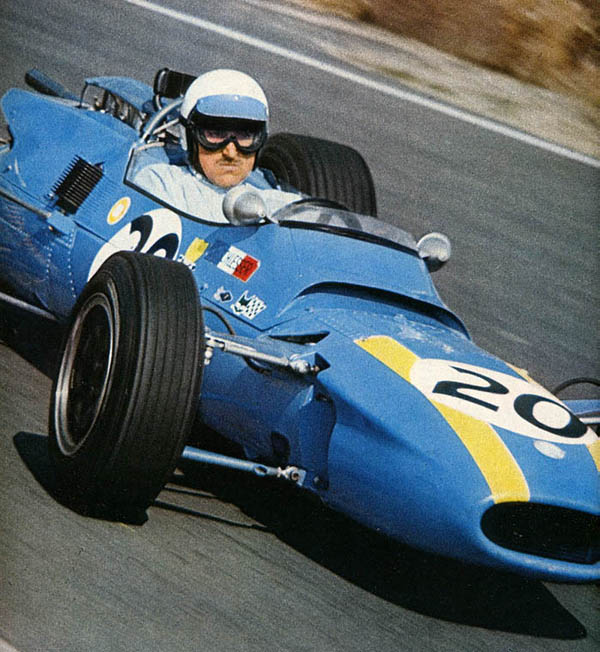 Jo Schlesser's Matra retired on lap 32 with a broken oil radiator

Plenty of big names turned out for the F2 event for 1966. Jack Brabham and Denny Hulme arrived in the prodigously fast Honda-powered Brabhams, hoping to continue their good form in the series so far. Jochen Rindt and Alan Rees had a Winkelmann Brabham each, while John Surtees, Jacky Ickx, Graham Hill and Jean-Pierre Beltoise all arrived to drive Matra-BRMs, Surtees' car sporting a Cosworth engine. Other starters included Pedro Rodriguez, filling in for the injured Jim Clark in a Ron Harris Lotus, with Peter Arundell and Trevor Blokdyk in sister cars.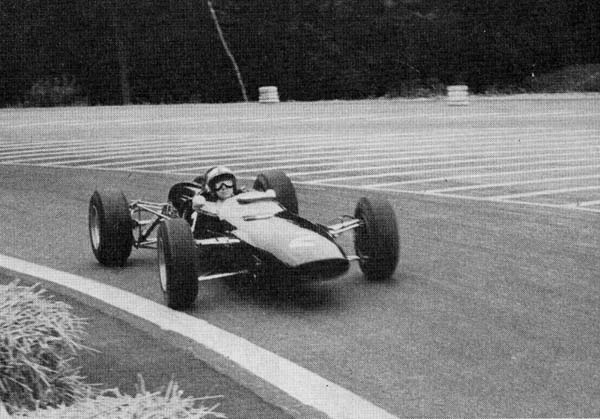 Pedro Rodriguez filling in for Jim Clark at Ron Harris Team Lotus

Thursday's practice was reasonably uneventful, with most competitors trying to get their cars sorted. Brabham produced the fastest lap, a 2m 14.9s time, Rindt managing a 2m 15.8s lap, while Hulme failed to get below 2m 16s. Of the rest Rees was best with 2m 17s, with Surtees, Attwood in a MRP Lola and Eric Offenstadt in a Lola-BRM close behind.

Friday was very different, with everyone trying hard on a good day for fast times. Nevertheless Brabham's pole time of 2m 10.7s was incredible, being a full 2 seconds faster than teammate Hulme and 4.5 seconds faster than the rest! It was so fast in fact, that some refused to believe it. Rindt claimed 3rd with a 2m 15.1s time, with only half a second covering Surtees, Hill, Beltoise and Attwood in 4th to 7th. Lotus were in trouble, Arundell unable to break the 2m 17s barrier while Rodriguez could only manage a 2m 19.3s and 14th. Ickx, Offenstadt, Kurt Ahrens in a Brabham, Hawkins and Bob Anderson covered 9th to 13th, and the rest of the field was Trevor Taylor in an Aurora Gear Brabham, Blokdyk, Grandsire, Jo Bonnier in the Ecurie Ecosse Cooper-BRM and David Prophet, who did some slow laps on Thursday and then flew to Silverstone on the Friday.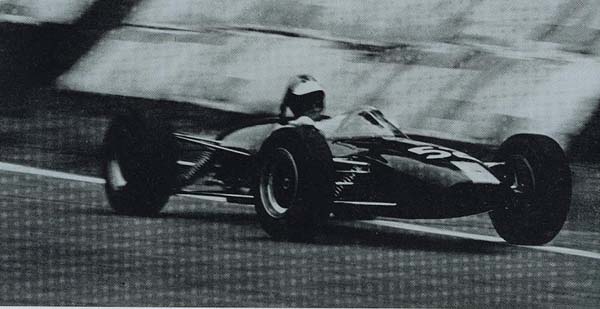 Piers Courage winning the F3 support race in his Lotus 41

The early races on the Sunday were highlighted by the F3 race, won in fine style by up-and-coming Englishman Piers Courage in a Lotus, from Roby Weber in an Alpine and Johnny Servoz-Gavin in a Matra. The F3 pace had been electric, with no fewer than 15 cars setting times in practice under the old F3 record of 2m 28.4s by Trevor Blokdyk. The Historics race was won by Peter Waller in an ERA, but the star of the show was undoubtedly Bill Summers in his 8-cylinder 1934 Alfa, who set a new Historics lap record of 2m 43s before his engine detonated under the strain.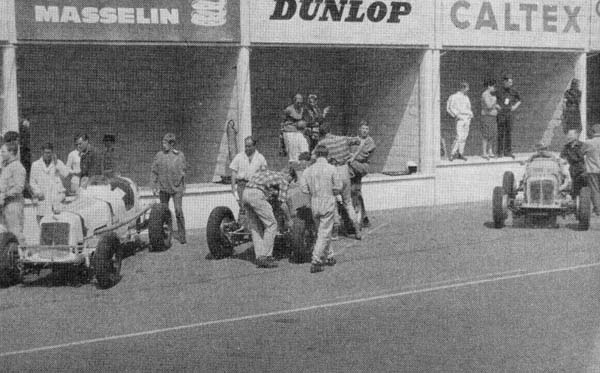 ERAs lining up in the pitlane

As had happened so often during the 1966 season, the Brabham-Hondas dominated almost from the start. Rindt got the jump when the flag dropped, leading into the 1st corner, but Brabham was past before Nouveau Monde and had already opened up a 3-second lead by the end of the lap. Rindt came past the pits in 2nd, with a gap back to Beltoise, Hill, Ress and Attwood.

Hulme meanwhile had tumbled to 9th - did he have a problem? That question was emphatically answered within three laps. Brabham continued to romp away at a rate of 3s per lap, while Hulme had cruised past everyone except his team leader to take 2nd by lap 4, ahead of Surtees, Beltoise, Rees and Rindt. Brabham's pace was frightening, he had already broken the lap record with a 2m 15.4s time, 1.5 seconds faster than Hill's old lap record from 1965, and all without being pushed.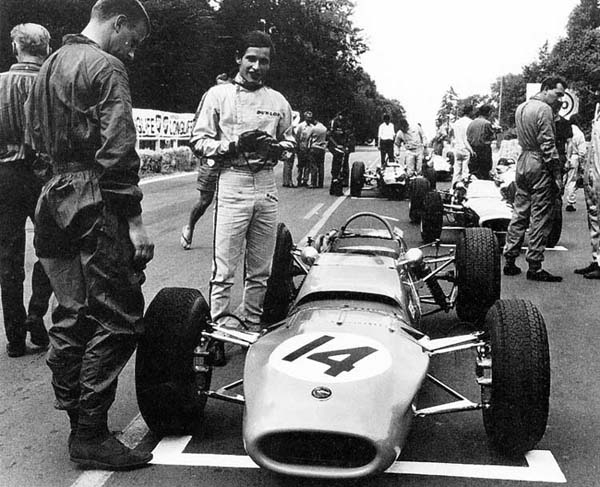 A young Jacky Ickx prepares for the race

While the Brabhams headed off to continue their own private race, Rindt made his way back up to 3rd and began to pull away from his pursuers. At this point, interest turned to the race behind these three, with Surtees, Rees, Beltoise and Ahrens slipstreaming past each other over and over again. Meanwhile Bonnier retired his Cooper, and Attwood was forced to pit to change a spark plug, resuming a lap behind.On lap 14 Brabham reduced the lap record still further, with a 2m 14.6s lap, with Hulme 3s behind and a gap of 15s to Rindt in 3rd. Ickx, Offenstadt and Taylor stopped at their pits to have various maladies remedied, while Arundell retired his Lotus on lap 22 after a very disappointing run, and Hawkins did likewise with a fractured driveshaft on his Lola.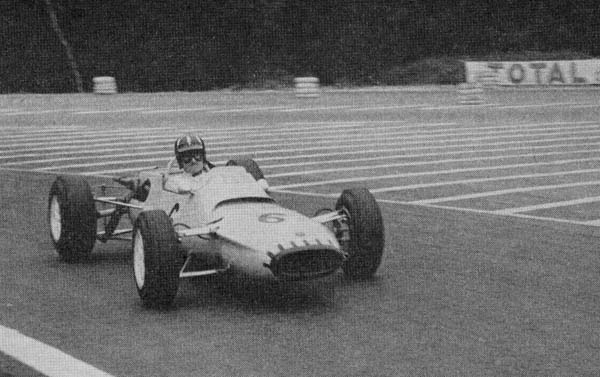 Graham Hill in his Matra-BRM

By half distance only ten cars remained on the lead lap, and Beltoise holed a radiator, forcing him to come in three times before calling it a day on lap 29. Rindt's excellent drive came to nought soon afterwards, when his gearbox failed at Nouveau Monde, while the Brabhams steamed relentlessly on. Rees now took 3rd and immediately began to close on Hulme, reducing the gap of 45s to just 23. Hulme's car began to sound sick, and there were a few worried faces in the Brabham camp. Surtees was a minute further back in 4th, comfortably ahead of Hill and Rodriguez. Rodriguez now began to close on Hill at the rate of 3s per lap as Hill began to struggle with a sick car, but suddenly there was a big shock, when Brabham stopped on the circuit with a broken gearlever with just six laps remaining, robbing him of a comfortable win.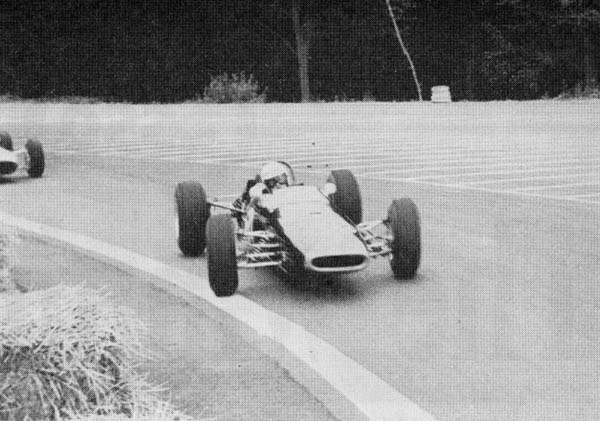 Denny Hulme in the all-conquering Brabham-Honda

Hulme duly reeled off the remaining laps to secure his 1st F2 win in two years, with Rees finishing a deserved 2nd 15s behind. There was much change behind them, as Surtees, seemingly cruising to 3rd, had an earthing wire come loose two laps from the finish. He managed to complete the lap - just - but wound up 7th. Rodriguez then inherited 3rd when he got by Hill four laps from the end, to give Lotus a shred of glory after a wretched weekend. Ahrens managed to claim 4th on the last lap, getting past the ailing Hill with just a few corners to go, Hill finishing 5th and Blokdyk 6th. Attwood and Offenstadt rounded out the nine finishers.