Second life
Identity changes in Grand Prix racing
Author
With thanks to
Date
May 30, 2008; updated on December 30, 2009, and March 12, 2010
Related articles
Who?

Emerson Fittipaldi, Keke Rosberg

What?

Fittipaldi-Cosworth F7

Where?

Monte Carlo

When?

XXXVIII Monaco GP (May 18, 1980)


Why?
Take any available list of Grand Prix teams throughout the decades and allow yourself a few moments of deceiving simplicity. There they are – the names of constructors that built the cars, and of the crews that ran them. Couldn't be more obvious, could it? Yet many of these names and type numbers, presented in neatly ordered tables, are hiding a much more complex reality. So let's dig in and see where the connections are, since the World Championship's constructor history is full of reincarnation…

A good example of such a list is the one on sister site 6th Gear. A closer look almost immediately reveals some tough decisions. Ligier and Prost are listed as one, as are Osella and Fondmetal. But why are Toleman and Benetton grouped together while the same outfit continued as Renault – which is mentioned separately. Why do the editors think that Arrows and Footwork are the same while the first Arrows car was in fact a Shadow – which is again mentioned separately. What's the deal with Force India, sorry, Spyker, or was that Midland (or MF1), née Jordan? Why is BAR not mentioned as Tyrrell's successor when it did take over its place in the championship? Wasn't Reynard involved in there somewhere too? And hold on a sec, BAR did use a Tyrrell test hack at first, didn't they?

There are a lot of things going on here. You have the same team choosing a different (commercial) name. Then you have new ownership continuing from the same factory. There are new owners that lay off staff and only take over the old team's intellectual property, or even only taking over FOCA membership to effectively form a new team. Then we have teams taking over other teams' assets and renaming the cars that those other teams ran. Or teams simply bought a tub and did some work on it before presenting it as a 'new' car. It's all happened – and is still happening – in all kinds of permutations which simply cannot be presented in a clean list that is impossible to argue against.

So instead of trying to come up with some definitive answers – there aren't any – we will give you another list: a simple who, what, where, when and why of team takeovers, new identities and stop-gap solutions. In other words, here are the most important and intriguing second lives of Grand Prix racing.
Williams
1970: runs Dallara-designed De Tomaso as its effective 'works' team
1972: runs as Politoys
1973: runs as Iso-Marlboro, renames Politoys FX3 to Iso-Marlboro FX3B
1974: runs as Iso-Marlboro, renames Iso-Marlboro IR to Iso-Marlboro FW
1975: renames Iso-Marlboro FW to Williams FW
1976: runs as Wolf-Williams from Spanish GP on, acquires Hesketh 308C to rename them Wolf-Williams FW05
1977: Williams jumps ship to let Wolf run the team as Wolf, FW03 is sold to Loris Kessel to become Apollon, FW04-02 is sold to Brian McGuire to become McGuire BM1
1978: FW05-1 and Williams-built FW05-3 are renamed back to Hesketh 308C-1 and 308C-3 respectively, both running in the Aurora series
Wolf
1976: becomes involved as part owner of Williams
1977: takes over Williams to create own WR design on original Hesketh outline
1980: sells team to Fittipaldi, Fittipaldi renames third-generation WR design (WR7 to WR9) to F7
Although some of the most famous names in F1 – Ferrari, McLaren, Lotus, Brabham, BRM – have all changed hands and leadership, they have been a constant factor in Grand Prix racing for the entire duration of their stay in the championship. It starts getting interesting with the third most successful team in World Championship history: Williams. Long before the turnaround period of Williams Grand Prix Engineering and in between Williams' two periods as a private entrant – in the late sixties and early seventies with a Brabham for Courage and Marches for Pescarolo and Max Jean, and in 1977 with a March for Neve – the team assumed an amazing number of new identities as well as spawning others.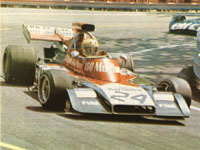 Having run the fateful De Tomaso return to Grand Prix racing in 1970, culminating in the untimely death of Piers Courage, Frank Williams Racing Cars goes back to being a private entrant in 1971. Continuing as Williams-Motul with a private March at first, Williams makes his first appearance as a manufacturer in 1972. Running a single car for Pescarolo, he calls the car the Politoys. He then manages to acquire the support of Italian manufacturer Iso-Rivolta and two years of pocket money from Marlboro after a successful plea with Marlboro EMEA boss Patrick Duffeler to enter 1973 as Iso-Marlboro. The Politoys FX3 is renamed Iso-Marlboro FX3B and a second chassis is built, to be followed up at the start of the European season by the new IR cars. In 1974 these are renamed to Iso-Marlboro FW and in 1975 become Williams FW. The 1974 chassis FW02 (which is in fact a replacement chassis of the 1973 IR-02) and FW03 are renamed Williams FW02 and FW03, with FW04 becoming the first type designation instead of a chassis number. FW04-01 is sold to Shellsport runner Brian McGuire in 1976, the Australian also buying FW04-02 in 1977 to turn it into the McGuire BM1, the car in which he dies at Brands Hatch in August '77. The 1974 FW03 is sold to Loris Kessel in 1977, who turns it into the Apollon, also referred to as Apollon-Williams.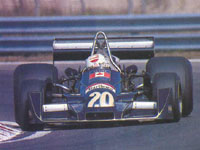 Meanwhile, Canadian multi-millionaire Walter Wolf has become involved with the team, which leads to the team being renamed Wolf-Williams at the 1976 Spanish GP. The team is running with Hesketh-built cars in 1976, having acquired the two tubs of Hesketh's 308C design and building a third car itself. Frank Williams can't agree on simply being a team manager and quits to set up Williams Grand Prix Engineering. Wolf goes it alone in 1977 as designer Harvey Postlethwaite, who himself came along with the 308C from Hesketh, designs the WR on basic Hesketh 308 outlines – itself very much inspired on the well-developed March 731 which Hesketh raced in 1973. As a stop-gap solution while building up the new Williams Grand Prix Engineering company with new designer Patrick Head, Williams goes back to being a March privateer in 1977. Two FW05s are seen in the inaugural Aurora F1 series in 1978.

Both Hesketh and Wolf go down after James Hunt decides to leave them. To keep itself afloat in 1976, Hesketh sells its 308C design – which debutes late 1975 – to Williams. Without the support of Lord Hesketh, team manager Bubbles Horsley struggles on into 1978 with its follow-up 308D and 308E designs. Wolf gives up in 1979 and sells out to Fittipaldi. The Brazilian team renames the third-generation WR design (WR7 to WR9) to F7.
Renault
1986: AGS turns Renault RE60 into AGS JH21C
2001: buys Benetton but keeps team running as Benetton for another year
2002: renames Benetton B202 to Renault R202 to officially return to Grand Prix racing
Benetton
1986: turns Toleman into Benetton
2001: becomes Renault-owned
BAR
1997: buys Tyrrell but keeps team running as Tyrrell for another season
1998: debuts as BAR and engages Reynard for first own design
2005: a takeover by Honda leads to Honda's return as a manufacturer
Honda
1999: some ex-Tyrrell staff try to revive a Honda return
2006: returns to F1 after taking over BAR
2007: Honda RA106 design handed to Super Aguri to become the SA07
Sauber
2006: taken over by BMW to become BMW Sauber
2010: buys back BMW team, BMW's F1.10 design becomes the C29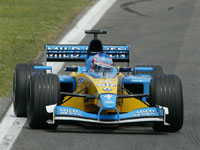 In the late nineties two major manufacturers return to the sport after taking over existing entrants instead of registering a new entry in the way Toyota did. After a moderately successful but certainly innovative period in the late seventies and early eighties, Renault quits F1 at the end of 1985 to continue into the 21st century as a very successful engine supplier. For its return it takes over Benetton to still run it as Benetton in 2001 before returning as Renault in 2002. This comes after a drop in form when Flavio Briatore leaves to run the Renault customer engine programme (Mécachrome, Supertec and finally 'Playlife'). Benetton is led for a short period by David Richards of Prodrive but when Renault takes over they re-install Briatore at the helm.

Benetton itself is title sponsor of the Toleman team – and the Tyrrell and Alfa Romeo teams before that – until it decides to buy it in 1986. In the days of the Benetton partnership with TWR there was rumour of a Jaguar V12-engined 'junior' team run by F3000 team Il Barone Rampante but this never happens. Instead TWR moves on to run Ligier before taking over Arrows. Il Barone Rampante is also mentioned as a possible merger partner to Tyrrell.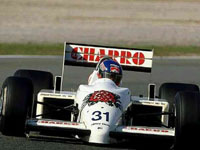 Henri Julien's small French AGS team make their Grand Prix debut with a heavily rebuilt Renault RE60, renamed AGS JH21C, having taken over Renault's assets after the Régie's withdrawal from Grand Prix racing.

Honda returns to F1 by taking over BAR in 2006, having already been its engine supplier since 2000. BAR itself is set up as a new team with Reynard supplying the design for its new car, but only after it has taken over Tyrrell's entry and some of its assets, including a Tyrrell 026 test hack. Reynard's influence is over when David Richards moves in to take control at BAR before his Prodrive company tries to set up a McLaren 'B' team. Reynard's earlier F1 involvements include the technical directorship at RAM-March, a test hack for Bridgestone tyre testing, an F1 project of their own which ended up in the hands of Ligier with the people and the factory going to Benetton, and an abortive design for DAMS.

An earlier comeback attempt by Honda proper – with a Dallara-built monocoque and a plan to continue as an engine supplier to Jordan and BAR – collapses in early 2000 when designer Harvey Postlethwaite dies unexpectedly. Ironically, the staff working under Postlethwaite is mostly ex-Tyrrell staf laid off by BAR after the takeover, including Harvey himself. Oh, and that's not mentioning the 'after hours' Honda F1 project of 1993…

Renault and Honda are followed by BMW in 2006 when the Bavarian company decides to leave Williams as an engine supplier and take over Peter Sauber's team. As an hommage to the Swiss, the team and the cars are officially called BMW Sauber, but are mostly simply referred to as BMW. When BMW pulls out of F1 at the end of 2009, the team is eventually bought back by Peter Sauber. BMW's F1.10 design is consequently renamed C29, suggesting that the BMW F1.06 to F1.09 cars were internally known as C25 to C28.
Maserati
1949: two Maserati 4CLT/48s are reworked to become Maserati-Milano 4CLT/48
1950: two Maserati 4CLT/50s are extensively reworked to become Maserati-Milano 4CLT/50 or simply 'Milano'
1950: a few more Maserati 4CLT/50s get Platé engines to become Maserati-Platé 4CLT/50
1959: Valerio Colotti takes over last 250F chassis to create the Tec-Mec F415
Arzani-Volpini
1955: Milano's Speluzzi-engined car is renamed to Arzani-Volpini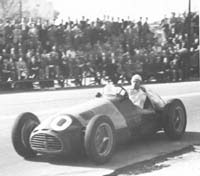 The Scuderia Milano, run by the Ruggieri brothers, first adapts a pair of Maserati 4CLT/48s (1594 and 1602) in 1949 and starts running them as Maserati-Milanos. The modifications include a shorter wheelbase, larger brakes and a re-tuned engine by Mario Speluzzi. The Ruggieris move on in 1950 and acquire two more Masers. These 4CLT/50s (1611 and 1612) are also modified and entered as Maserati-Milanos before 1611 receives a de Dion rear axle to become the Milano 1. Furthermore, Speluzzi changes the engine almost beyond recognition with a completely new cylinder head and a single Roots blower, which earns the device the Speluzzi name. The second Speluzzi-engined car ends up in the hands of amateur driver Mario Alborghetti. He commissions Gianpaolo Volpini and Egidio Arzani to turn the Milano 2 into a car of his own but sadly, Alborghetti is killed at Pau in 1955, the first time he gets to drive it. Somehow the car finds its way to Luigi Piotti who drives it into World Championship history by practising it for the 1955 Italian GP.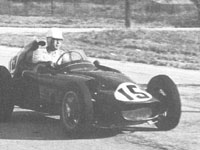 In a similar move to the Scuderia Milano makeover, Enrico Platé puts his own updated engines in the front of his 4CLT/50s to create the Maserati-Platé.

In 1959, the last in line of the 250F chassis, 2535, is taken by former employee and famous gearbox wizard Valerio Colotti to create the Tec-Mec. Begun as a factory project, 2535 is a logical follow-up to the Piccolo cars (2532 to 2534) but when the Officine Alfieri Maserati decides to focus on GT racing, Colotti leaves the company to set up his own design firm, the Officine Tecnica Meccanica. The special one-off project, partly funded by American team Camoradi, is completed for Fritz d'Orey to run in the 1959 US GP.
Ligier
1981: changes identity to Talbot
1995: Ligier JS41 is a copy of the Benetton B195
1997: taken over by Prost, Ligier JS45 becomes Prost JS45
In the midst of the infamous FISA/FOCA war Guy Ligier acquires the support of a manufacturer and decides to (temporarily) change sides. In 1981, the Ligier cars are officially entered as Talbot-Matras but Talbot's support proves to be shortlived, and Ligier is soon back into the FOCA fold.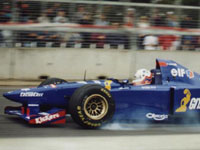 Guy Ligier decides to gradually withdraw from his team during the nineties, eventually selling most of the company's stock to ex-AGS boss Cyril de Rouvre. De Rouvre's reign lasts a single season before he is arrested. The team is sold on to Flavio Briatore, who turns Ligier into the Benetton B team. The 1995 JS41 is officially designed by Frank Dernie but practically a Benetton copy. After a failed takeover bid by TWR – which consequently goes on to buy Arrows – Briatore sells the team to four-time World Champion Alain Prost in 1997, Prost profiting from Ligier's 1996 accomplishments, including Olivier Panis's shock Monaco GP win. The Ligier JS45 already waiting in the wings is dubbed Prost JS45 before Prost introduces its first own car, the AP01, in 1998. When Prost pulls out the remains are bought by Charles Nickerson with a plan to form the Phoenix team.
Jordan
2006: sold to Midland F1 to become MF1, MF1 M16 heavily based on Jordan EJ15B, sold before Italian GP to become Spyker MF1
2007: Spyker MF1 is renamed to Spyker, Spyker F8-VII heavily based on MF1 M16
2008: sold to Vijay Mallya to become Force India, Force India VJM01 heavily based on Spyker F8-VIIB
Having steadily slipped down the grid after its most successful season in 1999, Jordan changes hands at the end of 2005 when Eddie Jordan sells the team to Russian Canadian steel magnate Alex Shnaider's Midland company. The company is renamed Midland F1 and the new 2006 car, heavily based on Jordan's EJ15B, is entered as MF1. A torrid season that only sees the team scoring big points in the Indianapolis farce ends prematurely when Shnaider sells the team to a Dutch consortium that manages to attract the interest of sportscar manufacturer Spyker.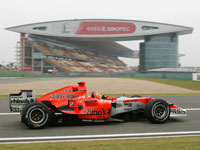 Spyker decides to become involved and in return consortium leader Michiel Mol takes a chair on the Spyker board. For the last three races of the season the team and the cars are renamed to Spyker MF1 while the team waits for approval of the ten other teams to rename itself to Spyker for 2007. Spyker launches the F8-VII as its 'new' car but again it is heavily inspired by its predecessor. The B-spec car that is introduced mid-season is an extensively reworked version of the F8-VII and almost a new car. The season is a disaster in sporting terms, however, as Spyker's numbers prove to have been extremely optimistic. Having had the fortune of MF1's 2006 points haul, they mistakenly banked on the team continuing into 2008 with the FOCA travel package still in place – but that was discounting Super Aguri and STR's good form, pushing them down to 11th and last in the constructors championship. McLaren's disqualification moves them back to 10th but the damage is already done. Sponsors drop out or fail to come through and the team is costing Spyker money instead of being the planned money tap.

The Dutch give up at the end of a frustating season and sell to Indian billionaire Vijay Mallya. The team is given its fourth new name in four years: Force India. Its 2008 car, the VJM01, is in fact an upgraded F8-VIIB.
March
1972: one of March 721 cars is turned into Eifelland 21
1981: returns to F1 in partnership with RAM
1983: RAM continues alone, using RAM-March cars in its first season
1990: is renamed to Leyton House for two seasons
1993: unraced 1993 design sold to Lotus to become the Lotus 107
Penske
1975: PC3 created from March 751
1978: PC4 forms basis for ATS HS1
Merzario
1977: A1 is heavily based on March 761
1979: Kauhsen WK is renamed Merzario A4
Osella
1983: Alfa Romeo 182T run as Osella FA1F
1991-'92: enters as Fondmetal and Fomet before folding, Osella FA1ME is revised to become Fondmetal FA1ME-90
Forti
1995: Forti FG01 based on Fondmetal GR02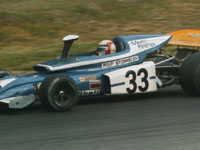 The customer car empire built by Robin Herd and Max Mosley is rapidly expanding in the early seventies and sees some of its cars serve as baselines for 'new' designs. In 1972, German caravan manufacturer Eifelland, a loyal Rolf Stommelen sponsor, decides to enter F1 by buying a March 721 and commissioning Italian design guru Luigi Colani to transform it into the Eifelland 21. Most of Colani's innovations fail miserably and the car is returned to its original form step by step. After it is sold to the Hexagon team it races as a March 721 again.

US team Penske decide to become a March customer in 1975 when the Geoff Ferris-designed PC1 proves to be a handful. Driver Mark Donohue sadly dies while driving the 751 but Penske's new car, the PC3, is still heavily inspired by it. When Penske decides to fold his Grand Prix operation to focus on Indy racing, the 1976 PC4 follow-up (along with Penske's FOCA membership) is sold to German alloy wheel magnate Günther Schmidt who enters the cars in 1977. For 1978, the PC4s are given a few tweaks by Robin Herd and entered as ATS HS1s. Schmidt later returns to F1 with Rial and as a March sponsor.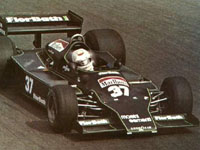 Another no-hope effort comes from Arturo Merzario in the late seventies. Steadily tumbling down the Grand Prix grid after his Ferrari days are over, 'Little Art' makes the questionable decision to start his own team. After two dismal attempts at F1 car construction – or re-construction, as he uses his former semi-works Ovoro 761 as a baseline for the A1 and A2 – Merzario decides to buy the entire assets of the defunct Kauhsen team, which has rivaled Merzario in back-of-the-grid embarrassment. These include driver Gianfranco Brancatelli – who subs for the injured Arturo at Monaco – and the Kauhsen WK tubs. These are renamed Merzario A4 and used for the latter part of the season. Merzario fails to qualify for a World Championship event but the A4 doesn't remain unraced. At Imola, it has its one and only race at the non-championship Gran Premio Dino Ferrari, finishing 11th.

Herd returns to F1 in 1981 when he forms a partnership with John MacDonald's RAM outfit. March Engineering itself is not involved as Herd founds a new company called March Grand Prix to offer his services to MacDonald. The Adrian Reynard-engineered 811 is a copy of the Williams FW07 but not in the sense that there are interchangeable parts. The cheap copy is a dud, as is the follow-up 821, leaving MacDonald and Herd to split at the end of 1982. RAM continues with Reynard in 1983, still operating from Bicester at a stone's throw from March, and enters its new 831 car as RAM-March 01. But all of the March staff involved have returned to March Engineering and the car is only a March on paper.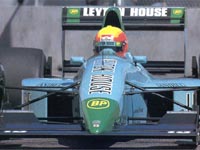 The Leyton House team that ran in 1990-'91 is effectively a rebranded March team, which returns to F1 in 1987 with the Japanese real estate firm acting as its title sponsor. When owner Akira Akagi is implicated in a financial scandal business partner Ken Marrable continues to run the team. After a management buy-out by Marrable, designer Gustav Brunner and others, the team enters 1992 as March F1, continuing in Leyton House blue but without Akagi's tarnished brand on the cars. The team struggles to stay alive and while Lammers and Gounon are signed as drivers for 1993 the money runs out and March withdraws from F1, selling its Chris Murphy-penned 1993 design to Lotus to become the Lotus 107. After Lotus's demise in 1994, David Hunt buys the rights to the Team Lotus name and creates a 'merger' with the Pacific team to run as Pacific Team Lotus in 1995.

Hard-trying Italian minnow Osella is leading a hand-to-mouth life in F1, which includes using an old Alfa Romeo tub as the FA1F when the team switches to Alfa turbo power. They are eventually taken over by alloy manufacturer Fondmetal in 1991. New boss Gabriele Rumi decides to continue with the existing Osella chassis before revising them further into Fondmetal designs. Fondmetal later returns as a Tyrrell sponsor before transferring its allegiance to Minardi and eventually badging the Italian team's Cosworth engines in 2000.

Fondmetal is also linked to Larrousse since its design office Fomet, headed by Robin Herd, takes its new Tino Belli-penned design to Larrousse (or Venturi) in 1992. Gabriele Rumi turns to Sergio Rinland, who designs GR01 and GR02. After Fondmetal's collapse Rinland sells his 1993 design to Guido Forti. This means that Forti's FG01, which appears in 1995, is still heavily influenced by the GR02.
Shadow
1978: Shadow DN9 design is 'stolen' to become Arrows FA1
1980: teams up with Theodore in final season
Arrows
1991-'96: named Footwork for six seasons
2006: Arrows A23 becomes Super Aguri SA05, later adapted to the SA06
Theodore
1978: renames Ralt RT1 to Theodore TR1
1981: buys Shadow to rename Shadow DN12 to Theodore TY01
1983: buys Ensign to rename Ensign N183 to Theodore N183
Ensign
1976: Ensign N175 becomes the Boro 001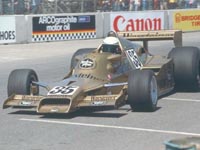 Arrows starts its long life as a Grand Prix entrant as a copycat, its founders sued by former employer Shadow for copyright infringement of its Tony Southgate-penned DN9 design. With Southgate one of the key defectors the court's decision is only logical. Southgate proceeds to quickly create a brand new car, the A1, starting off a long line of A-numbered designs. The line ends in 2001 when new owner Tom Walkinshaw is forced put the company into liquidation. Its engine supply is taken over by Walkinshaw's friend Charles Nickerson, who also acquirs the defunct Prost team's assets in a vain effort to start the new Phoenix F1 team. The A23 design is bought by new Minardi owner Paul Stoddart, who later sells it on to freelance designer Mark Preston. After trying for several years to enter F1 by himself, Preston is hired by Super Aguri in 2005. He adapts the A23 to form the Super Aguri SA05 with which the fledgling team starts the 2006 season.

Meanwhile, increased involvement by Japanese sponsor Footwork leads to Arrows being renamed Footwork in 1991. Arrows's A designations are changed (back) to FA and return to A in 1997 when new owner TWR changes the name back to Arrows.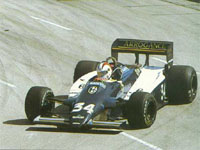 Teddy Yip starts out in F1 by entering the works Marches in Long Beach in 1976 and paying for a second Ensign in 1977. Having bought the Ralt RT1 in 1978 to create the Theodore TR1 – famous for its unlikely victory in the rain-soaked International Trophy – Yip buys Wolf's WR4 for Rosberg to finish the season as a privateer. He makes a return in 1981 by taking over Shadow and renaming the DN12 to TY01. After switching to his only self-commissioned car (the TY02) in 1982 he proceeds to take over Ensign and its N183 cars. These keep their type designations but are renamed Theodore.

Having lost the support of automotive heir Rikky von Opel, Mo Nunn's Ensign is desperately short for cash all through 1974. Nunn is happy to find new money with Dutch security firm HB Bewaking. Its owners, the Hoogenboom brothers, fall out with Nunn at the end of 1975. This leads to a split with the Hoogenbooms who go on to claim what they consider rightfully theirs. It almost comes to a fight in the Ensign workshop when they come to collect the N175 that they paid for. After successfully managing to prise it out of Mo Nunn's hands, Bob and Rody Hoogenboom enter the car as the Boro 001 in 1976 and '77.
Stewart
2000: taken over by Ford to become Jaguar
2005: sold to Dietrich Mateschitz to become Red Bull
Minardi
2006: sold to Dietrich Mateschitz to become STR, Red Bull RB1 design is handed over to become STR1
2007: Red Bull RB2 design is handed over to become STR2
2008: Red Bull RB3 design is handed over to become STR3
Two teams started out by true racers end up being taken over by Red Bull money, with Stewart first swallowed by Ford's corporate money to become the hugely unspectacular Jaguar works team. The Ford programme sees more management changes and marketing effort than proper results and in 2005 the team is put out of its misery by a Red Bull takeover.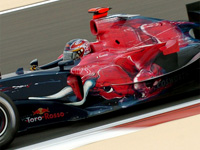 After founder Giancarlo Minardi gives away operational control of his team, Minardi 'merges' with Scuderia Italia after the outfit quits running its Dallara and Lola customer chassis. Soon after, Flavio Briatore takes over and tries to sell the team to BAT before the tobacco company takes over Tyrrell to create BAR. Then Fondmetal boss Gabriele Rumi comes in, and while his health is deteriorating he tries to sell the team to several interested buyers including Spanish sponsor Telefónica before a deal is finally done with Australian airline mogul Paul Stoddart of European Avation. After a failed attempt to turn Arrows into a Red Bull-backed Team USA, Red Bull boss Dietrich Mateschitz takes over Minardi from Stoddart before quickly selling half of it to Gerhard Berger. The team is renamed Scuderia Toro Rosso, the cars are called Toro Rosso or STR, depending on the official source (the FIA website or the FIA-sanctioned TV titles). Instead of using the recently introduced Minardi PS05 car, the team is handed the intellectual property of Red Bull's RB1 design and enters it as STR1, the same scenario applying for 2007 to '09.
Lola
1967: designs RA300 for Honda
1967-'68: delivers T100/T102 for works BMW F2 effort
1975: Lola T371 becomes Hill GH1
1985: 'Lola' team owned by Carl Haas is only Lola in name
1987-'91: delivers cars to Larrousse for five straight seasons
1993: delivers car for BMS Scuderia Italia's final season
BMS Scuderia Italia
1988-'92: runs Dallara cars for five straight seasons
1993: switches to Lola customer cars
1994: merges with Minardi
Larrousse
1992: enters first self-designed car as Venturi
Reg Parnell Racing
1961: enters as Yeoman Credit Racing Team, running Coopers
1962-'63: enters as Bowmaker Racing Team, running Lolas
BRP
1960: enters as Yeoman Credit Racing Team, running Coopers
1961-'62: enters as UDT Laystall Team, running Lotuses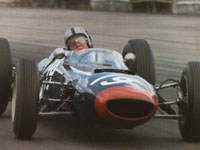 Lola's Grand Prix history is chequered to say the least. Eric Broadley's company first enters F1 in 1962 by supplying its Mk4 cars to Reg Parnell Racing, which is running as Bowmaker Racing Team in 1962 and '63. RPP's 1961 commercial name, Yeoman Credit Racing Team, is taken over from the Alfred Moss/Ken Gregory outfit BRP (formerly Equipe Alfred Moss), which adopts a new commercial title for 1961-'62.

Lola makes a brief return to Grand Prix grids in the late sixties by becoming a Formula 2 chassis supplier to BMW. The cars are seen in the combined F1/F2 German GPs. At the same time Broadley helps out Honda and John Surtees by adapting an Indycar Lola for F1 to create the Honda RA300, which is quickly dubbed the 'Hondola'.

Two customer F1 projects follow in the seventies and eighties. The first sees Graham Hill swap his customer Shadow for the F5000-inspired T370 in 1974. This car is developed by Andy Smallman into the Hill GH1 (internally known at Lola as T371). The team folds prematurely when Hill, Smallman and driver Tony Brise are killed in an air crash in November 1975, leaving Embassy Hill's first design of its own, the GH2, unraced.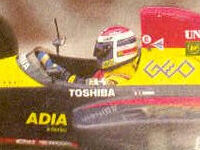 Lola make a comeback in 1987 when former Renault director Gérard Larrousse teams up with Didier Calmels to create the new Larrousse Calmels team (later turned into Larrousse when Calmels is arrested for the murder of his wife). The two commission a chassis at Lola, which is allowed in by the FIA because there are no other customers running the same chassis. This also means that Lola is getting the constructors' points. Indeed, a mistake by the Larrousse team in 1990 leads them to lose all their points, since Larrousse enters the cars as Larrousses while they are still Lolas.

Larrousse finally becomes a constructor in 1992 when independent design office Fomet (formerly at Fondmetal) creates the LC92. The team enters the cars as Venturi LC92s but when the deal with the French sportscar manufacturer collapses the subsequent LH93 and LH94 designs (with LH standing for Larrousse-Herd) become proper Larrousses. There is talk of F3000 squad DAMS bringing its Reynard-designed F1 car into a DAMS/Larrousse merger for 1995 but nothing comes of it, leaving the Reynard unraced and Larrousse out of F1.

BMS Scuderia Italia becomes the new Lola customer in 1993. The Italian team that is now leading a very successful life in sportscar racing moves over to Lola after a moderately successful five-year spell with Dallara, with which it had done a customer deal similar to that between Larrousse and Lola. The switch to Lola proves to be disastrous and the Beppe Lucchini-run team decide to unite their resources with Minardi for 1994.

Meanwhile, the Beatrice-sponsored Lola team run in 1985 and 1986 is only remotely connected with the Lola company. It is owned by Indycar team boss Carl Haas, the US Lola importer, and run by ex-McLaren men Teddy Mayer and Tyler Alexander. The THL cars designed by Neil Oatley receive only minor input from Eric Broadley. The team folded at the end of 1986, after which it was bought by Bernie Ecclestone in a vain attempt to use its assets – the supply of Ford engines among them – to reinvigorate his waning Brabham team.
ENB
1962: adapts Emeryson 1000 to become the ENB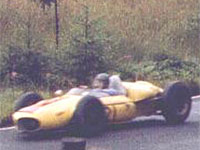 The team of Belgian Ferrari importer Jacques Swaters are tricked into buying Paul Emery's latest F2 design (about to become F1 in 1961) when little known driver John Turner cuts off the chicane in an F2 event at Montlhéry to set some stunning times. After a disastrous 1961 season the team return in 1962, seemingly not having had enough. Instead they decide to create the ENB-Maserati from the three 1000 series cars in their possession, turning it into some sort of sharknose-lookalike. They succeed in the lookalike part but predictably the sharknose formbook isn't quite there in its one and only World Championship appearance in the 1962 German GP.
Lancia
1956: Lancia D50 becomes Ferrari D50
1957: Ferrari D50 is extensively reworked into Ferrari 801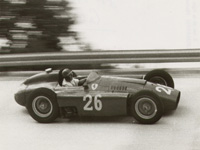 When Lancia pulls out of Grand Prix racing in 1955 on the back of Ascari's death and increasing financial problems the world seems to be robbed of the only car that was capable of taking on the mighty Mercedes – the Vittorio Jano-designed Lancia D50. Fortunately, the remnants of the Grand Prix team are transferred to Scuderia Ferrari. With Mercedes also withdrawing at the end of 1955 and Juan Manuel Fangio switching to Ferrari, the D50 more than makes up for its promise in 1956 when Fangio races the Lancia-Ferrari to his fourth world title. For 1957, the cars are reworked almost beyond recognition to be fielded as Ferrari 801s. But Fangio moves to Maserati – and Moss to Vanwall – and Ferrari's ageing Lancias are well and truly beaten.
EuroBrun
1984-'85: Alfa Romeo 'works' effort actually run by Euroracing
1988: teams up with Swiss sportscar team Brun to create EuroBrun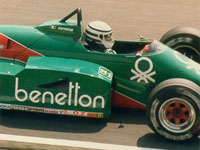 Paolo Pavanello's Euroracing enter F1 in 1984 when they take over running the works Alfa Romeo team from Autodelta. There is little success for the Benetton-sponsored cars and Alfa withdraws at the end of 1985. Pavanello returns three years later after joining forces with sportscar team owner Walter Brun. The Swiss is looking for a way into F1 and cooperation with an experienced single-seater outfit seems like a logical choice. However, despite the talents of Stefano Modena the resulting EuroBrun cars fail to deliver. The team is confined to hiring pay drivers for 1989, which leads to its expected downfall at the end of 1990.
Coloni
1992: taken over by Andrea Sassetti to form Andrea Moda, starts season with illegal old Coloni
Simtek
1992: S921 design is entered as Andrea Moda S921
1993: S931 design goes to stillborn team Bravo
Virgin
2010: Manor's new 2010 entry is renamed Virgin before the start of the season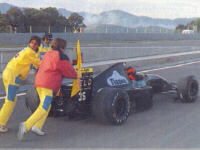 Having illegally entered the 1992 South African GP with old Coloni C4Bs mated to a Dallara rear, the former Coloni team, now under the ownership of shoe magnate Andrea Sassetti, changes to a Simtek design. The Nick Wirth-penned S921 – originally a design study for BMW – is given to Moreno and McCarthy but to no avail. The S931 design is sold to Jean-Pierre Mosnier's stillborn team Bravo, before Simtek enters Grand Prix racing proper with its S941, a car heavily relying on its two predecessors' baseline. Running a cash-strapped operation in 1995, as some sort of satellite team to Benetton, the team star one more time with Jos Verstappen driving heroically in Argentina, but without any reward. The money runs out mid-season, leaving Wirth to join Benetton.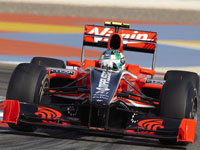 One of the new 2010 entries making the grid without a problem is Virgin F1. The Virgin team is born from British F3 team Manor Motorsport, which was originally granted an F1 entry on May 29, 2009, having done a chassis development with former Simtek designer Nick Wirth. When the multi-faceted Richard Branson company decides to become involved with Manor, it is soon decided that Virgin won't simply be the team's main sponsor, like it is the year before with the championship-winning Brawn team. Instead, it will be the team, in a fashion similar to Red Bull and Benetton.
Derrington-Francis
1964: ATS 100 is renamed Derrington-Francis
Serenissima
1966: BRP 1/63 is said to form the basis of unraced Serenissima M1AF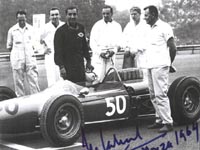 The 1964 Derrington-Francis is a cooperation between former Stirling Moss mechanic Alf Francis and engine tuner Vic Derrington. The two transform an old ATS Tipo 100 into the new car and enter it for Nicha Cabral in the 1964 Italian GP. The Portuguese qualifies at the back and retires with engine trouble. He is denied the chance to run the car at other events when Dan Gurney destroys it in a private test.

Another ATS renegade is Venetian count Giovanni Volpi whose Scuderia Serenissima run Coopers and De Tomasos in the early 1.5-litre F1 period. Four years after having left F1 without any illusions, the team are phoned by Bruce McLaren who is taking an interest in the 3-litre engine in the back of Serenissima's road-going coupé. Having already taken Alf Francis on board in 1966 to build a competition version of its new coupé, Serenissima suddenly finds itself back in F1. Francis also sets about creating a Serenissima F1 car using the same engine. Most feel that the BRP 1/63 Francis acquired from old mate Tony Robinson is used as a basis but others believe that it's one of the McLaren tubs given to Serenissima in return for its engine. After its initial tests at Modena Aerodrome the car is put in the back of the workshop, to be sold in 1969 to Austrian hillclimber Egon Hofer.
Token
1974: original Rondel-commissioned Ray Jessop design is taken over by Token
1975: Token RJ02 returns as Safir
The car that gave Tom Pryce his Grand Prix debut didn't start out life as a Token. In fact, it should be seen as Ron Dennis's first F1 car. In 1973, Dennis is involved in F2 with his partner Neil Trundle. Their Motul-backed Rondel team is eager to promote to F1 in 1974 and they commission Ray Jessop to design their first F1 car – hence the RJ in the type designation. None other than Ron Tauranac, freed from the burden of running the Brabham F1 team, is acting as a consultant, as he does for Trojan, the former McLaren production builder.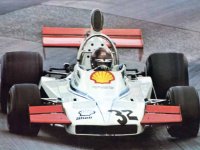 Sadly for Rondel, the 1973 oil crisis strikes, causing the team's primary sponsor and proposed name-giver (their F2 cars ran as 'Motuls') to withdraw from the project. This leaves Ron and Neil high and dry, but the Rondel car is picked up by British businessmen Tony Vlassopoulo and Ken Grob – the first syllables of their first names forming Token. The two enter the European Grand Prix rounds in 1974 with the Token RJ02. They aren't the only Cosworth kit-car project to go nowhere that year – see Trojan and Lyncar – and Vlassopoulo and Grob pull the plug after the Austrian GP. The car reappears as the Safir in two British non-championship races, Tony Trimmer finishing a non-classified runner in the Race of Champions and 14th in the International Trophy.
Onyx
1990: Onyx ORE-1B becomes Monteverdi ORE-1B
Former F2 entrant Onyx comes into F1 in 1989 with a simple but effective Alan Jenkins design, the ORE-1. The team founded by Mike Earle and Joe Chamberlain are initially funded by eccentric Belgian Jean-Pierre van Rossem and his Moneytron scheme but it fails to be the promised money machine for Onyx. When Van Rossem tries to run the team himself instead of supplying money that isn't forthcoming, the founders leave the team. Onyx soldiers on into 1990 after failing to secure a supply of Porsche V12s, but is then sold to the Middlebridge Group – also owners of Brabham, and at one time planning to enter F1 themselves with a customer Benetton.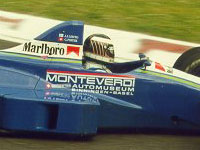 In the middle of 1990 it is taken over by Swiss businessman Peter Monteverdi, who renames the team after himself. Gregor Foitek's father Karl takes a 25% stake. Monteverdi has last built a racing car in the sixties (the MBM) and when Earle, Chamberlain and Jenkins leave in despair the team soon turns into a shambles. The story goes that spare parts become in such short supply that the team has to resort to scavenging Monteverdi's classic car collection. It is no surprise that Karl Foitek pulls his money, leaving Monteverdi to withdraw from Grand Prix racing at the end of the 1990 Hungarian GP.
Lamborghini
1991: original GLAS-commissioned design is renamed Lamborghini 291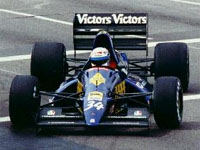 GLAS, which stands for Gonzalez Luna Auto Scuderia, is a Mexican attempt at F1 serving as a vehicle for Mexican promise Giovanni Aloi. The Lamborghini-designed car is tested by Mauro Baldi before the deal collapses. Lamborghini saves the project by transferring it to the Modena Team financed by former Fila boss and Brabham sponsor Carlo Patrucco and run by former Minardi team manager Jaime Graziadei. Although the Modena Team is entirely independent from Lamborghini Engineering the car is seen on the 1991 entry lists as a Lamborghini 291. Which in itself is entirely logical since the car was originally commissioned by GLAS at the Daniele Audetto-run Lamborghini Engineering, where Mario Tollentino was made responsible for the car design. Furthermore, the V12's engine designer Forghieri was temporarily stationed at Modena as its technical director.
Life
1990: enters abortive FIRST design as Life F190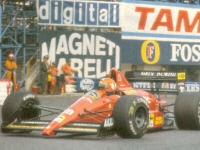 Perhaps the biggest embarrassment in F1 history, Italian businessman Ernesto Vita wants to use F1 to advertise his Franco Rocchi-penned F35 W12 engine. After failing to become an engine supplier to one of the existing teams he buys Lamberto Leoni's abortive FIRST F189 design (its only appearance as the FIRST was at the Bologna Motor Show) and mates it to the W12. Dubbed Life F190 the car is a complete disaster, destroying Gary Brabham's brief F1 career. With veteran Bruno Giacomelli as a replacement it only gets worse. Bruno's best efforts include getting more than three laps out of the car. A Judd engine, for which the FIRST was originally designed, is put in the back but to no avail, as the team find out that its engine cover won't fit over the new engine…
Stefan
2010: buys (or leases?) unraced Toyota TF110 car with plans to test it throughout 2010 as the Stefan S-01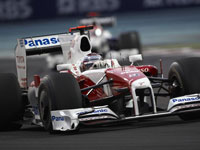 When Toyota decides to pull out at the end of 2009, there are question marks over its completed 2010 design. It is first rumoured that new Grand Prix entry US F1 is interested in taking over the Toyota operation but it soon transpires that Serbian aerospace components magnate Zoran Stefanovic is keen to take over the team's assets lock, stock and barrel. The deal is finally closed late December. Since Stefan GP is without a 2010 entry, it plans to test the Toyota car, now renamed Stefan S-01, throughout 2010, offering it to young drivers and other teams' reserve drivers for them to work their way around the stringent test ban enforced at the start of 2009. The Toyota V8 engine is also taken over by Stefan and rebadged Stefan RG-01, even though the intention is that it will still be serviced by Toyota. When the US F1 entry fails to materialize, Stefanovic quickly steps up his effort and signs Jacques Villeneuve and Kazuki Nakajima with the hope of competing in the 2010 season all the same. Rumours that Stefan will be allowed in are quickly scotched by the FIA, the governing body stating that proper entry procedure needs to be followed before a new team is granted a franchise. Since the FIA rejected Stefan's earlier 2010 application, the team can only re-apply for 2011, for which the governing body has opened a new tender. In March 2010, shortly after the season-opener at Bahrain, Stefan announces that it has turned its back on its deal with Toyota (or did it happen the other way around?). This happens in the wake of controversy caused by a German newspaper investigating Stefanovic's AMCO company to find that it is nothing but an empty shell, never having done any of the claimed army and aerospace deals with the Germans.
HRT
2010: Campos-commissioned Dallara chassis is renamed HRT F110 ahead of the season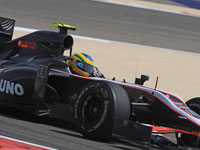 Meanwhile, the efforts of newcomer Campos Meta grind to a halt only a couple of weeks shy of the start of the 2010 season. In the run-up to the Bahrain GP, the combination of the former GP2 team run by ex-Minardi driver Adrián Campos and Madrid marketing agency Meta is beginning to suffer from sponsorship problems, culminating in Campos Meta failing to meet its payments to chassis partner Dallara. This forces the Italians to stop work on the design. A last-gasp solution is found when minority shareholder José Ramon Carabante agrees to step up and take control of the team. Campos makes way for former Midland/Spyker/Force India team manager Colin Kolles as the team is renamed Hispania Racing F1 Team, after Carabante's Hispania Group. The car originally called a Campos Dallara is rechristened HRT, an abbreviation of the team's new name. It is only in the team's first press release after Bahrain's Friday sessions that a type number - F110 - is seen.