Transports of delight
Author
Doug Nye; copyright Doug Nye, published with permission, originally published in Classic & Sportscar, January 1990
Date
What?

Ferrari Bartoletti transporter

Where?

Aintree

When?

1957 British GP
Why?
Racing cars don't make the best road cars, and getting them to a circuit often called for ingenuity.

When the telephone jangled into life in the seedy Marseilles hotel room, Peter Collins took the call. The tense voice of an HWM team mechanic crackled down the line... "Pete?" he cried, "For Gawd's sake don't tell John, but we've crashed the transporter. The front axle's off it, the sump's smashed, the springs are broke — it's a mess but we've got it to the Renault Regionale garage in Montpellier. Cass was driving, 'e took a swipe at a mosquito in the cab, put a front wheel off in the sand and lost the lot. The cars have fallen on top of each other inside. Can you come out and pick us up?"

Once Peter Collins had stopped laughing, he shouted reassurance into the mouthpiece, slammed the receiver down and rushed off to find his team-mate, Lance Macklin. Together they drove out to Montpellier to square a story with the crestfallen mechanics before their boss — John Heath — could hear the news.

It was another typical day in the life of HWM, and of the racing car transporter...

For decades before Europe's modern motorway system had properly evolved, racing teams still had to move their cars as quickly as possible, from one race to the next. In those pre-tachograph days, exhausted mechanies thought nothing of sharing a two- or three-day drive virtually non-stop, taking shifts to drive and sleep. Tales of epic transporter journeys, brimful of incidents, accidents, breakages and failures — of deals with the Customs, and fuel or tyre or spare parts fiddles with black marketeers — passed into racing folklore...

Many people in racing spent a large part of the most impressionable period of their lives behind the wheel or cramped into the hot, fume-filled, sweaty cabs of racing car transporters as they ground their remorseless way, crawler-geared, over the Alps or Appenines, or beat along, hour after sticky hour, way down along the boot of Italy to catch the ferry to Sicily.

What happens behind the scenes at race meetings, and between the races themselves, has often made a better story than the superstar drivers' heroics on track. And for decades the team transporter itself was often central to the tale…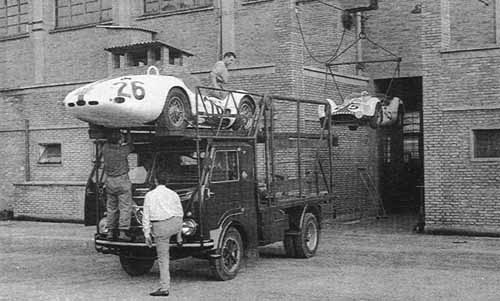 The Camoradi team's truck could carry three cars but it required a hoist to get the cars on and off.
During its active life, a racing car is effectively an assortment of parts only assembled for the brief duration of a race. This was not always so, as in the early days when a car might be constructed to compete in no more than one or two races and therefore enjoyed a more stable existence. But while the character of the racing car has certainly changed, the logistical problems of moving it from workshop to race have remained much the same.

Over reasonably short distances both before and after World War One, racing cars were often driven on the public road. Many a Brooklands air nimbled and steamed its way south from Birmingham or London to race at Weybridge. Sometimes, over longer distances, the engineers ran-in their cars and did their final tuning en route to a major race. For the 1922 French GP for example, the factory Fiats were driven all the long way from Turin to Strasbourg on the public road, and so were the rival Sunbeams from Wolverhampton. At a time when pure endurance was a major factor in Grand Prix success, the risk of wearing out the cars by merely getting them to the race on time was acceptable. The drive there became instead a useful part of the practice process.

When transport was necessary, it meant making do with what was available. A high-geared, aero engined track and record car like the 18.3-litre 350hp Sunbeam was not the most tractable proposition for use on the public road. In our photo here it's on a massive solid-tyred, charn-driven Scammel artic — probably at Sunbeam's Wolverhampton works? Otherwise, for many years, racing cars were familiar freight on the railways of Europe, the UK and the USA alike. The key was really just how driveable they could be in normal motoring conditions of the time.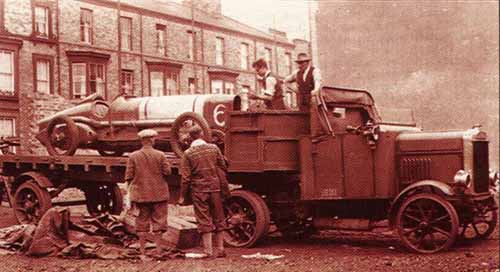 Solid tyres and chain-drive were common when this Scammel hauled the 350hp Sunbeam.
In America, the highly-strung supercharged Speedway cars of the 1920s were far too high geared, under-braked, under-cooled and generally top-endy for anyone to seriously contemplate driving them on the road. For them, getting to races anywhere from lndianapolis in the mid-west to Culver City beside the Pacific, or Atlantic City beside the other shining sea, meant the railroad flat-bed or boxcar became a familiar home. They were then often towed amidst great ceremony from freight depot to speedway, to publicise the big race's thrills and spills along the way.

Into the 1930s, certainly in Great Britain and Europe where urban traffic conditions were even then becoming congested, some sought a better way. In Italy, Enzo Ferrari acquired two truck chassis — a Ceirano Tipo 45 and a Lancia Eptajota 254 — and commissioned the Orlandi coachworks to fit box bodies tailor-made to carry cars for his new Scuderia. The big Lancia housed two Alfa Romeos, one above the other. Never one to miss a chance, The Old Man immediately sold advertising space on the trucks' sides to backers like Pirelli tyres and Memini carburettors. These two trucks became the Scuderia Ferrari's racing car transporters from 1931, covering tens of thousands of kms before being replaced in 1936 by a fleet of three bright yellow long-bonnet Alfa Romeo trucks with double-tier Bussing bodies. These transporters, or perhaps replacement lookalikes, continued in 'Alfa Corse' team service to carry the all-conquering Alfetta team up to 1951.

Meanwhile, in April 1932 The Motor reported: "Hitherto there have only been three methods of getling racing cars to the scene of the battle. Either they have been sent by train, or they have been driven the whole way, or else they have been towed (but)... there has recently been a movement towards carrying the car and all the spare parts in a large lorry…"

Earl Howe owned two 1927 straight-eight GP Delages and he had asked Edmund Dangerfield of The Motor for advice on a suitable chassis to "a body capable of accommodating his Grand Prix racing cars. Reference to our associated journal — The Commercial Motor — enabled me to forward a list of suitable vehicles and Lord Howe eventually selected a Commer Invader chassis... which can cruise at a very high speed and will do over 60mph".

One of the first, Earl Howe's Commer Invader with his 'man', Thomas, loading a Delage.
Howe's Commer was bodied for him by the Lambeth Motor Body Works of Guildford Street, London SE1. It had a full 6ft headroom inside and was finished in his Lordship's racing colours of blue and silver. After Ferrari's heavies it became one of the very first purpose-built racing transporters, carrying Howe's Delages or Bugatti fully enclosed, loaded via tail ramps and a winch. It also offered "... ample room for spare wheels and tyres and other parts, while there is a stout folding bench, fitted with a vice and other tools". Its floorboards were removable "so that the van itself may be used as a pit. The mechanics can then sit in comfort on the torque tube while working underneath, say, a Bugatti or Delage racer...".

When David Venables was researching his very good book on Voiturette racing, one of Howe's mechanics, Sidney Maslin, told him how the Commer had served the Earl from 1932 to 1939 with only two break-downs — a stripped crownwheel and run big-end bearings. When the Earl rejoined the Navy in 1939, he was accompanied by both the Commer and Maslin, all three serving through until demobilisation in 1945...

The new high-tech German teams from Mercedes Benz and Auto Union had hit the Grand Prix scene in 1934. Their highly-supercharged 8- and V16- cylinder GP cars were not al all 'roadable', making adequate transport vital to both teams. They responded with compact fleets of purpose-built transporters as seen here at Montlhéry in the team's foreign debut — 1934 French GP — and in the paddock at Nürburgring before that year's German GP. Hugh Hamilton would start from the front row in his Whitney Straight team Maserati 8CM, but Auto Union's Hans Stuck would eventually win the race.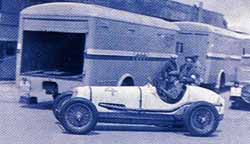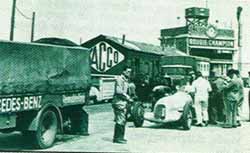 Left: Hugh Hamilton's Maserati squirts away from the Auto Union lager at the Nürburgring in 1934.
Right: Mercedes-Benz was one of the first teams to use purpose-built transporter trucks, as seen here at the cars' foreign debut at Montlhéry in 1934.
That same year saw ERA's debut in England, and Humphrey Cook's little company invested in a pert Leyland Cub transporter, seen here at Donington with Raymond Mays' ERA-engined Riley Kestrel alongside and what looks like the White Riley extreme right. The Siamese cousins, Chula and 'Bira', had their smart Ford V8 apparently coachbuilt by their own mechanics, at White Mouse Garage in Hammersmith.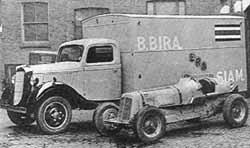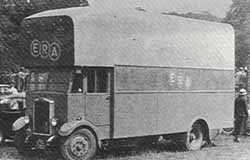 Left: Prince Chula's smart Ford V8, bodied by White Mouse Garage.
Right: ERA's own Leyland Cub van at Donington in 1934.
After the Second World War, a rash of converted military-surplus Chevrolets, Dodges, Bedfords, AECs and suchlike carried British racing cars to war in Europe, while into the 1950s bus or coach conversions became widely popular with the less wealthy teams, like Ecurie Ecosse in its early days, and Connaught — who deployed a trio of converted Green Line AECs.

Often hard, sometimes humorous, Leslie Hawthorn's Tourist Trophy Garage of Farnham, Surrey, operated a converted Bedford coach with its side windows hardboarded over and a loading door cut into its tail. When his son Mike drove Archie Bryde's Cooper-Bristol in the 1952 Ulster Trophy race at Dundrod, the team more or less controlled coolant leak by adding mustard. Leslie then 'signwrote' the Bedford to celebrate the fact.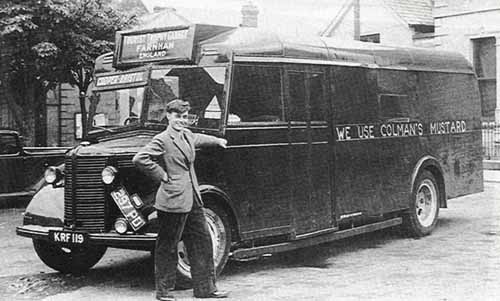 Advertising style — the Hawthorns were keen as mustard.
Bruce Halford, the Maserati privateer from Torquay, bought Bira's Maserati 250F for 1956. Initially, he carted it round in the Prince's petrol-engined Fordson, pending conversion of an AEC Royal Blue coach which he had bought from the line's Bournemouth depot for £250. Bruce's racing had to pay. He couldn't afford hotels, so his plan was to live in the front part of the Royal Blue, with the 250F in the back. He had the coach 'properly converted' with twin rear doors for the car and a three-bunk 'living' up front with wash-basin and cooking facilities. "I was one of the first blokes to choose a diesel, for the low fuel cost. Until then people with fuel contracts chose petrol engines because at the end of a meeting they'd just draw up at the fuel point in the paddock and fill up free. Later, the fuel companies tightened up and suddenly everybody wanted a diesel...

"Unfortunately the idea of living in the Royal Blue didn't really work out. We were dependent upon Maserati giving us credit, and if they saw us living in the bus they'd twig that we weren't very creditworthy because we couldn't even afford hotel bills…" When in Modena, Bruce and his mechanic Tony Robinson had to take rooms in the Hotel Reale; "... after quietly arranging a deal with the management. Trouble then was that Tony always seemed to strike the better deal..."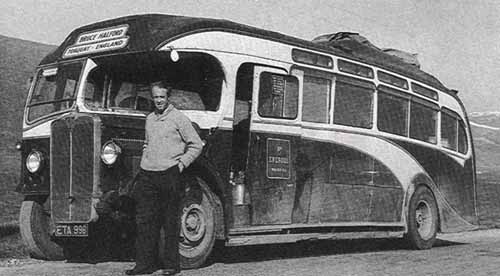 Bruce Halford with his converted Royal Blue AEC coach — 250F in the back, living quarters up front for total independence.
Bruce's fellow Maseratista from the West Country, Horace Gould, armed himself with a Gardner-engined Bristol coach "... with a five-speed box and bags of Ooomph. It would just roar away from us up hills and could cruise around 50mph. It was very superior…" At the other end of the scale, the factory Alfa Corse team dominated Grand Prix racing until 1951, carrying its usually four or five car teams of Tipo 158 and 159 cars in that pair of massive two-tier Alfa Romeo Bussings, with a smaller sister as back-up for the spares, tools, wheels etc. They were lettered Alfa Romeo Gomme Pirelli, emphasising Portello's major sponsor.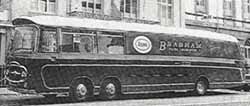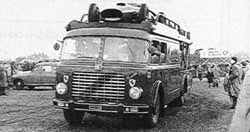 Left: Brabham's Bedford. Right: Ferrari's Bartoletti, Aintree, '57.
Amedée Gordini's Simca-Gordini team from Paris used a pair of Lancia vans (8A), while private entrant Enrico Platé hauled around his two Maseratis for Baron de Graffenried and Bira in a Bianchi, habitually overloaded with extra jerry cans and Shell tins. On one occasion as it was being lifted from a Channel ferry onto the quayside in France, the crane cable broke...

Imagine the noise! According — deafeningly — to de Graff, it went "Ptung! BLAMM!!!". On that occasion it was a pure case of 'back to the railway' for the two bent Maseratis, yet barely three days later Platé's mecbanics had them beaten straight and running again somewhere like Naples…

Never say die.

That was certainly HWM's motto, as in August 1952, when the team's smaller Ford two-car transporter — 'FOP' — was kicked into touch by its big sister, a cut-down AEC double-decker bus, at Hiervilliers in France. 'FOP 797' had been towing the broken-down AEC over a hill. On the down slope the brakeless AEC charged the hapless Ford and swerved in avoidance. As it overtook (!), the tow chain pulled taut towards two o'clock and rolled the Ford clean over. With its three crewmen hauling frantically on its handbrake, the AEC finally jammed on a bridge. All the race cars in both trucks were damaged, but like Platé's bent Maseratis the team made very sure they didn't miss a race…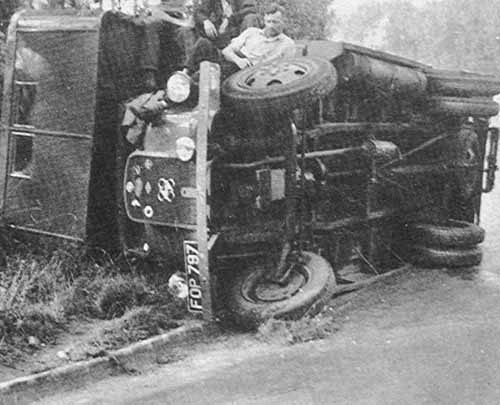 Oops! The HWM team's Ford all upset at Hiervilliers in 1952.
When the BRM project finally bore fruit in 1950, Leonard Lord of the Austin Motor Company donated three Lodestar 3-tonners intended to carry a V16 each. They were accompanied by a massive mobile workshop, made by Commer and fitted out courtesy of the Midland Automobile Club — of Shelsley Walsh hillclimb fame.

This fleet all performed sterling service, but the Lodestar's clutches were notoriously fierce. One time en route to Monza for testing, a V16 burst from its moorings as the Austin jerked forward. The Grand Prix car rammed the rear doors so hard they bulged wide with only the door catch straining to keep the BRM inside. This was fortunate, since at that time the Austin was tail-on to a seaside cliff — and a lesser door lock would have allowed the BRM to swan-dive into the Med... Tony Rudd — who was in charge of the BRM convoy at that time — vowed that the next transporter they had would have a side door so that at least they could get in with the car should such a thing ever happen again.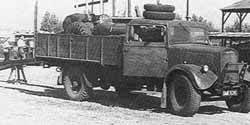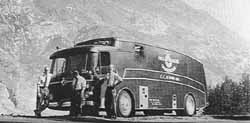 Left: Lyons, 1947, the Grand Prix de l'ACF, and cheap transport in the form of an ex-Army truck, still in khaki livery.
Right: BRM's famous Leyland Royal Tiger taking a breather 'somewhere in the Alps'.
The team's big Commer workshop was useful, but by common consent both too big, and too slow. In 1953 an even bigger transporter raised eyebrows when Briggs Cunningham's money-Iaden sportscar team arrived in Europe, essentially for Le Mans but also to race at Reims and SiIverstone. Their suitably huge Fageol Twin Coach transporter workshop created quite a stir wherever it went.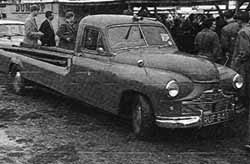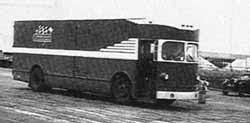 Left: Mike Anthony's Standard lookalike Vanguard.
Right: Cunningham's sensational Fageol.
Lancia's own works team's huge transporter set new standards when it emerged at Barcelona in 54 and then in the later 1950s the big Fiat-chassised Bartoletti- (part open) bodied transporters favoured by Ferrari, Maserati and Lance Reventlow's Scarab team strangely came to prominence — though the way they exposed their precious loads seemed a great leap backwards. Here's Maserati's at Modena in '57. Such Continental giants were free of the restraints applied on vehicle size in Britain. When Vanwall and BRM had sophisticated transporters tailor-made on Leyland Royal Tiger chassis, three cars had to be flddled inside on sloping diagonals, while the Italians — and Henry Pickett with Reventlow's sister Bartoletti — could carry three cars level.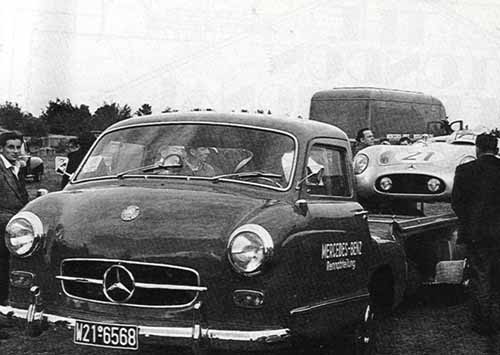 Fastest of them all? The 300SL-based Mercedes.
In 1955, one of the most famous of all transporters was produced when engineer Rudi Uhlenhaut of Mercedes-Benz introduced his high-speed flat-bed special, exquisitely built around nothing less than a well-tuned 300SL engine, driveline and suspension parts. It could cruise at 110mph empty and at a genuine 100 when laden. And it made a fabulous head-turning noise.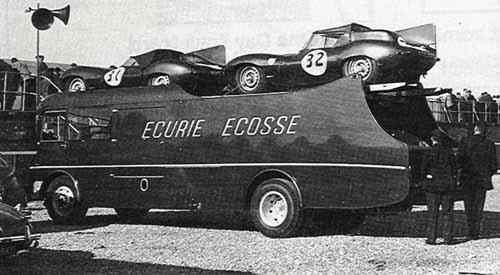 Prettiest of them all? The Ecurie Ecosse transporter.
Another famous one was Ecurie Ecosse's stylish custom-build which replaced their ancient converted coaches, and set the toy designers all a'slaver. Into the 1960s Cooper got by with their Bedfords while Team Lotus worked wonders with a little Bedford pick-up which carried one car while dragging a two-car trailer in its wake. By all accounts the poor thing cried itself to sleep every night of its hard-pressed life...

But that's the kind of treatment they were built to endure — and, dear me, didn't the vast majority of them earn their keep.