The coolest Earl on Earth
A short review of the 2009 Goodwood Festival of Speed
Authors
Jeroen Bruintjes (words & pictures), Maarten Hoeben (pictures)
Date
Related articles
Who?

Jacky Ickx

What?

Auto Union

Where?

Goodwood hillclimb

When?

2009 Festival of Speed


Why?
At each year's Goodwood Festival of Speed, there is a moment when you suddenly get it. The magic. As we have found out long ago that moment is usually on a Saturday evening, when in fact there is no action at all. The crowds will have gone, thousands of visitors in the car parks will still be stuck in huge traffic jams. The track will be empty. And the paddocks will be all yours.

Reviewing the Festival, it's the same thing. Of course we could have written a gung-ho story the day after our visit, telling you exactly who drove what and how fast they were, but it just would have been, I don't know, wrong. You go to an action-packed weekend, you write an action-packed story and two weeks later everybody will have forgotten about it? Not us. Let's stick with that image of a quiet evening stroll through Goodwood's paddocks. Taking a peek at the line-up of blue Matras here, admiring the endless lot of Porsche 917s there. And then you turn a corner and see this.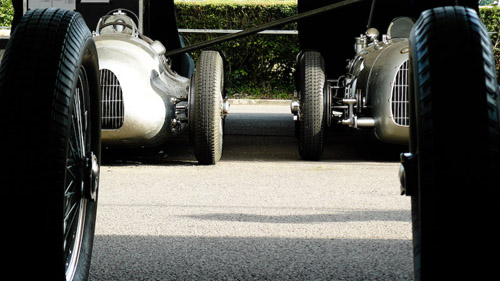 (photo JB)
With 100 year-old Audi being this year's featured marque, and 75 years of Silver Arrows being Mercedes's main reason for attending the FoS, this part of the paddock was crammed full of pre-war racers. During the day, they would attract huge crowds. People were stepping on each other's toes to take pictures. The same thing happened when the cars were driven on the hill. Since most of Audi's top drivers were assigned to the fleet of quattros from the 1980s, the Auto Unions were handed over to guys like Nick Mason and Jacky Ickx, who took it slowly. Not so for Jochen Mass, who liked to kick the tail out of the gloriously screaming Mercedes-Benz W25.

But by only looking at those cars as invidual things, most visitors and drivers seemed to miss the main wow event: that for the first time since 1939 this large a number of Auto Unions and Mercedeses shared the same paddock. Seeing them nose to nose in the evening Sussex sun? It was just, well, breathtaking.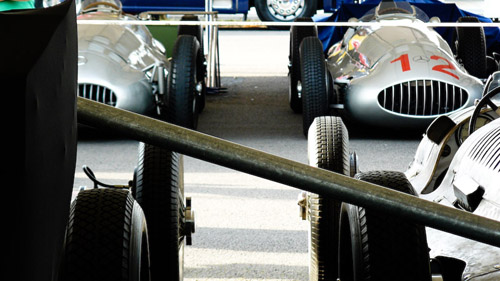 (photo JB)
Still, it was difficult to describe this year's Festival of Speed. Outside of the paddock, there were times I felt the 'old spirit' had gone. Was it the fact that none of the timed runs on the hillclimb seriously threatened Nick Heidfeld's ten year old official record, let alone Heikki Kovalainen's unofficial one? Or was it the fact that pre-war cars and old F1 cars are more into the Revival Meeting these days? I must admit: that feeling left us as soon as we entered the forest. You see, the Earl of March hasn't just got his own hillclimb or his own circuit. The man is basically the coolest Earl on Earth and has actually built his own rally stage. It's hidden in the woods – in his woods - near the top of the hill. There, every tree, every leaf and every visitor was coated with a thick layer of dust. When, after a few hours, we walked out into the open again, we had to scrape the sand from our faces. No wonder, with old aces like Stig Blomqvist and Hannu Mikkola going head to head with today's favourite Sébastien Loeb.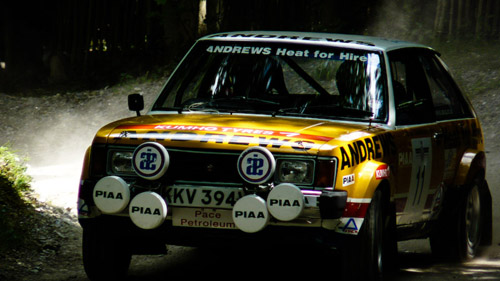 (photo JB)
It was here that this year's Goodwood theme 'True Grit' came alive. Driven in anger, the Lancias, Porsches, quattros and Peugeots and most other cars did timed runs, sliding through the corners, jumping and hissing, stones flying at the spectators, backfires echoing through the forest. It all sounded like a mad pack of hunters shooting deer, and wow, was it fun!

So maybe the true gold nuggets are, as always, to be found in the corners of the Festival. In the forest rally stage, or downhill, in the Cathedral Paddock. Take for example the looks of utter despair on the face of the driver who stalled his car six (!) times in a row when attempting to leave the paddock space. Or gaze in awe at the Bugatti Atalante barnfind, with its stunning patina, quietly occupying its own little space on Goodwood's lawn.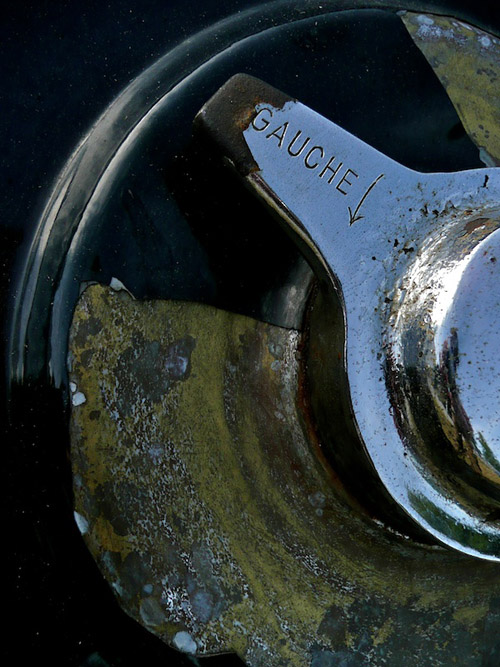 (photo MH)
And what about the mud-covered 1970 Triumph 2.5PI, slowly driving downhill from the rally stage, both its occupants impeccably dressed for Saturday's evening ball? Now that's style for you. At Goodwood, it's not just the action that the Earl throws in your face. You actually have to take a step back. You have to dream and let your imagination fill in the blanks, using all those wonderful little scenes for inspiration. We had a nice chat with some of the guys from Audi Tradition, and of course we asked how they felt about having the 'Stuttgart enemies' only a few steps away. "It's marvellous", one of them admitted, and you could actually see the twinkle in the guy's eyes as he tried to avoid to say the things that corporate communications would like him to say. "You know, we've had excellent and close relationships with Mercedes-Benz Klassik for years. Of course we visit them, and they us, and we share experiences. It's like we've got a common hobby. But getting a chance to spend a few days together, as we do here: now that's something else. It's so very British. Zhings like zhat only happen at Goodwood."

More pictures by Jeroen Bruintjes...
More pictures by Maarten Hoeben...