Rallies and races
Author
Date
Related articles
Who?

Vic Elford

What?

Porsche 908/3

Where?

Nürburgring

When?

ADAC 1000 Km-Rennen Nürburgring (May 31, 1970)
Why?
The circuit and the special stage – today the two are worlds apart, even though Sebastien Loeb is a famous example of a rally star doing a few sportscar appearances while Kimi Räikkönen is now busy attempting a successful cross-over while coming from the other side. In the past as well, drivers with a pedigree in both racing and rallying were few and far between. That's why Maus Gatsonides, Vic Elford and Walter Röhrl were all stand-outs in their day and age.
Of course, these three are not the only drivers in the history of motor racing to have switched between rallies and races. Yet, most of them to do so were only 'guesting' in the trade unfamiliar to them. Sandro Munari was a rally ace who took in the odd sportscar race as well, the Targa Florio (as close to a rally as a sportscar 'race' can get) being his prime target. Lucien Bianchi was a Grand Prix and sportscar driver who, like many of his circuit contemporaries, started out in rallies but still found time to drive for Citroën in marathon events such as Liege-Sofia-Liege or London-to-Sydney. Henri Toivonen, meanwhile, was a case of what-could-have-been. As a rally driver, incidentally having started his motor racing career as a Formula Vee racer, he guested in a couple of World Sportscar events. His British F3 appearances for Eddie Jordan Racing left the single-seater seriously longing for more.
Gatsonides, Elford and Röhrl, however, made careers in both disciplines, as they possessed the ability to consistently challenge and win on both the black stuff and the loose bits.
The Indiana Jones of motor racing
Dutchman Gatsonides made the headlines by winning the 1953 Monte Carlo rally and inventing the Gatso speed camera, hated by speed demons all over the world. Such a kill-joy contraption may suggest a mind wary of law-bending sensation but the opposite is true. In fact, most of his adventures, the best of which defy the imagination and also expose Gatsonides as a playful cheat, are the subject of a book that has become a cult classic among race fans with a penchant for historic histrionics. Aptly but also somewhat boringly titled Rallies and races (1950), the book recounts the pre-war and post-war rally and racing exploits of the fearless Dutchman in a captivating monologue interieur. Its author is equally inprobable as its subject later becoming the brain behind the Gatso, since W.L. Brugsma became the face of socialist news show Achter het nieuws ('Behind the news') on Dutch public television. It is perhaps no surprise that he used the pseudonym Willem Leonard (William Leonard in the English translation) to cover up his love of capitalist rallying and motor racing. It was re-published in 1994 and is still a highly recommendable read.
Gatsonides was born in Gombong in the Dutch East Indies. His father was among the highest government officials in the Central Java region so Maus (short for Maurice) enjoyed his higher education back in the home country. When the Dutch Royal Airforce rejected his application to become a fighter pilot he decided to seek his thrills nearer to the ground. Initially working from his Heemstede garage, which went bankrupt after a couple of years, and later in the employment of Ford Netherlands, he became part of a close-knit group of Dutch adventurers attacking the infamous Alpine rallies such Liège-Rome-Liège, the Monte Carlo Rally and the French Alpine Rally. It was typical Gatso to try and outsmart the organisers, a treat he never shook off. His win in the 1953 Monte was accomplished by having innocent by-standers spontaneously throw water at his car, an act that miraculously happened to help cool his brakes. Similarly, right at the start of his motorsport career, he tricked all his fellow competitors of the highly illegal Dripping Cock night rally through the Dutch bulb region by figuring out the location of all the checkpoints and thus surprising everyone with his incredible 'speed', whereas it was his speed of thought that won him the event.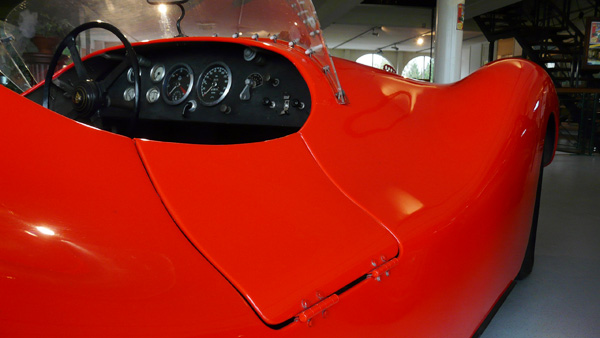 The shapely curves of 'Platje', now on display in The Gallery in Brummen, The Netherlands. (photo 8W)
Gatsonides never shied away from a challenge, though. In fact, he relished them, as he invariably chose the toughest starting point for the Monte, leading him to Athens or the North of Sweden, and the journey there, ploughing through snow drifts in Denmark or evading the pitfalls of treacherous Balkan roads, both literally and figuratively speaking, was usually far superior to the rally itself when it came to Gatso laughing in the face of danger. Whether his actions called for dealing with corrupt border controls or arranging with a local blacksmith to help with an impromptu repair job, his ingenuity seemed like a resource to never run out. Another example of his resourcefullness came during the war when he invented a wood gas generator that allowed cars to continue running during the fuel shortages that plagued the country.
Not just a clever rally driver, Gatso was equally quick on the circuit. He was part of the momentous occasion when in 1939 the seaside town of Zandvoort closed off its streets for the first proper road-racing event in the Netherlands. In the big sportscar race, Gatso was at the forefront driving 'Kwik', the first of his self-built specials, a two-seater based on a Mercury V8 chassis. After the war, he continued designing his own cars, initially named Gatford. This later changed to Gatso when Ford made objections to the use of their name. His most famous one-off, and the only Gatso to have survived the test of time, is Platje ('Flatty' in English), a sleek, low-line, open-top sports racer that its creator used to good effect in Zandvoort's earliest post-war national events. Maus Gatsonides also tried his hand at endurance racing, and his participation of the 1950 Le Mans 24 Hours in a Czech Aero Minor nicknamed 'Smoky' continues to be the subject of a fascinating read in Rallies and races, a book that never fails to excite its readership, if only for its unrivalled ability to convey a rebellious motor racing world so unimaginably different to today's pleasing of the masses.
A 'rally driver' in Formula One
In the late sixties, motor racing may have been showing its first signs of organisation and commercialism, it was still every bit as dangerous. Rather than the exception, versatility was the norm – you only needed to look at Clark, Andretti or Ickx to know why. However, momentarily staying with Belgians, Ickx and the likes of Gendebien and Bianchi before him, began their careers in rallying but quickly made the jump to circuit racing. However, how many drivers made continuous switches between rallying and racing and remained competitive in both? We can only think of one: Vic Elford.
'Quick Vic' was a Londoner who started rallying in the early sixties, driving whatever he could afford, at times profiting from some factory support, before he was picked up by Ford and ventured on a three-year stint rallying works Cortinas. However, when the final year of their cooperation failed to bear fruit, Vic was ready for a change and saw the potential of Porsche's 911. Initially, Porsche racing boss Huschke von Hanstein remained unconvinced, telling Elford that there was no money and no rally programme. Undeterred, Vic borrowed an example and entered it for the Corsica Rally. It ended in the 1967 European title and a 1968 Monte Carlo win.
By the time of his Monte win Elford had become a valued member of the Porsche sportscar team. Indeed, he gave Porsche its first overall win in a major sportscar event by doing the bulk of the work in the 1968 Daytona 24 Hours, a mere week after having been victorious in the Monte Carlo. In a hugely successful year, Vic also won the Nürburgring 1000 kms and the Targa Florio – both events that he truly loved and, unsurprisingly, both providing the best possible mix between closed-circuit racing and asphalt rallying.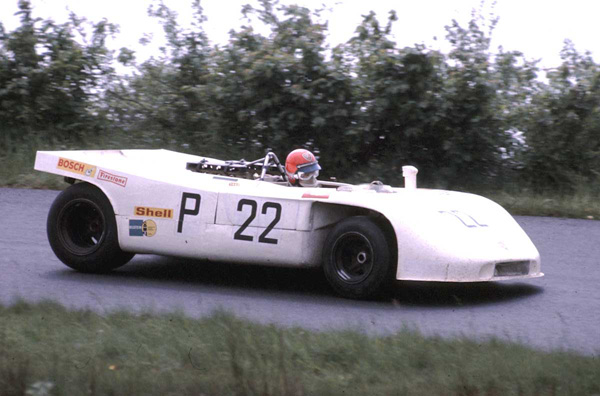 Vic Elford on his way to winning the 1970 Nürburgring 1000 kms, driving Porsche's 908/3.
(photo: Jim Culp, ProRallyPix, reproduced under Creative Commons license)
There was no stopping to the variety when he also made his F1 debut with Cooper in the rain-soaked French GP to sensationally finish fourth first time out. He saw the season out with them, also picking up a fifth in Canada. There were plans for an Alfa-engined Cooper T91 in 1969 but the works team folded and instead Vic continued with the 1968 Cooper, driving for privateer Colin Crabbe's Antique Automobiles Racing Team. Switching to a McLaren M7B, Elford grabbed three World Championship points for Crabbe with a fifth and sixth in France and Britain respectively but crashed out heavily during the German GP, braking his arm and collar bone on impact after hitting debris from Mario Andretti's earlier accident.
Save for a one-off for BRM in the 1971 German GP that was the end of Elford's Grand Prix career but he continued to be part of the works Porsche line-up during one of the most powerful episodes in their trophy-littered sportscar history. He had started 1969 by circling a Dodge to 11th place in the Daytona 500 – just another thing he simply had to do – but the forgotten highlight of the 1969 season was leading the field at Le Mans by eight laps in the scary original 917 before that particular edition at the Sarthe became famous for the Ickx/Herrmann battle to the line. Wins did follow, including the 1970 Nürburgring 1000 kms (with Ahrens) and the 1971 Sebring 12 Hours (with Larrousse).
In his early circuit career Elford was still very much 'the rally driver'. A fine example was the 1967 Marathon event on the full Nürburgring, a 84-hour challenge of true stamina that made Le Mans look like a sprint race. Teaming up with Hans Herrmann and Jochen Neerpasch, Vic was entrusted with seven-and-a-half-hour night stints through the rain and fog, having already done the same with Neerpasch in a Cortina in the 1966 edition. It's for no reason that Vic claims to be the only one to know the 'Ring's 172 corners by heart, and even the leaves on every tree lining them. There's no point arguing with a man who won six major events there.
Handling McLarens, Shadows and Chaparral – including the remarkable Chaparral 2J 'sucker car' – in CanAm, racing Chevrons in F2 and dabbling with Camaros in Trans-Am only adds to the legend of Elford's versatility.
Genius on snow and asphalt
It's a tough choice to make – Walter Röhrl in the Audi quattro A2 attacking a snow-covered Monte stage, or Walter Röhrl showing respected road racers the way in his DTM Audi V8 quattro. Somehow, Audi and Röhrl seem inseparable in our nostalgic version of recent motor racing history, as are Elford and Porsche. And yet, it is a matter of fact that both drove an immense variety of cars.
The Bavarian, voted Best Rally Driver of the Millennium at the turn of the century, started his rally career in Opels, all the way back in 1968 and competed in an international rally for the first time in 1971. Picked up by the factory-supported Euro Händler Team, Röhrl drove his Ascona to the European Championship title in 1974, racking up six wins in the process. Moving up to world level with Opel and being joined by faithful co-driver Christian Geistdörfer, the Regensburg-born German won his first World Championship event when he grabbed the 1975 Acropolis. A mid-season switch to the Kadett GT/E proved disastrous and mid-way into the 1977 season Walter left in disgust to join Fiat's attack in the Alitalia-liveried 131 Abarth. He won the Acropolis again in 1978 and added a victory in Canada to his tally. An average 1979 results-wise led to a devastating title run in 1980, with wins in the Monte, Portugal, Argentina and the San Remo.
In a desire to pursue his dream of repeating his title with the help of a German manufacturer, Röhrl signed with Mercedes for 1981, as the Stuttgart firm was gearing up for its rallying debut. To his dismay, Mercedes pulled the plug on its rally plans with the W107 before it even started! Left without a drive, Röhrl made his first excursion to circuit racing, as the reigning WRC champion decided to join Porsche for several national rallies in their 911 SC, also including a few modest track appearances in his programme.
For 1982 Röhrl was duly picked up by old love Opel, and he took his second championship by defeating Audi's challenge led by Michèle Mouton. The first double WRC champion won the Monte and the Ivory Coast rally in his RWD Rothmans Ascona 400, harrying the quattros into submission. In fact, Röhrl had tested the quattro ahead of the 1981 season, having regarded it as the first option to realise his plans before he signed with Mercedes, but remained unconvinced about its potential. A fall-out with Opel boss Tony Fall led to Röhrl joining Lancia to drive its spectacular – and equally RWD – Rallye 037 in 1983. He missed out on a third title by three points, simply by neglecting to compete in one more rally, a decision he still feels sorry about. Once more however, by winning the Monte, Acropolis and New Zealand rallies, he was the Audi punisher instead of the Audi icon he became when he was finally swayed to make a switch to the quattro A2 in 1984.
Signed on a limited programme, he would help Audi regulars Blomqvist and Mikkola to the title, but he started out by scoring a Monte hattrick, and a fourth win in total in the jewel-of-the-crown event. The personal satisfaction was immense – he had finally beaten Stig Blomqvist in equal machinery and also mastered the trick of AWD rallying. In the years following Audi was overtaken by Peugeot and Lancia, and Röhrl only managed one more win, in the 1985 San Remo. His Pikes Peak record in 1987 while driving the Sport quattro E2 meant his farewell to loose surfaces, as he set out to bolster Audi's ranks in the marque's quest to show the superiority of quattro drive on the circuit as well.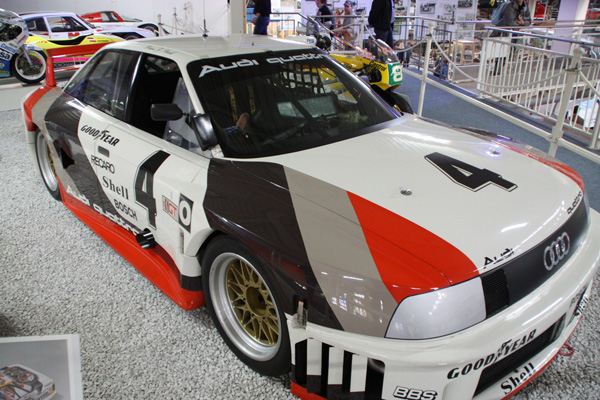 Audi's big-muscle 1989 IMSA GTO version of the 90 quattro, in which Röhrl won his only race in the category, on show in the Sinsheim car museum in Germany. (photo: Pilot Michael, reproduced under Creative Commons license)
Röhrl proved to be no slouch racing wheel to wheel. During Audi's Trans-Am adventure of the late eighties he drove his wide-bodied 90 quattro to two wins, and also won with the IMSA GTO version in the only race of the category he ever competed in. Having blown away the Stateside competition, Audi decided to join the DTM in 1990, now confident of being able to create an upset against BMW and Mercedes in Germany's prestigious home series. Röhrl became part of a three-driver line-up with Hans Stuck and Frank Jelinski.
The Audi V8 DTM quickly showed the advantages of AWD in a touring-car environment. Stuck won the 1990 title for the SMS team while AZR's new boy Frank Biela won the 1991 championship. In his two years in the DTM, Röhrl took a single win. The quattro system had been dominant in the various Super Touring categories as well and the measures taken against it varied from a hefty weight increase (in the DTM) to an all-out ban (in most national Super Touring championships). By then, however, Röhrl had switched his interests to other events, such as the Nürburgring 24 Hours. In 1992, he continued to set clockwork laps during a night tortured by extreme fog and rain, simply by remembering where to turn the wheel.
Today, Röhrl is still an acknowledged master of the 'Ring, as on his old day the 'Genius on wheels' (as once dubbed by Niki Lauda) is still pounding in the laps on the Nordschleife in his duty as official Porsche road car tester. Rallying remains his first love, though. Even though he was pretty good at circuit racing, he never really enjoyed it. For Röhrl, the best challenge was beating himself.