2016 Espíritu del Jarama and 2017 Espíritu de Montjuďc report
The Spanish spirit of racing
Author
Date
Related articles
Spa - Before the rain, 2016 Spa Six Hours report, by Mattijs Diepraam
Jérez - Sherry, sun and spectacular racing, 2021 Jerez Historic Festival report, by Mattijs Diepraam
Barcelona - On a cold April day, 2022 Espíritu de Montjuďc report, by Mattijs Diepraam
Who?

Olivier Hart

What?

Ford Mustang

Where?

Barcelona

When?

2017 Espíritu de Montjuďc (April 7, 2017)
Why?
The Espíritu race meetings hosted by Jesús Pozo's Targa Iberia organisation always shine because of their family atmosphere and off-track entertainment. That's why it's a shame that last October's Espíritu del Jarama was a disappointment on track, with an exceptionally poor turn-out in Masters entries. The recent Espíritu de Montjuďc at Barcelona, however, back after a year's absence, more than made up for it: entry fields of plenty, often with great racing. We look at both Spanish events.
The Espíritu del Jarama weekend that closed off the 2016 Masters Historic Racing season was dealt a double whammy when most Masters championships were decided at the previous round at Spa while the Algarve meeting with which a weekend at Jerez or Jarama is usually combined into an appealing Iberian double-header was held two weeks later. This denied many competitors the chance of a sunny back-to-back season finish in Spain and Portugal.
So it was no surprise that some of the entries didn't even reach double figures. The drivers and teams that did turn out still had something to win: Michael Lyons and Max Smith-Hilliard were still contesting the pre-78 F1 title while the Historic Sports Car title was up for grabs for two of the winningest driver duos from the slower classes.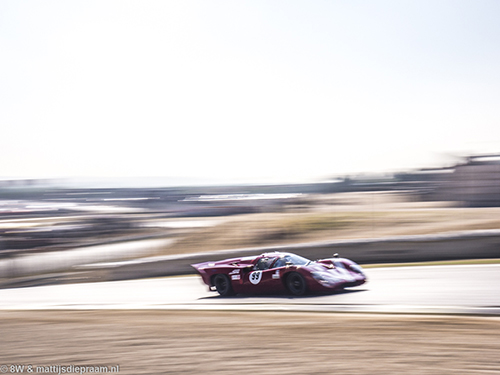 Paul Gibson storming up the Jarama hill in his Lola-Chevrolet T70 Mk3B. (photo 8W)
Even with these small numbers, the weekend provided enough drama. While David Forsbrey and Andy Newall took a comfortable win in the Masters Three Hours and Greg Thornton notched up two easy victories in the two F1 races, it wasn't all plain sailing for pre-78 F1 title pretender Michael Lyons. In fact, all looked lost when Lyons' trusty Hesketh 308E ran to a halt early in free practice. Would this be Smith-Hilliard's championship for the taking?
It wouldn't, as James Hagan lent his Hesketh 308 to Lyons so that the youngster could finish what he had started. Lyons delivered on both days and duly claimed the title.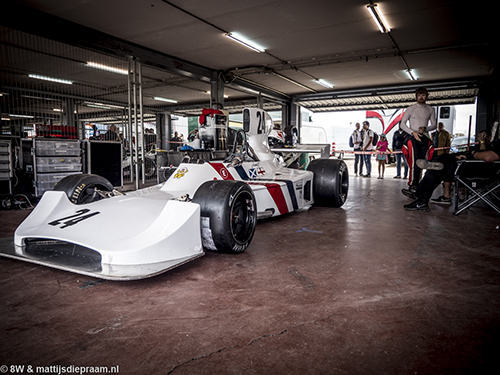 Michael Lyons used James Hagan's Hesketh-Cosworth 308 to claim the pre-78 F1 title. (photo 8W)
The Sports Car race would be Mike Donovan's in his Lola T70 Mk3B, beating the similar car of Jason Wright, but the excitement was further in the back. Keith Ahlers and Billy Bellinger had to come to Jarama leading the championship by one point to Graham Wilson and Nigel Greensall. When Greensall put in the usual storming drive in Wilson's Chevron B8 to claim another dominant class win, Ahlers and Bellinger were made to work for their own class win to stay ahead of their countrymen. In the end they managed to do so since the class-winning Lola T70 Mk1 of Pedro Macedo Silva was ineligible for points. It was Ahlers' eighth Masters title and, according to himself, the hardest one won.
The full Espiritu del Jarama event gallery
At Barcelona, starting off the new season after a one-off April meeting at Zolder last year, Donovan and Wright were back into action in their Lolas, fighting the similar machines of Paul Gibson and David Hart/Nicky Pastorelli while also taking on Michael Gans' Lola T290 and the Max Smith-Hilliard/Nick Padmore Chevron B19, the latter car finishing only third at Jarama due to a drivethrough penalty.
This time, though, neither of the B19's drivers made a mistake, and Smith-Hilliard and Padmore surged to a win for their new Forza Historic Racing outfit. They led Michael Gans, who was hit with a drivethrough penalty for slamming into David Hart's Lola while being in the process of removing the Dutchman from first place in the first half of the race. After the stops, an exciting five-car battle ensued from which the Chevron emerged victorious. Nicky Pastorelli came back from a spin to take third for Hart and himself.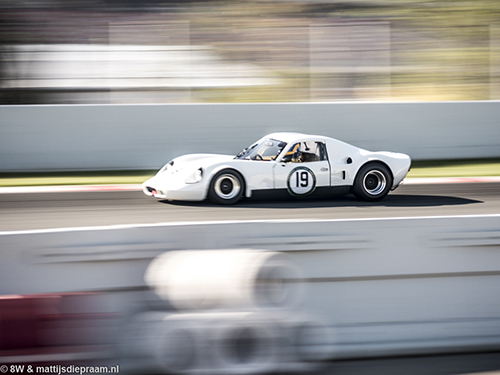 Mark & Andrew Owen Chevron B8 charging towards Barcelona's turn 5. (photo 8W)
In F1, Smith-Hilliard claimed two more trophies with straightforward wins in the pre-78 class. The ground-effect class delivered two different race winners, though. Greg Thornton came through to take Saturday's race after Michael Lyons' Williams FW07B broke its throttle linkage. However, Lyons bounced back on Sunday with a controlled win over Loďc Deman's Tyrrell 010, who had also finished second the day before. Steve Hartley (Arrows A4) took third on Saturday, Andy Wolfe used new tyres and a new set-up to charge up to third on Sunday in his Tyrrell 011 – now in ground-effect spec and Denim Musk colours, having won the 2015 post-78 title when the car was still in its 1983 flat-bottomed guise.
Neither of last year's F1 title winners returned to defend their titles. Michael Lyons moved up to the ground-effect class, having finally secured homologation for the family-built Williams FW07B in Rupert Keegan's Penthouse/Rizla colours – a nice continuation from the Hesketh 308E which has been young Lyons' regular mount in the past few years. This moved Greg Thornton to step down a class, swapping his 91 for a Lotus 77, in an attempt to challenge Max Smith-Hilliard for pre-78 glory. But when he had an off in the 77 during Saturday morning's free practice, Thornton switched back to the 91 (conveniently brought along by Classic Team Lotus!) to immediately deliver with a win in race 1. It will be interesting to see what the Lotus driver will decide for the rest of the season.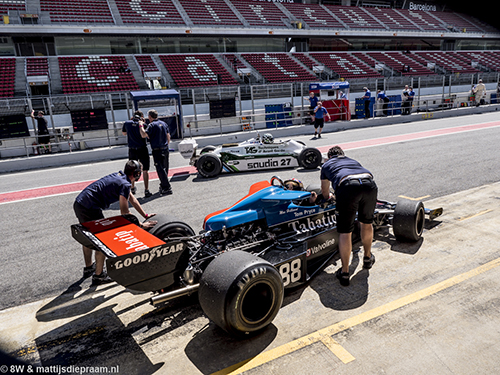 Max Smith-Hilliard claimed a double win in the pre-78 F1 class at Barcelona. (photo 8W)
The Three Hours was looking like an Agatha Christie novel with the passing of each other, four contenders having already dropped out after five laps. And then there were eight, we said when the Ahlers/Bellinger Morgan SLR returned to the pits in the closing stages, hit by an electrical problem, even though it would still be classified as one of nine runners remaining on the results sheets. Charlie Birkett and James Littlejohn took a dominant victory in their Ford GT40, especially with Littlejohn on fire during his stint. The other GT40 in the race – that of Gary Wright and Joe Twyman – had to retire with a broken gearbox, handing second place to the Portuguese AC Cobra of father and son Rui and Pedro Macedo Silva, and Jose Luis Fontes. Carlos Monteverde and Gary Pearson took third in their E-type.
Despite a relatively poor turn-out the Masters Pre-66 Touring Car race was undoubtedly the best race of the weekend, as it gave us a hugely entertaining lead battle that lasted for the full half hour of Olivier Hart and Simon Hadfield's final stints. The young Dutchman and the prolific British veteran – who has since come out to admit that he is Oli's biggest fan – treated the crowd to a no-holds-barred struggle for the win. The lead changed three times before Hadfield took the flag first with just two tenths in hand on Hart Jr. The two were still buzzing long after the race was over. More of this please, gents!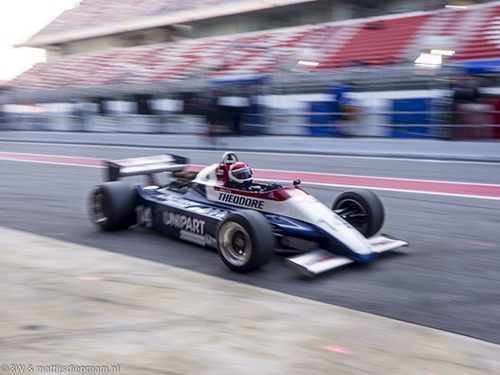 Simon Fish's Ensign-Cosworth N180 matches the colours of the Barcelona pitlane and grandstand. (photo 8W)