Sherry, sun and spectacular racing
2021 Jerez Historic Festival report
Author
Date
Related articles
Who?

Warren Briggs

What?

McLaren-Cosworth M29

Where?

Jerez

When?

2021 Jerez Historic Festival (October 23, 2021)
Why?
Following a forced reprieve, the international historic motor racing scene returned to what it had done so many times before – closing their season on the Iberian peninsula while enjoying the autumn sun. Masters Historic Racing, the Historic Grand Prix Car Association and the Formula Junior Association doubled up on a twin programme consisting of the Jerez Historic Festival and the Algarve Classic Festival, separated by less than a week. An ambient temperature of 26 degrees awaited the teams and competitors at Jerez, and after a day of testing they all enjoyed their two days of racing, borne out by the fact that most races delivered quite the thrill.
The Jerez meet was generally well-organised, with many Spanish fans that were attracted to the spectacle. Apart from the foreign visitors, the modern Portuguese GT3 Cup was the Iberian addition to an otherwise historic programme – even though the Masters Endurance Legends are pretty modern too, of course.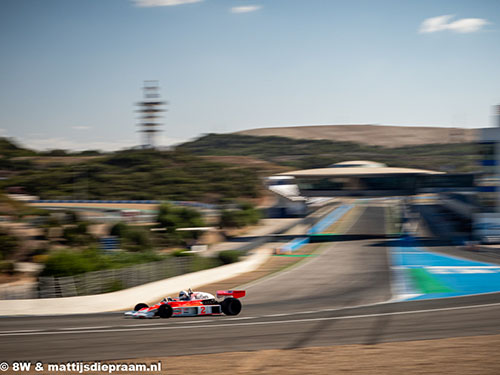 Lukas Halusa diving into the first corner at Jerez. (photo 8W)
In Masters Historic Formula One, qualifying and race 1 were all about Mike Cantillon, whose Williams FW07C powered to a strong pole, followed by a lights-to-flag win on Saturday. The Irishman failed to make it two from two, as the Williams faltered early on in Sunday's race. This left Jamie Constable in charge, his Tyrrell 011 having already claimed third the day before. Constable was hunted down almost the entire race by Nick Padmore's Lotus 77, which had taken a comfortable pre-78 class win on Saturday by finishing fourth overall, but when Padmore's car failed, this opened up an opportunity for Marco Werner to pounce, which the German duly did two laps from the end. His Lotus 81 had been runner-up to Cantillon the day before.
With Padmore the clear pre-78 victor on Saturday but out on Sunday, Miles Griffiths wasted no time in taking a sensational rookie win in Max Smith-Hilliard's Fittipaldi F5A, third overall a superb performance for someone who had just stepped into post-66 Formula One. MSH himself chose to drive the Shadow DN5, the other car that helped him to his 2017 pre-78 title, and raced to fourth and third in class while confessing to still being a bit rusty. He was headed on both occasions by Lukas Halusa's McLaren M23, the Austrian now a shoo-in for the 2021 class title.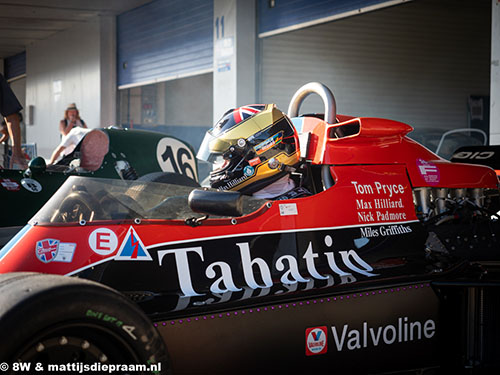 Max Smith-Hilliard returned to action in his Shadow DN5 and Lotus 16. (photo 8W)
Smith-Hilliard fared much better in the Historic Grand Prix Car Association's pair of pre-66 F1 races, taking his Lotus 16 to a double win in the front-engined class, on both occasions beating Richard Wilson's Ferrari 246 Dino and local hero Guillermo Fierro's Maserati 250F. At the front in race 1, an exciting lead battle between Andrew Beaumont's Lotus 18 and Rüdi Friedrichs' Cooper T53 was decided by a photo finish, Beaumont pipping the German on the line by 0.089 seconds after Friedrichs had led for the entirety of the race – bar those few yards that matter the most. On Sunday, Michael Gans stormed to the front after his Cooper T79 had demised on Saturday, but once in the lead, the later Cooper failed to shake off Friedrichs' earlier example. Meanwhile, Barry Cannell bagged a pair of thirds in his Brabham BT3.
In Formula Junior, honours were even between Alex Ames (Brabham BT6) and Patrick d'Aubréby (Lotus 22). Ames raced clear of the Frenchman on Saturday but saw him fly past on lap 5 of Sunday's race. Lee Mowle's 20/22 finished third in the first race but lost that spot when the Lotus crawled to a halt in the dying stages of the second race, handing the place to Stéphane Rey's Lola Mk5A.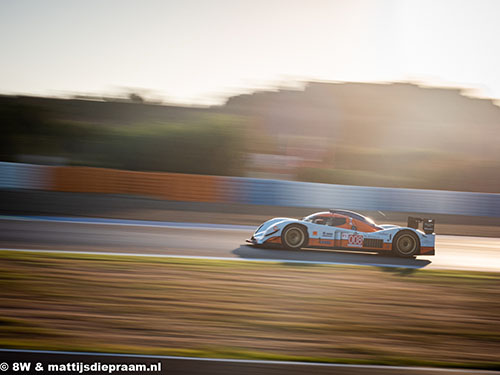 Double winner: Christophe d'Ansembourg ruled in Masters Endurance Legends. (photo 8W)
Meanwhile, in Masters Endurance Legends, there was no stopping Christophe d'Ansembourg, as the Belgian roared to a pair of wins in his Lola-Aston Martin DBR1-2 LMP1. His main opponent being the LMP2 Lola-Lotus B12/80 shared by the professional pairing of Marco Werner/Nick Padmore, his goal for the weekend was not lose too much ground on Werner in the opening stint and then profit from the pros' longer mandatory pitstop. In race 1, the Belgian did well to keep Werner at bay for much longer than expected, resulting in an easy win, albeit chased by Keith Frieser in the Zytek 09S, the Canadian showing that he was on it the whole weekend. Following d'Ansembourg in both races, Frieser also stayed ahead of Padmore on race 1 while on Sunday he took the fight to Padmore but still ended up third. Jason Wright (Ferrari 458 GT3) and Bob Blain/Aaron Scott (Aston Martin DBR9) shared the GT wins.
Steve Brooks and Martin O'Connell waltzed the Masters Historic Sports Car race, Brooks taking command from the start and leaving O'Connell an easy job to finish. Michael Gans gave chase in his Lola T290 but gradually lost ground which in the end meant that the American had to hurry to stay ahead of Miles Griffiths rapidly approaching in the Chevron B19 started by Max Smith-Hilliard. Now partnered by Nigel Greensall instead of Tiff Needell, John Spiers took home an easy pre-66 class win in the McLaren M1B.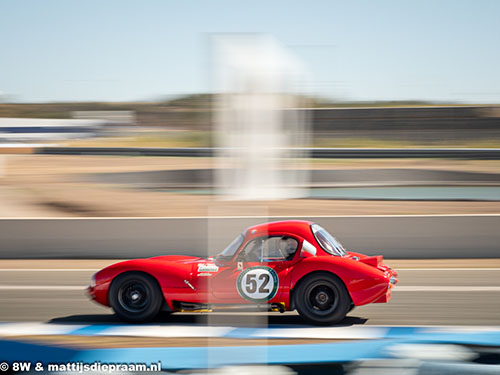 Ron Maydon shared his Ginetta G4R with Robin Ward but was out of luck. (photo 8W)
And that wasn't the only celebration for Spiers and Greensall, as they came from behind to triumph in a closely matched Masters Gentlemen Drivers race to pip the Elans of Andrew Haddon and Graham Wilson/David Pittard. During his opening stint, Haddon had chased Michael Gans in Mark Martin's Shelby Cobra Daytona and overtook the big car before Gans was forced to retire, while the Wilson/Pittard Elan came on strong once Pittard had taken the wheel. Both Wilson and Spiers were kept in the game by two safety-car periods that on both occasions wiped away Haddon's lead, amounting to 30 lost seconds in total. Nevertheless, handicapped by a drivethrough penalty for stopping short of the pit window, Greensall had much work to do in Spiers' TVR Griffith to catch and pass the Elans but managed the feat seven laps from the end, passing both on the same lap.
The Masters Pre-66 Touring Car race was cancelled as a separate race, but its two entries joined the Gent Drivers for an hour, Steve Soper and Mark Martin in their Lotus Cortina taking an easy victory from Rick Carlino's Mini.