2017 Estoril Classic report
Sunset on a season
Author
Date
Related articles
Who?

Max Smith-Hilliard

What?

Fittipaldi-Cosworth F5A

Where?

Estoril

When?

2017 Estoril Classic (October 21, 2017)
Why?
Several historic motor racing championships ran their final round at the inaugural Estoril Classic, which was blessed by fair weather after Friday's test day was a wet affair. The grids were at times smallish but the enthusiastic Portuguese crowd took care of the atmosphere nonetheless.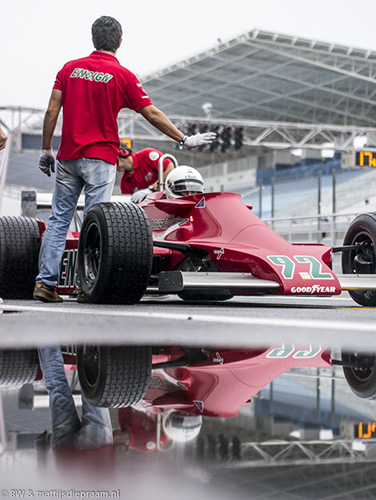 Paul Tattersall was back in his Ensign N177, the car back in working order after the damage suffered in the aftermath of David Ferrer's tragic accident at Zandvoort. Here he is on the wet Friday testing day. (photo 8W)
Without a doubt, the biggest crowd pleaser was a rally driver instead of a racing driver, as none other than Markku Alen thrilled the packed grandstands with multiple doughnuts on board of a Alitalia-liveried Fiat 131 Mirafiori donning TAP Rallye Portugal stickers. However, the spectators also got off their seats for the two FIA Masters Historic Formula One races, and they didn't care one bit that there were only nine cars in the field. They clapped and cheered every time the DFV-engined machines roared past, and especially on Sunday, when pre-78 champion elect Max Smith-Hilliard and team mate Nick Padmore turned it into a great show, the pair followed home by Martin Bullock's Williams FW06 and Joaquin Folch's McLaren M19C, the crowd were up on their feet.
Smith-Hilliard duly lifted the crown he was expected to take, especially since rival Greg Thornton had elected to race at Austin and no threat was forthcoming from team mate Padmore – even though it took longer than he had hoped for. On Saturday, he was pushed aside through an overzealous move by Bullock who went on to win the race after Padmore retired with clutch failure. Afterwards, though Bullock was demoted to third when the stewards judged his move as causing a collision, handing the win to Jason Wright's Shadow DN8.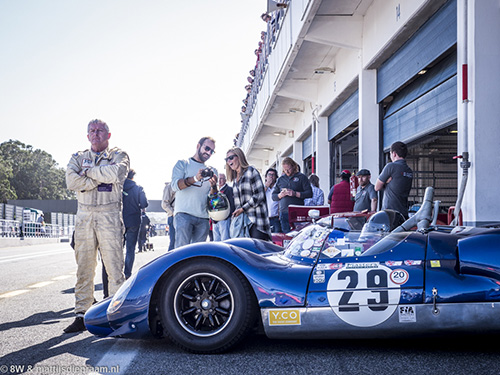 Keith Ahlers (standing on the left) and Billy Bellinger (in car) successfully defended
their the FIA Masters Historic Sports Car title. (photo 8W)
The odds for those still in with a chance for for FIA Masters Historic Sports Car title honours were similarly lobsided, with Keith Ahlers and Billy Bellinger only needing third in class in order to secure their second successive championship. Their sole remaining rival was present at Estoril, however, and played his final joker by joining Andy Wolfe in his Lola T70 Mk1 Spyder – also a pre-65 Hulme-class contender – in a last-gasp attempt to keep Ahlers and Bellinger away from the pre-65 podium, hoping that some of other Hulme-class runners including Laurie Bennett in his McLaren M1C would rise above themselves and take more places away from the reigning champions. As the class was remarkably well subscribed compared to the rest of the season, Ahlers and Bellinger not only had to make sure that they finished but could also not afford to cruise home towards renewed title glory.
In the end, the Cooper Monaco King Cobra pair did it, and in style, by taking the class win and leaving Wolfe and Wilson in their wake. After a strong stint by Bellinger who handed the Cooper to Ahlers in a leading position, the latter shone by keeping the gap to the quicker Wolfe alive in the first part of his stint. Only when his brakes began to fade Wolfe started to close, but Ahlers kept four seconds in hand at the chequered flag. He was blissfully unaware of all that, the blinding sun preventing him from reading his pit boards. He said he just drove as fast as he could – which he so obviously did.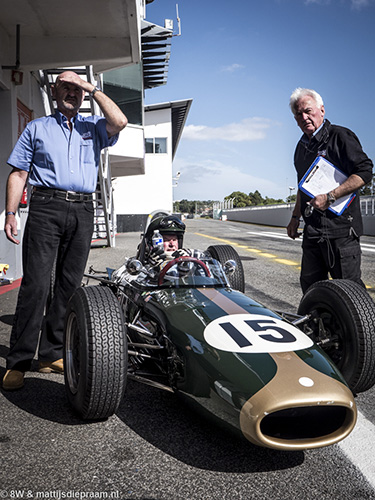 American James King triumphed in Saturday's thrilling HGPCA race. (photo 8W)
Wilson could not be all too unhappy about losing the title, as earlier on the Sunday he and David Pittard secured the combined Masters Gentlemen Drivers and Masters Three Hours championship by taking their nimble Lotus 26R – so suited to the twists and turns of Estoril – to a stunning overall win in the season-closing Three Hours race. The pair's Three Hours success at Barcelona and Magny-Cours helped them to a basket full of double points with which they beat Ahlers and Bellinger, who had taken many C2 class wins in the Gentlemen Drivers races of the season.
Meanwhile, the FIA Lurani Trophy crown for Formula Junior drivers was also decided at Estoril, as Manfredo Rossi's aggregate win was enough for a third title in a row. The Italian beat Piero Tonetti's Brabham BT6 by ten seconds on Saturday after Tonetti beat him away from the line but was outdragged into the first corner halfway into the race. A spin by Tonetti gave Rossi the gap that he needed on Sunday, when he stuck to Tonetti's gearbox the entire race but couldn't find a way past. Still pumped by his third Junior title, Rossi jumped straight into his Osella-Abarth PA1 for the FIA Masters Historic Sports Car race to entirely dominate it, beating Jason Wright's Lola T70 Mk3B by some 35 seconds.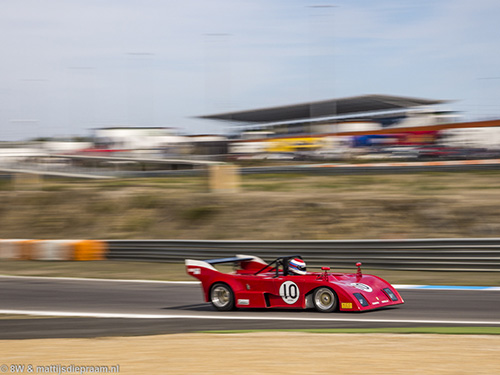 Manfredo Rossi reigned supreme at Estoril, first claiming another FIA Lurani Trophy, then blitzing the FIA Masters Historic Sports Car race. (photo 8W)
The Historic Grand Prix Car Assocation came to Portugal for a double-header at Estoril and Portimão. At Estoril, they treated the crowd to two magnificent races, each with a group of drivers battling for the lead. James King (Brabham BT7) and Joaquin Folch (Lotus 16) took the spoils. Folch won again at the Algarve Classic Festival, while Rod Jolley (Cooper T53) redeemed himself with victory in the second Algarve race after he had thrown away the lead in the first race at Estoril, trying to keep Folch, King and Barry Cannell's T51 at bay.