MEMORIES / Living 'The Dream'
Author
Stuart Dent (words and pictures)
Date
Related articles
What

Team Alexis transporter

Where?

Aintree

When?

Summer of 1975
Why?
When I were a lad (seventeen, to be precise) I secured gainful employment with Alexis Racing Cars as an apprentice everything. Brilliant! Having already sampled life on the 'other side of the fence' as a gofer for the Alan Brodie F5000 team during 1973, culminating in sleeping in the team's transporter on the Saturday night of the final round at Brands, I craved to continue in the same vein.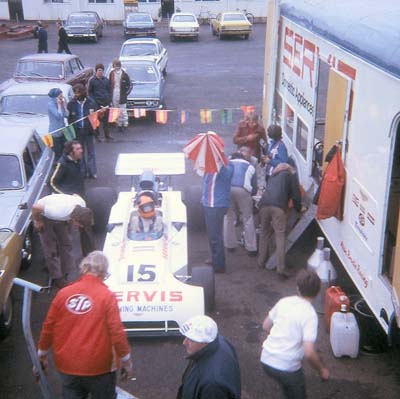 Alan Brodie transporter was ex-Eifelland, here seen next to the Chevron at the rained-off mid-season F5000 round at Silverstone.
A pleasant surprise, however, is not what awaited me...

At Alexis in 1975, there were three main operations; the factory-run FF1600 team, customer chassis sales and after-service, and the Allan Taylor Racing Driver School. The latter operated out of Aintree and Cadwell Park, but we were actually based in Coleshill (West Midlands), in an ex-cheese making factory.

In all things mechanical, I was (and still am) a rookie. As such, I was given the simpler tasks such as stripping chassis, gearboxes and the like. Then, after a while, I was entrusted with making the fibreglass bodywork. Great stuff - I really was involved now - but in truth it was a complete horror story.

I had to prep the moulds, mix all the various potions, lay down the impregnated materials and sand them off with no protective gear at all! Those of sufficient years will recall that the summer of '75 was a pretty hot one, and inside the wooden hut in which I was based the heat was just stiffling. The toxins emitted from the various goo I was mixing and spreading was so bad that I vomited at least a couple of times each day. My mother made me a makeshift mask from the muslin she used for the Christmas pudding to wrap around my face, but it didn't really help a great deal.

Backtracking a wee bit, I had my first outing with the ATRDS to Cadwell Park in the March. This was great for me, as I'd not been to that venue before. The drivers booked in for tuition were all cosied-up in a pleasant rural B&B, as indeed was the boss and my colleague. Where was I? Here, somewhere behind the Paddock, inside a shitebox old team van...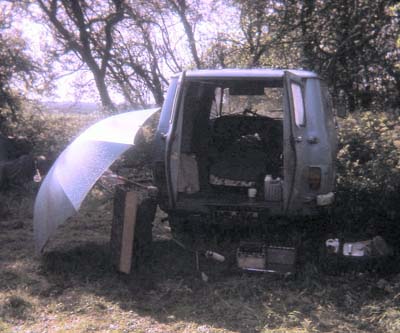 ...and that's my camp bed in the back. I was soooo cold, I had to wrap myself in newspaper inside my sleeping bag in order to survive.

Imagine my totally orgasmic state, therefore, when our 'new' team truck arrived the following month. Hey, this was no ordinary vehicle - this was the ex-Gold Leaf, then John Player Team Lotus genuine article which had latterly been the Texaco Star Team Lotus Formula 2 transporter! For me it was a shrine; inside this very truck the likes of G Hill, Rindt, Fittipaldi E, Peterson and co had all sat, chatted, changed and simply been based during some epic (and at times, tragic) periods. I'll never forget the innards of the back end of the truck; there were plywood pigeonholes on which were written inscriptions - in pencil - reading 72/1, 72/2, 72/3 etc. Jesus, this was the very truck that had taken the GLTL cars to Monza in 1970...

It arrived in the white/red/black Texaco Star livery, and I volunteered to come up with a new livery to suit the works team's sponsors. I cannot deny the experience of being granted a 'lift home' from the Race of Champions by the Ensign team in March '74 influenced my approach! The truck of theirs I rode in said 'Team Ensign' in big, BIG letters (and it felt great as I rode in it) so 'our' one had to be similar...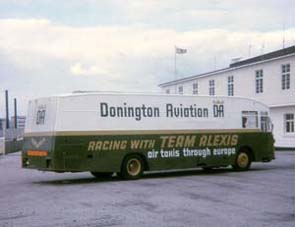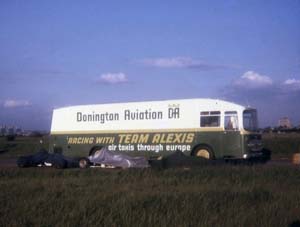 The above shots were both taken at Aintree, which was the first time we took the re-liveried truck out.

Sleeping in a vehicle steeped with such an amazing past is impossible to describe. Please don't bother slagging off my design - I'm well aware of its many shortfalls thirty years down the road - instead, simply try to imagine what it was like to be 'as-one' with what was such an integral part in the history of one of the greatest-ever Grand Prix teams.

The episode with the former Team Lotus transporter reminded me of something which happened when I was a very small boy. We were still living in my birth town of Alnwick in Northumberland, and we had relatives staying with us at the time. During one of these nights I was awoken from my slumber and, once my dressing gown was on, was taken by car to the town centre.

My father and my uncle Roy had been to the chess club that evening and had walked past the Ecurie Ecosse tranporter parked up for the night on their way home and wanted me to see it!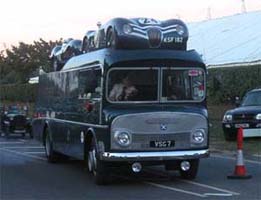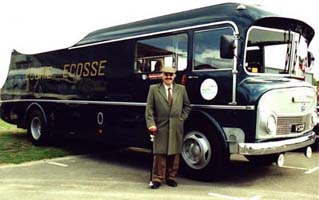 The Ecurie Ecosse transporter at Goodwood. Pictures by David Beard.
I was held up and touched the racing car protruding from the rear. This was my very first exposure to our sport... The funny thing, though, is that neither my dad nor my uncle had the remotest interest in racing whatsoever! Some time after that I was given a fabulous Corgi model of the transporter with which to commemorate the encounter, and I still have it!

This took place sometime between my birth in 1957 and our move south in 1963. My rough guess would be 1960/61 as I doubt I'd remember much before then.