2017 Oldtimer Grand Prix report
Rain masters at the 'Ring
Author
Date
Related articles
Who?

Ronny Scheer

What?

BMW M1 Procar

Where?

Nürburgring

When?

2017 Oldtimer Grand Prix (August 11, 2017)
Why?
After two rain-soaked events at Magny-Cours and Silverstone, many of the competitors going to the Oldtimer Grand Prix at the Nürburgring were hoping for a change in weather. They were only given a slight reprieve on Sunday when the word 'sun' could be uttered without it being wishful thinking, but in the three preceding days conditions were worse than awful, fully living up to the Green Hell's well-earned reputation. So how did the competitors weather the storm?
By giving the spectators a hell of a good show – the spectators that did turn up, that is, since most were hiding at home, handing the once so glorious Oldtimer Grand Prix quite an empty feel. The drivers weren't deterred by it, since almost every race gave us a good story.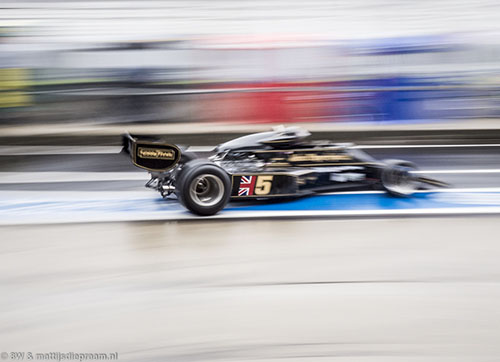 Greg Thornton's Lotus 77 splashing away for free F1 practice. (photo 8W)
In FIA Masters Historic Formula One, for instance, we first witnessed Michael Lyons' masterclass in wet-weather driving as he danced away into the distance on the very wet Saturday but when the gearbox casing of his Williams FW07B cracked, losing him fourth and then third gear, Martin Stretton was quick to overtake him, the surprise pole man having overshot the first corner on fresh rain tyres, losing second place to Belgian returnee Loïc Deman and then the position back only because of Deman spinning his Tyrrell 010 in front of him. So luck seemed to have favoured Stretton but it was Lyons who got the last laugh, as the winner was subsequently disqualified when the rideheight of his Tyrrell 012 was found to be too low. It was a genuine mistake by the team as they had measured with slicks on and forgot to do it again after the wets had been mounted. Still, in the absence of Lyons, Stretton was able to make amends the next day by taking a straightforward win against Deman, who at the end had to fend Steve Hartley's Arrows A4 and Joaquin Folch's Brabham BT49, both of whom had snuck up to Deman's tail after a mid-race safety-car period had bunched up the field.
The safety car had been for Saturday's pre-78 class winner Max Smith-Hilliard being clobbered by the Lotus 77 of his main title rival Greg Thornton, as Thornton tried to outbrake the Fittipaldi F5A into the first turn. It was deemed a racing incident as Thornton was a long way on the inside while Smith-Hilliard turned in like he wasn't there, but still it was an unsatisfactory finish to a thrilling duel that will surely not be the last between the pair. Thornton had to improve on his form of the days before after a disappointing qualifying session left him too far back from Smith-Hilliard, who starred to take fifth on the grid and then went on to dominate in the race, backed up by team mate Nick Padmore, who returned to the Shadow DN5 for one more time. Padmore won the class in the second race, nipping through after Smith-Hilliard and Thornton clashed. There was talk of Padmore holding station behind team boss Smith-Hilliard on Saturday, and the reigning post-78 champion looked powerless against Smith-Hilliard and Thornton on Sunday, but he claimed engine issues in the first race – which seemed plausible given the qualifying problems that put him a lowly 14th on the grid – and then was hit by a bout of food poisoning the next day.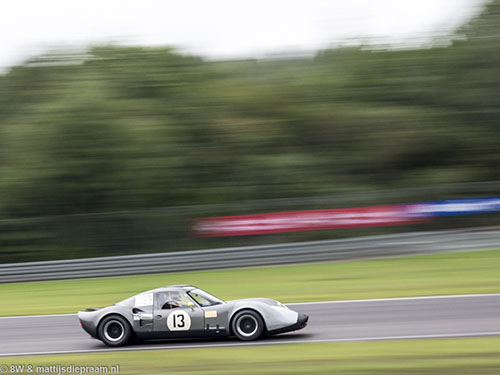 David Pittard was again the class of the field in the CLP class, hoisting his Chevron B8 among the more powerful cars. (photo 8W)
The FIA Masters Historic Sports Car race saw Stretton do some more winning, as his team mate Diogo Ferrão handed him a Lola T292 that was hot on the tail of Michael Gans' Lola T290 during the first part of the race. Gans put up a brave defense against Stretton and kept him at bay for five laps but then had to let the Portuguese Lola go. Jason Wright claimed third despite being hit by a drivethrough penalty because of a jumped start, as he fought his way back past fellow Lola T70 Mk3B driver Mike Donovan, who was struggling with a slightly misfiring engine costing him top speed. Manfredo Rossi was third early on but gradually lost touch with the two leaders. A spin in his Osella-Abarth PA1 dropped him down to fifth behind the two T70 drivers.
Gans was part of the winning crew in the Gentlemen Drivers race, however, tussling with the ever-improving Julian Thomas in the Denis Welch Motorsport E-type, before team mate Andy Wolfe stormed past Thomas in a Wolfe Manufacturing-run Cobra that was freshly shod with new rear tyres during its mandatory pitstop. Dane Nicolai Kjaergaard took a surprise third overall and a CLP class win in his Lotus Elan, beating the usual Elan suspects of Pittard/Wilson and Haddon/Martin.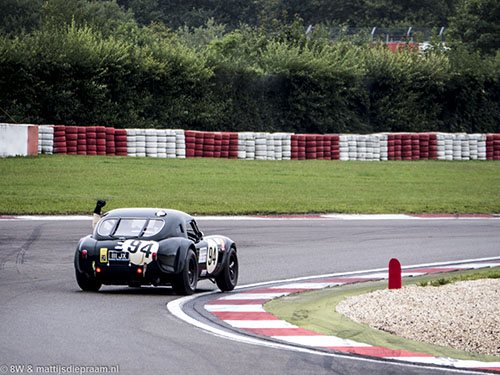 Michael Gans and Andy Wolfe triumphed once more in Gentlemen Drivers. (photo 8W)
Michael Gans looked like the favourite to win the one-hour evening race for pre-61 sportscars, and indeed waltzed away into dusk in his Lotus 15, but then Ulrich Schumacher handed his Maserati Birdcage to ex-Audi factory driver Marco Werner, who seemed to be in a different race (and class) once he set off on his chase of Gans. Setting lap times of 7 to 13 seconds faster than Gans on a very wet 'Ring, Werner was past halfway into his stint to then further disappear into the distance. On Sunday, Werner also stormed the second half-hour race to again beat Gans by a mile.
Werner didn't win any race he got into, though. In the two Formula Junior races for the FIA Lurani Trophy he finished fourth and retired respectively while Cameron Jackson dominated in his Brabham BT2, his nearest pursuer Manfredo Rossi a long way away on each occasion. The F3 races for 1964-1984 machinery also saw a double winner, Christian Olsen taking the spoils on both days in his Martini-Alfa Romeo MK39 but with his rivals much nearer. On Saturday, Thomas Warken was a close second in his Ralt-Alfa RT3 while on Sunday Andrew Haddon stormed to the front in his ex-Patrese Chevron-Toyota B34. Meanwhile, many eyes were glued to the car that Haddon's team mate Mark Martin was driving: the Ralt-Toyota RT3 in which Ayrton Senna won the 1982 British F3 championship after his famous battles with Martin Brundle.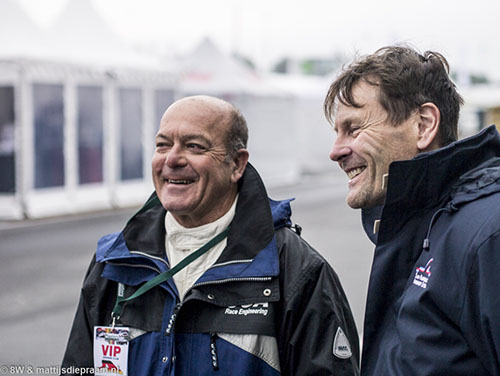 Joaquin Folch and Simon Hadfield were among the many drivers keeping their spirits up despite the terrible weather. (photo 8W)
The two Historic Grand Prix Car Association races for front-engined pre-61 F1 and F2 machines were won by Andy Willis in his Ferrari 246 Dino but both were last-gasp affairs. On Saturday, Willis took an early lead but was quickly overhauled by Guillermo Fierro's Maserati 250F. In pouring conditions, the two fought a titanic battle for the lead until on the final lap Willis nipped past. On Sunday, Joaquin Folch dominated the race in his Lotus 16, only to dramatically slow on the final lap, handing a second win to Willis.
The home crowd was mostly wooed by the three local touring-car championships on offer. In the AvD-Tourenwagen- und GT Trophäe, a very confusing qualifying shook up the grid to great effect, almost half of the cars having been disallowed its fastest times. From pole, Sebastian Glaser's Ford Escort RS1600 went on to narrowly beat the similar Escort of Heinz Schmersal, both Germans ably seconded by VLN drivers Patrick Simon and Mike Stursberg.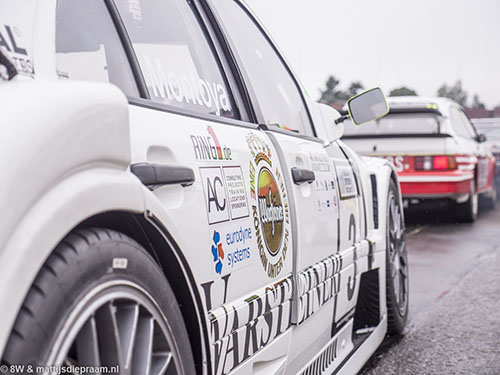 Jörg Hatscher's ex-Montoya DTM Mercedes took second in the Tourenwagen Classics race. (photo 8W)
The Tourenwagen Classics combined the best from eighties and nineties WTCC, DTM and STW tin-tops, and attracted a whole bunch of name drivers, including Harald Grohs, Volker Strycek, Roland Asch en Olaf Manthey. In the Bastos Ford Sierra RS Cosworth he shared with Bernd Schneider and Win Percy in the 1989 Spa 24 Hours, touring-car legend Gianfranco Brancatelli briefly led during the pitstops but in the end it was Stefan Rupp's more recent Alfa Romeo 155 V6 DTM machine that did the winning. Michael Lyons starred in the 1982 JPS-liveried BMW 635 CSi, a glorious car campaigned at Bathurst by Jim Richards and Wayne Gardner, to take a strong seventh overall against much more modern competition.
The DRM Revival drew the curtain on the Oldtimer Grand Prix on Sunday, having seen Wolfgang Kaufmann dominate the Saturday race in his Kremer Porsche 935 K3. A day later, however, Kaufmann was forced to retire from an equally dominant lead, handing a shock win to wily old Peter Mücke who had stormed up from 24th on the grid in the daunting Zakspeed Capri – having been put on that starting position as punishment for driving without his headlights on in a race that in normal summer conditions wouldn't have required them. On crossing the line, Mücke then momentarily lost his win when a 30-second time penalty was applied for an earlier infringement, turning Afschin Fatemi's Porsche 934/5 into the winner. But when Fatemi was slammed with the same penalty, Mücke's name jumped back up to the top of the timing screen…