2019 Oldtimer Grand Prix report
Double winners take the spoils
Author
Date
Related articles
Who?

Martin Stretton

What?

Tyrrell-Cosworth 012

Where?

Nürburgring

When?

2019 Oldtimer Grand Prix (August 9, 2019)
Why?
There were lots of double winners at the 47th running of the AvD Oldtimer Grand Prix at the Nürburgring, that started with a big splash on Friday but was finished in dry conditions on Saturday and Sunday. Martin Stretton, Andy Wolfe, Christophe d'Ansembourg, Henry Fletcher, Manfredo Rossi, Michael Gans and German Ferrari Challenge driver Yannick Trautwein all brought home two wins from the meeting that was marred by French touring car driver Harry Bryzmann suffering from a heart attack behind the wheel of his Alfa 156 when racing for Tourenwagen Classics honours. Fortunately, the Frenchman survived the smash and his health emergency, and we wish him a speedy recovery.
In FIA Masters Historic Formula One, Martin Stretton has been driving beautifully this season, taking on the quick youngsters that have poured into the series and often beating them. The old fox did it again at the 'Ring, first by setting pole and following up with a double victory, the second from eighth on Sunday's reversed grid. In all fairness, Stretton was taking on a champion elect with one hand tied behind his back, Matteo Ferrer-Aza constrained to saving engine life of the DFV in his Ligier JS11/15 to get it to the end of season, and the young Italian indeed challenged Stretton's Tyrrell 012 for the pole, the wet conditions favouring his talent instead of his horsepower – or rather, lack thereof. Having said that, Stretton prevailed all the same.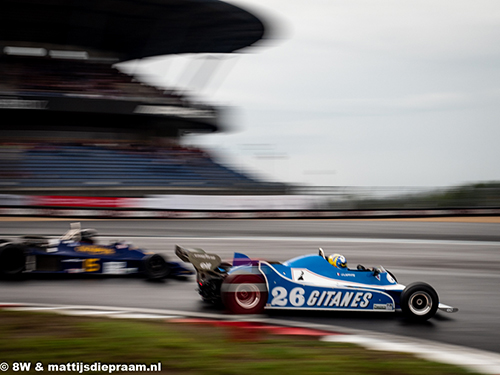 Matteo Ferrer's Ligier JS11/15 diving inside Michel Baudoin's Hesketh 308E into the first turn. (photo 8W)
In the first race, the Tyrrell 012 led from lights to flag, only challenged towards the end by Mike Cantillon's Williams FW07C. In a chaotic second race, Stretton took seven laps to move to the front, and never looked back. In fact, every time he did, he saw people going off or crashing into each other – Cantillon a victim of the wobbly front wing that caused him to suffer from understeer before the Williams spun into the first turn, and then Jamie Constable's Tyrrell 011 and Jonathan Holtzman's Lotus 87B tangling while warring over second place. This elevated a conservative Ferrer into second place, which he kindly accepted as it moved him ever closer to the post-78 title. The other championship, meanwhile, was sewn up there and then, Henry Fletcher notching up two dominant pre-78 class wins on his way to the title, his March 761 even crossing the line in third overall on Sunday.
Andy Wolfe's first of two wins across two Masters championships came on Saturday when he as a one-time team mate to Julian Thomas held off Nicky Pastorelli's Ferrari 250 GTO/64 in the Masters Gentlemen Drivers race. Having beaten the similar Shelby Cobra Daytona Coupé of Leo Voyazides/Simon Hadfield to pole, the Thomas/Wolfe car led from start to finish, first Thomas and then Wolfe soaking up the pressure from the quick Dutchman's Ferrari. Voyazides and Hadfield claimed a distant third, the Greek unable to keep pace with the two leaders. Nicolaj Kjaergaard looked to have repeated his 2017 CLP-class win but then his Elan was excluded from the results, a non-conforming gearbox proving even more disastrous than the troubled transmission in the Jake Hill/Rob Fenn Elan. Disillusioned, Fenn limped home by opting to leave the car in third gear, so was delighted to be handed the win after all.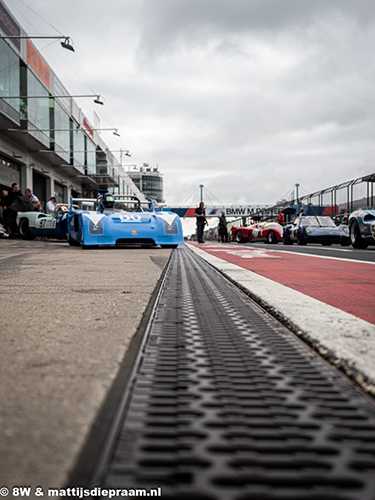 Henry Fletcher preparing for FIA MHSCC qualifying in his Chevron-BDG B26. (photo 8W)
On Sunday, in the FIA Masters Historic Sports Car race, Wolfe took a second win by romping home in the Lola T70 Mk3B shared with his customer Jason Wright. From pole, the American had led from the start but succumbed to pressure from Wolfe's other customer Michael Gans a minute before the pit window opened. Opting to come in late, Gans then put in a few blinders in his nimble Lola T290 to open up a five-second gap to Wolfe once he had taken over from Wright. Treading carefully in order to perform a clean pass on another car prepared by his team, Wolfe took his time to pass Gans but then stormed up to a win by a healthy margin. When Gans was disqualified for his overly forceful driving while battling with Henry Fletcher's Chevron B26 and Manfredo Rossi's Osella PA1 in the opening half of the race, those two were promoted into second and third places. In the other T70, Leo Voyazides also locked horns with Wright, Gans, Fletcher and Rossi in that first half hour but was forced to play catch-up when hit by a puncture. A lap down, Hadfield chased and caught Gans and Wolfe to get back on the lead lap but that was it – and it made Wolfe's concurrent attempts to pass Gans even more difficult!
Christophe d'Ansembourg claimed a Aston Martin Masters Endurance Legends double in his Lola-Aston Martin DBR1-2, holding off Mike Cantillon's Pescarolo-Judd 01 on both occasions. Keith Frieser (ORECA-Nissan 03) and Mike Newton (MG-Lola EX257) split the LMP2 class win, Newton going off on Saturday in his pursuit of Frieser but trouncing the Canadian on Sunday. Dominik Roschmann took a surprise overall GT win in his Ferrari 430 GTC after the demise of Nikolaus Ditting's Aston Martin DBR9 but the GT1 car was on dominant form on Sunday, charging up from the back of the grid to take fifth overall and the second GT win.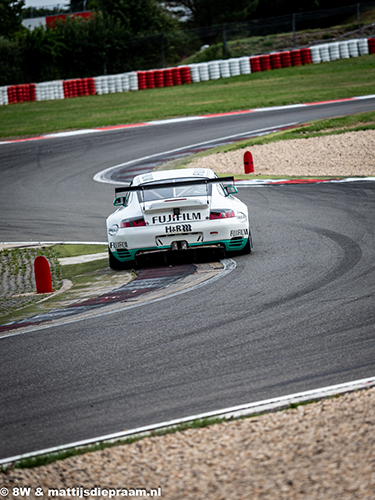 Marc Devis turned out in his newly acquired Porsche. (photo 8W)
Twice profiting from Richard Bradley's pole-sitting Brabham BT2 exiting the races early, Manfredo Rossi added two more FIA Lurani Trophy wins to his considerable tally, on both occasions fending off fellow Lotus 22 driver and reigning champion Bruno Weibel. Behind them, Piero Tonetti lost out to Mark Shaw in a tense intra-Brabham BT6 battle for third in Saturday's race but the Italian did claim third place on Sunday, in a race marred by a five-car pile-up on the main straight that robbed the race of more than half of its green-flag conditions.
The two HGPCA-run pre-66 Grand Prix races delivered a pair of lead fights that were up there with the Juniors. In race one, Michael Gans and Will Nuthall were at it hammer and tongues, the American's more recent Cooper T79 prevailing but Nuthall's never-give-up style was a sight to behold – it even saw his Cooper T53 take to the grass as the two charged past a backmarker on either side… Peter Horsman's Lotus 18/21 lost touch with the leading pair and eventually lost third place to John Chisholm's Lotus 18. Horsman initially joined Gans and Nuthall at the front in race two, but this time Gans was the one who was dropped. The win went Horsman's way when Nuthall retired his Cooper on the final lap. With a sterling effort, Barry Cannell hauled his BT11 up to third from 30th on the grid.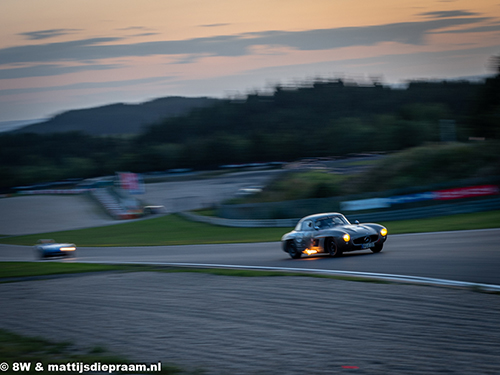 Fire in the hole for Christian Pfessdorf's 300 Merc as dusk approaches in the night race for pre-61 sportscars. (photo 8W)
Gans took his second win of the weekend in the night race for pre-61 sportscars. At first, two Chevy-powered Lister Knobbly machines led his Lotus 15, but Gans hit the front on lap 21. Wolf Zweifler couldn't keep up the pace set when Martin O'Connell ran ahead of Gans in his opening stint, but the other Knobbly of Mark Lewis/Julian Majzub finished second to the American. The Bernardo Hartogs/Will Nuthall Lotus 15 clinched third when the race proved to be a few laps too long for Josef Rettenmaier's Maserati 450S. On Sunday, Lewis and Majzub won the second race, taking the lead once Gans' Lotus retired on lap 6. The Wolfgang Friedrichs/Simon Hadfield Aston Martin DB4 GT claimed second ahead of the Hartogs/Nuthall Lotus.
Having debuted on the event in 2018, the German Ferrari Challenge for recent GTE, GT2 and GT3 machines from Maranello was back for more in 2019 – a few owners even two-timing in the Masters Endurance Legends races. Yannick Trautwein notched up two more wins in his Ferrari 458 GTE, making it four out of four at the Oldtimer Grand Prix as he had also dominated last year's two races.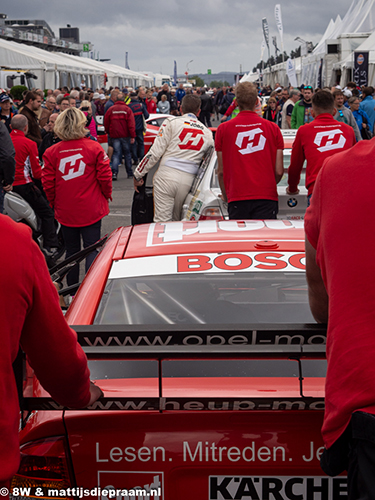 Busy times around Ronny Scheer's Opel Astra DTM were proof of booming attendance at the event. (photo 8W)
Four grids were provided by the locals, its first race already taking place on the Friday afternoon when the weather was at its worst. In absolutely pouring conditions, Mike Martin guided his Ferrari 330 GTO to the front in the first of the Gentle Driver's Trophy races, beating Felix Haas in a Lotus 23B and Markus Jörg in a Lotus 11. Haas looked set to take Saturday's win but his Lotus was another high-profile last-lap casualty in a weekend that saw its fair share of final-tour drama – and so Jörg took the spoils.
The one-hour AvD-Tourenwagen- and GT-Trophäe race was the post-66 local equivalent of the previous grid, and turned into some sort of an Escort Mk1 RS1600 party. Lars Bojvad's Escort led initially but the Dane soon had to give way to the Peter Stöhrmann Sr & Jr pairing in another RS1600. Mark Martin threatened to spoil the party in his Elan but that retired after a spin. With Mike Stursberg having taken over from Heinz Schmersal, another RS1600 joined the fight at the front but the Stöhrmann car held on for the win. Bojvad looked set to make it an Escort 1-2-3 but when his RS1600 cried enough on the final lap – another one – and Alex Furiani said thank you in his Alfa GTA.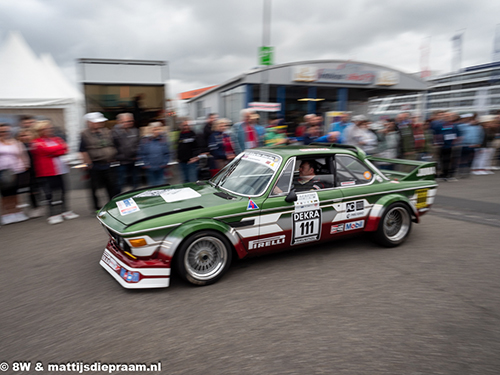 Öfele Werner's gorgeous BMW E9 3.0 CSL returning to the paddock. (photo 8W)
Felix Haas returned to the front in the combined DRM Revival and 100 Meilen Trophy races, a mishmash of seventies Group 4 and Group 5 machines and sportscars from the sixties through to the eighties. The German's Lola T294 won from Marco Werner's McLaren M8 and Ford-loving father and son Mücke in their Group 5 Zakspeed Capri (father Peter) and Capri RS3100 (son Stefan) respectively. The next day, Werner beat Haas by a whisker, as Afschin Fatemi's Group 4 Porsche 934/5 kept the M1 Procars of Ronny Scheer and Günther Schindler at bay.
Mücke Sr also starred – and won – in the Tourenwagen Classics race, the penultimate grid of the Sunday. This was a race to forget, as it wasn't just continually interrupted by safety cars but in the end was cut short by a dramatic crash by Frenchman Harry Bryzmann who suffered a heart attack at the wheel of his Alfa Romeo 156. The extrication team had their work cut out to safely free the Frenchman from his awkward position, who was then rushed to hospital. Bryzmann survived the ordeal but was still on his way back to recovery when we finalised this report. We wish him all the best.