Would you be my number two?
Author
Date
Related articles
Who?

Mike Spence, Colin Chapman

What?

Lotus-Climax 25

Where?

Brands Hatch

When?

Daily Mail RAC European Grand Prix (July 11, 1964)
Why?
There are drivers who carved out a very nice career for themselves by being the faithful backup to their superstar team mate. You know who they are. Yet in as many instances number-two drivers have been sad and agonising cases of promises unfulfilled. Never more so in the cases of Trevor Taylor, Peter Arundell and Mike Spence. Did fate cruelly intervene or were they crushed in the presence of the Lotus boss and his favoured child?
The three team mates to Jim Clark all had their days in the sun but eventually became the Barrichello in a Schumacher team, the Johansson in a Prost team, the Mass in a Hunt team. All three suffered heavy accidents as a Lotus driver. With Taylor and Arundell they happened early in their F1 careers and they were never the same again. When Spence was finally called back by Chapman – ironically to replace Clark following the Scotsman's death in an F2 race at Hockenheim – it became his nadir, crashing to his end while practising the Lotus 56 turbine car for the 1968 Indy 500.
Close but no cigar
Coming from a familiar racing background, being the son of a garage owner, Trevor Taylor started competing in sports cars at the age of 19. Encouraged by his father, he soon swapped his TR2 for a 500cc single-seater, though, to move into the rough-and-tumble of British late-fifties F3 racing. First racing a JAP-engined Staride, later switching to the more usual Cooper-Norton – the ex-Lewis-Evans example – Trevor cleaned up the British championship in 1958, now aged 21.
With the title he earned himself a Formula 2 drive for the nearby Ace Garage (Rotherham) team – Trevor himself came from Wickersley, very close to Rotherham. Racing the Ace Garage's FPF-engined Cooper T51, he was up against Jack Brabham and Graham Hill in the works Cooper and Lotus respectively, and a very strong field comprising entries from BRP, Alan Brown, High Efficiency, H&L and Reg Parnell for the likes of McLaren, Gregory, Salvadori and Bristow and privateers such as Jim Russell, Brian Naylor and Tony Marsh. One of six Taylors regularly in the field in those days – the others being Mike, Henry, Dennis, John and David – Trevor gradually started to work his way forward after a slow start to the season, a sixth in the mid-May London Trophy at Crystal Palace his best result. Late September, he won the poorly attended BRSCC F2 race at Rufforth near York but beforehand had to endure several DNQs during the summer – including one in the F2 section of the British GP. His career prospects brightened when he took a strong ninth – and fourth in class – in the season-closing F1/F2 Silver City Trophy at Snetterton.
This led to a works Lotus drive in the 1960 British F Junior championship – but with Trevor himself paying for the car! – and from there things were on the up. Teaming up with Jim Clark and, occiasionally, Mike McKee, Peter Arundell and Mike Costin in Hethel's Cosworth-powered Lotus 18s, Trevor soon followed in Jim's tracks as the pair racked up close one-twos at Oulton Park and Goodwood. The two were leading the pack again at Aintree when Clark crashed out, handing the lead – and the win – to Trevor, who handsomely beat his name-sake Henry in Tyrrell's Cooper-BMC by 12 seconds. Trevor being the lone Lotus entry in the May L&SCC meeting at Oulton meant a second victory. The tables were turned at Silverstone where Clark won and Taylor dropped out with engine woes. Trevor, however, was a runaway victor at Crystal Palace in June in the same weekend during which Clark made his World Championship debut at Zandvoort and became a regular F1 team mate to Ireland and Surtees. In the British GP support race for Juniors in July, Trevor was joined by Arundell and Tommy Bridger, and he beat Arundell in yet another display of power by the car-to-have. At Brands, Trevor's car broke after just three laps, handing the win to Clark, which made it three wins all in their BRDC British F Junior Championship title assault. Having started from pole, Trevor had meanwhile become more than a match for Clark. This was borne out in the August BARC meeting at Goodwood where Trevor took fastest lap and victory in the final, beating Clark in a straight fight, both having won their respective heats. One week later, Trevor won yet again, now leading Clark by ten seconds at Brands. The mid-September Lombank Trophy race at Snetterton went to Peter Arundell, who took his turn at beating Clark to the line, while Taylor lost a fair bit of his championship advantage when his rear suspension broke on the fourth lap. Clark clawed back the rest of his deficit with a commanding win at Oulton Park, which led to Jim equalling Trevor's points tally of 49 – although some argue that Trevor was the champion since Clark is said to have become ineligible for points when he made his F1 debut. This rule didn't seem to have any effect on the outcome of the 1961 championship, though…
The joint 1960 F Junior champions looked like having two separate careers in 1961, with Clark staying on in the F1 team as Ireland's number two – but already firmly snapping at Innes's feet – while Taylor continued for a second year in the Juniors. However, a frightening practice smash by Ireland at Monaco suddenly gave Trevor his F1 break. This meant that Clark and Taylor were reunited as team mates for the Dutch GP at Zandvoort where the Scot had made his GP debut one year earlier. There wouldn't be any Junior-style dicing between the two, though. While Jim ran the Ferraris close and set fastest lap, Trevor languished in the back, and Ireland was back for Spa, while Trevor did the occasional non-championship race, ranging from Solitude to Silver City, from Pau to Gold Cup, without any success worth mentioning. Between Clark and Ireland, meanwhile, a different pattern soon settled, Clark effectively taking over as team leader while Ireland was still reeling from his Monaco crash. It would become a familiar story for all of Jim's team mates.
While this was going on, Taylor continued his renewed British F Junior assault, now with Peter Arundell as a regular team mate, who one year behind was shadowing his every move. Armed with new Lotus 20s, Taylor led home Arundell at Goodwood in March, opening the season as it would end. A fortnight later, Trevor doubled up in the Lombank Trophy support race at Snetterton, made it a triple at Oulton Park another two weeks after that, and scored number four at Aintree on April 22. Trevor seemed to be having the opposition – mainly consisting of Bill Moss, Jim Russell and his team mate Frank Gardner, and the South African Tyrrell Cooper-BMC duo of Maggs and Love – well under control but at Silverstone, supporting the International Trophy, the Lotus regulars were down and out, with Russell taking the spoils. Arundell won at Mallory Park, where Mike Costin replaced Taylor, who was having his F1 baptism at Zandvoort. Early June saw Trevor suffer his first defeat when the Chequered Flag twin of Bill Moss and Mike Parkes beat the Lotus in their new Geminis. This was followed by a DNF at Charterhall while Arundell won the next day at Snetterton, the Lotus team hedging its bets. Trevor was back in true imperious form, however, in the British Empire Trophy race at Silverstone. Arundell won at Brands in August but Taylor easily won the September Trophy at Crystal Palace. Stern opposition in the Gold Cup meeting at Oulton Park where Mike Parkes took pole, the Tyrrell team ran to a strong one-three and Trevor was sidelined with a broken transmission, was followed by more mishap in the Vanwall Trophy at Snetterton where both Arundell and Taylor were non-finishers. Such was Trevor's championship lead, however, that he was an unmenaced 1961 Junior champion. From here, the only way was up.
And up it went, initially. Now rejoining Jim Clark in the Grand Prix team full-time, Trevor instantly made his mark on the team's South African journey when he finished second in the wheeltracks of his more accomplished team mate in the Rand GP at Kyalami. However, eight days later, the Natal GP was fought out at Westmead and Trevor failed to make the finish when on lap 14 he had his first severe shunt in a Lotus GP car when his suspension collapsed. There was more mechanical woe in the South African GP at East London where his radiator broke while Clark made it three out of three. The Westmead accident hadn't been a career-blighting one, yet, as Trevor denied his team mate the perfect winter quartet by beating Jim by six tenths in the Cape GP at Killarney – the best imaginable start to 1962.
Back in Europe, Trevor indeed continued to replace the BRP-bound Innes Ireland in the works F1 team. He was unlucky in the early-Spring races at Brussels, Snetterton and Pau and saw Clark take the team's initiative at Aintree and in the International Trophy, but he made the strongest possible start to his World Championship campaign by finishing second to Graham Hill at Zandvoort, even though he was still racing the team's spaceframe Lotus 24, with Clark already in the monocoque 25. His Climax V8 burst out oil after 24 laps of Monaco, his ignition failed at Crystal Palace and then, at Spa, he suffered his second huge accident while fighting hard with Willy Mairesse over second place. This was followed by another crash at Reims while one week later at Rouen he amazingly ran into the back of Trintignant's stalled car, leaving him with yet more bruises. He was eighth in Britain, still in the 24, as Clark ran away with the race in the 25. More worryingly, Jack Brabham and Masten Gregory were faster in their customer 24s. A third at the Solitude was a welcome result in his non-championship appearances, which mostly led to non-results as well. His Championship attack fizzled out with a practice crash at the 'Ring when an engine malady sent him through one of the hedges lining the German track.
Only during the winter intermezzo things began looking up again. In the inaugural Mexican GP, Trevor shared his Lotus with Clark to the final shared GP win in history. In South Africa, having been 'armed' with a monocoque 25 since Monza, Trevor suddenly ran Jim close again, the two copying their 1961 Kyalami result before he put his Westmead jinx to rest by beating the Scot in the now two-heats-and-a-final Natal GP.
Did he save his F1 seat by these performances? No matter what, Taylor stayed on as team mate to Clark for another season, and continued a familiar pattern by finishing a close second to Clark at Pau while again being the one suffering mechanical gremlins at Imola, where Clark ran out to yet another incredibly unthreatened victory. Trevor and Jim mixed cars again at Aintree, finishing third and seventh, while in the International Trophy Clark was first with Taylor third. And so to the first Championship event, Monaco, where he qualified in the midfield and ran out the race to a lonely sixth. It would be his only score in another year marred by cars falling apart around him. Another practice shunt at Spa left him gasping for air during the race and he gave up after five laps. While Jim Clark turned 1963 into a repeat of Ascari's 1952-'53 dominance, Trevor endured misfires and broken transmissions, fuel pumps and transistor boxes, with a distant second to, yes, Clark again at Karlskoga was the single small highlight of a wretched season. Trevor's time at Lotus's Grand Prix team was perhaps best summed up by his crash during the Mediterrenean GP at the Enna speed bowl, where on lap 35 he was pitched from his Lotus at 100mph and hurtled across the tarmac for some 50 yards as he watched his car barrel-roll into a thousand pieces. He was extremely lucky to survice with bruises on his body and soul.
While he recovered young Mike Spence replaced him at Monza, but while he returned for the Watkins Glen and East London races Trevor was out at Lotus for 1964. Farmed out to BRP, following the Innes Ireland route, he was entrusted to develop the team's first self-designed car, the BRM-engined BRP 1. Running at the back of the midfield, Taylor valiantly ploughed on but a sixth at Watkins Glen in the development BRP 2 was the only reward for the pale-green cars.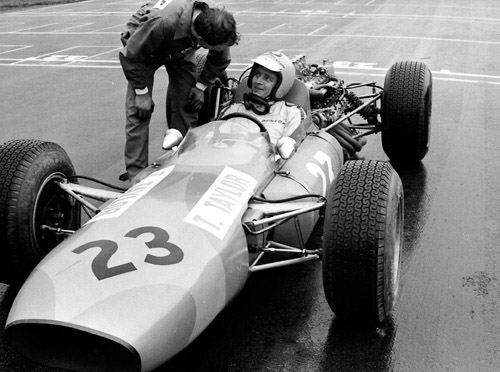 Trevor Taylor lining up with the Shannon for the 1966 British GP
That meant the end of his regular F1 career. He briefly returned in 1966 with the short-lived Shannon project, and also tested the experimental Cosworth 4WD F1 car in 1969, but his main consideration was F2, his Aurora Gear Racing team running Brabham cars in 1965 and '66. Aurora Gear, which he had set up with his sister Anita, also ran a two-car Mini Cooper team for themselves to drive. While moving to a Lotus 47 in F2 he accepted an offer to join Broadspeed in touring cars in 1967. When F5000 was introduced in 1969 he switched his allegiance to become a front-runner in the category for another three years before counting his blessings and retiring in the knowledge that he survived many a close shave in a very dangerous era of the sport.
Following in Taylor's footsteps
The man replacing Taylor at Lotus in 1964 was Peter Arundell. The recently deceased Essex man was the driver-to-beat in Formula Junior before he joined Clark at Lotus, having followed the tracks of Trevor Taylor towards becoming a Grand Prix driver. An ex-RAF pilot like many other British drivers, he started racing MG TC and Lotus Eleven sportscars before switching to single-seaters, first making his mark by winning the 1959 John Davy Trophy at Brands in a works Elva-DKW.
Having occasionally beaten Jim Clark in Juniors in 1960 while also winning several races in 1961 as team mate to Trevor Taylor – including the Monaco support race – Peter was promoted to the number-one works Junior car at Lotus in 1962, dominating to even greater effect than Taylor the year before. Handed the new Lotus 22, Arundell conquered all before him by winning the Spring Cup at Oulton Park, the Vanwall Trophy at Snetterton, the Chichester Cup at Goodwood, the BARC 200 at Aintree and the International Trophy support race at Silverstone – and then it was only May! In June, in the Redex Trophy at Mallory Park, he was beaten once in equal machinery by Canadian Peter Ryan but after that easily went on to wrap up the BARC championship.
His dominance was so powerful that he was accused of tampering with his engine but Peter answered his critics by traveling to Monza for the Lotteria race and winning it – as if a second successive Monaco win hadn't been enough. Definitely ready for F1, Peter bided his time while Chapman gave Trevor Taylor his second chance. This meant more F Junior for 1963, combined with the occasional non-championship F1 race. The factory Junior team was now put in the care of Ron Harris, and the 22-round BARC championship was attacked with Arundell, Spence and 1962 BRDCC champion John Fenning and a trio of Lotus 27s. Now facing stern opposition from Denny Hulme in the works Brabham, Frank Gardner in the Ian Walker example and Attwood and Hobbs in a pair of Midland Lolas, Arundell still managed to defend his title, even though Hulme won four races to lead the early part of the season. By mid-season Peter had redressed the balance with a resounding win in the British GP support race, before going on to also take the Tourist Trophy support race at Goodwood and the Anglo-European Trophy at Brands.
He certainly made people notice him in his non-championship F1 outings. At the Solitude, for instance, Peter qualified fourth and ran home Jack Brabham in second. (Peter also won the Junior race there, incidentally.) He repeated the performance at Enna, this time finishing second to John Surtees in the Ferrari while Trevor Taylor had his final career-ending accident. He was entered but did not appear in the International Trophy, the inaugural Austrian GP and the Gold Cup.
Peter's 1964 F1 season started in a fashion similar to Trevor Taylor's, a retirement (gearbox) in the Daily Mirror Trophy at Snetterton followed by a runner-up position to Clark in the News of the World Trophy at Goodwood, ahead of Taylor's BRP entry. A troubled Syracuse outing, sharing cars with Mike Spence, was quickly forgotten the next week when Arundell took a fine, albeit pretty distant third at Aintree, which he repeated in the International Trophy, on both occasions trailing Hill and Brabham. He'd shown good qualifying pace at all British spring venues, however, culminated by outqualifying Clark at the Liverpudlian horse-racing track.
And so on to the World Championship races, Monaco first, resulting in yet another third. It was three laps down on winner Hill and Peter profited from Clark having his engine seize four laps from the end, but it was still a pretty impressing opening score. At Zandvoort, Clark did one of his customary catch-me-if-you-can performances while Arundell doubled his points tally with another third, remaining third in the championship. Not bad for a start! Spa started promising with Peter outpacing Clark in practice to qualify fourth but in the race an overheating engine dropped him back to ninth at the finish. Peter started fourth again in France and finished there as well, meaning that he still held a joint third place (with Ginther) in the championship. Even though life as team mate to Jim Clark was as hard for Peter as for anyone, Arundell's string of podium finishes was nothing short of excellent, given his inexperience at this level.
In the meantime, Peter and Jim had been double-timing in the new Formula 2, lining up alongside Mike Spence, David Hobbs, Peter Procter and John Fenning in a swath of Ron Harris-run, Cosworth SCA-engined Lotus 32s. Clark was uncatchable at Pau and in the Eifelrennen, where Arundell (at Pau, still in an MAE-engined 27) and Spence (at the Nürburgring) took a third each, sandwiching Richard Attwood's Midland Lola T54 on both occasions. Attwood had won at Vienna, ahead of Procter, while Spence won the F2 class in the Aintree 200 (where Arundell was third among the F1 cars), first round of the British F2 championship. Moving to rounds two and three, Jim and Peter beat poleman Jochen Rindt in the Grovewood Trophy at Mallory Park, with Peter snapping at his team leader's heels, but Rindt turned the tables at Crystal Palace, winning a four-car scrap with Hill, Rees and Arundell.
Lotus was also entering the French championship – or Trophées de France, as it was locally named – of which Pau was the first round, with a foreign trip to the AVUS slotted in as round two. The French GP was rotating back to Rouen in 1964, so the Reims organizers took the opportunity turn to host their event as the F2 'Reims GP', the weekend following the Grand Prix de l'ACF. Team Lotus rolled out at full strength with a four-car team featuring Clark, Arundell, Spence and Procter. The fast and dangerous Reims would deal a cruel hand to Arundell. While dicing with Attwood's team mate Richie Ginther, the two collided, the American hitting Arundell's Lotus mid-ships. The car was smashed into an earth bank and in the impact the Englishman was thrown from his car and extremely lucky to survive, but his career was as good as over. Peter needed the rest of the 1964 and a good part of 1965 to recover from his injuries, that included a broken arm, thigh and collarbone and severe concussion.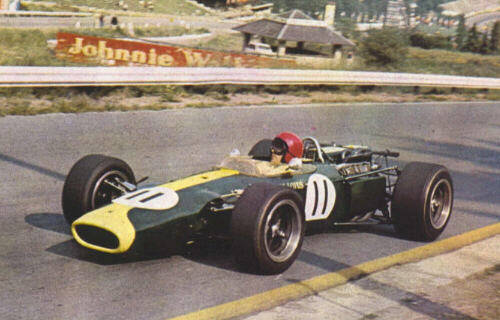 Peter Arundell in the bulky BRM H16-engined Lotus 43 approaching La Source at Spa
Admirably though, Colin Chapman had kept a car for him in 1966 and on the 1st January he first sat in an F1 car again. Entered in the non-championship South African GP as team mate to the man that replaced him at Team Lotus, he qualified a hesitant thirteenth but in the race profited from the attrition among the top-line runners to take a remarkable third place behind Mike Spence. Chapman's promise meant that Spence had to make way for Arundell in the regular season, and even though Peter missed Monaco, where Lotus turned up with one car for Clark amidst a half-cocked field still scrambling to get to terms with the new 3-litre rules, Arundell was the second Lotus entry from the Belgian GP onwards. The BRM H16-engined Lotus 43 he was entrusted proved to be a seriously difficult beast, however, and Peter was seen trundling around at the back more often than not. At Zandvoort, halfway through the season, he finally managed to coax some speed out of the bulky contraption to haul himself amongst the lower end of the field instead of qualifying way down. A swap at Monza probably spelled his end as a Grand Prix driver when Clark put the H16 car third on the grid while Peter could do no better than 13th in Jim's Climax V8-engined machine. The Scot using the unloved 43 to amazingly win the next race at Watkins Glen while Arundell finished dead last proved the point that Peter had sadly lost his edge in that horrific Reims F2 accident. It was no surprise that Chapman signed Graham Hill to partner Clark in 1967.
Peter's concurrent F2 season brought only a few highlights, such as second place to Jochen Rindt in the rained-out Eifelrennen, a fifth in the Finnish GP at Keimola and a batch of sixths at Zolder in the Limburg GP, at Karlskoga in the Kanonloppet and at Reims, returning to the place that nibbed his promising career in the bud. He retired from racing at the end of 1966 but returned to touring cars in 1968, driving an Alan Mann Escort, before switching to F3 (with McNamara) and F Vee in 1969. He then retired for good, and moved to the States to run a software company and make occasional appearances at historic festivals. He died on 16 June 2009 after a long battle against his ill-health.
The backup's backup
When Mike Spence joined Lotus he was essentially the backup's backup. He first replaced Trevor Taylor when the former had his accident at Enna. With Arundell called up to become Clark's new number two for 1964, Mike was parked at the Lotus F2 team but got his F1 drive back when Arundell also fell victim to the accident-prone second Lotus.
The Croydon-born Spence survived polio as a child and soon dreamt of being a racing driver. Holding on to his dream once he'd left the Army service he began racing a Turner in 1958 but quickly stepped up to single-seaters where his rise through the ranks was equally swift. He first sat in a Formula Junior in 1960 and drove a Formula 1 for the first time in 1961!
Early 1960, Mike joined Coburn Engineers Racing to drive their Cooper-BMC T52. While the Clark, Taylor and Arundell trio were ruling the roost for Lotus in F Junior, Mike started out with an excellent fifth at Snetterton and two sixths at Oulton Park and Goodwood. Another fifth in the International Trophy support race, following home Peter Arundell, could have been seen as a forebearing of Mike following in Arundell's footsteps later on in the sixties, but he would still see a few more years of struggling and occasionally starring as an independent. However, Spence underlined his talent by winning the second-rate Stanley Sears Trophy at Snetterton one week later. This was backed up by a second place in the Cheshire Cup at Oulton and another fifth in the important British GP support race, beating Denny Hulme in a similar Cooper-BMC run by Ken Tyrrell. In the summer, Mike's form tailed off but he ended his lull with a win in the minor North Staffs MC race at Silverstone.
Mike signed with Emeryson for 1961, to race Paul Emery's eccentric machines in F Junior but also making his F1 debut at the non-championship Solitude race near Stuttgart. Lining up a laudible 11th on the grid (out of 17), he hurled the difficult Climax-engined Emeryson 1004 round for six laps before its gearbox cried enough. His highlight of the season was still to come, though, taking a fighting second place in the minor Lewis-Evans Trophy at Brands, ahead of Tim Parnell and Keith Greene, only beaten by Tony Marsh.
In F Junior, meanwhile, his talent was largely wasted by a run of no-shows in Ford-engined Emeryson's Mk2 before he finally appeared at Goodwood in May, retiring after just three laps. At Brands in June, his race lasted a single lap when his throttle cable broke. There was something of a small victory for the perenially underfunded team when Spence brought the Mk2 home in 12th in the Eastern Counties 100 at Snetterton. After a couple more DNFs Emery and Spence entered the Mk2 in a very modest Silverstone club event. Yet of the five cars still running at the finish, Mike was sitting in the one that led the other four across the line! It's tough to choose between the second place in the F1 Lewis-Evans Trophy or this win in the Commander Yorke Trophy but how minor those events may have been, it was almost a miracle that Mike made the cars last the distance. He followed it up with a sixth at Goodwood's BARC championship race – even more amazement – and two ninths at Crystal Palace and Silverstone.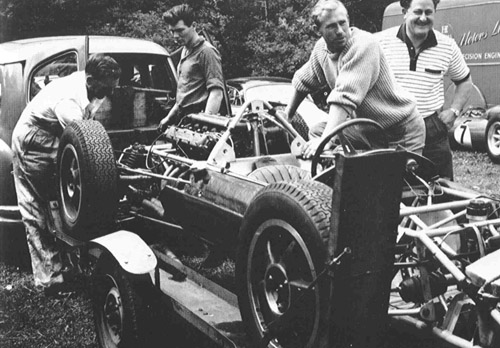 Solitude, 1961. Mike Spence helps to unload the Emeryson F1 from the trailer
So what to do now? Having effectively fallen off the radar through an association with Paul Emery that proved to be mostly unfortunate, he decided to continue as a privateer in 1962. Jumping in the deep end by buying his own Lotus 22 – the wheels to have – for the Ian Walker team to run, he combined his day-time job with evening chores on the car. This was make or break. The year got off with a seventh at Snetterton in the Lombank Trophy support race, won by Peter Arundell in the works Lotus 22. A week later, however, in the Chichester Cup at Goodwood, Mike managed third, with only Dennis Taylor's Lola splitting him from the works Lotus driver. A fourth followed at Aintree, behind the two Tyrrell Coopers and, inevitably in 1962, Arundell, while in the International Trophy support race a few more cars got in between. In the F1-supporting Anerley Trophy at Crystal Palace, however, Spence put his car on pole for the first heat and was narrowly pipped at the line in the final by Alan Rees's works Lotus while Arundell was away at Mallory Park being beaten by Peter Ryan in Ian Walker's sister car. In August, Mike came yet closer to Arundell when both were defeated at Brands by Tyrrell's Tony Maggs. He then again lost out to Rees in Crystal Palace's London Trophy and to Arundell in Snetterton's Molyslip Trophy but he'd done enough to establish himself among 'the best of the rest'. He also travelled abroad with his Lotus 22 and confirmed that status by finishing runner-up to Arundell in the closely watched Monaco GP support act, handsomely beating Bob Anderson's works car in the process, but also by winning the Coupe de Vitesse at Reims. That more than made up for his non-finishes at Monza and Rouen.
For 1963, he'd made himself the logical new works signing at Lotus, being paired with Arundell, who had to wait another year before joining Clark in the Grand Prix team. After so much domination in the early sixties, the Junior team got off to a very rocky start in the new season, even though Arundell managed to win the season opener at Oulton. At Goodwood, Aintree, Silverstone and Crystal Palace, however, the works and Ian Walker-run Brabhams of Hulme, Gardner and Hawkins trounced the Lotus pair comprehensively, as the new 27 car proved a difficult animal to set up. Only in the summer events took a turn when Lotus succeeded in improving the car. Arundell won the important British GP support race and then the TT race at Goodwood and the Anglo-European Trophy at Brands Hatch, although Spence could only manage fourths at Silverstone and Brands and was a DNF with transmission failure at the Sussex track.
As a confidence booster, Mike was given the second GP Lotus at Monza, to replace the injured Trevor Taylor and make his World Championship debut. He did reasonably well to qualify ninth but dropped out with oil pressure problems in the late stages of the race.
With Arundell finally stepping into the limelight in 1964, taking Taylor's seat on a non-temporary basis, Spence was kept on to race in the new F2, along with Peter Procter and the 'visiting' Clark and Arundell. He would also do the occasional non-championship F1 race, such as Syracuse in April, when he handed his car to Arundell for the pair to finish in a shared third place. He then opened his Autocar British F2 account in excellent form by grabbing the class win in the combined F1/F2 Aintree 200 to finish sixth overall. A trip to the Eifelrennen rendered a third but he hit trouble in the London Trophy when his engine gave up before the start of his heat. There was more mechanical woe at the AVUS, again early in his heat. He was back in shape at Reims, where he beat Clark while the two were in turn beaten by the Brabhams of Rees and Brabham – but that wasn't the biggest shock Lotus had to endure as Arundell's fierce accident meant that the GP team were suddenly one driver short. For Mike Spence, a season in the background was now instantly swapped for the limelight of Grand Prix racing alongside the reigning World Champion, with the additional pressure of replacing a talented young driver who had acquitted himself so well in his all too short F1 career.
Still, Mike did well, and after a tentative start in Britain and Germany – and a huge scare when his steering arm broke at the Solitude – he started to come on song later on in the season, scoring points in Austria and Italy and three more in the season-closer in Mexico. The rest of his F2 season only rendered a couple of placings, but his South African F1 results cemented his 1965 F1 seat, when he scored a second place and fastest lap in the first heat of the Rand GP – he'd also set fastest lap at Enna in summer, incidentally – before starting 1965 with fourth place in the points-scoring South African GP. Back in Europe, he then went on to win the Race of Champions on aggregate. A fuel injection malfunction on the startline of the Sunday Mirror Trophy at Goodwood was a minor blip, since Mike took another excellent third in the International Trophy to add another prize to his fine pre-season.
The rest of the year would turn into a bitter disappointment, though. While Clark utterly dominated proceedings, Mike often even failed to finish in the top-six, either by form or by infamous Lotus unreliability. In F2, he shone on occasion, like when he took pole for the Eifelrennen, but most of the time mimicked his F1 results by poor placings or retirements. He finally came good at the end of the season, by taking third in the Mexican GP and a magnificent victory in the South African GP on January 1, 1966, now back to non-championship status, but his works Lotus seat was gone when Peter Arundell was finally fit to return.
Like Trevor Taylor, Mike went the second-string Lotus route and chose to enter 1966 with the Reg Parnell team run by Tim Parnell. Two fifths at Zandvoort and Monza were his only reward. However, unlike Taylor Spence didn't disappear though the backdoor, as he was picked by BRM for 1967. Having said that, another parallel with Peter Arundell soon unfolded since Mike had to deal with the cumbersome H16 engine as well. More fifths – four in all – and a third in the non-championship Daily Express Trophy were the fruits of his labour.
The outlook for 1968 was brighter with BRM replacing its H16 with a more traditional V12 and Pedro Rodríguez joining the team. Mike didn't get to appreciate the engine properly since his only time in the new P126 was in practice for the South African GP, 18 laps in the Race of Champions and 40 laps of the International Trophy. He did line up second on the grid at Silverstone, though, to show that he was fully intentioned to finally step up to the plate. This didn't go unnoticed with Colin Chapman, and when Jim Clark woefully perished at Hockenheim in April, Spence's former team boss approached him again. Would he finally be able to step out of Clark's shadow?
Initially it was to replace the Scotsman in Chapman's Indycar line-up, Hethel teaming up with Vince Granatelli to race the revolutionary Lotus 56 turbine car in the Indy 500. Having seen the STP-Paxton 'Silent Sam' narrowly miss out on victory in 1967, Spence was tempted into being part of history for Lotus. Mike looked good in qualifying but shaking down a team mate's car he lost control and hit the wall. The right-front wheel slammed back into the cockpit, hitting Mike on the head. He was taken to hospital but died a few hours later.
Spence's fatality closed the book on the three faithful backup drivers coming up through the ranks to join Jim Clark in the Lotus GP team. In Formula Junior they all had their time challenging – and occasionally beating – Clark but in F1 the Chapman/Clark bond proved impossible to break. The Clark era is the most famous example of Chapman gelling with his favourite, leaving the number-two drivers to wither, but afterwards had similar spells with Rindt, Fittipaldi, Andretti and De Angelis. Just ask John Miles, Dave Walker, Carlos Reutemann or Nigel Mansell…