Historic crowd puller
2012 Zandvoort Historic GP report
Author
Mattijs Diepraam (words & photography)
Date
Related articles
Who?

Jan Lammers

What?

Ferrari 156

Where?

Zandvoort

When?

2012 Historic GP (September 2, 2012)
Why?
For years, the international historic racing scene was known to have shunned Zandvoort. This seems odd since Zandvoort is one of Europe's classic tracks. The windy Dutch circuit winding through the dunes north of the coastal town first appeared on CSI's World Drivers Championship calendar in 1952 – which led to two one-time GP appearances for Dutch drivers Dries van der Lof and Jan Flinterman – and with a few pauses stayed there for 30 more editions of the Dutch Grand Prix, until in 1985 Bernie Ecclestone screamed 'Enough!', as the increasingly professionalised F1 teams were getting fed up with the state of the ramshackle pit and paddock complex.
Since accommodations have only been upgraded modestly ever since, the atmosphere the Dutch track is exuding is still essentially the same as the F1 fraternity left behind in the mid-eighties. These are perfect conditions for a historics meeting, much more so than at fully sanitised F1 tracks such as Silverstone and the Nürburgring, where all that glorious machinery from the past has to race against a backdrop of megalomaniac pit palaces with mirroring windows, and grandstands hundreds of yards away from the actual circuit – in our view the biggest downside of the Silverstone Classic and the Oldtimer GP. This is not the case at Zandvoort, which was modernised up to a degree that is fit for touring cars, GTs and minor single-seaters, but at the same time could still pass for the track that served in the seventies and eighties. On the F1 calendar, only Spa manages to preserve its old-school feel despite of everything Bernie is demanding from its owners.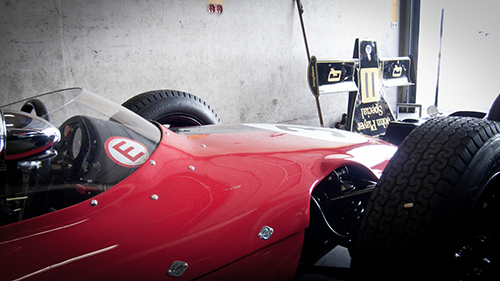 Andrew Beaumont's stuff in one of the Zandvoort garages: his LDS-Alfa in the front, a Lotus 76 nosecone in the back. (photo 8W)
More pictures of the paddock atmosphere at Zandvoort
So why has international historic racing stayed away from Zandvoort? The reason is simple. Tight noise restrictions have kept international race meetings at a minimum, forcing the circuit to focus on prominent modern championships such as DTM and FIA GT3 and its flagship stand-alone event, the Formula 3 Masters. Dropping one of these in favour of a historics event seemed highly risky, which is why it never happened – not in a country that isn't known for its motorsport culture anyway. But when noise restrictions were finally softened from five to twelve 'full-noise' days per annum, the national historics association HARC jumped on the occasion. Why not transform its local Historic GP into an international race meeting?
In 2011, a deal was struck with the Masters Series and the HGPCA, with HSCC's Historic F2 following suit. Their seven races – some of them double-headers – would be matched up with HARC's own National Historic Touring Car & GT Championship, on HARC's traditional early September date. Judging by the attendance of some 37,000 – over half of that of the DTM meeting the weekend before – it was a huge success. Historic racing is pulling in the crowds just as much these days. Zandvoort needn't have worried.
The international drivers were well aware of the noise restrictions. David Coplowe, who brought his Lola T70 Mk3B and Lotus 24 to Zandvoort – he bent the 24's nose in Sunday's race – said it was the same everywhere. "There's a race track, then they build houses next to it and the people start complaining about the noise! Well, you can silence this one," Coplowe argued while pointing to his Lola. "But you can't silence this one", he continued as he shifted the point of his digit to the Lotus.
While in fact F1 would be the focal point for this first international Historic GP, since the foundation of its claim to international fame is primarily resting on its three decades of hosting the Dutch GP. Not hosting a 1000 km race of some sort, Zandvoort never attracted the big-gun sportscars. And even though in its day the GP took its toll, especially in motor racing's most dangerous era, killing Piers Courage in 1970 and Roger Williamson in 1973, it was always loved by the drivers for its flowing nature. Zandvoort had everything: a long straight, followed by a banked 180-degree curve, a fiddly section, a balls-out uphill run to one of the big corners on the calendar – Scheivlak – followed by that hairy full-throttle section at the back snaking its way through the dunes before ending in another big corner – Bos Uit – leading back onto the straight.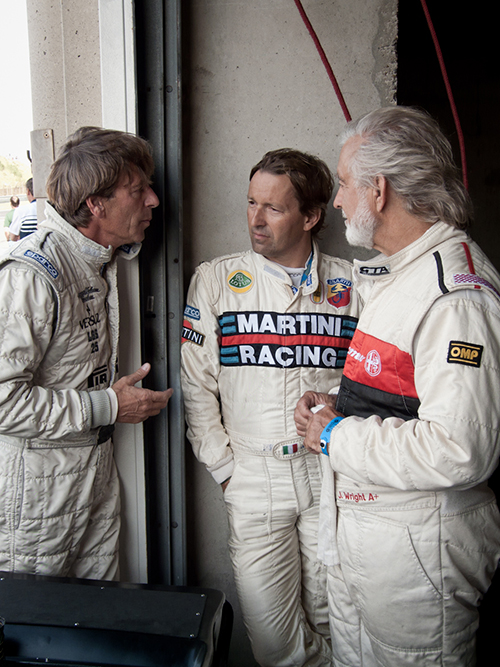 David Hart, Manfredo Rossi and Jason Wright discussing big sportscars. (photo 8W)
More pictures of the people racing at Zandvoort
Even in its shortened form drivers still love Zandvoort, and we heard all-round praise all through the weekend. For many of them, this was their first time at the circuit. This even applied to many of the Dutch drivers, such as Jan Gijzen, who is used to racing in Patrick Peter's CER and Sixties Endurance championships. "I'm driving on tracks all across Europe but this is my first time here!" Armand Adriaans, another Sixties Endurance regular with his trusty Mustang, echoed the feeling. He really wanted to be at Zandvoort the first time he was given the chance, even if he had to enroll into the rival Masters Gentlemen Drivers series. "I'm really struggling with the Dunlop tyres prescribed by the Masters Series instead of the Avons I'm used to, but it's great to be here. And good preparation for the Spa Six Hours as well."
F2 driver Robert Simac was an exception to the rule. He confessed to have raced at Zandvoort back in 1978 during his time in European Formula Super Vee. This knowledge begged for a comparison between the old and the new track but Simac had to apologize. "It's too long ago, I simply can't remember! But the new track is great to drive. Very technical, very difficult, a real challenge, especially the new section. It's hard to find the right lines."
Simac wasn't the only one struggling with those. We had a lengthy chat with Masters Series frontrunner Manfredo Rossi di Montelera, who was happy to talk about his growing collection of Martini-liveried F1 cars – after recently acquiring the Tecno PA123, he has just added the Alfa-engined Brabham BT45 to the Brabham-Cosworth BT42 he used to race in Grand Prix Masters and the Lotus 80 he has switched to for this season. And what about Goral's Tecno E731? "You mean the British car? No, I don't like that. That's not a real Tecno, and just a footnote in Tecno history." And a terrible car at that. "Oh yes…" Still, Rossi became a careful listener once the topic of Zandvoort racing lines came up. Even though he was pacing the Grand Prix Masters competition, the Martini & Rossi heir felt he was still losing time in the twisty back section. "The track is very wide there, and you can choose so many lines. I feel I can gain at least two seconds in that section alone!"
Well, it's very easy to lose two seconds there, I told him as a self-proclaimed Zandvoort expert. So the next moment we were discussing lines on one of the sidepods of his Osella-Abarth PA1 sportscar. I was pretty confident I was giving him the right clues since these were the lines I was taught by Gijs van Lennep himself but I joked that it would be Rossi's own fault if he would put the car in the barriers. Rossi was very serious about trying them out, though. When I ran into Van Lennep in the media centre, where the former two-time Le Mans winner had come to watch Belgian GP qualifying at Spa, he was very amused by the story. A leading historics driver taking advice from a nobody? Still, Rossi qualified his Osella well up for the World Sportscar race and proceeded to harry David Hart's Lola T70 Mk3B like he's never done before, and also bagged the two Grand Prix Masters races with consummate ease. Afterwards I ran into the Italian once again and asked if my advice had helped. And in fact, it had…
Most of the weekend's attention was gobbled by the Masters Gentlemen Drivers race for pre-'65 GT cars. This was because the entry was led by three Dutch cars making a guest appearance: the thundering Chevrolet Corvette Grand Sport owned and raced by Michiel Campagne in the Dutch championship, and the two DHG Cobras coming over from the Sixties Endurance championship, where they are raced by DHG owner David Hart and Hans Hugenholtz, and the father-and-daughter crew of Alexander and Shirley van der Lof. Jan Lammers would be guesting with Campagne, for whose team he has also raced in modern GT4s, while the star name of the meeting would share with David Hart in the leading DHG Cobra. It would be Tom Coronel's very first weekend in a classic car, never having raced anything built earlier than the nineties, Zandvoort also being used as practice for Hart and Coronel sharing the car in the inaugural Shelby Trophy at the forthcoming Circuit Revival Meeting at Goodwood. This meant that Hugenholtz was moving over to the Van der Lof car, with former German F3 girl racer Shirley van der Lof vacating her seat for the former chairman of Spyker Cars.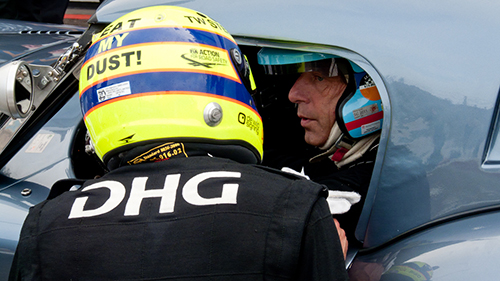 Tom Coronel informing David Hart of their Cobra's clutch failure. (photo 8W)
More pictures of pit and grid scenes at Zandvoort
We spoke to Coronel ahead of the qualifying session. At that point he had only driven the car on Friday – in the wet. "That was my very first time in the car. And it's raining! What an experience… After I came in the team asked about my grip levels. 'There aren't any!' I answered. It's very different from the cars I'm used to driving, but so much fun. You have to constantly drive this car at a slip angle, there's just no way to keep it straight. In the rain I was even making corrections on the straight! I'm very curious to know how it will be to drive on a dry track." Coronel needn't have worried since from where we were watching – the entry to Tarzan – the WTCC driver was braking much later than anybody else, leading to a pole time that had the edge on the Lammers/Campagne car by 1.5 seconds.
It was different in the race, however. At the start Campagne blasted away from the front row, leaving Coronel to eat someone else's dust for a change. "Michiel started like a madman", Tom said after the handover to David Hart. "I thought I'd let him let his fun for a while." Campagne continued to lead before he was given a stop-and-go penalty, allowing Coronel to get into a lead of some 40 seconds by the time of the driver changes. All was not well inside the car, though, and when Coronel handed the car to Hart he told his team boss that he had been running without the clutch for the last five laps. This became noticeable in the real-estate mogul's lap times, as Lammers – now in Campagne's car – was reeling in Hart by two to three seconds a lap. With 15 minutes to go the gap stabilised at ten seconds for a while but it soon appeared that this was down to traffic. As soon as that cleared Lammers got the bit between his teeth again and passed Coronel with five of the 90 minutes still remaining. After that, the F1 and sportscar veteran managed the gap and crossed the line with half a second to spare to Hart.
The fastest men of the meeting were next, as the leading Historic F2 cars proved that they were able to match the times set by Manfredo Rossi in the Lotus 80. There was one exception, really, since Martin Stretton went even quicker. By a lot, actually, as his 1.36 pole time easily made him the fastest man of the weekend. It was no surprise that he dominated both F2 races, even though he won't be this year's champion. "He's missed too many races for that", explained Tim Barrington, who with Roger Simac is battling for the title by virtue of the two sharing the spoils in the 1.6-litre 'B class'. Here, a class win is counting just as much for overall championship points as an overall race win in one of the 2-litre cars. Barrington is racing his Lola T270 for 14 years now, and "it feels like a second skin. I don't have to think about the car which frees up the brain space to deal with this difficult circuit." Another Zandvoort first-timer…
David Hart won both sportscar races in his set of Lolas. The T70 Spyder was triumphant in the pre-'66 Sports Racing Masters race, which had a disappointingly low entry, which seemed to imply that many competitors are saving their cars for the Revival. Most interest went to the battle for fourth between Hans Hugenholtz in his Racing Team Holland Ford GT40 and Marcus Mussa's McLaren M1B. The blue GT40 car with the familiar 'Hugenholtz bubble' – a sort of Gurney bubble to accommodate its owner's lanky frame – won out at the end. In the World Sportscar Masters race Manfredo Rossi was troubling David Hart's T70 Mk3B for half of the race before Rossi's Osella-Abarth PA1 was held up with a technical glitch of some sort. With Rossi out of the way Hart was able to race to an unchallenged second win of the day.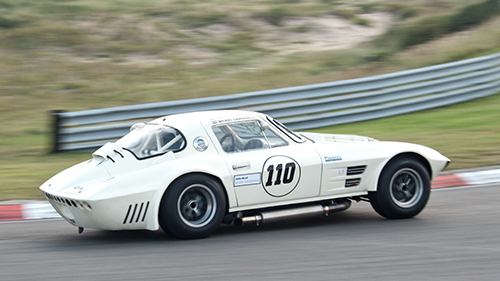 Michiel Campagne galloping out of Hugenholtzbocht in his mighty Corvette Grand Sport. (photo 8W)
More pictures of the track action at Zandvoort
The four HGPCA races provided lots of entertainment. The first pre-'61 race was won easily by Philip Walker's Lotus 16 but Walker had to fight through the field to get in reach of poleman Julian Bronson's Scarab, who was running away with the race. In the end, Bronson had built up enough of a gap to finish as the clear winner. Meanwhile, the midfield battles between the gaggle of 1952-'53 F2 cars kept the viewers on their toes. In the two 1.5-litre races the fights were even harder, with the second race also drawing attention because of a surprise guest appearance by none other than Jan Lammers. The Dutchman was invited by Jan Biekens to race his glorious 'Sharknose' replica. This led to the yellow 156 being driven faster than it ever has in the hands of Biekens, Lammers steaming up the field from last place on the grid to be classified just outside the top ten. And so, thirty years after missing out on the chance to be a Ferrari F1 driver, Jan finally got his Ferrari break. He got his Coloni break as well by the way, since the 1988 Le Mans winner was also asked to demo the Coloni C4 run by the Scuderia Coloni Olanda in the EuroBOSS series.
At the front, both races were well and truly alive because of the gripping lead battles between Will Nuthall's Cooper T53, Max Blees' Brabham BT7A and championship leader Peter Horsman's Lotus 18/21. Horsman won on Sunday, as he did on Saturday, but was then given a time penalty for jumping the start. How frustrating that must have been to Peter, since he actually lost two places on the start and had to fight all race to get back to the front! This allowed Andy Middlehurst to be classified third in his ex-Jim Clark Lotus 25. Andy should have been higher up fighting for the win but fuel pick-up problems in qualifying left him starting the race from lowly grid positions. In race two he then got stuck behind Rod Jolley's Cooper T45, which was very fast in a straight line and had been into the mix in Saturday's battle for the lead. This caused Middlehurst to only snatch fourth – becoming third – right at the end. This must have galled Andy so much that he went missing for the podium ceremony which he was called to after the announcement that Horsman had been awarded a penalty.
The weekend's two Grand Prix Masters races were less spectacular, even though Christophe D'Ansembourg used the ex-James Hunt McLaren M26 well to keep Manfredo Rossi honest in the first race. There was no such thing in race two, however, Rossi striding away in his ex-Mario Andretti Lotus 80, now unhindered by its flawed ground effects it suffered from in period. Instead, the focus was on Ron Maydon's Amon AF101, the Masters Series boss fighting valiantly to hold off Ian Simmonds in his much younger ex-Michele Alboreto Tyrrell 012, a feat he accomplished for lap after lap before finally succumbing to the pressure. Maydon did well to do so, if only to draw attention away from the fact that both races saw grids of no more than eight cars, and that after 19 initial entries were made. Apart from the usual DNAs that always seem to happen for these kinds of minor events, the weekend was marred by an unusually high attrition rate in practice, with no fewer than four cars blowing their engines, despite the 10,000 rpm rev limit adopted by the series. This added to the cars that were out with other technical issues. On Saturday, Simon Fish allowed me to have a look inside the DFV of his ex-Needell/Lammers Unipart-liveried Ensign N180. This had just taken its head off by Fish's mechanic. I could literally see the smithereens.
The two Dutch Historic Touring Car & GT races were both won by Campagne/Lammers in their Corvette Grand Sport, on both occasions inheriting the win from Georg Stummeyer. The German in his Ford GT40 was penalised in both races while leading – in fact, he won race one on the road, his penalty for overtaking under yellow applied retrospectively. Stummeyer also incurred a stop-and-go penalty in the second race, robbing him of the lead but then failed to finish when he suffered a technical problem minutes from the end. Behind the lead pair over 50 cars – by far the record entry of the weekend – fought lots of entertaining battles, keeping the audience from leaving early.
And so a very successful first international edition of the Zandvoort Historic GP came to an end, with competitors, organisers and visitors looking back on a resounding success. There's still room for improvement, though. For instance, why not allow Alexander van der Lof to drive a few laps in Ad van der Kroft's HWM F2, the same car in which Dries van der Lof – Alexander's father – drove his only GP in 1952? The car was there, Van der Lof Jr was there, and it looked like a missed opportunity – so why not do that in next year's edition?