2015 Zandvoort Historic GP report
Lucky stars
Author
Mattijs Diepraam (words & photography)
Date
Related articles
Who?

Michael Lyons, Loic Deman, Rob Hall, Andy Wolfe

What?

Hesketh-Cosworth 308E, Tyrrell-Cosworth 010, Ligier-Matra JS17, Tyrrell-Cosworth 011

Where?

Zandvoort

When?

2015 Historic GP (August 29, 2014)
Why?
After three sundrenched editions the odds were getting thinner and thinner. Could the newly revived Historic GP at Zandvoort – now with Masters Historic Racing providing the main entertainment – experience another full three days in sweltering late-August heat? Or would this wettest of summers strike again? In the end, it held off for exactly those three days, treating us to a rain-free bonanza of formula cars, sportscars and touring cars from the forties to the eighties.
To outsiders believing in the supernatural, it almost seemed like the co-organising Zandvoort circuit and the Dutch Historic Motor Racing Club (HARC) had struck a watertight deal with the weather gods at the start of their new event. This was borne out even more in this fourth edition of the Historic GP, since continuous thunderstorms almost flooded the paddocks on Thursday, while all hell broke loose again on Sunday night. Stuck firmly in between, however, were three glorious days of sunshine and proper racing action. Also, a front of monsoon proportions that swooped across the Netherlands on Sunday morning breezed past the seaside resort with just inches to spare. Lucky stars indeed for the Zandvoort Historic GP.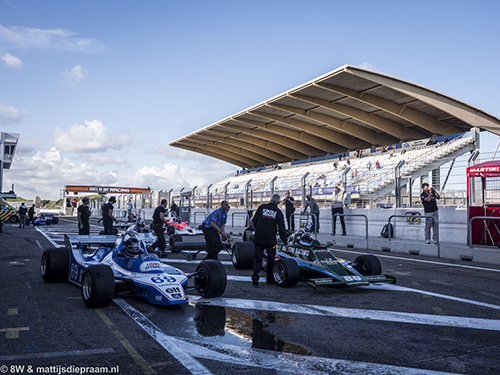 Friday morning wake-up call: 'Mr John of B' (Ligier JS11/15), Manfredo Rossi (Lotus 80), Tommy Dreelan (Williams FW08) and Frank Lyons (McLaren M26) are ready for free practice. (photo 8W)
With almost every respected historic series – international as well as national – now having raced at the event, any surprises in the programme were bound to come from the demos that the circuit had managed to arrange. Of course, the categories run by Peter Auto could still make their appearance at Zandvoort, and indeed such an offer had been made by Patrick Peter's organisation, but with Masters Historic Racing as one of the 'founding fathers' of the event we just cannot see that happening – nor can Zandvoort or the HARC for that matter.
So, the demos it was if we had need to be surprised. Much of the drama was provided by BMW Classic, that treated the Dutch track to no less than 12 cars from its priceless collection, and also brought the name drivers to go with them. We saw Steve Soper doing donuts in the V12 LMR Le Mans car, Marc Surer emulated the Brit in the March-BMW 782 works F2 car, while Prince Leopold von Bayern went around in Chevron-BMW and a M 635 CSi.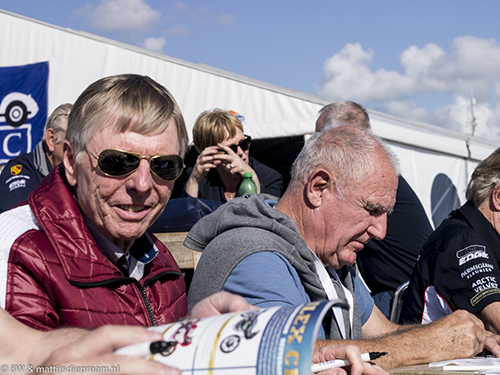 Lots of local celebrities turned out for the event. Gijs van Lennep and Toine Hezemans were busy signing autographs four times a day. (photo 8W)
More spine-tingling moments were provided by Freddie Hunt driving the Hesketh 308C in which his father won the 1975 Dutch GP, exactly 40 years back in history. He could come back for another appearance next year, since his old man also won the 1976 Dutch GP… More F1 demo variety was provided by a Coloni C3 and an Osella-Alfa Romeo, while the ex-Michael Schumacher Benetton B192 and the ex-Damon Hill Arrows A18 (with Cosworth power in place of its original Yamaha engine) created more headlines. These cars went out along with a Footwork FA15 driven by home boy Michel Florie and the ex-Takuma Sato Jordan EJ21 – also not running on its original Honda power unit. All got company from an amazing collection of Alpine and Renault turbo cars giving rides to children with a heart condition.
More pictures of the Friday at Zandvoort
The racing was great too, though. Michael Lyons proved to be the star of the meeting, shining in both the FIA Masters Historic F1 races as well as guest-starring in Manfredo Rossi's Osella-Abarth in the FIA Masters Historic Sportscar race. He was plagued by bad luck all throughout the weekend but eventually came up tops. Lyons led most of the first race and won the second race of the FIA Masters Historic F1 double-header. Brake problems in the first race prevented him from a clean sweep, gifting Saturday's win to championship leader Loïc Deman.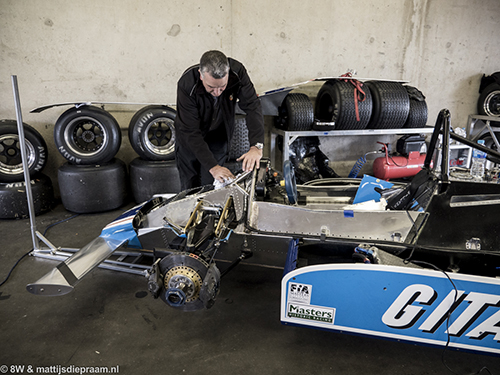 Rob Hall working on Abba Kogan's impressive Ligier-Matra JS17. (photo 8W)
In the first race Lyons beat front-row men Deman (Tyrrell 010) and Rob Hall (Ligier-Matra JS17) into the first corner after a blinding start, but after leading much of the race was forced to drop back when his Hesketh 308E encountered severe rear-brake problems. This gifted Deman his sixth win of the season. The Belgian headed home Hall and Andy Wolfe in the Tyrrell 011. Lyons hung on to finish fourth while still taking pre-78 honours ahead of Nick Padmore (Surtees TS9B) and Jamie Constable (Shadow DN8).
On Sunday, Hall got the jump on poleman Deman and led away from the Belgian, with Lyons in third. The Hesketh was soon leading, though, after two decisive early-race moves within the space of one lap. Lyons particularly demonstrated his overtaking skills by a clever switchback manoeuvre on Hall's Ligier. This time around, Lyons ran out the race comfortably, ahead of Hall and Wolfe, while Deman ran into trouble and fell back to fifth. Nick Padmore (fourth overall in his Surtees TS9B) and James Hagan (Ensign N177) completed the pre-78 podium.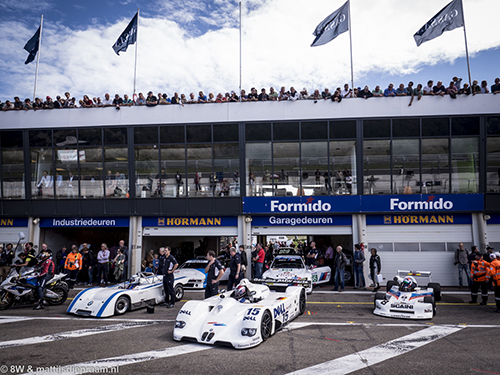 BMW Classic came out in full force. (photo 8W)
Saturday's Pre-66 Touring Car fixture proved very much a two-horse race, as the Leo Voyazides/Simon Hadfield Ford Falcon and the Alex Furiani/Frank Stippler Alfa Romeo GTA both lapped the entire field. The Falcon led the early running but it was the GTA that prevailed once Stippler had taken over from Furiani. Armand Adriaans added a bit of local colour by finishing a distant third in his Mustang.
The Gentlemen Drivers race attracted a fair amount of local interest, as Dutch historic racers David Hart and Hans Hugenholtz added international stars Giedo van der Garde and Tom Coronel to their two-car AC Cobra line-up. It was Simon Hadfield, however, who snatched pole from Van der Garde in a last-gasp attempt, and the Cobra Daytona Coupé he shared with Leo Voyazides duly took the lead in the 90-minute enduro. In the end they drove to a comfortable win after the Hart/Van der Garde threat evaporated.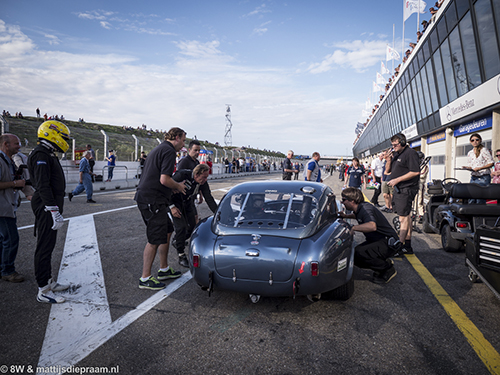 Local heroes David Hart and Giedo van der Garde were trumped by Leo Voyazides and Simon Hadfield. (photo 8W)
More pictures of the Saturday at Zandvoort
For a part, this was due to a 15-second stop-and-go penalty for a driver change one lap short of the pit window but Hadfield's lead already looked secure when Van der Garde had to serve his penalty. The forced stop allowed Julian Thomas and Nigel Greensall to take second in their Jaguar E-type, while Van der Garde charged back from sixth to claim the final podium position for the two Dutchmen.
For the locals, Hart was again the focal point in Sunday's FIA Masters Historic Sportscar race. He was running second to Jon Minshaw's similar Lola-Chevrolet T70 Mk3B when he challenged for the lead at quarter distance. Contact ensued, leaving Hart's Lola with damage and missing its right-hand door. While the Dutchman was forced to retire, Minshaw continued and handed his car to Phil Keen for a dominant win.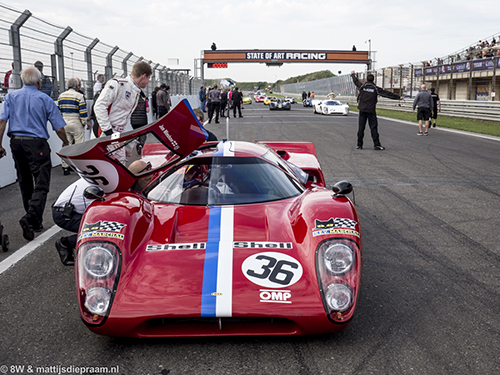 Jon Minshaw and Phil Keen won the Historic Sportscar race after a fierce battle with David Hart's similar Lola T70 Mk3B. (photo 8W)
Not having set a time in practice, Leo Voyazides and Simon Hadfield put in a storming drive through the entire field to take second place in their T70 Mk3B while Michael Gans and Andy Wolfe rounded out the top-three in their Lola T290. Mark Bates (Porsche 911 RSR) and Keith Ahlers/Billy Bellinger (Cooper Monaco 'King Cobra') took class honours. The race was red-flagged right at the end after Michael Lyons (guesting in Manfredo Rossi's Osella-Abarth) had to abandon his car on the track, beached there after having lost a rear wheel.
Next to the Masters Historic programme, the two Dutch championships brought record numbers of cars and some amazing close racing. Especially the pre-66 GT and touring-car category saw a huge amount of thrills and spills, with international stars such as Yelmer Buurman (Bizzarrini 5300 GT) and Nicky Pastorelli (Ferrari 250 GTO 64 recreation) vying for top honours with Michiel Campagne's bellowing Corvette Grand Sport. Lex Proper (Porsche 911 Carrera RS) and Steve Dance (Ford Capri 2600 RS) took top honours in the 66-81 championship's races.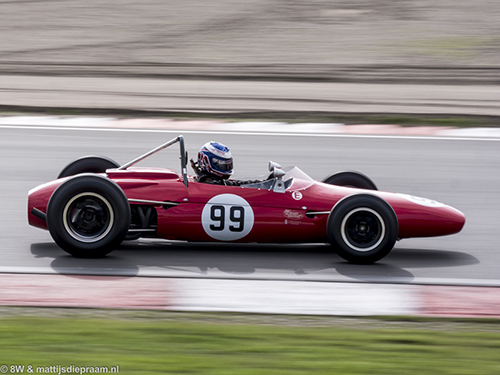 Miles Griffiths led both HGPCA 61-65 races but won just one. (photo 8W)
In contrast, the four races staged by the Historic Grand Prix Car Association were a bit low on numbers, but the racing made up for it. The weekend-closing second pre-61 race for front-engined cars was a cracker, as the lead changed hands twice on the final lap before Marshall Bailey (Lotus 16) prevailed in his battle with Steve Hart (Maserati 250F). Guillermo Fierro's 250F had won the first race, but the Spaniard was the first DNF of Sunday's race. Miles Griffiths' Brabham BT4 got stuck in fifth while leading Saturday's '61-'65 race for rear-engined cars, gifting the win to Andy Middlehurst's Classic Team Lotus 25, but on Sunday Griffiths beat Middlehurst and Peter Horsman (Lotus 18/21) in a tight battle for the win.
Both Historic F2 and the FIA Lurani Trophy saw double wins for Darwin Smith and Manfredo Rossi respectively, but whereas the Irishman dominated both of his races the Italian had to work for his victories in two exciting slipstreaming contests. Another double winner was Falk Künster in the Historic Monoposto Racing category for sixties and seventies F3, F Ford and F Vee machinery.