Ferrari at Indianapolis: mutual love unanswered
The cars
Author
Date
Related articles
What?

Ferrari 375 'Grant Piston Ring Special'

Where?

Nationaal Automobiel Museum, Raamsdonksveer, The Netherlands

When?

January 2007
Why?
The fate of most of the cars that Ferrari built for Indy is rather well-known these days. Here's an overview.
Type 375: no.1
Powered by engine no.1 or 01. This was the Ascari-driven factory car in 1952, the #12. The car isn't in its original race configuration anymore. Several historians suggest it was eventually rebuilt and renumbered 0388. More on that car below.
Type 375: no.2
Chassis 02, powered by engine no.2. This was the Grant Piston Ring car driven by Johnny Parsons. Sold to a partnership consisting of Lindley Bothwell, Carl Bross, Dick Merritt and Ernie Beuttler. Beuttler became the sole owner and then sold it to Carlos Monteverde. A picture of the car painted red and standing next to a Grand Prix Peugeot has appeared in print and online. At around 2005 the car was eventually sold to the collection of the Dutch Nationaal Automobiel Museum at Raamsdonksveer, later transferred to The Hague. The car was repainted in its 1952 "Grant Piston Ring" trim.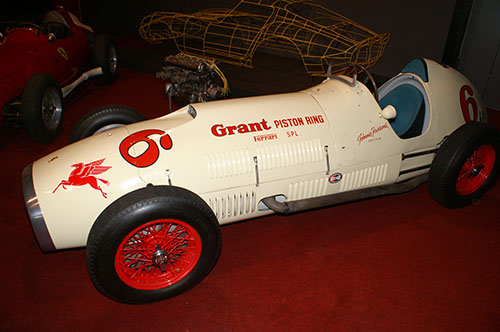 The Grant Piston Ring Special Ferrari, here pictured in January 2007 when the Nationaal Automobiel Museum was still located in Raamsdonksveer. (photo HG)
Type 375: no.3?
The chassis number is not 100% sure, but it was powered by engine no.3. The car bought and driven by Johnny Mauro. It raced at least once at Pikes Peak in a dark blue trim. After an accident late September the car was send back to Italy for repairs after which it was returned to Mauro who eventually donated it to the Indianapolis Motor Speedway in 1965. The car was restored in a dark red trim and numbered 35, a trim that was used by none of the four cars entered in 1952. The car is regularly exhibited at the Indianapolis Motor Speedway Museum and appears to have been given a new paint job somewhere between 1990 and 2006.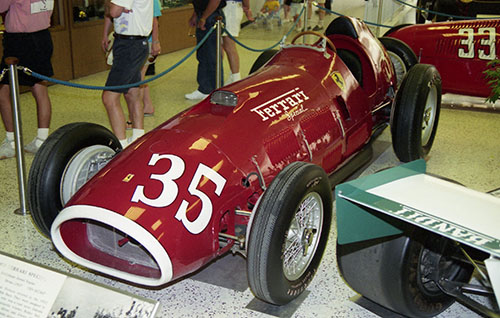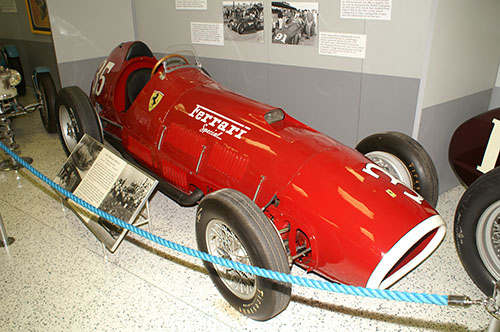 Johnny Mauro's Ferrari 375 never looked like this in actual fact during its active career, even though the number 35 is what it used in 1952. Seen here in 1990, when the IMS Museum brought out just about every Italian GP car they owned that had raced at Indianapolis to commemorate the Alfa Romeo's debut at Indy in modern times, and in July 2006, during the time of the Indy GP. (photo HG)
Type 375: no.4
This was the Howard Keck car. It was parked at Keck's workshops and faded from the scene and memory for some 35 years. In the eighties, when the place was cleaned up, the car was discovered, still in its 1952 colours. It was then sold and restored but showing no trace of its Indy adventure anymore.
How the car could be forgotten from 1952 until its rediscovery is a story in itself. Keck didn't use the car at all after it was parked at Indy during practice in 1952 and, with hindsight, there was no need for him to give the car another try. His other 1952 entry, the Fuel Injection Special driven by Bill Vukovich had almost brought home the bacon in 1952 and actually did that in 1953 and 1954, Vuky behind the wheel on both of those occasions. The car, however, was past its prime for 1955 and Keck ordered Travers & Coon to build him a new car. That was to be a streamliner in the spirit of the 1954 Mercedes GP cars. The car was to have a Novi V8 engine but after the initial agreements Novi team owner Lew Welch had second thoughts about selling one of his engines and bowed out of the deal. Keck then had Leo Goosen design a supercharged V8 of his own, based on a De Soto V8. When it was clear that the new car wouldn't be ready in time and with no other suitable car available Keck took a sabbatical and allowed his threesome of Travers, Coon & Vukovich to look around for other options. Vukovich was impressed with the car of Lindsey Hopkins and it just happened that Hopkins was without a driver. Hopkins almost instantly handed over his team to Travers & Coon when they along with Vukovich offered their services.
May 1955 was a tragic month for racing. Alberto Ascari was killed in a testing accident with a Ferrari 750 sportscar at Monza on May 26. By then Manuel Ayulo had been killed during practice at Indianapolis. And during the race, while leading, Bill Vukovich got involved in an accident that claimed his life.
A dejected Howard Keck disbanded his race team, after which the Fuel Injection Special was donated to the IMS Museum on the provision that no-one would sit in it and ever drive the car on its own power. To assist in that, one of the camshafts of the engine was removed. Other than that, the car is ready to go and it must be possible to prepare the car to run again. It has never happened and will never happen. As a result of Keck's withdrawal from racing, his Ferrari also evaporated from memory until its rediscovery in the late eighties.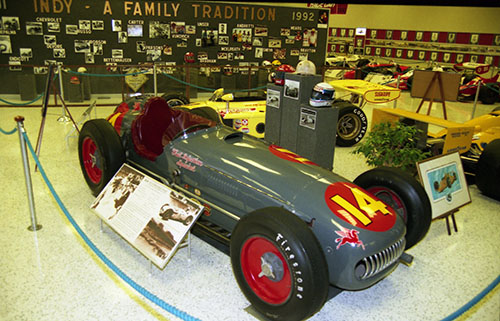 Bill Vukovich's death had an unexpected result for the Howard Keck-owned Ferrari: it disappeared out of sight for some three decades. Bill's son Bill Jr and grandson Billy III also went racing and qualified at Indy. Tragedy hit the Vukovich family once again when late 1990 Billy III was killed in a sprint-car accident. Early 1994, IMS honoured three generations of Billy Vukovich by exhibiting a car that each one had raced at the Speedway. For Bill Sr the obvious choice was the car that ended any hope Ferrari might have had to do well with their redundant 375 GP cars. (photo HG)
0388
Allegedly this was originally 375 chassis number 1 raced at Indy in 1952 by Ascari, although that is not 100% sure. Rebuilt and sold to Luigi Chinetti, it appeared at the Speedway in 1954 and 1956 but didn't qualify for the race. Fitted with a 4.1-litre engine to participate in the 1958 Monza 500. In 1960 it was restored to running condition, fitted with a 4.5-litre V12 engine, but not looking anything like the shape in which it once raced. The car exists in this shape today.
Kurtis-Kraft-Ferrari 500D 387-55
After its failure to qualify the car was eventually located in Switzerland. Restored by Swiss François Sicard from 1969 on and finished by 1979. The car eventually went to the USA again and still exists today.
And finally, here's an overview of all Ferrari participations at the Indianapolis Motor Speedway.
| | | | | | | | | | | |
| --- | --- | --- | --- | --- | --- | --- | --- | --- | --- | --- |
| Year | Type | Chassis | No. | Driver | S | Avg/Time | F | Laps | Time/average (kph) | |
| | Indy entry name | | | | | | | | | |
| 1952 | Ferrari 375 | 2 | 6 | Johnnie Parsons | practice only | | | | | |
| | Grant Piston Ring | | | Walt Faulkner | practice only | | | | | |
| | | | | Bobby Ball | practice only | | | | | |
| | | | | Danny Oakes | Incomplete run | | | | | |
| | Ferrari Special | 1 | 12 | Ascari | 19 | 134,308 | 31 | 40 | Wheel hub | |
| | Ferrari 375 | 4 | 35 | Bobby Ball | practice only | | | | | |
| | Keck Special | | | Bill Vukovich | practice only | | | | | |
| | Ferrari 375 | 3? | 38 | Johnny Mauro | practice only | | | | | |
| | Kennedy Tank | | | | | | | | | |
| 1953 | Ferrari 375 | 0388 | | | Did not arrive | | | | | |
| | Ferrari 375 | 3? | 47 | Johnny Mauro | Did not arrive | | | | | |
| 1954 | Ferrari 375 | 0388 | 47 | Freddie Agabashian | Practice only | | | | | |
| | | | | Danny Oakes | Too slow | | | | | |
| 1955 | Kurtis 500D-Ferrari | 500D #387-55 | | | Did not arrive | | | | | |
| | Bardahl Special | | | | | | | | | |
| 1956 | Ferrari 375 | 0388 | 91 | Farina | Practice only | | | | | |
| | Bardahl Special | | | Baldwin | Practice only | | | | | |
| | Kurtis 500D-Ferrari | 500D #387-55 | 9 | Farina | Practice only | | | | | |
| | Bardahl Special | | | Agabashian | Practice only | | | | | |
| | | | | Baldwin | Practice only | | | | | |
| | | | | Earl Mutter | Practice only | | | | | |
| 2000 | F2000-049 V10 | F2000/205 | 3 | M. Schumacher | 1 | 1:14.266 | 1 | 73 | 1:36:30.883 / 190.229 | |
| | F2000-049 V10 | F2000/203 | 4 | R. Barrichello | 4 | 1:14.660 | 2 | 73 | 1:36:43.001 / 189.832 | |
| 2001 | F2001-050 V10 | F2001/213 | 1 | M. Schumacher | 1 | 1:11.708 | 2 | 73 | 1:32:53.886 / 197.646 | |
| | F2001-050 V10 | F2001/206 | 2 | R. Barrichello | 5 | 1:11.327 | 15 | 71 | engine | |
| 2002 | F2002-051 V10 | F2002/223 | 1 | M. Schumacher | 1 | 1:10.790 | 2 | 73 | 1:31:07.945 / 201.475 | |
| | F2002-051 V10 | F2002/224 | 2 | R. Barrichello | 2 | 1:11.058 | 1 | 73 | 1:31:07.934 / 201.475 | |
| 2003 | F2003-GA-051 V10 | F2003-GA/229 | 1 | M. Schumacher | 7 | 1:12.194 | 1 | 73 | 1:33:35.997 / 196.164 | |
| | F2003-GA-051 V10 | F2003-GA/233 | 2 | R. Barrichello | 2 | 1:11.794 | 20 | 2 | accident | |
| 2004 | F2004-052-V10 | F2004/241 | 1 | M. Schumacher | 1 | 1:10.233 | 1 | 73 | 1:40:29.914 / 182.698 | |
| | F2004-052-V10 | F2004/236 | 2 | R. Barrichello | 2 | 1:10.400 | 2 | 73 | 1:40:32.864 / 182.609 | |
| 2005 | F2005-055-V10 | F2005/245 | 1 | M. Schumacher | 5 | 1:11.369 | 1 | 73 | 1:29:43.181 / 204.648 | |
| | F2005-055-V10 | F2005/246 | 2 | R. Barrichello | 7 | 1:11.431 | 2 | 73 | 1:29:44.703 / 204.590 | |
| 2006 | 248 F1-056 V8 | 248 F1/254 | 5 | M. Schumacher | 1 | 1:10.832 | 1 | 73 | 1:34:35.199 / 194.117 | |
| | 248 F1-056 V8 | 248 F1/250 | 6 | F. Massa | 2 | 1:11.435 | 2 | 73 | 1:34:43.183 / 193.845 | |
| 2007 | F2007-056 V8 | F2007/262 | 5 | K. Raikkonen | 4 | 1:12.839 | 3 | 73 | 1:31:22.807 / 200.929 | |
| | F2007-056 V8 | F2007/260 | 6 | F. Massa | 3 | 1:12.703 | 4 | 73 | 1:31:25.387 / 200.834 | |