2017 Grand Prix de France Historique report
Braving the conditions
Author
Date
Related articles
Who?

Michael Lyons

What?

RAM Williams-Cosworth FW07B

Where?

Magny-Cours

When?

2017 Grand Prix de France Historique (June 30, 2017)
Why?
They had everything planned. The new Grand Prix de France Historique would be the big French historic attraction in the seasons when there is no Monaco or Le Mans. The bill looked splendid, with F1 cars from 1947 to 1985 getting into action on the Magny-Cours circuit, and numerous later machinery either demo'ing or on static display. The support programme of F2, F3 and Formula Ford looked healthy too, and Masters Historic Racing would also bring their sportscars and GTs. And then it rained…
To say that the rain ruined a potentially great event was too much, but the grandstands could have been fuller, and paddocks should have been filled with enthusiasts. It's a long way to Magny-Cours for almost everyone, however, and getting into a car to see the historic French GP is quite an ask when you open the curtains to see that it is pouring down. The competitors put up a brave face, though, and several relished the conditions, especially those in the nimbler machinery, although Magny-Cours in the wet can be huge challenge on Dunlop L-sections… Testing the tarmac ourselves with the soles of our sneakers proved that 20 years of oil will come up when it's wet – even walking was a slippery experience, let alone in a car trying to transfer a couple of hundred horsepowers from crank to road surface. At times, cornering speeds looks no quicker than 30 mph…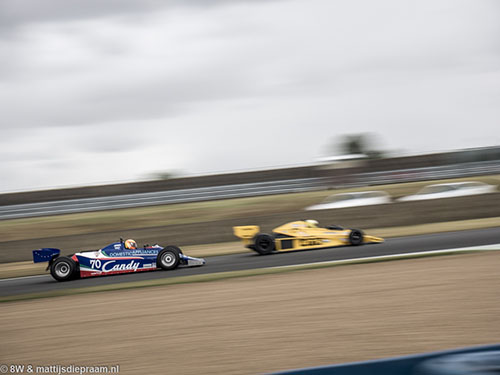 Sunday's F1 winner Loïc Deman (Tyrrell 010) charging past Christian Perrier's ATS HS1. (photo 8W)
Which made Michael Lyons' gamble on slicks even more remarkable, a choice that was made by three others in the second of the two FIA Masters Historic Formula One races. But while Greg Thornton (Lotus 77) and Mark Hazell (Williams FW07) spun off, with Steve Boultbee-Brooks tiptoeing to ninth in his beautifully turned-out Essex-liveried Lotus 81, the RAM Williams FW07B driver held on to the lead for nine laps before succumbing to Loïc Deman's pressure with three laps to go. It was a welcome return to the top step of the podium for the Belgian, though, having suffered so much from Nick Padmore's dominant reign last season. The day before there was nothing he could do against Lyons, who stormed away to a win by over a minute. Third on Saturday was the surprise of the weekend, Monegasque Fred Lajoux, who in his Arrows A1 claimed a first-row starting position on his Historic F1 debut, and looked for a repeat podium on Sunday until he was penalised for an infraction of rule 8.4 – which is leaving the dummy grid too late and then on the warm-up lap still reclaiming your rightful starting position.
That handed Sunday's third place to Max Smith-Hilliard (Fittipaldi F5A), who hit back after having been defeated for the pre-78 class win by Greg Thornton's Lotus 77 on Saturday. Smith-Hilliard fought Jamie Constable's Shadow DN8 in the early stages but then eased away, while Thornton was nowhere on his slicks and spun off on lap 5.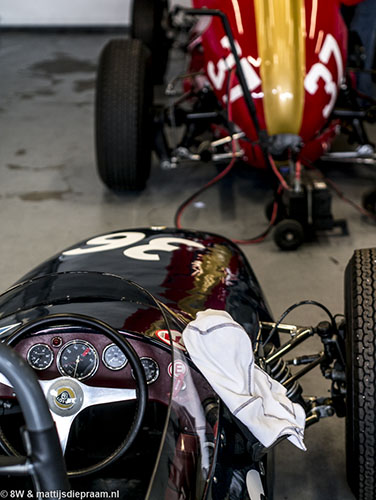 Erik Staes' Lotus-Climax 18/21 in the Historic Grand Prix Car Association paddock,
with Eddy Perk's Heron-Alfa Romeo in the back. (photo 8W)
Sam Wilson (Lotus 18) and Will Nuthall (Cooper T53) split the wins in the races for the older Grand Prix machinery, the Historic Grand Prix Car Association having arrived at Magny-Cours with their largest entry of the season so far. Both times, Julian Bronson's Scarab was the quickest front-engined car by a mile, even though Nigel Batchelor in his invited Kieft-Climax finished a surprise fifth on Saturday while Ian Nuthall's nimble Alta F2 helped him to fourth on Sunday. Paul Grant and his equally lightweight Cooper Mk2 was in there as well, finishing well inside the top-ten on both occasions.
Paul Gibson took two F2 wins in his Chevron B42 but had to fight for both of them. On Saturday, he and Dean Forward's Toleman March 782 soon swamped surprise pole man Manfredo Rossi in James King's elderly March 712 and then fought a race-long battle. On Sunday, Gislain Genecand was the man harrying Gibson, who made a mistake halfway into the race that handed Genecand the lead but still came back to take a second win.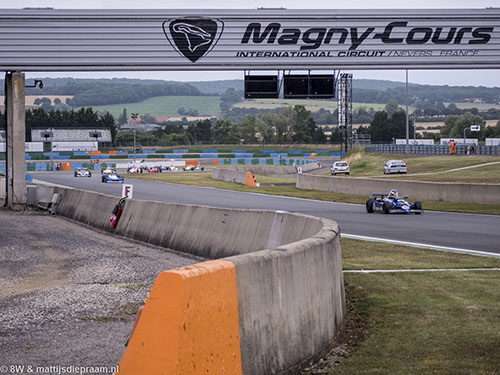 Tristan Gommendy already holding a massive lead on the first lap of Sunday's F3 race. (photo 8W)
WEC driver Tristan Gommendy was another double victor, but his wins in both Trophée F3 Classic races proved to be entirely dominant ones, his Ralt-Alfa Romeo RT3 stretching out leads of 15 and 25 seconds respectively. Meanwhile, in the two races celebrating Formula Ford's 50-year-anniversary, François Belle's Lola T540E took the first while Alain Girardet's Crosslé 25F claimed the second.
The Grand Prix de France Historique wasn't all about single-seaters, though. With Masters Historic Racing involved to provide the grid for the 3-litre F1 machinery, the appearance of their sportscars and GTs was inevitable. Both the FIA Masters Historic Sports Car and Masters Three Hours races proved highly entertaining, though – even though in the case of the Three Hours the story of the race was more remarkable than most of the actual racing…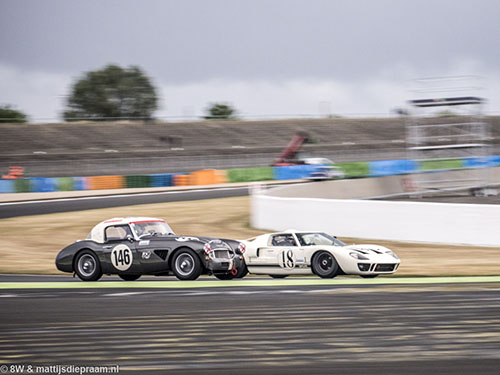 Alexander van der Lof charging to a Masters Three Hours pole. (photo 8W)
With heavy rainfall on Saturday evening, the Three Hours race suffered from two lengthy safety-car periods, the first starting 18 minutes into the race and lasting until the first hour was completed, while the second one started at one hour and 40 minutes and kept on going until the race was red-flagged at the 2 hour and 15 minute mark, i.e. three quarters of the planned race distance. It was the Denis Welch Motorsport crew of Nils-Fredrik Nyblaeus and Jeremy Welch that came up with the brilliant plan to do their three-minute driver-change and refuelling pitstop under the safety car at 45 minutes, as a particularly slow safety car was trying to bunch up the field. The plan allowed the Healey 3000 to do the pitstop without losing a lap. When at the halfway mark the rest of the field pitted under green, Welch picked off every car and had a full lap in hand when the second safety car appeared. There was still the issue of Welch only being allowed 100 straight minutes in the car, so a second driver change was needed. This was done just before the race was red-flagged, Nyblaeus getting back into the Healey while the field unlapped itself but closing up at the back of the queue again. The driver change was made irrelevant, however, when the result was declared on countback to the lap before the driver change – and Nyblaeus and Welch were the comfortable winners in their little Big Healey.
The sportscar race saw an early lead battle between Diogo Ferrão's Lola T292 and Manfredo Rossi's Osella-Abarth PA1, and while after the pitstops Rossi still ended up in front of Ferrão's team mate Martin Stretton, the Briton quickly dealt with Rossi to open up an unassailable gap in increasingly wet conditions. Rossi spun away his second place to hand it to Mike Donovan's Lola T70 Mk3B and had already lost third to Jason Wright's similar T70 but on countback was handed back his podium finish when the race was red-flagged with five minutes still on the clock. Keith Ahlers and Billy Bellinger (Cooper Monaco King Cobra) were easy winners in the pre-66 class, as their rivals Chris Jolly and Steve Farthing were fighting a Cooper Monaco T61M that was suffering from glazing brakes.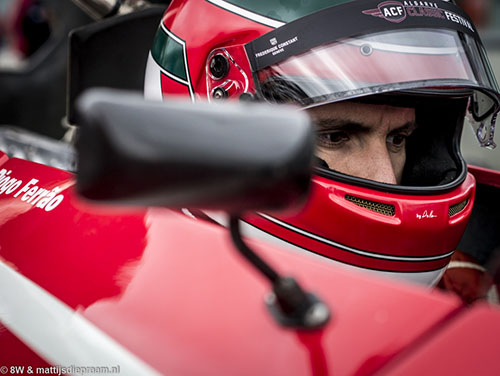 Diogo Ferrão on the grid ahead of his sportscar win. (photo 8W)