Fiasco Italo-Brittanico
Part 3: The Indy project that became a blackmail project
Authors
Henri Greuter, Arjan de Roos
Date
February 16, 2009; revised on August 4, 2009
Related articles
March-Alfa Romeo 90CA - Fiasco Italo-Brittanico, by Henri Greuter
March-Porsche 90P - The last oddball at the Indianapolis Motor Speedway, by Henri Greuter
Who?

René Arnoux

What?

Ferrari 126C4

Where?

Monte Carlo

When?

XLII Monaco GP (June 3, 1984)
Why?
Before the first CART Alfa Romeo appeared on the tracks, a large number of events had happened before which eventually led to the project becoming a reality. Many of these factors happened at the same time, independently from another. Within this section, which will be split into several parts, we will look at all these factors.
The pieces of the jigsaw (part 3)
One day, many years ago, on a warm summer evening Enzo Ferrari and a friend were studying a newspaper. They read about another Italian guy called Ralph De Palma. He had emigrated to the US and was a racing driver by now. He had even achieved to win the 1916 Indianapolis 500 race! Upon seeing a picture of DePalma Ferrari made his life-time decision to become a racing driver too, one of his childhood dreams. At that same moment a distant romance between Ferrari and Indianapolis had begun.

Ferrari indeed became a racing driver, a racing manager even, and he set up his own team in 1929, the Scuderia Ferrari. After the war he would go on to greater things and started what made him even more famous: founding Ferrari Automobili, a brand producing sports cars and Grand Prix racers that attained worldwide success and fame. In years to come, Ferrari would reminisce about the warm evening and that elusive race win: the Indy 500.

Yes, Ferrari did enter the Indy 500, in 1952 with one of his aces: Alberto Ascari. A winning combination it seemed after mechanical failure stopped the attempt. Some fruitless attempts were made in the following years.

Since then Ferrari thought about Indianapolis every year. Plans, schemes and figures were made. It was literally the last race missing on the victory list. When Ferrari got older it even looked like his last wish.

In the early eighties Enzo Ferrari wasn't very satisfied with what he saw in Formula One. On one side his cars weren't winning as often as he wanted. But mostly he was tired of fighting all the political battles with the upcoming Bernie Ecclestone and FISA president Balestre on the direction Formula One was going, the many rule changes and uncertainties posing a threat. At that same period the sales of Ferrari production cars in the USA had become a very important factor for his company. Ferrari had minimum racing exposure in North America at that time, only two or three Grands Prix a year, and racing is promotion for Ferrari. And then there was that life-long dream of his (and by then, it had become a very long-lived dream) to win Indianapolis at last. Here now was a point in Ferrari history where we saw the old man excel once again. "Why not create a car to compete for the popular CART series and possibly leave Formula 1. Let us see what "they" will do with the prospect of no Ferrari in F1." The project looked like an attractive option to pursue…

Expertise and experience was sought in the States. Competition Director Piccinini went to see CART racing in July 1985 and had talks with the organisation. He took a good look at all the teams running in CART. TrueSports of Jim Trueman was advised by Leo Mehl of Goodyear as a strong partner. (The F1 Ferraris ran on Goodyear tyres, while Goodyear was the single tyre supplier in CART.) Mehl also made the first contact. "Would they be interested in doing something with Ferrari?" A month later Piero Lardi-Ferrari visited Jim Trueman, Steve Horne and Bobby Rahal at TrueSports. He invited them to come over to Maranello for further talks as well as to demonstrate their own car. At that time Adrian Newey was working as an engineer at TrueSports. Trueman and co tried to persuade Newey to design the Ferrari Indy car. Newey refused and the project team had to look for another option.

Gustav Brunner was hired as a designer to Ferrari. One of his tasks would be to design the Indy car. As he had never designed an Indycar before Brunner visited several CART races and tests at the end of the season. In 1986 he even visited the Indy 500 with then Ferrari president Vittorio Ghidella. All in all signs that Ferrari was indeed quite serious about this project, it was more than a bluff.

In the summer the first news broke that Ferrari intended to race Indycars. Of course Piccinini's visit had not gone unnoticed. While in the States Piccinini was asked to comment, but he made it clear that the decision to enter was for the company directors and Ferrari had the intention to always race in F1. Then Enzo Ferrari issued a press statement: "The news concerning the possibility of Ferrari abandoning Formula One to race in the United States has a basis in fact. For some time at Ferrari there has been study of a program of participation at Indianapolis and in the CART championship. In the event that in Formula One the sporting and technical rules of the Concorde Agreement are not sufficiently guaranteed for three years the Ferrari team (in agreement with its suppliers and in support of its presence in the US) will put this program into effect." Sensational news in the world of racing. Racing fans cheered for a possible Ferrari in CART, a series growing in (world wide) popularity. Ferrari fans dreamed along for the Borg Warner trophy. Sceptics explained this new Ferrari bluff to all who would listen.

Piero Ferrari was interviewed at the British Grand Prix: "If we carry on with Formula One, we probably would not do anything else. But we spoke of the possibility of racing CART to show that we will not necessarily be in F1 forever. We want to stay in it, but only if the technical regulations remain as they were scheduled originally. No changes. We have made huge investments in electronics, and we don't see why we should be penalized by a sudden change of rules. Nor do we think it valid to make changes in the interests of economy. F1 is the top level of the sport and should not be restricted in this way. If we do go to Indianapolis we would definitively build our own cars, but probably they would be run with some American involvement. At first we think the right engine would be the V8 being used by Lancia at present. After that we would build a new engine specifically for CART racing."

So Ferrari already had an engine available that came close to being suitable for CART. For the Lancia Group C project Ferrari had built a turbocharged V8 with a capacity of 2599 cc, almost exactly the size permitted by CART. This V8, the 268, has been described as an entirely new engine, though it was based on the 3-litre production engine as used in the smaller V8-engined Ferraris, and had two turbochargers. Besides that, it was developed with Group C rules in mind. (Later on it was used as a 3-litre version as well.) Fuel consumption rules permitted the use of about 55 litres of gasoline for every 100 km. To say that this engine was suitable for use as a methanol-fuelled pure-bred engine seems a bit too optimistic, though some valuable experience with a blown V8 racing engine was gained. Nevertheless, any serious Ferrari Indycar project most certainly required a V8 engine designed from scratch.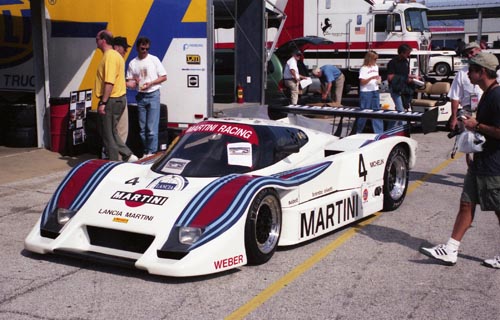 A late version of the Lancia LC2, the Ferrari V8-powered Gp C car that ran without much success between 1983 and June 1986. This car is pictured during a veteran car meeting that was part of the weekend of the Rolex 24 Hours of Daytona in 1999. (photo HG)
Trueman and his driver Bobby Rahal visited Ferrari in the fall of 1985. Rahal demonstrated a (red) March 85C at the Fiorano test track for 40 laps. Alboreto also tried out the 85C. The first test led to an order for special Goodyear tyres better suited to the Fiorano track. Rahal was impressed with the kindness and respect he received at Ferrari. It made him realise that this was a serious thing.

The March was further tested into the winter. This resulted in Ferrari actually giving the order to design a suitable engine. This engine eventually got the type registration 034. But instead of only building an engine Ferrari decided to go for an entire car. His newly recruited designer Gustav Brunner got the task to design a CART chassis. It would eventually become known as project 637. It is said that Brunner only needed a few days to set the outlines for this new car.

Ferrari had given orders to really start this top secret project. Harvey Postlethwaithe was to be the project leader with Antonio Bellentani, the bald and famous F1 mechanic, Colombini and Gualmini joining in. Marchetti was responsible for the engine and gearbox. A smart team doing its own thing inside the house of Maranello. Many inside Ferrari wondered what those were up to. The 034 engine was remarkable for having its exhausts within the V with the inlet manifolds positioned outside the engine, in the sidepods, with updraft charge flow into the cylinders, a configuration already seen on the turbocharged Ferrari F1 cars built between 1980 and 1984.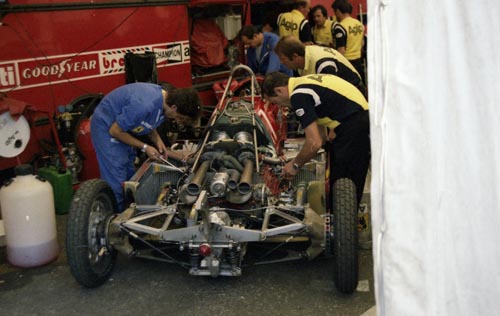 During the turbo era in F1, Ferrari was the only constructor of a Vee type engine which had the exhaust within the V of the engine and the inlet manifolds on the outside. The wide Vee angle of the Ferrari V6 (120 degrees) permitted this layout. This is a type 126C3, pictured in the paddock at Zandvoort in August 1983. (photo HG)
The turbocharger itself was in the usual location, for a CART racer, behind the engine above the spacer and gearbox. Otherwise the inlet and exhaust system was totally different from contemporary design trends in Indycar racing, though not entirely unknown. The Quadcam turbo Ford/Foyt used between 1968 and 1978 also had the exhausts within the V. But the Ford/Foyt Quadcam had downdraft inlet manifolds located between the two camshafts.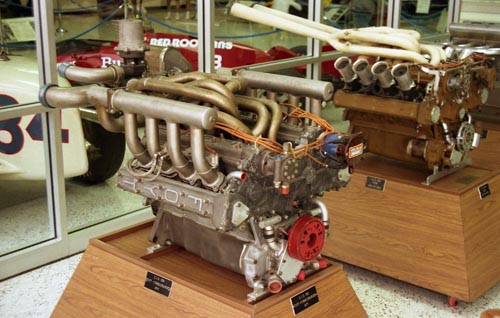 The first V8 engines used at Indianapolis with exhausts within the Vee were the Ford Fairlane derivatives. The quad-cam 32-valve 4.2-litre normally aspirated version that debuted in 1964 is in the background. Turbocharging it with a single turbo created its own logistical nightmare if it came to an even distribution of the boost to the cylinders. Introduced in 1968, as a 2.8-litre. Since 1969, due to rule changes, despite its colossal size, this heavyweight had the same swept volume as the Ferrari 034 engine: 2.65 litres... (photo HG)
Pictures of the Ferrari 034 engine in or out of the car have been difficult to find on the internet. This page contains a small picture of the Ferrari 637, showing off its engine installation within the chassis.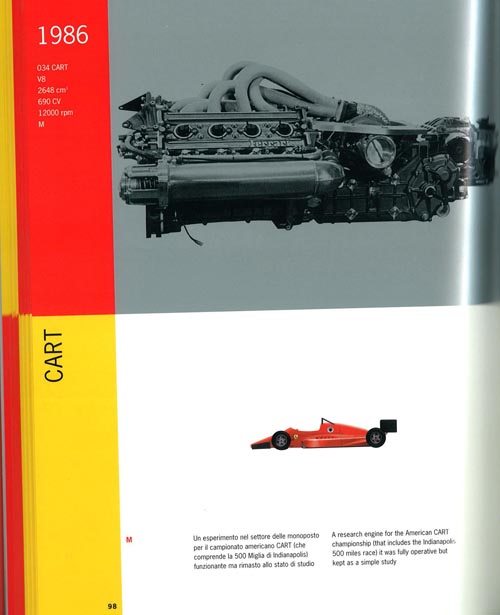 The complete drivetrain of the Ferrari 637 has been pictured in the book Ferrari Tutti I Motori. This is the page in question. (photo Arjan de Roos)
There were a number of differences between the 268 engine used in the Group C Lancia and the 034 CART engine as can be seen in the following overview.
| | | |
| --- | --- | --- |
| | Ferrari 268 (Lancia LC2) | Ferrari 034 (CART) |
| Year of build | 1983 | 1986 |
| Bore x stroke (mm) | 80 x 64.5 | 86 x 57 |
| Capacity | 2593.7cc | 2648.8cc |
| Compression ratio | 7.0 | 11.5 |
| Fuel | gasoline | methanol |
| Power @ rpm | 620bhp @ 8200rpm | 690bhp @ 12,000rpm |
| (also published) | | (710bhp @ 11,500rpm) |
| Turbo | two KKKs with intercooler | 1, no intercooler |
| Maximum pressure | 1.3-1.45 bar | 48 Inch Hg = 1.6 bar |
Though a collaboration between Ferrari and TrueSports was envisaged, TrueSports had ordered new Marches (86C) for 1986. This led to speculations that Ferrari would enter only the last races of 1986 and do a full season in 1987. Jim Trueman's death, eleven days after the Indy 500 was won by his car and driver Bobby Rahal (!), eventually fuelled doubts over the link-up.

In the summer of 1986 Ferrari had a CART racer ready for testing. On Sunday July 20th, Franco Gozzi (Ferrari's secretary) posed with the car and its team. They fired the car up and made some 'secret' pictures that were leaked to the press, so all who needed to know could see the real thing.

Brunner's influence on its design was obvious. The front end of the car looked very similar to one of his last F1 designs, the 1985 RAM-Hart. In an interview with Brunner in Motorsport Aktuell he stated that he found the nose of the Williams FW09 innovative in the way that the airflow was better distributed along the sides of the car, and not just kicking it up. In the RAM 03 as well as the 637 we can see some resemblance to the FW09. There was talk about the car being fielded by a factory-supported team. Bobby Rahal and Andrea de Cesaris were named as potential drivers, especially Rahal after he declined a Lola Haas offer to race F1. Sponsors seemed to be in place: Marlboro (quite prominently in sketches in Autosprint), Goodyear, IVI (a paint company jointly owned by PPG and Fiat) and also Fiat itself. A major sporting challenge was on the cards with rumours Porsche, Lotus, Alfa Romeo and Honda would enter CART as well. First tests with Alboreto had been planned at Fiorano and later at Nardo. None however would take place.

On September 24th 1986 Ferrari held his annual press conference. He had two big announcements. Gerhard Berger would join the F1 team and John Barnard was to be appointed Technical Director from November 1st. Brunner and Postlethwaite were mentioned as his assistants. Ferrari also stated the Indycar was well underway and even showed the engine to the press for the first time. The V8 with exhausts exiting upwards out of the V looping to the IHI turbo and with a CART pop-off valve. Mounted to its gearbox the engine was for real and surprised all those who attended.

In the middle of November 1986 Ferrari presented his new F1 team. It was clear that Ferrari was pulling out all stops to get on top in F1 again. For Barnard he had made several sacrifices unheard before, not only salary-wise but Barnard would operate from the UK. Ferrari also saw Barnard as a man overseeing all racing activities. In this press conference Barnard stated that he was to revise the 1987 F1 car first, then design a new 1988 car and put the Indycar project on hold until Ferrari was on top again in F1. In fact from day one Barnard pressed Ferrari to abandon the Indy project claiming that F1 needed their focus, the 637 Indy would only be a distraction.

Around the same time Steve Horne, now the leading man of TrueSports, did visit Ferrari again. He got to see the car as well as the engine (on the dyno). But also Horne learned that Ferrari would concentrate on F1 first now, even if they had Rahal, the CART champion and Indy winner.

Then everything changed in Formula 1. All of a sudden the rules that promoted turbocharged engines were reversed and the FIA announced that from 1989 on, Formula 1 would be for 3.5-litre normally aspirated engines only. The maximum number of cylinders was to be 8. This didn't go down well at all with Enzo Ferrari who favoured his beloved traditional twelves. The FIA, however, was unwilling to give in to his requests. But the FIA had a problem as well.

CART's ever-increasing popularity wasn't very well appreciated by the men in charge of Formula 1 as it rivalled Formula 1 too much, particularly on the American continent. And although Ferrari wasn't going through a particularly successful period, it was still the most renowned, popular and best known team within Formula 1. A Ferrari switch to CART, however, would be very beneficial to CART while working against Formula 1's popularity yet again.

Realizing this Enzo Ferrari offered the FIA that he end the CART project in return for the FIA allowing a maximum of 12 cylinders for the new generation 'atmo' F1 engines. The FIA accepted the deal and changed the rules. So instead of developing the CART turbo V8 and its purpose-designed chassis Ferrari started development of a new generation of V12 F1 engines. The CART Ferrari Project 637 (the car never got a proper type indication) was halted abruptly. The car was eventually handed over to Alfa Romeo to help them in their CART project once they had decided upon taking on CART. However it was of little use as Alfa Romeo was to design their own engine and buy chassis.

In March 1987 a new Concorde Agreement was signed in Maranello. Both Ecclestone as Balestre were present and Balestre made a speech in which he called Enzo Ferrari the pope of F1. Peace was signed and Ferrari was presented a plaque with inscription to honour his 70 years in racing and 40 years as head of his mark.

The 637 chassis #1 went into storage for quite some years. Then it re-appeared at some local car shows before mixing a place in Ferrari's own museum with worldwide exhibitions.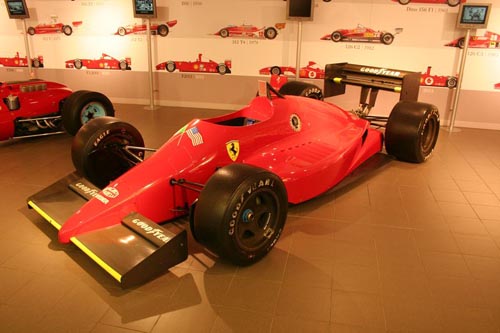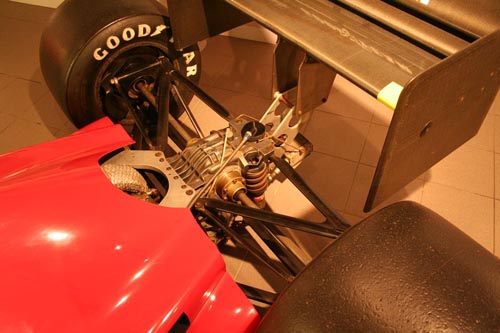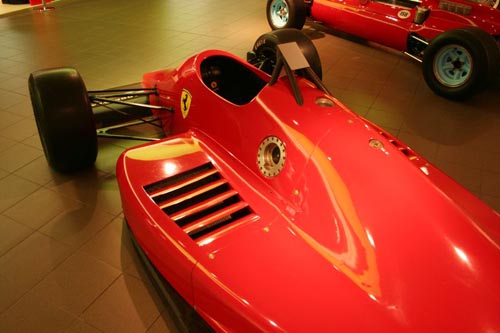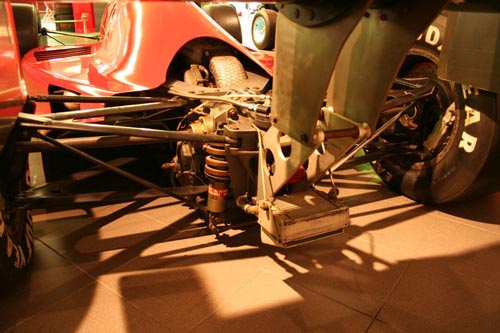 The Ferrari 637's vertical profile reminds us a lot of the March 87Cs in use at Indianapolis in 1988. (photos by Arjan de Roos)
In later years it went on tour to expositions on several locations worldwide. It has even been on display at the Indianapolis Motor Speedway Museum.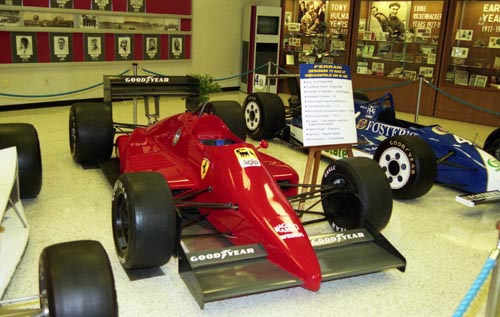 The CART Ferrari 637 exposed at the Indianapolis Motor Speedway Museum Hall of Fame in January 1994. (photo HG)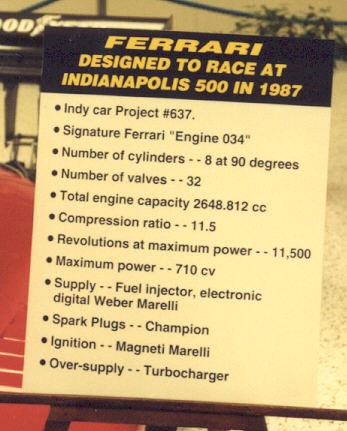 This is what the information plaque told this about the car. The museum didn't put up their own kind of info plaque as they normally do. (photo HG)
But that was as close to the actual track as the car ever got.

Any thoughts by Ferrari fans all over the world about what might have been if the Ferrari project had taken off are difficult to validate. Would the Ferrari chassis have been successful? Was the engine good competitive enough to succeed should it have been used in another (March or Lola) chassis? Thoughts were fueled even more when we realize the following. Leo Mehl's pick of Truesports as a partner was proved more then right when Bobby Rahal not only won at Indianapolis but also took the CART title that year. Then, to the surprise of many, Truesports went with Lola chassis instead of sticking with March. But Truesports's gamble paid of again as Bobby defended his CART title with success. At Indianapolis his success was restricted to practice and qualifying only with the second fastest time of all starters. Only Mario Andretti in his Ilmor-Chevy-powered Lola was faster. In other words: with competitive hardware to work with, Bobby Rahal and Truesports brought the results home. Which makes you wonder what would have happened if they had indeed got the Ferrari hardware. Had the entire project been good, or if the engine had been good enough and fitted into the devastatingly good Lola chassis… We will never know what would have happened, other than the fact that Ferrari had found a good partner had they wished to continue the project.

After this 'visit' by the Ferrari 637 in the IMS museum, it would take just over six years before a Ferrari single-seater appeared at the Speedway built with the intention to compete at Indianapolis. But that would not be for the Memorial Day Classic. Instead it was for a different event: the SAP United States Formula One Grand Prix, an event in which the famous oval was only partly used and driven clockwise. Still, Enzo would have been proud, since precisely in the inaugural race of this new event held at the Speedway the team he founded was the convincing and deserved winner. Ferrari had been victorious at the Indianapolis Motor Speedway at last.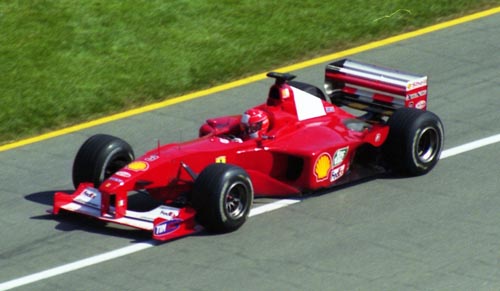 More than 40 years after the failed attempts with a Ferrari-powered Kurtis Roadster, Ferrari finally returned to IMS to contest an event held at the Speedway. On September 24, 2000, Michael Schumacher won the 2000 US Grand Prix, the inaugural Indy GP. This picture was taken at Turn One of the Oval on Saturday 23. (photo HG)
Back to the mid-eighties when the CART Ferrari was built. Since in the mean time…