Fiasco Italo-Brittanico
Part 9: Preparing for 1990
Author
Date
Related articles
March-Alfa Romeo 90CA - Fiasco Italo-Brittanico, by Henri Greuter
March-Porsche 90P - The last oddball at the Indianapolis Motor Speedway, by Henri Greuter
Who?

Teo Fabi

What?

March-Porsche 89P

Where?

Indianapolis

When?

1989 Indianapolis 500 (picture: Porsche press kit 1989)
Why?
All the 1990 plans shared between Alfa Romeo and Patrick Racing had been announced at the weekend of the final 1989 CART race at Laguna Seca - despite the fact that some of the contracts weren't yet signed. Coincidentally, Chip Ganassi also announced his 1990 plans at that very same Laguna Seca meeting.

Whether this was going to be a distraction, who knows. But late 1989 there were reports about Alfa Romeo going Group C long distance racing. Although the favoured engine for this project was said to be the V10 developed for the stillborn 164 ProCar, oddly enough a V8 derived from the CART V8 was mentioned as an alternative option.

Obviously, lessons had been learned during 1989 by Alfacorse and March. To begin with, a new car was a necessity. The Alfa group within March decided to keep the 89CE as baseline to work with but access was made available to the data obtained by the Porsche group with the 89P. After an initially hesitant start the March-Porsche 89P had come good. Although Fittipaldi was crowned champion, Teo Fabi had won a race with the March-Porsche 89P and had been as high as third in the championship with two races to go. Regrettably, two non-scores in those final races dropped him back to fourth in the championship. Since many considered the Ilmor-Chevy as the best engine in the series, superior to the Porsche V8, some wondered how good the March 89P chassis could have been if it had been fitted with an Ilmor.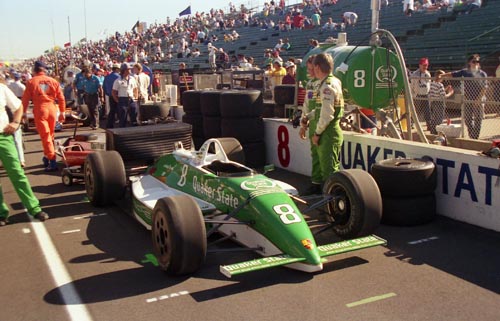 The 1989 March-Porsche 89P looked different from its opponents. After a hesitant start - Indianapolis included - the car came quite good, a ray of hope for March that it was on the way up again. The Alfa Romeo effort could hope to benefit from some of the good that this car brought to March. (photo HG)
Some of the lessons learned with the 89P were used on the new Alfa-powered car, which was named 90CA. The Porsche group, meanwhile, went to new directions with the design of the 90P.

March still had the upper hand in the design of the car while Alfa Romeo was in charge of engine development. A scale model of the car was on display at that same Laguna Seca race of 1989.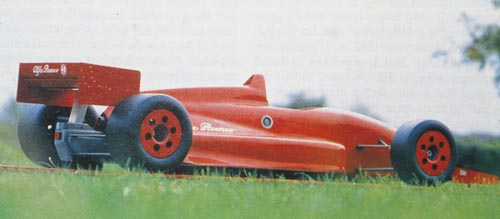 This picture of a scale model of the new 1990 March-Alfa Romeo appeared in Dutch magazine Autovisie.
March engineer Dave Reeves stated that more work had to be done but that it helped that the Alfa V8 was so small. This would enable March to create a smooth rear end for the car with a good flow onto the rear wing.

Team Patrick's influence on the design of the package was to be very limited. Their part was to run the cars. Nevertheless, Patrick made some significant contributions to the Alfa Romeo engine program. Shortly before he had to hand over the remaining Ilmor-Chevy engines his championship team had used, he allowed Roberto Guerrero to test with the championship-winning Penske-Chevy. This made Roberto find out how underpowered the Alfa V8 still was. That was Patrick's more innocent contribution. The other one was far more controversial. Before returning them to Ilmor, he sent one of the engines (the number of two is also published) off to Alfa Romeo in Italy to enable the Italian engineers to have a good look at the all-dominant CART engine, study it in detail and, above all, be inspired by it! One of the team members recalled this episode of the one engine that went to Italy. He mentioned this to be a very interesting situation because of the matter of who at that time owned the engine. It is indeed an interesting thought. Was Patrick at that time still the engine's owner or had the divorce between him and Ganassi already taken place and was the engine by that time property of Chip Ganassi? No matter who was the real owner of the V8, it was a move that was to have many consequences for everyone racing in CART and at Indianapolis. In later years Pat Patrick in particular had to pay dearly for this actions.

The 1990 Alfa engine did not become a clone of the Ilmor-Chevy. The outer shapes remained very much as they had been but especially the internal parts benefited from having had a look inside a Chevy. A number of small, weight-saving magnesium parts were carried over from the 1989 onto the 1990 engine. The engine also required a new bell housing, due to the elimination of the crankshaft-mounted harmonic balancer, which enabled Alfa to reduce the length of the bell housing. The new engine retained the silicon aluminium cylinder linings within the cylinder block.

During the Detroit International Motor Show in early January Patrick revealed some of his plans. He announced that Alfa's `Phase Three` engine was due to be tested shortly and expected to be ready for Indianapolis.

Driver Roberto Guerrero was also at the show and spoke out to the press: "Alfa is so committed to the programme. Every time I go there, it blows my mind. The money, the effort and the commitment they are putting in. They have this whole factory of 200 people just working flat out on the Indy engine – it's unbelievable. The `Phase Two` engine was a little bit weak everywhere. The response wasn't very good, the acceleration wasn't very good and we were down in top end power. But now we have the connection with Patrick Racing and Morris who knows a lot about the Chevy engine. He went to Italy and told them what he thinks they should be doing. The other problem we had last year was that the chassis wasn't very good either, so it was always very hard to judge how much was the chassis and how much was the engine. Realistically 1990 is going to be very difficult. 1991 is the year I really feel we can definitely go for the championship. This season is still a development year, but we will be a lot more competive."
"If I get you know what, then I'll give you, eh, you know what…"
Patrick's Marlboro sponsoring had gone to Penske but in the exchange of drivers, cars, sponsors and so on, some more exchanges between Patrick Racing and Penske Racing took place. One of Team Penske's sponsors in recent years was the Miller brewery. Marlboro was part of the Philip Morris group, but so was Miller. While Marlboro and Fittipaldi (a combination that went back to the mid seventies when Emmo became F1 World Champion while driving a Marlboro-sponsored McLaren) took over sponsorship of Penske's third car, Miller sponsorship became a bit redundant. They eventually ended up with Patrick Racing sponsoring his March-Alfas.

Penske now also had four drivers to deal with: Rick Mears retaining the Pennzoil-sponsored entry, Fittipaldi in a Marlboro car and Danny Sullivan, who in previous years of Penske duties had been in the Miller-sponsored entry but was now transferred to Marlboro sponsorship. Al Unser Sr had been hired for the big races like Indianapolis and Michigan in a third Marlboro-sponsored Penske car in 1989 but now was one too many. Patrick Racing, however, was more than eager to field two cars in high-profile events such as Indianapolis and Michigan and so in January 1990, with Al Unser Sr on the market as an experienced specialist, Patrick Racing announced a second March-Alfa was to be driven by Al Unser Sr in the 500-milers.

A neat exchange of drivers, sponsors and seats between Patrick and Penske and the Philip Morris ranks. Nobody was left out or kicked out while just about everybody had reasons to be satisfied. Least satisfied, however, had to be Al Unser Sr. He had the worst deal of them all: from driving the third car of almighty Team Penske, he now went over to the second car of a team that fielded cars and engines still very much in development. His chances to break the tie with AJ Foyt as the only two 4-time winners ever at Indianapolis appeared to have taken a nosedive.

An overview of who ended up with which driver and deals looks like this:
| | | |
| --- | --- | --- |
| | 1989 | 1990 |
| Roberto Guerrero | Vince Granatelli Racing | Patrick Racing Alfacorse |
| Alfa Romeo engine deal | Alfacorse Capels Racing | Patrick Racing Alfacorse |
| Emerson Fittipaldi | Patrick Racing | Penske Racing |
| Two 1989 Penske PC18 chassis | Patrick Racing | Target Chip Ganassi Racing |
| Ilmor-Chevy engine deal | Patrick Racing | Target Chip Ganassi Racing |
| Marlboro sponsorship | Patrick Racing | Penske Racing |
| Al Unser Sr | Penske Racing | Patrick Racing |
| Miller sponsorship | Penske Racing | Patrick Racing |