2017 Silverstone Classic report
The many and the famous
Author
Date
Related articles
Silverstone - All that in one single event, 2013 Silverstone Classic report, by Mattijs Diepraam
Silverstone - Sticking with tradition, 2018 Silverstone Classic report, by Mattijs Diepraam
Silverstone - Sportsmanship in the rain, 2019 Silverstone Classic report, by Mattijs Diepraam
Who?

Nick Padmore

What?

Williams-Cosworth FW07C

Where?

Silverstone

When?

2017 Silverstone Classic (July 28, 2017)
Why?
Let's be brutally honest for a moment. Silverstone is not a circuit that is naturally oozing with atmosphere. Never has been, never will. It's huge, flat and featureless, and it's easy to feel tiny when standing at the foot of the new Wing complex, or in its infields stretching away for miles. So what do you do when you still want to host a historic motor racing of some repute? You bring in people. Lots of them. And their cars. Lots of them, as people and their love of cars will create their own atmosphere.
And that's what Nick Wigley and the HSCC have done for over 25 years now, the 2017 edition not even trying to be bigger and better than the previous one – since that simply can't be done. In sheer numbers, The Silverstone Classic has been the biggest historic motor racing event in the world for years now, with the most races, the best filled grids and the largest amount of car clubs bringing their road cars to the circuit's infield. So variety is supplied by the demos and the various anniversary celebrations – such as the ones with all Jaguar XJ220s and the Williams-Renault FW14B this year. So what about the weather? That was awful this time around, the event being run on three cold and mostly wet days, which put a bit of a damper on several festive activities all around the circuit. For the racing it was good, though…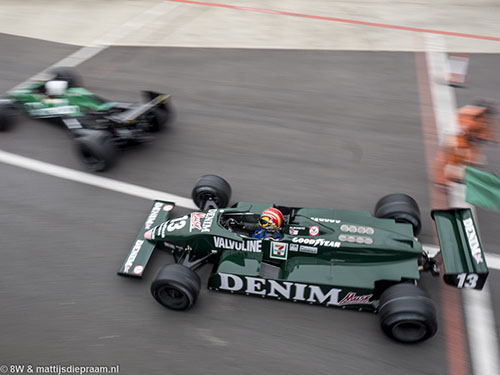 Andy Wolfe's Tyrrell 011 charging out of the pits for F1 qualifying. (photo 8W)
The various Masters, HGPCA, Motor Racing Legends, Historic Motor Racing News and HSCC championships have been forming the backbone of the programme for years, and it was no different in 2017. Masters brought its two FIA championships while their Gentlemen Drivers race was awarded the International Trophy title. A 50-minute Saturday evening dash in what turned out to be pouring conditions was won by Olly Bryant's AC Cobra, after a race-long tussle with Roger Wills's Bizzarrini 5300 GT, Andrew Haddon's Cobra and Jason Minshaw's Jaguar E-type. The two FIA F1 races had two familiar names as its winners but no-one expected Jonathan Kennard putting his Arrows A3 on pole in what would be a one-off 'racing advertisement' appearance for a car that was on sale. Kennard was unable to defend against returning champion Nick Padmore, who on fresh tyres blasted his Williams FW07C past Michael Lyons' Williams FW07B and then the Arrows to take the first win. Lyons struck back the next day with a brilliant move around the outside of Kennard into Copse, keeping his foot buried on the throttle. Towards the end, Kennard's engine was starting to give him trouble, allowing Padmore to sneak through for second place. The FIA Masters Historic Sports Car race was led almost throughout by Martin O'Connell's Chevron B19, but the winner had to fend off a tough challenge from Danny Gibson's Lola T70 Mk3B. When Gibson got mixed up with the backmarkers and ended up in the tyrewall at the Loop, O'Connell was free to go for the win.
Sam Wilson was a triple winner in the nimbler single-seaters thrashing around Silverstone. In the HGPCA races, Wilson took first and second places in John Chisholm's Lotus 18, leaving the second win to Jon Fairley's Brabham BT11/19 on Sunday, but in the Juniors his Lotus 20/22 claimed top spot on both occasions. Mike O'Brien's beautiful Merlyn Mk20A was another machine doubling up in its category, taking both Formula Ford wins.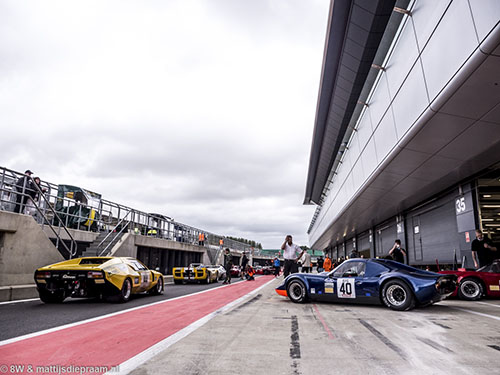 FIA Masters Historic Sports Cars raring to go. (photo 8W)
As usual, Motor Racing Legends had brought its full line-up of championships as well. Guesting with Paul Gibson in the FIA Masters Historic Sports Car race, Chris Ward had stuck the elder Gibson's Lola T70 Mk3B on pole, but was unable to convert that into a win. In the Stirling Moss Trophy, however, Ward''s Lister Costin displayed its usual dominance. He was beaten to another win in the RAC Woodcote Trophy, though, by the Cooper-Jaguar T38 of Anglo-American duo Patrick Blakeney-Edwards/Fred Wakeman. These two in turn were favourites for Pre-War Sports Car honours in their nippy Frazer Nash but in what was close to a photo finish Gareth Burnett's Talbot 105 snatched victory from their hands.
Meanwhile, Wolfgang Friedrichs and Simon Hadfield (Aston Martin Project 212) won from pole in Historic Motor Racing News's Pre-63 GT race, while Steve Soper looked set for victory in their U2TC race. When Soper's Lotus Cortina broke down, Mark Sumpter's similar example went through to claim the win. Soper did win one of the Celebrity Challenge races for Austin A30 and A35 cars, Mike Jordan winning the other one the next day.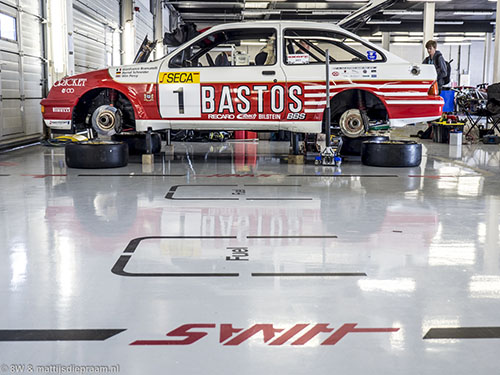 The 1989 Spa 24 Hours Ford Sierra RS Cosworth crewed by Brancatelli/Schneider/Percy in its glorious Bastos livery. (photo 8W)
This time, the Super Touring grid was filled out with some terrific older machinery from the Group A era, but Super Tourers still won the day, Jason Minshaw's Ford Mondeo on Saturday and James Dodd's Honda Accord on Sunday. That day also saw a Jaguar Challenge race between E-types, D-types, XKs, Mk1s and Mk2s. In the early running, Julian Thomas stormed to the front in his E-type until he hit the gravel trap at Stowe, leaving the win to Gary Pearson in Carlos Monteverde's E-type.
Group C was the only championship breaking away from the Peter Auto mould to have its own two stand-alone races at Silverstone – as had become the norm in the days it ran as an independent entity. Two rain-washed races saw Steve Tandy's Spice SE90P win on Saturday evening and Kriton Lendoudis's Mercedes C11 take the spoils on Sunday.