2019 Silverstone Classic report
Sportsmanship in the rain
Author
Date
Related articles
Silverstone - All that in one single event, 2013 Silverstone Classic report, by Mattijs Diepraam
Silverstone - The many and the famous, 2017 Silverstone Classic report, by Mattijs Diepraam
Silverstone - Sticking with tradition, 2018 Silverstone Classic report, by Mattijs Diepraam
Who?

Christophe d'Ansembourg

What?

Williams-Cosworth FW07C

Where?

Silverstone

When?

2019 Silverstone Classic (July 26, 2019)
Why?
It's tradition that at least one day of the Silverstone Classic is disrupted by a severe thunderstorm (or two) but this time – right in the middle of the all-time hottest British summer – the weather gods thought it was a good idea to present both race days with an almost continuous drizzle and temperatures of no more than 16 degrees. Many people weren't dressed for that… They still came by the thousands, and witnessed one of the most sporting gestures seen in motorsport for a long time.
It was Saturday's Transatlantic Trophy race for Masters Pre-66 Touring Cars that turned into a memorable event when Craig Davies and Jake Hill, both in Ford Mustangs, the latter having taken over from Rob Fenn at the stops, were heading towards Vale, fighting for the lead, Hill in front, with Davies in hesitant mood. Under braking, the second of the red 'Stangs looked visibly in doubt, its driver turn between 'shall I?' or 'no, that can't be done'. Most onlookers were thinking 'God, no, Craig, don't try it there!' but in the end Davies took a second too long in deciding, then slammed on the brakes but still slid helplessly into the left rear of Hill's Mustang that was immediately sent into a spin.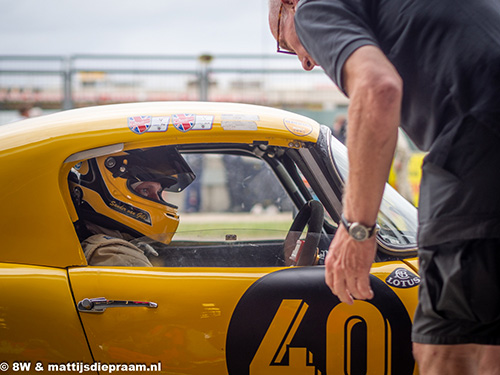 Father Niek overseeing son Sander van Gils' progress in Masters Gentlemen Drivers. (photo 8W)
Davies continued in the end while Hill recovered. Bodywork rubbing the tyre, the heavily smoking Mustang went off in hot pursuit of its rival who to everyone's surprise had been waiting for him and then graciously allowed the BTCC driver past into Village. For three more laps, Davies held station behind the damaged car in the lead until on the final lap, dramatically, the tyre cried enough and blew out violently on the Hangar Straight. Still, Davies refused to pass the leader, and stayed put behind Hill who was now driving on three tyres and a wheel rim. Davies' work wasn't done, though. Andy Wolfe and Steve Soper in their Cortinas were closing fast, and towards Vale – the scene of the original sin – Davies began playing rear gunner to Hill's lead, heavily blocking Wolfe's attempt to pass both Mustangs. Would he have succeeded all through Club corner? It seems highly unlikely. But then a saviour presented itself in the shape of a spun Alfa Romeo right on the exit of Vale. Yellow flags came out – and both Wolfe and Soper had no other option but to tuck in and follow Hill's stricken Mustang across the line…
It was a startling display of sportsmanship in an era in which it's all about winning. Perhaps it's only too obvious that Davies' gentlemanly gesture came in historic motorsport, which has increasingly become all about winning too but at the Classic Davies reminded each and every one in the paddocks that historic motor racing should first be about celebrating a glorious past and enjoying the machines once driven by our childhood heroes.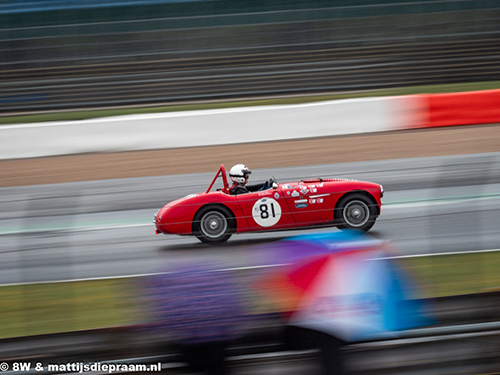 The Kerry Wilson/Marek Reichman Austin Healey 100/4 charging through Copse. (photo 8W)
Many other races were remarkable too, if only for the excitement that they delivered and the stirring drives that could be hailed. The first FIA Masters Historic Formula One race saw championship leader Matteo Ferrer-Aza produce a stunner in his Ligier-Cosworth JS11/15, despite disliking driving in the rain. From the third row on the grid, the Italian powered to the front on a very wet Silverstone, ahead of his main title rival Martin Stretton in the Tyrrell 012. Steve Hartley won Sunday's race from the front row, his McLaren MP4/1 keeping Mike Cantillon (Williams FW07C) at bay, with Stretton a distant third and Ferrer languishing in fifth, trying to keep his nose clean. Michael Lyons' one-off return in his dad's McLaren M26 resulted in a double win in the pre-78 class but Henry Fletcher's second and third places in the March 761 solidified his lead in the championship.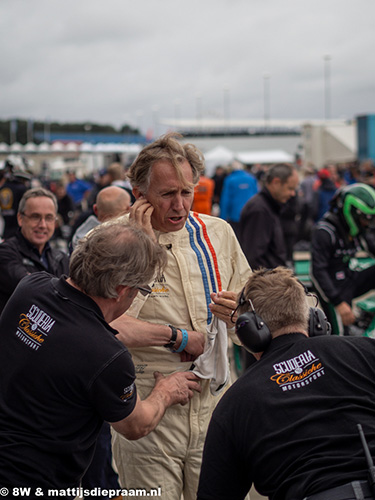 Jamie Constable preparing for his second F1 race of the weekend. (photo 8W)
The other FIA race – the Yokohama Trophy for FIA Masters Sports Cars – was all about the Banks brothers redeeming themselves for their lost win of 2018. The McLaren M6B's gearbox holding out this time meant that Andrew and Max dominated the race to finish 42 seconds clear of Gary Pearson's Lola T70 Mk3B.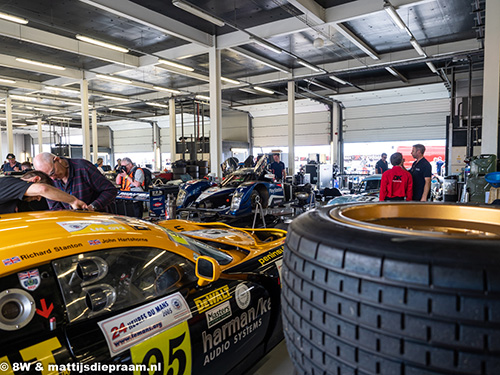 An interesting GT2 entry in Masters Endurance Legends, in the shape of Steve Hyde's Morgan Aero 8 GTN. (photo 8W)
In Masters Gentlemen Drivers, Julian Thomas and Calum Lockie bounced back from their fiery exit from the Donington round to win again in their Shelby Cobra Daytona Coupé, neatly beating the similar machine of Dutch father-and-son duo David & Olivier Hart. Hart Sr was unable to keep pace with Thomas, who stole the lead at the start, after which Lockie matched Junior's laptimes to secure the pair's third win of the season.
In the Aston Martin Masters Endurance night race, guns were drawn between the two Pescas of Jonathan Kennard and Emmanuel Collard but when the Frenchman tripped up over Kriton Lendoudis' Peugeot 908 shortly after their pitstops, Kennard's team mate Cantillon was free to take home a first win for their co-owned Pescarolo-Judd 01. On Sunday, the pair delivered a repeat victory, even though Steve Tandy kept them honest in his Lola-Mazda B12/60.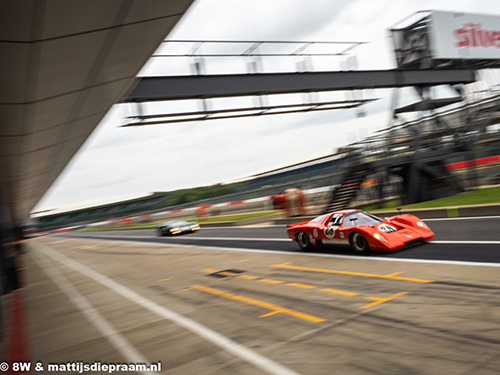 Martin Stretton brought a racing version of the McLaren M6 GT - eligible for competition because a single Interserie outing. (photo 8W)
The two special Mini racers were absolute crackers. On Saturday, Darren Turner came out on top of a four-way fight with Chris Middlehurst, Adam Morgan and Ian Curley while the next day Middlehurst hung on in the lead with a battered Mini before Morgan made his way past two laps from the end. Middlehurst had been meatballed many laps before, and also ignoring the resulting black flag led to instant DSQ.
The HGPCA wins were split between Will Nuthall in the Cooper T53 and Sam Wilson in the Lotus 18, Nuthall holding off Wilson and Michael Gans' Cooper T79 for the win on Saturday, while Wilson dealt with Jon Fairley's Brabham BT11/19 and Nuthall on Sunday. MRL's Pre-War Sports Car race attributed to the Bentley centenary was the final race stages from the International Paddock and indeed saw a Bentley corner the spoils, as the Llewellyns beat Rüdi Friedrichs' Alvis Firefly, the Alvis snapping at the big Bentley's heels all the way to the line.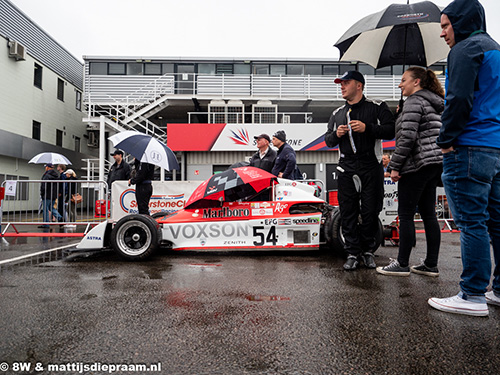 Matt Wrigley lining up for the first HF2 race on a very wet Saturday. (photo 8W)
Over at the other end, the two Classic F3 races made for a wonderful wake-up call, with reigning European champion Christian Olsen claiming both wins in his Martini MK39. Ian Jacobs (Ralt RT3) was runner-up in both but Andrew Smith showed his hidden single-seater prowess by claiming third in the first race, ahead of many of the regulars.
The Historic F2 field made several headlines, the biggest of them being that an unprecedented 52-car entry made the start, handsomely beating the month-old previous record of 30 cars set at Magny-Cours. Going from strength to strength in 2019, the HSCC-run series saw Miles Griffiths (Ralt RT1) beat Darwin Smith's much older March 722 in the first race, with Martin O'Connell (Chevron B40) coming back to defeat Griffiths on Sunday.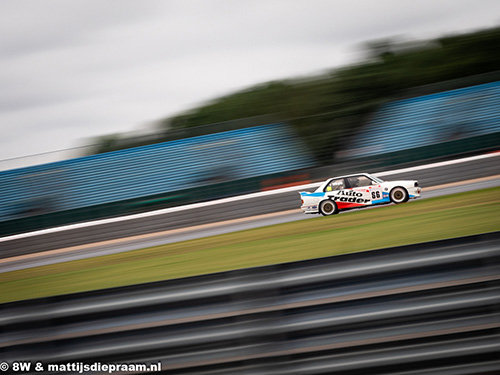 Nick Whale's BMW M3 flying through Stowe. (photo 8W)
Saturday's Historic Motor Racing News Pre-63 GT race – now effectively run by Motor Racing Legends – saw the Hunt/Blakeney-Edwards combo do it again in their AC Cobra, with the Cottingham/Stanley E-type and the Halusa brothers' Ferrari Breadvan not far away, though hounded as the Breadvan was by Jon & Jack Minshaw in another E-type.
MRL's own combined RAC Woodcote & Stirling Moss Trophies went the way of Olly Bryant, whose Lotus 15 was pipped by David Hart's Lister Costin at the stops, but Bryant was soon back into the lead to win by three seconds. The RAC Woodcote section was snapped up by the Pearsons, finishing eighth overall in their D-type.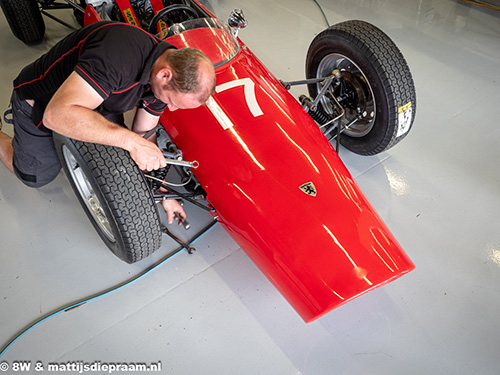 The European debut of the unique Peugeot-engined Netuar, a South African early-sixties F1 special conceived by Rauten Hartmann. (photo 8W)
Two more HSCC races completed the mornings' grids, Dean Forward (McLaren M8F) holding off Georg Hallau (Lola T310) for the win in the first Thundersports race while Hallau was nip-and-tuck with John Burton's nippy Chevron B26 on Sunday, the German managing just enough to claim victory. Meanwhile, Michael Lyons dominated the 50-minute Historic Touring Car Challenge race in his Ford Sierra RS500, ahead of Craig Davies in a similar machine and Steve Dance in the best of the mighty Capris.