2022 Silverstone Classic report
Thrills down to the line
Author
Date
Related articles
Who?

Mike Cantillon

What?

Williams-Cosworth FW07C

Where?

Silverstone

When?

2022 Silverstone Classic (August 26, 2022)
Why?
On its fresh late-August bank holiday date, The Classic proved to be a success with both fans and competitors, partly helped by three days of glorious sunshine and entry lists usually overflowing with cars. The racing was extremely good too, several races offering thrills all the way down to the finish line.
Apart from the date change, the organisers declined to deviate one bit from their formula of heaping the best of British all on one heap, shortening all their races by a touch from their regular length and cramming it all into three jam-packed days interluded by fanciful demos – such as the Group C 40-year anniversary – and ended by live music. Masters Historic Racing delivered no less than nine races, Motor Racing Legends contributed with four, the Historic Grand Prix Car Association and the Formula Junior brought two each, and the hosting HSCC another three.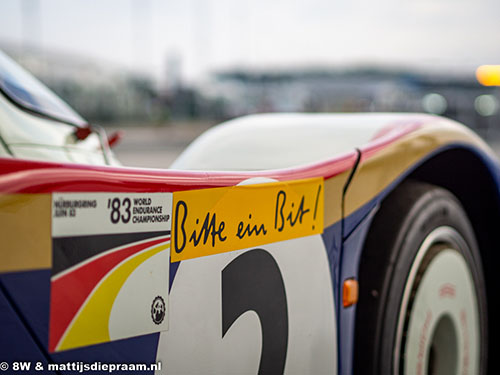 The 40-year Group C anniversary leaned heavily on Henry Pearman's unequalled collection. (photo 8W)
Arguably headlining the event as always, the Masters Racing Legends – as Masters' series for 3-litre F1 cars is now called – centered around the Frank Williams Memorial Trophy this time, celebrating the recently departed legendary team owner. It was only fitting that Mike Cantillon in his Williams FW07C dominated proceedings by claiming the full house of pole and pairs of fastest laps and wins – and even more fitting that the Irishman was presented the trophy by Sir Frank's sons Jonathan and Jaime. In the process, Cantillon's double win broke Steve Hartley's streak of at least one win every Masters Racing Legends weekend although 'The Jam Baron' still consummately leads the season's standings. The McLaren MP4/1 driver was runner-up to Cantillon on Saturday without posing a true threat and languished in fifth on Sunday, leaving Jamie Constable's Tyrrell 011 as Cantillon's main pursuer. American Ken Tyrrell starred by hauling his 011 to two third places, an accomplishment that pleased him hugely. In the pre-78 class, Phil Hall pocketed an easy win on Saturday but when his Theodore TR1 faltered on Sunday, Ewen Sergison's Shadow DN9A was there to grab the spoils.
Michael O'Brien proved another double winner on the weekend, the youngster taking his Brabham BT6 to two strong wins in the pair of day-opening Formula Junior races. In the first race, he was forced to fight Horatio Fitz-Simon (Lotus 22) and Tim De Silva (Brabham BT2) to the line, but was less troubled on Sunday.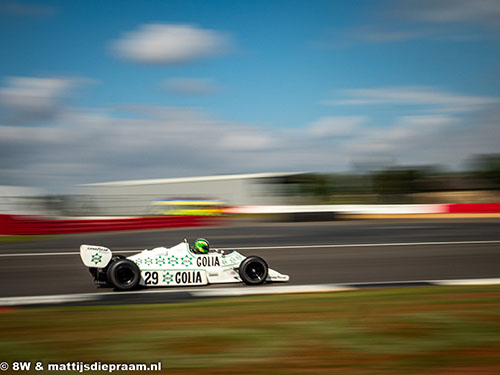 Austrian Arthur Bruckner again added colour to the Masters Racing Legends grid in his ex-Thierry Boutsen Arrows A6 with its unique Golia livery from the 1983 Italian GP. (photo 8W)
Perhaps the greatest double Classic winners of them of all were Julian Thomas and Calum Lockie. In his ex-Andy Rouse Sierra RS500 Cosworth, Thomas initially suffered misery in the Tony Dron Memorial Trophy for MRL Historic Touring Cars, but once paired with Lockie, he produced three extremely powerful opening stints that the Scottish pro was able to finish off in attacking style, on each occasion coming from behind. This not only handed them the Bonnier class win in Masters Sports Car Legends (in their Chevron B8) but also the overall wins in the Masters Gentlemen Drivers race (in their Shelby Cobra Daytona Coupé) and the Masters Pre-66 Touring Car race (in their Ford Falcon). In Gent Drivers, Thomas ran out to a 13-second lead but that on its own wasn't enough to compensate for Lockie's elite-driver time penalty at the pitstops. Passing four cars on his way back to the top, Lockie dove past John Davison's TVR Griffith and James Dodd's Jaguar E-type on the penultimate lap to grab yet another win in the category. In the touring-car race, a similar scenario developed, this time Lockie surging past four Mustangs including the second-placed Phil Quaife/James Thorpe example to steal another win.
Meanwhile, Saturday's curtain-closing Masters Sports Car Legends race was a cracker in itself. Its main story was the finely poised lead battle between two very talented youngsters, Tom Bradshaw from pole holding Alex Brundle at bay until Brundle's Lola T70 Mk3B began developing an issue. This was after Bradshaw's Chevron B19 had started to produce amounts of smoke similar to what Brundle would succumb to, but the Chevron B19 held on until the chequered flag – but not before its suspension had collapsed to delaminate its front-left tyre, leaving Bradshaw to limp across the line on three wheels…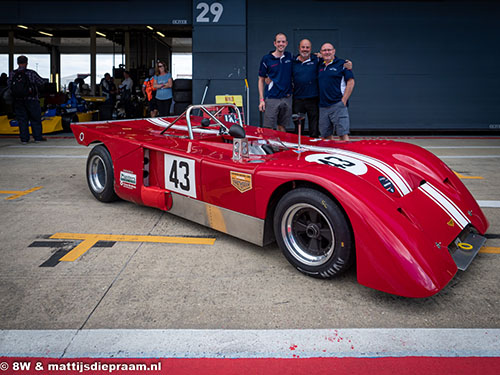 Tom Bradshaw's tightly knit family team came home with a hard-fought Masters Sports Car Legends win. (photo 8W)
The final double winners of the event would come from two more single-seater grids. In his Cooper T53, Will Nuthall conquered both wins in the HGPCA's races for pre-66 Grand Prix cars. Twice holding off Michael Gans in the later Cooper T79, Nuthall also encountered the same third-placed finisher on the podium on both days – Rüdi Friedrichs in another T53. In the HSCC's International Formula 2 races, Ben Mitchell took a handy pair of wins in a Martini MK19/22, fending off a bunch of March 782s piloted by Matthew Watts, Greg Caton and David Shaw, as well as Tim De Silva in a Chevron B35.
The big Thundersports race was the host's second contribution, and here an octogenerian came away with the spoils after Dean Forward's rumbling McLaren M8F failed to finish. As a consequence, John Burton's Chevron B26 took over to only narrowly win from Greg Caton's March 75S and the James Claridge/Gonçalo Gomes Chevron B23, the car that also took second in the Masters Sports Car Legends race.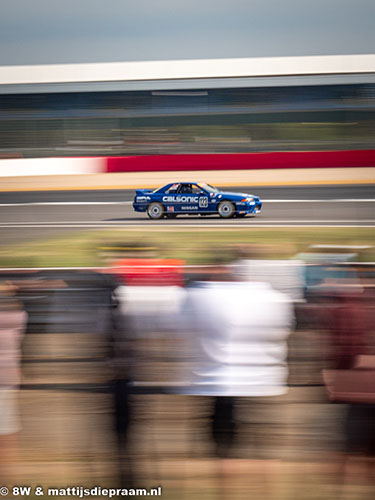 Ric Wood's Nissan Skyline GT-R failed to make it to the end. Two other Godzillas did, however, to give Nissan a double win in the Tony Dron Memorial Trophy. (photo 8W)
Motor Racing Legends added to the programme with four single races led by its combined Stirling Moss Trophy and RAC Woodcote Trophy. In his Lotus 15, Roger Wills proved victorious in the former while Gregor Fisken and Martin Stretton took their HWM to a win in the latter. Fisken won again in the Pre-War Sports Car race, this time teamed up with another of the great preparers, as the trader along with Patrick Blakeney-Edwards proved elusive in the Frazer Nash TT Replica that they shared. And while James Cottingham and Harvey Stanley had missed out on the win in the Woodcote Trophy, they did capture victory in their E-type in the Pre-63 GT race.
The big seventies and eighties touring car race mixed with the U2TC's sixties machinery was MRL's last trick on the programme, and here the Nissan Skylines were in a class of their own, Andy Middlehurst taking the win in his example. Only preceded by Middlehurst and Simon Garrad's similar 'Godzilla', Gary Pearson and Alex Brundle took their seventies Capri RS3100 by the scruff of its neck to beat an entire flotilla of eighties Sierra RS500s to third overall.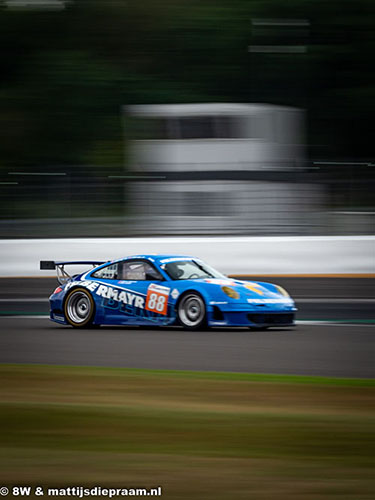 Steve Osborne and Rob Smith were among the new faces in Masters Endurance Legends, racing their ex-Felbermayr Proton Porsche 911 GT3 RSR. (photo 8W)
The most recent sportscars were brought into action in the two remaining Masters grids. Remarkably, in Masters Endurance Legends both races were won by the cars that finished second on the road. On Saturday, Steve Tandy's Peugeot 90X looked like having sealed the win, only to be put back by a time penalty for passing under yellows. This handed the win to Jamie Constable's Pescarolo 01 – a car that had been in the gravel trap the day before and was uncertain to even start the race. On Sunday, Michael Lyons in Simpson's freshly rebuilt P2 Lola-Mazda B12/80 was poised for the win but coming from 26th on the grid Tim De Silva's Pesca 01 seemed to have stolen Lyons' thunder out of the final corner. However, the stewards deemed that the American performed his pass with all four wheels off the track and demoted him to second place.
The Masters GT4 Challenge aimed to bring together 15 years of GT4 racing, but despite SRO's involvement the one-off experiment failed to truly come to fruition, as many of the continental teams had obligations elsewhere. The 15 cars that did race gave the fans two exciting races, though, helped in no small amount by youngsters Seb Hopkins (Porsche 718 Cayman GT4 RS CS) and Freddie Tomlinson (Ginetta G56 GT4) gunning for glory. The two split the wins, with especially Sunday's tussle between the two capturing the imagination.