Alfa's first CA(R)Tastrophe
Part 1: About what happened late 1988 and early 1989, as printed in the British press
Authors
Henri Greuter & Aldo Canzian
Date
Related articles
March-Alfa Romeo 89CE - Alfa's first CA(R)Tastrophe, by Henri Greuter/Aldo Canzian
March-Alfa Romeo 90CA - Fiasco Italo-Brittanico, by Henri Greuter
March-Porsche 90P - The last oddball at the Indianapolis Motor Speedway, by Henri Greuter
Who?

Howdy Holmes

What?

Alex Morales Racing March-Cosworth 88C

Where?

Indianapolis

When?

1988 Indianapolis 500 (final day of qualifying)
Why?
The first of the Autosprint articles we had access to was dated late January, but the Alfa CART/Indycar project started before that date. Since this period also needs to be dealt with this first part is needed. Here we will use British magazine Autosport as the predominant source of information.
Being primarily intended for the British market, this magazine focused heavily on the British racing scene in the widest sense of the word, thus also giving occasional attention to the developments at and around the March Group. In late 1988, a few things were reported in Autosport that gave some insight into Alfa Romeo's future plans as well as those of March Engineering.
Reading advice
You will find the information based on the articles in regular script.
In italics are our views based on hindsight, personal reflections and other information we believe to be of relevance in order to put the magazine information in a better and sometimes different perspective.
One of the first signs in Autosport about Alfa Romeo's plans was printed in their edition dated October 20th. Two announcements by Alfa Romeo were coming up, according to Autosport. The first one was expected to be made within about two weeks and concerned plans for Alfa to cooperate with the Brabham team to enter the Sports Prototype World Championship. Alfa had a suitable engine for such a project, the 3.5-litre V10 that was demonstrated a few weeks before during the Italian Grand Prix when the 164 Procar powered by that engine was demonstrated. But according to Brabham nothing was decided yet, while it was similarly unknown if Alfa would commit for 1989 or 1990.
Before an announcement about such a Sports Prototype programme, however, an announcement was widely expected in Italy to come within a week about Alfa entering Indycar with a new turbocharged V8. Alfa's representatives had been present at the recent Laguna Seca CART race and boss Cesare Fiorio was to attend the season closer at Miami in order to share details about the Indycar programme.
Expectations were that after the test programme in 1989, one or two teams would be using the engine in 1990 before it was offered for sale in 1991. The Kraco and Shierson teams were said to be the early favourites to run the Alfa engine.
The Kraco announcement was somewhat of a surprise. In late 1988, it had been the very same Kraco team with driver Michael Andretti that was the beneficiary to use the first results of Cosworth's attempts to upgrade their engines that by now were overwhelmed by the now all-dominant Chevy Indy V8. During two races at the end of the season, Kraco had the exclusive use of upgraded Cossies that had up to 35hp over the average regular DFX engine.
What also is rather surprising: a few years before, when Ferrari had plans to enter Indycar, they teamed up with the Truesports team. For some reason, this team was apparently not considered by Alfa, despite the fact that one could think of some very good reasons for getting them involved. Of course, there were also reasons to better not disappoint that team yet another time should the plans not come into fruition.
As for how Truesports had been disappointed after Ferrari cancelled the Indycar project, the team had not just lost access to a factory-supported deal. An even bigger setback was that the team, despite being rated as a top team in CART, was denied any access to the ever more progressing Chevy engines. It has been suggested that Ilmor decided this as a repercussion for the team's contacts with Ferrari.
In the same edition, Autosport also informed that CART had decided on new rules valid from 1990 until 1994. No changes in the engine formula as it was known but there were some changes with the chassis coming up from 1990: smaller wings, reduced diffuser exit heights and the driver being relocated 10 inches (25.4 cm) further back within the chassis.
The 1988 CART season had been rather disastrous for March, and this while at first sight March had appeared to be the favourite. The new 88C looked sleek and it was facing the Lola T88/00 which was rated as not much more of an updated version of the 1987 car with the disadvantage of being slightly heavier than the preceding car. Also, the 'father' of the Lola T87/00, Nigel Bennett, had left Lola to design a new Penske instead, and it was expected that Bennett and Penske first needed to get used to each other. In the years before, the Penske PCxx's had not really set the world on fire, alhough the '86 type PC15 may have had something of an excuse, as that car was fitted with the first versions of the Chevy Indy V8 and in 1986 the engine was nowhere near fully competitive. In fact, one could argue if the development of both chassis and engine had been hampered because of being used together instead of using a well-known alternative chassis for the engine (Lola or March) or engine for the chassis (Cosworth).
By the way, during the '86 season the Chevy was eventually used in March chassis after all. But in 1987, the Penske PC16 had been another failure and Team Penske saved the season by again fielding their 86Cs of the previous season, but there were some thoughts about the team still not being on par and capable of matching both Lola and March if it came to building their own cars.
At Penske, Bennett designed his own successor of the Lola T87/00, then named Penske PC17, and that was a better car than Lola's own successor to the T87/00. In fact, it may say something about the quality of the T87/00 when you realize that Lola's American importer Carl Haas provided his own team (Newman-Haas Racing) with a T87/00 for Mario Andretti to drive at Indianapolis! The very same 1988 CART season annual mentioned that particularly at high-speed ovals the T87/00 was still a very suitable car.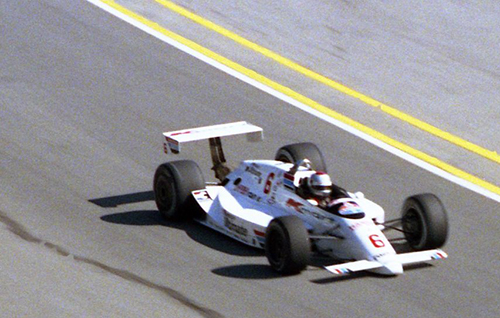 Mario Andretti in his T87/00 qualifying for the 1988 Indy 500. Had he won the pole, this chassis (T87/00-009) would have been on pole for two years running. Not many cars in Indy history achieved that, and eventually neither did T87/00-009. (photo HG)
So instead of being the apparent favourite, March got a rude awakening for the second year in a row. The company had started the season with what could be considered three top teams and a dark horse team in the CART championship using their latest car (88C) and at the end of the season one of their drivers (Al Unser Jr with the Team Galles entry) was still within reach of being crowned champion. In fact, Unser Jr won as many events during the season as eventual champion Danny Sullivan (Team Penske) but during the season the top teams of Patrick Racing (with Emerson Fittipaldi driving) and Kraco (with Michael Andretti driving) parked their Marches and went over to Lolas of either 1987 or 1988 heritage, whatever was obtainable.
Other teams that had obtained 88Cs and hung on to them, both Arciero Racing and Alex Morales Racing were very much midfield teams and Porsche was in the first year of their engine programme so not much could be expected from them.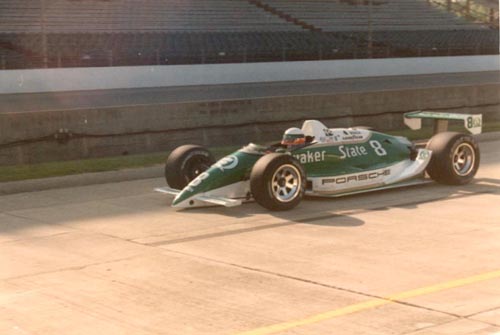 This is March chassis 88C-014, one of the three 88Cs that was purchased by Porsche for their first full year in CART. (photo HG)
Other teams starting and finishing the season with 88Cs were Machinists Union (but for Kevin Cogan only), Gohr Racing and Arciero Racing. But not all of these teams ran the full season and were in the game primarily because of being at Indianapolis.
For the sake of completeness: one 88C had ended up in a position to be run only at Indianapolis that year. The car was fitted with a Buick V6 and the entry list names the entrant as Patrick Kehoe. With Hardee's sponsorship the team made a fairly decent impression, also because of its driver, veteran Pancho Carter. Carter must have had one of the unluckiest days ever in Speedway history for a driver, without ending up in hospital for either treatment or confirmed to be 'dead on arrival'. Proof needed?
How about this: Saturday May 21st, 1988, on the third day of qualifying, seconds before finishing his qualifying attempt with the 88C-Buick, Carter crashed and spun, sliding over the finish line backwards. The debate if this qualifying attempt was valid or not was prevented by the fact that the yellow light was out before Carter crossed the finish line. Then, a few hours later, Carter crashed his back-up car (an 86C-Buick) beyond repairs as well!
The very same 1988 CART annual stated that more March customer teams considered Lolas because their being more responsive and adaptable to the ever-changing circuits of the CART series. It was also reported that teams felt the Lola to be easier to set up.
In his book March: The Rise and Fall of Motor Racing (2001), author Mike Lawrence told the following about the 88C. According to Lawrence the design of the 88C was done with some rule changes in mind that would limit the size of front and rear wings. As a result, the 88C was to some extent a 7/8th scale 87C. When that rule change didn't come the eventual car had a less than ideal aero package. The result of that was that the car performed fantastically but only within a very small window that was difficult to find for the majority of the teams that used the car. Another factor that compromised the 88C was the fact that the car was rather hard on its tyres. in fact, too hard on fast tracks which showed. Yet on the other hand, on tracks where it was difficult to heat up the tyres (street courses in particular) this behaviour worked to its advantage and in general the 88Cs were more competitive over there. All things combined, the 88C ended up as being able to be tremendously competitive at certain venues but it took efforts to achieve that maximum level of performance and it was up against cars that in general were better allround performers.
More worryingly for March, its predecessor 87C had not been much of a success either and with two at best very mediocre cars in succession, March was about to lose many of its potential customers.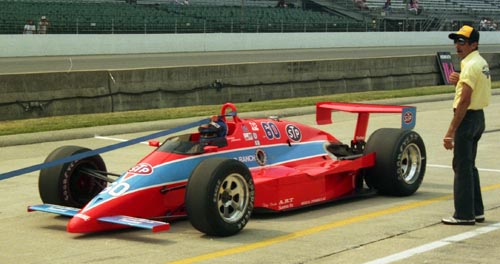 March's fall started with this design. Although pictured in May 1988, this is a March 87C, very much in the shape and configuration most commonly used in 1987. Gordon Johncock drove this car in the second week of practice and on Bump Day in 1988. He managed to qualify 33rd fastest but immediately after finishing his attempt was bumped by the next qualifier. Already in 1987 it was said that the car was difficult to drive and hard to find its sweet spots. Only a few drivers managed to be really fast with an 87C at Indy in 1987, most notably Roberto Guerrero and Arie Luyendyk. (photo HG)
Notwithstanding the questionable quality of the customer Indycars of the past two years, the Autosport edition of October 27th contained an article about what was to become the latest March customer Indycar, dubbed the 89C. Only a very few components were taken over from the 88C. The new chassis had an improved pitch sensitivity and reduced drag for speedways. The rear end was to be extensively modified, with a three-shaft gearbox with pushrod suspension. The front suspension was also pushrod. Interestingly, the car was also said to be easier to service.
Another week later (November 3rd) Alfa Romeo was said to be due to make announcements about their Indycar programme and Sports Prototype. For the Indycar project the cancelled Ferrari 034 engine of 1986 was the starting point for the entire project and talks with several CART teams about using Alfa engines were said to take place. One of these teams was Kraco. There was, however, also the rumour that Brabham was building an Alfa Romeo-engined single-seater which had to be an Indycar. Alfa was part of the FIAT group and in that group only partner Ferrari was permitted to participate in F1 so any Alfa-powered single-seater could effectively be anything but F1.
Yet another week later (November 10th) Autosport reported that in Miami, Alfa boss Cesare Fiorio had informed the press that Alfa was indeed about to enter Indycars in 1989, although it was not ready to do so at the start of the season. Alfa would not take part before Indianapolis but only from that race on. Talks with various teams about using the engines were taking place but no decisions were made yet.
There were strong rumours that the Alfa would be used exclusively in March chassis but Fiorio hinted at the exclusive deal between March and Porsche making things unsure for Alfa. But he also hinted at the engine eventually being generally available to all.
As for the matter of possible FISA sanctions against CART manufacturers, Fiorio stated that Alfa needed to compete in the USA because of its sporting reputation, and that there were reasons beyond the sporting aspect as well that ensured that Alfa would go to the US.
In their November 24th edition, Autosport reported about all the production acquisitions of March Engineering and their growth in order to produce the new 1989 cars. The plans were very ambitious and restructuring was taking place using these new facilities. With regards to the Indycar programme, the news was that March had hired Maurice Philippe who had left Tyrrell earlier that year and would lead the team that worked on the 89C Indycar. A first version of this car, dubbed 89CE, would be ready at the start of the season while later on during summer a revised version dubbed 89CL was to be delivered. The 89CL was supposed to incorporate features that would enable the car to meet the new-for-1990 rules after installing an inexpensive 'update kit'.
Interestingly enough, there was talk about the first version (89CE) being ready for the start of the 1989 season, but there was no mention of the number of cars being built and/or how many customers had placed orders.
One might also wonder if customers would be interested in running an updated 1989 design in 1990 against opposition that had bought bespoke cars designed to the 1990 rules.
Finally, now that his name has dropped, Maurice Philippe was not an unknown in the world of Indy, as he was the designer of several Indycars, and at least two of them are still regarded as being among the most outrageous and innovative in the entire history of Indy racing, even today.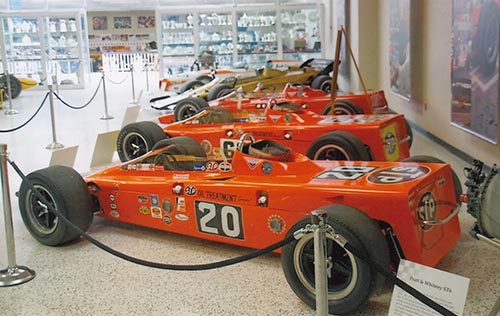 Fitted with a turbine engine and 4WD, few if any racecars in history were such radical innovations and technological revolutions, Maurice Philippe designed the legendary Lotus 56 for the 1968 Indy 500. In 2014, when the Speedway museum created a exhibition with just about every car that ever raced at the Speedway using a turbine engine, it was a rare occurrance of what is to be believed the current versions of the four built 56s brought together in one single room. Is this a case of 4x4x4s? (photo HG)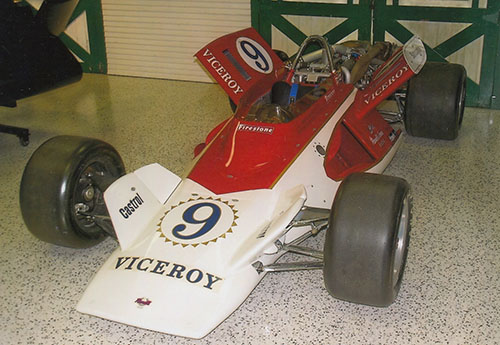 An attempt to do away with a regular rear wing while still generating downforce and stability, designed by Maurice Philippe. The Parnelli VPJ1 cars eventually raced without the anhedral wings and used regular front and rear wings instead. (photo HG)
One week later (December 1st) Autosport reported news about the other Alfa project, as the atmo V10 had been tested in the back of an old Lancia LC2 chassis at Balocco. Another week later the British magazine reported that Roberto Guerrero had been spotted in Italy. Guerrero had been driving for the Vince Granatelli Indycar team this year but since it was known that Granatelli was to change its engines from Cosworth to Buick and therefore might be dropping the CART series and instead focus on the Indy 500 only, the thought of Roberto leaving the team and being in contention for becoming the driver of what was by now strongly suggested to be a Alfa-powered March chassis became feasable.
There were no more references to the Alfa project(s) in the remaining editions of 1988 Autosport editions but something else was not mentioned either: any news about March supplying Indycar chassis to any US customers, not even potentially interested customers.
And so we enter the new year 1989.
Autosport devoted column space to Alfa's CART plans for the first time in their edition dated January 12th, with March Managing Director David Reeves announcing that March was to supply the 89CE chassis to the Alfa Indycar programme. At what was once the Ralt Cars factory at Weybridge two March 88C chassis were modified into mules for the test programme, to be followed by two purpose-built 89CEs that were supposed to be ready for tests in April. A date for the cars' racing debut was to be set based on these tests but the team was sure not to appear in the first two races of the season. The cars were to be run by Johnny Capels' team.
According to Mike Lawrence in his March book, it had been decided not to continue the 89C customer car project but instead make the 89C the Alfa car. The question remains of course in how much this decision was inspired by the interest from CART teams for the 89C! And if such interest had been shown, would the 89C have continued as a customer car project? And would another design have been submitted for the Alfa project or would the 89C have also been used for the Alfa project?
Another article mentioned that it seemed likely that the driver for the Capels-entered car was Roberto Guerrero, although supposedly there were no contracts signed yet.
In yet another article mention was made of the March Group PLC expecting to withdraw from the London stock market and returning to private ownership again. Japanese business man Akira Akagi of the Leyton House company was to hold a majority share. The article contained all kind of details but for this write-up it is interesting to mention that new agreements with Porsche and Alfa Romeo were said to be 'valuable'. No date was mentioned for the stock market pull-out but it proves the kind of turmoil March was in, in order to remain in business.
There are all interesting observations but something was lacking in all these stories - and that's the mention of any Indycars (to be) sold to customers!
The cars supplied to Alfa were named 89CE, and this is also the type number given to the first version of the announced customer car for 1989 (as mentioned by Autosport in their November 24th edition). But as two 88Cs were modified first, this suggests that at the time no 89CE had been built yet and ready to be converted for use with the Alfa V8. Was this a sign that by that time March was certain of having no more customer cars ordered, with all work on the 89CE being given less priority? And although it is not mentioned anywhere as being the case, could the 89CE project in fact have been rescued by putting it forward to Alfa Romeo as an exclusive partner offer instead? Such a conclusion we found in print was by Rick Shaffer in his book CART, The First 20 Years 1979-1998. In his book about March, Mike Lawrence mentions that the plans for producing the customer 89C were shelved, with the 89C project becoming the exclusive Alfa car. So it looks like it that instead of the Alfa deal becoming an additional project for March, it was instead one that came along and that for the hardware took off at a point where another project had been put to rest. Or, if you prefer, what started out intended for one purpose was continued for another. A purpose that in some respects was less impressive but more prestigious: a continuation, yet one with a change in direction.
For the record, there is no confirmation yet about the identity of the two 88C chassis that were to be used as mules. However, the name of Johnny Capels has popped up, and he was with the Morales Racing team that he had effectively taken over and kept running after the recent death of team owner Alex Morales. So there is reason to assume that the two 88Cs mentioned were the ones used by Morales Racing in 1988. The identity of one of these cars is known, more on that in due course.
Autosport magazine mentioned that two 88Cs were prepared for mule duties. According to March historian Mike Lawrence, three cars were prepared for this job. Lawrence did not list the origins of this third car and/or its previous history.
Banner-head articles had still not appeared in Autosport magazine about the Alfa Indycar project announcing the cooperation between Morales Racing and the March-Alfa Romeo combination, but in the January 26th edition an announcement followed about tests at Balocco with a March-Cosworth gathering baseline data for both the 1989 chassis and the Alfa V8. Johnny Capels was to oversee these tests carried out with one of the March chassis his outfit had used the previous year.
By now we have reached the point of starting to build up our backbone based on articles that have appeared in the Italian Autosprint magazine. But we will continue with inserting relevant information from other sources as well as reflections based on hindsight and other observations gained over time.