Alfa's first CA(R)Tastrophe
Part 4: Alfa's 1989 CART Season
Authors
Henri Greuter & Aldo Canzian
Date
Related articles
March-Alfa Romeo 89CE - Alfa's first CA(R)Tastrophe, by Henri Greuter/Aldo Canzian
March-Alfa Romeo 90CA - Fiasco Italo-Brittanico, by Henri Greuter
March-Porsche 90P - The last oddball at the Indianapolis Motor Speedway, by Henri Greuter
Who?

Michele Alboreto, Eddie Cheever, Alain Prost

What?

Ferrari 156/85, Alfa Romeo 185T, McLaren-TAG Porsche MP4/2B

Where?

Detroit

When?

IV Detroit GP (June 23, 1985)
Why?
In this part we will look at the events as mentioned in Italian magazine Autosprint, dealing with the Alfa Romeo Indycar project as they took place during the actual 1989 CART season. While these Italian articles will be the backbone for this part, using italics again, we will add relevant information printed elsewhere which the Italians did not convey to their readers. We will also evaluate the Italian articles, using both such relevant information obtained elsewhere as well as the benefit of hindsight.
We have by now reached the point that Alfa made its debut in the CART World Sries. This took place in the weekend of June 16th to 18th during the fifth race of the season, the Valvoline Detroit GP held on the streets of Detroit.
On the PR pictures released of the 89CE another interesting observation could be made. Apart from a few decals of component suppliers the car was devoid of any sponsorship decorations. In many ways it was a repeat of Alfa's debut in Formula 1 a little more than tej years before. When the F1 Tipo 177 finally made its debut in the Belgian GP of that year (1979) it had also been painted red and was devoid of any sponsorship.
If Alfa has a history of running cars without sponsorship in its debut year, maybe it was something more common for Italian car builders, at least in the year 1979. Because in that same year 1979, Lancia entered the world of endurance racing with their turbocharged Beta Montecarlo Group 5 car. The factory-entered cars did not feature prominent sponsorship either, although the Lancia did use more prominent decorations to identify the car as a Lancia and used more main body colours other than red. Both the Beta Montecarlo Turbo and the 89CE would eventually run their entire first season without showing a major sponsorship deal.
(For the purists, we are aware of the fact that the Beta Montecarlo Turbo was also used in the Giro d'Italia, an event not counting for any championship. And in that particular event, the cars ran with Alitalia sponsorship, in the famous colour scheme of that company. And now we're busy, the Beta Montecarlo Turbo also ran without sponsorship in its second year of participation in the World Endurance Championship.)
As for any possible sponsors for Alfacorse's CART efforts, let's not get into the matter of which sponsor could have been interested in being associated with the programme in this early stage to begin with.
The June 20th edition of Autosprint had, among other things, a small picture of the 89CE-Alfa on the cover with the proclamation: "F.Indy a Detroit Alfa Debutto OK".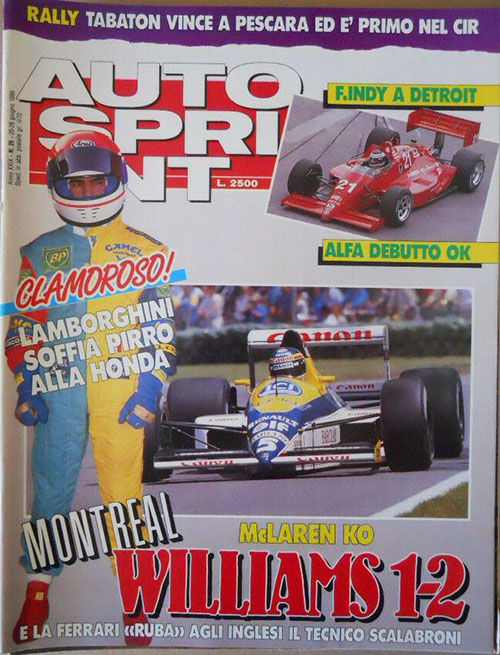 Alfacorse earned itself a picture at the cover of the Autosprint edition
that featured the team's debut race in the CART series.
Looking at the final results, the debut was indeed promising but when we look deeper into what Autosprint told their readers, it becomes a bit different. Out of 28 qualifiers, Guerrero was only 23rd on the grid, more than 6.9 seconds slower than polesitter Michael Andretti (Lola-Chevrolet T89/00).
In defence of Roberto, it needs to be said that the entire field was stretched out massively. Rick Mears who was ninth fastest had a gap of over two seconds with Andretti while Arie Luyendyk, tenth fastest, was already over four seconds adrift! In other words: the gap between Pole and tenth was larger than that between tenth and 23rd.
But another concern had to be that the Alfa-powered 89CE was slowest of all four March cars in the field. Curiously enough, all four Marches were entirely different cars!
Teo Fabi was fastest in his Porsche-powered 89P (eighth on the grid), Kevin Cogan in a Cosworth-engined 88C was 13th, and Steve Saleen in an elderly Cosworth-engined 87C 20th.
(Saleen had failed to qualify a March-Cosworth 88C at Indy a few weeks ago, after crashing it. Replacement driver Johnny Parsons then wiped out Saleen's backup, another 88C-DFX! So here are some more details about the fate of some of the 88Cs at Indy in 1989.)
But qualifying that was so-so at first was followed by what could be seen as a very decent race performance. What had ever so often been praised about the Alfa engine up until now (its reliability) worked into its favour: by surviving and staying out of trouble, Guerrero was classified eighth, a lap down on winner Emerson Fittipaldi. Autosprint pointed out to its readers that it had not escaped the Alfa people that scoring points in the debut race for both car and engine had not been achieved by a number of their current opponents in the past. The team members, including Guerrero were positively surprised and expectations to improve on this result in the upcoming season grew.
Alfa certainly had some bragging rights because of their debut race resulting in a points-scoring result. Make no mistake: Alfa's debut result was indeed exceptional. When we exclude the results with upgraded engines based on an existing design, the only engine that improved on Alfa's debut effort in CART history with a brand-new engine was the 'MonsterMerc' Ilmor 265/E run by Team Penske in Indy 1994. And that was technically an engine that did not comply to CART engine rules but was built according the USAC rule books. It competed in an event organized by USAC that also counted for the CART championship. So it actually needs quite a bit of stretching it before we can count the Ilmor 265/E as a CART engine that scored points in its debut race.
Autosprint followed up with their June 27th edition in which the next CART race was covered, the Portland event. After the jubilant comments about the debut race, this time they captured the general impression about the event as a 'weekend to forget', with again a 23rd starting position, this time almost four seconds behind the polesitter. Main reason for the poor performance were difficulties with the chassis, with a re-occurance of the lack of grip suffered in the past. Chassis development was not quite feasible since March had not yet replaced the departed Maurice Philippe, so Roberto was confined to duelling with the backmarkers until the moment of his retirement. Prospects for the next race at Cleveland looked even less positive since the track was deemed to be even less suitable to the 89CE.
Progress on the engine was hampered by poor functioning of the pop-off valve. Not mentioned by Autosprint was the fact that Roberto retired from the race with a fuel injection problem after 26 laps. The CART 1989-90 Annual listed this.
Nevertheless, according to Autosprint, the commitment was still there, although the team knew that they still had a long way to go, the challenge to develop the chassis seen as their biggest challenge.
As pathetic as things were for the Alfacorse-March combo, there were also positive things to report for March. This was for the entirely separately operating Porsche team. Driven by Italian driver Teo Fabi, the March-Porsche 89P had won pole for the race at Portland, certainly a milestone for the team that had also been involved in an uphill struggle since the previous season. So, courtesy of Fabi, Autosprint still had a small Italian CART success to report about after all.
A surprising detail about the Autosprint CART race reports: only the classified cars are listed! Retirements are entirely ignored, with no indication of retirement laps nor reasons. Hence the reason why the CART 1989-90 Annual came in handy for this piece of writing.
In their July 4th edition, Autosprint was able to report some better news about the much feared Cleveland race. Things appeared to be somewhat better for Morales and Alfacorse with at least the car being reliable enough to make it to the finish, albeit just out of the points: a 13th place could be added to the record books. The race reports mention that in the early part of the race Roberto made a fine charge from the back to the midfield.
Right after the Cleveland race the team went back to Michigan for another high-speed oval test session.
More importantly, a new engine with more power was coming up for the next race. Updated engines with new camshaft profiles and pistons which allowed an increase in maximum revs had been on the benches at the Alfa facilities in Milan but also at the Turin-based Abarth factories. Maximum revs had gone up from 11,700 to 11,800 rpm, with power output raised thanks to these modifications. Tests with the engine had been carried out by Bruno Giacomelli at Fiorano and had been very satisfying, according to Bruno.
Autosprint expressed that these changes had increased the confidence with the team of being more competitive against their opponents. A picture of Giacomelli driving an 88C appeared in print confiming that the 'muletta' was still providing valuable contributions to the Alfacorse CART efforts.
Coincidence or not, but it ever so often happened that when Autosprint printed a report in a certain mood about the Alfa CART project, the situation proved to be entirely reversed the next time.
Cleveland had been better than anticipated and then the magazine went on to list all the positive prospects for the next event. But instead, things took a nosedive.
The next race at Meadowlands was frankly disastrous. Guerrero did not qualify for the race! That Roberto was actually able to start after all was because he and Steve Chassey were added to the field thanks to something reasonably common in the US racing world, the organisation using the so called promotor's option: the right of the organisers to add a participant to the starting field for whatever reason, be it because of a stroke of misfortune being corrected or a valuable driver generating spectator interests (revenues and gate income!).
It didn't matter much for Guerrero since he retired from the race. Autosprint mentioned that Roberto managed to work his way up from the rear in the early stages of the race but then crashed out.
The retirement reason as listed in the CART '89-'90 annual was a suspension issue.
The race itself was a wet event and won by Bobby Rahal in a Team Kraco-fielded Lola-Cosworth DFS.
Rahal's victory was in many respects a case of history repeating itself. In 1988 he had won the Pocono 500 with a Judd V8-powered Lola, entered by Truesports. It was to be the only victory for a non-Chevy-engined car in that year. Rahal had switched to the Kraco team in 1989, one of two teams receiving assistance from Cosworth with the use of the improved, short-stroke version of the venerable Cosworth DFX. Arie Luyendyk was the other beneficiary of the shortstroke engine known as the DFS.
Running slightly ahead of time, these two singleton victories for Rahal with the Judd and the Cosworth DFS eventually turned out to be the only victories ever for both these engines.
Besides the mediocre Meadowlands outing, Autosprint also reported about the test held at Michigan with the 89CE fitted with what was said to be a more powerful version of the Alfa V8. Guerrero turned a fastest lap with an average of 337kph (209.4mph), with a top speed measured at 340kph (211.2mph).
Scott Pruett was testing the Truesports Lola-Judd T89/00, and his average and top speeds listed by Autosprint were 345kph and 350kph (214.3mph and 217.4mph).
For the fans of March cars, a ray of hope for at least one decent performing car was the fact that Teo Fabi in the March-Porsche 89P had a fastest lap of 350kph (217.4mph) but the Porsche V8 didn't survive that test.
For Alfa Romeo, having a more powerful engine spec or not, it was obvious that if Guerrero wanted to finish in a high position, he couldn't count on the speed of his car compared with that of the opposition. Instead, he had to trust the Alfa's engine's reliability, ever so often praised, to endure his ordeal while hoping that lots of his opponents would retire.
One thing he could count upon safely was a lot of retirements during the Michigan 500. Not that you could safely predict who was going to retire but it was always a certainly at Michigan that not many of the starters would finish the race.
The next race of the season was at Toronto, and that became a race in which the contribution of the March-Alfa made some headlines, if for all the wrong reasons. Roberto was no less than three seconds off the pace in qualifying, which earned him a 19th spot on the grid. This came after an engine failure on the first day of practice. Autosprint reported that the engine had been given a new inlet system but the team had had little opportunity to gather data. After a mere four laps Guerrero's race was over due to an oil leak. Unbelievably enough, the 89CE wasn't taken off track but left in its position, a receipe for disaster.
Seven laps later, when trying to overtake Teo Fabi in the March-Porsche, Mario Andretti ran into the parked March-Alfa at a speed close to 250kph! Thankfully, only his front right wheel made contact with the left rear wheel of the 89CE. Mario still ended up in a nasty looking high-speed crash but the result wasn't as bad as it could have been if he had run straight into the Alfa's fuselage.
Autosprint also mentioned that Alfa Romeo was to start a separate test team that would work with an aerodynamically updated version of the older March chassis.
Those last comments may raise a few eyebrows. Given the fact that in the past months Bruno Giacomelli had carried out a number of tests with an updated 88C, how different was the input of this new test team going to be? Or was this new test team going to operate in the US as well?
If there wasn't that much positive news to mention about the March-Alfa's performance, March made an announcement about their upcoming future that also included the Alfa program.
As we have already seen, new Indycar rules were coming up for 1990. March made it known it had every intention to gain back a share of the CART customer market while still continuing the factory-supported projects with both Porsche and Alfa Romeo. Each of these programmes was to have its own facilities, Bicester for Porsche, Colnbrook for Alfa Romeo, running separate from another. Still, there was to be a transfer from input coming from the Porsche group into the March company. The Alfa project was to benefit from this but the knowledge would also be used for the new customer car that the company envisioned.
Especially with 20/20 hindsight, this reads as a very ambitious programme for March: two exclusive factory-supported projects in addition to a generic car available to whomever wanted it, and this at a time that the March Group was in disarray in many ways, including money-wise.
Autosprint #30 of 1989 was released on 8/8 and paid attention to the Michigan 500 as well as some other matters in relation to the Alfa efforts. This included the ambitious news that the team considered entering a second car for Italian driver Nicola Larini in the season finale at Laguna Seca. Nicola had participated in the Alfa test programs after failing to find a Formula 1 drive and it was assumed that Laguna Seca was the kind of road track where he would feel comfortable.
Meanwhile, Alfa once again brought updates to the engine, as work had been done on the valves and the air intake box. Work on the design of a new, smaller engine for the 1990 car had already started.
Also, the March organisation had ensured the people from Alfa Romeo that they would hire new staff to take the place of Maurice Philippe. One name mentioned was Tony Cicale who at the time worked on the March-Porsche programme but there was also talk about March wanting to hire Mo Nunn, chief engineer at Patrick Racing. Which team the new guy had to work with was not sure yet but it was far from certain that this would be with Morales Racing. March was looking around for another partner in order to show its commitment to the Alfa project by teaming up with an outfit that at least on paper would be stronger.
The team had been testing at Michigan and to some extent one could say that it had not been for naught, even if the final results in both qualifying and the race did not show such. During the first qualifying session things hit rock bottom when Roberto crashed the car and had to change to the backup car the next day. Qualifying went quite a bit better the following day, Roberto putting down a time that was 16th fastest of the entire field. But due to the rules he was forced to start behind all cars that had qualified the day before, so a 27th place was the best he could achieve, no matter how good his speed was.
Guerrero made a decent impression during the first part of the race on the notoriously difficult Michigan track by working himself up to a respectable 11th position but regrettably the day came to an early end after 99 laps when the engine lost power. Michigan is known for its high attrition rate so in that respect the early end for Roberto in the race should not have been much of a surprise.
Halfway into August, Autosprint reported that later in the month a (yet another?) new engine would be ready for the dyno. Meanwhile, an engine template had been sent to March for the design of the 1990 car. In order to enhance its development, again there was talk about a second car entered for Nicola Larini in the season-ending event at Laguna Seca, as was mentioned previously.
It's definitely an interesting thought if the team was capable of running two cars and supplying all the assistance required for such an effort by what was in all reality a one-car team. All the more when keeping in mind that the team had just two 89CEs at its disposal. The third car owned by the team being the ever faithful `Muletta` which had seen active duty back in in Italy. What could be the added value of running two cars in only one single race late in the season remains of course another matter for thoughts.
One of the highlights of the CART season was the third 500-miler held at the Pocono tri-oval. The highlight was, of course, the Indy 500 but Long Beach and the Michigan 500 were also rated as highlights within the season.
But in their edition of August 29th, Autosprint reported the Pocono 500 to have been a disappointing experience for Alfacorse. Support at the track provided by March came thanks to an engineer who had no experience with oval tracks! So it was left to Johnny Capels and his men to sort out the car but the car was still rated as being undriveable. During the first part of the race electrical problems came up with the engine that the crew managed to cure during the first pit stop, so at least the car made it to the chequered flag, having qualified 22nd, and classified 16th, but 14 laps behind winner Danny Sullivan.
Autosprint stated that the engine did make progress (but no original source mentioned for that) but that this wasn't met with corresponding progress with the March chassis.
Autosprint had an Italian CART achievement to celebrate in their edition of September 5th. Two days earlier, Teo Fabi had won the 12th CART race of the season at Mid-Ohio driving the Porsche-engined March 89P. Ever since Indianapolis, the 89P had shown increasing promise and scored ever-improving results. All the work was finally rewarded with victory for the Italian driver.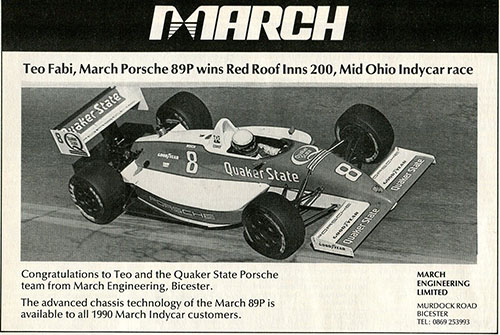 March banged the drum hard with their race victory courtesy of the 89P. This advertisement appeared in Autosport magazine in the edition dated September 7th. Quite an interesting announcement about March's future plans in this advertisement.
The Alfa Romeo section within March also had something to celebrate, as for the second time this season a point-scoring finish was obtained, and it was a true to the word 'point-scoring', since it was a solitary point for 12th place.
Following this result, Alfa expressed their disappointment with March's input into the entire project. Of course, no-one could have expected the car's designer to die before it made its first race but in the immediate aftermath, during the early outings with the 89CE, a decent replacement for Maurice Philippe had still not been hired. As a result the car wasn't properly developed, which by now began to lead to the embarrassing situation that the older 88C 'muletta' was said to be more competitive!
How this claim was supported, however, remains unclear. At least in the printed material we could consult we have not found any evidence about an 88C-Alfa being present in the USA, be it the Italian-based chassis used by Bruno Giacomelli or the second ex-Morales 88C. But it's almost 100% sure that neither of the 89CEs had been sent over to Italy for tests on location to obtain comparison data with the 88C 'muletta'. So how could such a statement be supported? The most likely answer looks to be that by now either the Italian-based 'muletta' had made the journey to the US or that (as mentioned in the British press) the second 88C test hack had arrived in the US.
March had tried to fill the gap left by Philippe by hiring John Baldwin while talks were also started with Mo Nunn, Fittipaldi's engineer at Patrick-Ganassi Racing. Since this team was on its last legs in its current configuration, an opportunity opened up to sign up Nunn. Pat Patrick was to pull out at the end of the season and his partner for this season, Chip Ganassi, would take over the team, although no longer with Fittipaldi driving. 'Emmo' was to move to Penske Racing, along with the Marlboro sponsorship, but it was, of course, worth the try to get Mo Nunn working for Alfa. During that ongoing '89 season, Fittipaldi and Patrick Racing were putting up a title chase, with engineer Nunn getting the maximum out of the team's Penske PC18s. The Patrick Racing PC18s were at least as fast, if not better than the factory Penske entries.
Contacts between Pat Patrick and March werer not so strange for another reason. In the 80s Patrick was involved with the American Racing Series for which March had supplied chassis. Patrick had been racing in Indycars/CART with his own brand of cars (the Wildcats) but from 1984 on he had been using March chassis up until mid-1988. By then he was also among the teams that started the season with 88Cs but replaced them with Lolas to remain competitive, meaning that there had been fairly good connections between Patrick and March in recent years.
March got yet another kick in the b*tt for doing a lousy job with regards to the development of their chassis, as in the same period Alfa Romeo supposedly created three different engine variations and was working on the 1990 engine expected to be ready later in the year. November was mentioned.
But Autosprint reported another, even more tantalizing event. According to them, no-one else but Mario Andretti, on behalf of Lola, had inquired with Claudio Lombardi about the prospects of Alfa supplying engines to what was decribed by the magazine as being his (Andretti's) cars.
Now, why is this such a tantalizing suggestion?
Mario was driving for Newman-Haas Racing, and their cars were effectively the closest to being the official Lola factory cars, given the fact that Carl Haas was Lola's US importer. The article doesn't put beyond doubt that the cars Mario was referring to would indeed be the Newman-Haas entries or if he was going to split from the team and set up another team to field Lolas. Given the fact that the connections between Mario and Newman-Haas were tight and secure, it appears most likely that the idea was to have Newman-Haas using Alfa engines. On paper that would have looked like a massive powerhouse of a team: the 'de facto' Lola factory team using a factory engine deal.
Or...
Although it was known that Mario was tightly connected to Newman-Haas Racing, this had not always been the case. One occasion is known in which Mario showed interest in leaving Newman-Haas to join another outfit. This was in late 1987 when the strong belief emerged that Mario would join the Porsche project! However, once he had seen the Porsche 2708 chassis, his comments about the car were not very positive and he immediately backed out of these plans to remain with Newman-Haas.
But there is more to say about Newman-Haas and Alfa Romeo possibly joining up.
Newman-Haas was one of the few teams permitted to use the powerplant that since 1988 had become the most dominant CART engine, the Ilmor-Chevy. Was the team willing to sacrifice the advantage of having access to a known winner for again participating in a development process that in the end needed to result in an engine capable of beating the by now all-dominant Chevy? The answer appears to be rather surprising. It was in fact not impossible at all. But in order to understand this line of thought we must have a look at future events that did take place.
Because when in 1992 Ford entered Indycar racing with a factory-supported programme carried out by Cosworth, Newman-Haas gave up its Ilmor-Chevy deal and took up the challenge of being one of two teams to develop that new Ford engine, Chip Ganassi Racing being the other team. Now, this doesn't necessarily mean that something similar would have happened in 1990 with Alfa, should the opportunity have arisen, but it is a sign that Newman-Haas teaming up with Alfa was less impossible than one might think at first sight.
As a final thought about Alfa teaming up with Newman-Haas, there was the contract between March and Alfa to be considered. Team co-owner Carl Haas was the US importer of Lola cars! No way that he would arrange for his CART team to use other cars than the ones he was selling to his customers. Alfa had to separate from March one way or another, should they have decided in joining forces with Newman-Haas.
Was Alfa was in a position to easily get out of its March deal? There were some reasons in Alfa's favour, such as March's apparent lack of commitment up until now. But was this enough reason to separate and switch to a Lola team?
No matter what, Alfa teaming up with Newman-Haas for 1990 remains an interesting and tantalizing thought.
But if it comes to the subject of 'Mario Andretti's commitment to Newman-Haas Racing in the late eighties' there is even more to tell. That is, if you dare to take certain posts made on an Indycar Forum seriously, and with that, the writer of these posts who does so anonymously and without providing leads to verifiable proof.
Research for the poster's identity was done but without yielding any results. Yet the poster in question appears to be someone with top credentials in the word of motor racing publications, and so his stories at least can be taken seriously enough to mention them here.
In short, the poster tells about Mario Andretti's interest in joining the Porsche Indycar team but despite the fact that Mario didn't join the team for its 1988 debut, he did assist in bringing technical expertise to the Porsche team! The post reads as follows:
"Andretti put a lot of work into the project. He dispatched key people to the team who were allied to him in order to whip the team into shape for his arrival and to prepare it for future growth."
As for the key people involved, the poster gave a clue in a later post in the very same thread:
"Rather, it was one of Andretti's Newman Haas engineers. Andretti said the charge he gave to the engineer was to whip the team into shape for Andretti's arrival and to ready it for expansion once Andretti had elevated the outfit into being a consistent member of CART's upper ranks."
Such information about Andretti's doings was put in print somewhere, according to the poster, but without him giving clues as to where and when. Our available literature did not list anything about it. It was most likely an American publication.
Although none of all this 'Mario-to-Porsche' talk bore any direct relation with Alfa Romeo's CART exploits, it remains interesting to mention it. It can be dismissed as not credible enough due to a lack of confirmed and accessible proof, but if all of Mario's wheeling and dealing is indeed true it does proof that Mario Andretti was much more active behind the scenes in order to have options open to him to get him into the best possible Indycar drive. It would certainly add more credibility to Autosprint's statements that Mario had approached Alfa Romeo about the use of its engines at Newman-Haas Racing.
And for the sake of being complete: even though it was during an entirely different stage of his career, there is another case of Mario being linked to a company not involved with the team that he drove for. During an interview I had with Mario himself in 1989 about entirely different matters, he mentioned how from 1972 on he had been involved in getting Ferrari over to Indy. So let's say there is more than enough evidence for Mario willing to keep his options open if he noticed what he regarded as a good opportunity.
The September 12th edition of Autosprint devoted attention to the CART race held at Elkhart Lake, the 13th of 15 races this season, but little is said about the efforts of the team. Based on their qualifying efforts the engine was getting better, yet the chassis still trailed the opposition. Looking at the qualifying results, we see that Guerrero was 20th on the grid with a time of 1.58.783 while polesitter Danny Sullivan had lapped the track at 1.50.37. In other words, if CART had maintained a 107% rule for making the field, Roberto would have failed to qualify. And to give you an idea about the spread of the field, Kevin Cogan's 88C-DFX was 15th on the grid, a little over 2 seconds faster than Guerrero.
Still, it could be worse...
We already mentioned how Guerrero was added to the field at Meadowloands thanks to the promotor's option. Elkhart Lake definitely needed this promotor's option to attract a few more spectators on Race Day. There is hardly another explanation for the fact that the final driver on the grid was permitted to start with a qualifying time of 2:24.615! This was some 34+ seconds slower than the polesitter which translates to 131% of the pole speed. But when the full name of this particular driver reads Anthony Joseph Foyt, the answer to how this could have happened is given at once.
Guerrero retired after 17 laps with suspension failure and was classified 21st.
This event is causing a bit of a mystery in the history of March-Alfa engined CART cars, as on the internet a directory of pictures can be found of cars that appeared at Elkhart Lake that year. An Alfa-powered car, driven by Guerrero is included in this directory but it is 100% sure not an 89CE. In fact, it looks to be an 88C, the front suspension lay-out acting as the giveaway.
The picture supplies no clue to whether it was taken during practice or the race. And although there appears to be no printed proof, Autosprint providing no clue to it either, it seems 99.9% sure that by this time a '88C muletta' (88C-009 or the other, unidentified ex-Morales 88C?) was present in the US and was used at this event. How long an 88C had been at hand for the team still remains a question.
Anyway, since the picture shows the car on a dark and apparently wet day while the race was taking place in bright sunlight, it's the most logical conclusion that the 88C was used in practice. Without photographic proof to support it, it remains unclear if it also started in the actual race. Regrettably, the Autosprint article did not contain a picture of any of the Alfas.
The race result provided little hope for Alfa Romeo's short-term improvement, but the long-term future that was lined out and made public in more detail that same weekend appeared to be slightly better, because as Autosprint announced, Alfa Romeo had committed itself to honour the contract signed with March. There had been thoughts about breaking up the three-year contract but any plans for Alfa to bow out were next to impossible given the fact that the contract was iron-clad and left no reasonable options. However, Dave Reeves promised a much stronger organised March input in which Claudio Lombardi dared to put his faith.
Knowledge about a decent performing Indycar was available in the entire March organisation. The 'Porsche' group had made progress this season and that was reason for some confidence that a March sister car fitted with the Alfa engine could be competitive, thanks to a likely amount of input from this 89P type into the new Alfa-powered car.
Dave Reeves had also promised a new racing team to cooperate with, as an upgrade from the Morales outfit. The aim had been to team up with Patrick Racing who had Mo Nunn working for them. However, Patrick had turned down the invitation so March was still looking around.
It needs to be pointed out that March had the task to find a CART team to team up with Alfacorse. Unlike what one would expect, Alfacorse itself wasn't active in this.
All this negotiating with Patrick Racing leaves a number of thoughts. We already mentioned that since the beginning of the 1989 season Patrick Racing had a new partner, former driver Chip Ganassi, with Chip set to take over the entire team while Pat Patrick was to retire. So did Patrick turn down the invitation because of his impending retirement or was there something else going on? Was Patrick already having regrets and looking into opportunities to remain in racing after all? Or, maybe an even more challenging thought, was March trying to persuade Patrick into changing his mind and luring him back into a new programme?
As mentioned before, it was nothing new for Autosprint to print something one week and the opposite one week later. In the #38 edition dated September 19th the magazine announced that Alfa was to sign a contract with Pat Patrick Racing, supplying their new engines to the Patrick team!
Despite being a 'Patrick Racing Team', it would not be the same Patrick Racing Team that was still active this year but instead very much a new outfit, Patrick practically starting from scratch again, although there were a few assets that Patrick managed to take along.
One of the biggest of those was their engineer Mo Nunn. Nunn had never been very successful in F1 with his Ensign cars but once in CART he had a revival of fortunes. During the ongoing 1989 CART season he managed to get more out of the 1989 Penske-Chevrolets fielded by Patrick Racing and driven by Emerson Fittipaldi than the factory Penske team managed!
The intention was that Nunn went to England to follow progress on the new car. Interestingly, Nunn and Guerrero had been working together in F1 already (1982 and 1983) and built up a good relationship, so it became logical for Patrick to sign Guerrero as his driver and have him continue his relationship with Alfa Romeo.
Patrick's own 1989 driver, Emerson Fittipaldi was rumoured to be heading for Team Penske along with the Marlboro sponsorship deal that Patrick-Ganassi still had, with a history between Marlboro and Emerson from the days when Emmo drove for McLaren in 1974 and '75 and winning the driver's title in '74.
The plans were for continuing with a single-car team as both Patrick and Alfacorse had been doing this season, but with a second car to be run at the Indy 500.
One week later (September 26th) Autosprint printed a race report on the Nazareth CART race but results-wise the less mentioned the better it was. In short: Guerrero had an accident in practice when he collided with Johnny Rutherford. In qualifying Roberto was 16th of 21 qualifiers, using the backup, but in the race was involved in a first-lap accident along with three other cars and was out of the race on the spot.
If performance and results were not worth spending much words on, that doesn't mean that there was nothing of interest to mention about Alfacorse's exploits that weekend.
Additional research about this event learned us that some information as told in Part 8 about the 1990 March-Alfa Romeo 90CA is incorrect. Part 8 is the original brief review of the 1989 season and the 89CE's career and tells about how Johnny Capels had informed us that at Nazareth the second car present was not a second 89CE but the muletta 88C-009, and that this was the car eventually used in the race. However, there is unquestionable evidence available that it was an 89CE that started the race. In scenes from the TV race report in which car #21 appears it is clear to see that the car has the front suspension arrangement as found on the 89CE. So it looks like Mr Capels unintentionally put us on the wrong foot. Still, as we will see, there was confirmation found that the 88C was indeed used at Nazareth.
In its qualifying report, Autosprint did report that Guerrero was forced to use the backup car, a newer type of car less suited to this kind of (short oval) tracks. This does suggest that Roberto practised and crashed (destroyed) an 88C. Johnny Capels stated that the 88C used at Nazareth was crashed beyond repairs. Secondly, the crash in which Guerrero retired from the race didn't appear to have been destructive for the car. Therefore, the most likely scenario for what happened that weekend is that the 88C was used for practice and intended to be raced as well, but the Guerrero's crash with Rutherford prevented this.
To the 89CE's credits, it needs to be said that although Autosprint mentioned that the car performed less well on ovals, it also stated that Guerrero did some some decent practice and qualifying laps with the car.
But in Autosprint's ever continuing saga of how a certain subject looked entirely different compared with the week before, the 'plans for 1990' took yet another turn in this week's edition. After all the positive plans about the new 1990 car being entrusted to Patrick Racing the week before, this week the Italian magazine informed its readers that March still had to make the offer to Patrick Racing and was postponing the deal with a top team. There was talk about financial issues involved in completing the final deals, with Alfa supposed to make more fundings available to find sponsorship.
Alfa reacted upon all of this by stating that it had no intentions of terminating the deal with March but that FIAT's attorneys were looking for possibilities to end the contract with March. In support of such an action, Carl Haas had supposedly offered assistance in connecting Alfa with Lola.
This statement still leaves a lot of options to consider. It could be nothing else than Haas being a mediator in order to bring Alfa and Lola together, thus allowing Alfacorse to obtain Lola chassis and go on from there. In that case Haas could still retain his Chevy engine deal and keep using what was by now the all-dominant engine in CART.
However, the option discussed above of Newman-Haas dropping the Chevy engine, teaming up with Alfa Romeo and thus creating a powerhouse of the de facto Lola factory team with a factory engine deal was still possible based on the way that Autosprint relayed this information in print.
But for the time being the option to stay with March appears to have been Alfa's preferred one. Nevertheless, it is hard to say that the marriage between March and Alfa Romeo was a happy one if it came to showing unconditional commitment. And what kind of long-term effects would this have for the new 1990 car that was yet to be built?
One week later, on October 3rd, Autosprint had yet another twist to report about the possible fate of Alfa Romeo's continued Indycar programme. This time they reported about Alfa having been approached by the Truesports team for a supply of engines next season, the primary reason for this being the fact that the team did not have sufficient money available to fund further development of their Judd engine.
The Judd engine programme was nowhere near as well supported as what Ilmor did with the Chevy Indy V8, and it was likely also less well-financed as both the Porsche and Alfa factory-supported engine programmes. The year before, the Truesports team had managed to win a race with their Lola-Judd but such success had eluded them this year. The Judd engine programme was slowly but surely losing appeal and a future.
For the 1990 season, the Truesports team had not opted to spend the budget primarily on engine development while using it in a customer chassis, in their case a Lola. For the years after, however, Truesports made plans to gain an chassis advantage by eventually building their own chassis.
We already mentioned that for 1990 new rules were introduced in Indycar. Let's repeat the most important change, as drivers were moved back some 25cm (10") within the car, but major changes with respect to aerodynamics were also part of the new rules.
First of these aerodynamical changes was that the rear wing was moved forward some 12cm (approx. 5"), the second one was that the floor's maximum height, and thereby the maximum ground clearance of the ground-effect tunnels, was reduced from 10" to 8" (approx. 25.4cm to 20.3cm). This was to have major effects for updating older cars for yet another year of use, so it warranted the option of obtaining a new car built around these rules instead of hanging on to an older chassis that would be more of a compromise.
Truesports, however, was among the few top Indycar teams that decided on not replacing their 1989-type Lolas but in anticipation of building their own cars planned on modifying their 1989 cars according to the new rules.
With this in mind, one might wonder how attractive Truesports could have been for Alfa as a partner for 1990, as there was a serious chance that the Truesports hybrid would not be up against a brand-new car designed from the outset with the reduced ground-effect tunnels. So how serious had Alfa looked into this request?
Nevertheless it remains a somewhat interesting idea. A few years before, Truesports had been earmarked by Ferrari as their partner for the Indycar project the factory had worked on in 1985 and '86. Eventually this Ferrari connection failed to yield anything positive for Truesports: no cars and/or engines. It has been suggested that because of the links with Ferrari the Truesports team was no longer considered a potential candidate for the all-conquering Ilmor Chevy Indy V8. This may well have been another factor as to why Truesports showed an interest in the Alfa engine: at least it was a factory-supported programme which offered more potential for development and the eventual performance level, with the financing of course covered by the factory. This would allow more sponsorship money to be guided into a chassis development programme.
Another week later (October 10th) Autosprint came with a load of news about Alfa's future plans in CART. The deal to attract Pat Patrick had been finalized at last, as Autosprint introduced them as the championship and Indy-winning team being involved.
At least in this part of the article, Autosprint appeared to write about the 1990 Patrick Racing team as if it was merely a continuation of the team that Alfa Romeo was competing against in 1989. Even at this stage in the season and with the plans of the aforementioned takeover by Chip Ganassi well published in the American press, Autosprint kept ignoring all of this. Thus despite the name, this 1990 Patrick Racing team was an entirely new team with a name still used by a team in 1989 that was to be renamed at the end of the year!
March was said to have convinced Mo Nunn to close the deal while both Patrick and Ganassi had been hesitant about it, primarily because of the obvious recent signs that showed March's clear decline as a constructor.
The mention of Chip Ganassi in this statement is entirely redundant, as Ganassi had never been part of talks between Patrick and Alfa Romeo: he had his own plans for the 1990 season and beyond.
With respect to the 'clear decline of March as a constructor' bit, there were indeed too many of such signs. But still there was a ray of hope in the form of the clear potential shown by the Porsche team and their exclusive March 89P chassis. It needs to be said that it appeared in print that several onlookers found the Porsche V8 not to be as good as the almighty Chevy V8. To them, credits for the 89's decent performances had to be credited largely to the chassis, up to the extent that some observers wondered how good a March 89P chassis could be when mated with a Chevy, if such an easy engine swap was possible to begin with, as the 89P was a bespoke design around the Porsche V8 engine. A year ago, when the Porsche team had used March 88C chassis, it was reported that the three tubs delivered to Porsche had been modified slightly in order to accomodate the German V8. We have no detailed information about the '89 versions of the Porsche engines still containing the same details that required the modifications needed for the team's 88Cs but if that was the case, it would have made a straight swap from Porsche to the Chevy engine no easy task to achieve.
As already mentioned as a likely option, it was now confirmed that the 89P-type March and its technology were to become the inspiration for the new Alfa-powered car. Interestingly, this time Autosprint mentioned that a new racing team was created, owned by Pat Patrick, Mo Nunn and long-time chief mechanic Jim McGee.
This was indeed a far more correct description of the actual situation instead of the previous writings about the championship-winning team becoming a partner of Alfa Romeo.
Curiously though, Autosprint also mentioned Chip Ganassi as part of this combination. And then the Alfa fans on the home front were told even more fascinating plans of this new team.
Autosprint printed that it was Patrick's intention to send two Penske-Chevies to Italy for examination, the Patrick-Ganassi team owning a '88-type Penske PC17 and two '89-Type PC18s. The intention was to fit the Penskes with Alfa engines for test duties. Autosprint also knew that under the new 1990 rules, the PC18 would be faster on ovals and there were plans to field Alfa-powered Penskes on ovals in 1990!
Further details about the 1990 plans were that Guerrero was near certain to be retained as an Alfa driver and that second car would be entered in the Indy 500.
Apart from still insisting that Chip Ganassi was to be involved with all these plans, this article contains a lot of surprising details and scoops that raise lots of questions, most of all about those two Patrick-Ganassi-owned cars sent to Italy. It was known in the US at the time that Ganassi was to take full control and all assets of the Patrick-Ganassi team that he had co-owned in 1989. The three Penske chassis were to become his property as well as the Chevy engines. So, we may well wonder about Ganassi's thoughts about these plans of sending the cars he intended to use next year to Italy to be examined and fitted with Alfa engines for test duties?
Anyway, whatever plans Patrick and Alfa had with the Penske chassis, one may wonder about the efforts it would require to fit a Penske with Alfa engines if it came to modifying the car(s) and the time it would take to achieve this and then sort out the car. And could such a hybrid even be entered in 1990 by the Alfacorse/Patrick team? Not very likely, given the fact that the chassis were to be Ganassi's property that season.
Perhaps there was some opportunity to send not just the engines to Italy (as eventually did happen) but the chassis as well. But it appears very unlikely that the chassis were available for enough time to be used for anything more than a thorough inspectio.
As for any plans of retaining the Penskes and using them on ovals in 1990?
First of all, such a plan was absolutely impossible, given the fact that they were to become Chip Ganassi's property, with no-one even remotely part of the Alfa programme having any access to the Penskes anymore.
Secondly, it is unclear on which facts the assumption was made that the 1989 cars would have an oval advantage over the 1990 cars. It had also been reported in the British magazine Autosport but with neither any explanation as to why nor with the data to support this assumption.
Anyway, it was for sure a lot of news with a number of interesting thoughts.
Yet another bunch of information about 'Italy's hope' in the US single-seater scene was released onto the home front by Autosprint magazine in their edition dated October 17th. For starters, it covered the final CART race of the season held at Laguna Seca. The race itself yielded little for Alfa, Roberto retiring from the race from a 21st starting spot due to low oil pressure after 23 laps. He was classified 25th in what by all means was to be the final race for the 89CE.
Other sources give 'off course' as reason for the retirement.
As was now obvious, there was not a single reference to Nicola Larini in a second car. Despite all the talk a few weeks before nothing had happened. If it had ever been a serious thought, as making it possible would have been difficult: the team had only two 89CEs at their disposal and the third car, the 'muletta 88C' was said to be all but written off at Nazareth. Now, somewhere in the organisation the second of the ex-Morales 88Cs, if available, could have been prepared after all but how much effort would that have taken, and only for a single event?
So with only two cars left fielding two drivers might have been difficult. Maybe that is the reason why it never materialized?
Better news was given about the future. Manager Claudio Lombardi had signed the contract with Patrick Racing for the new season with an option to continue for another two years. At the same time he had signed a contract with March for the new car.
In sharp contrast to sending an engineer with no oval track experience, March had sent quite a delegation to this season-ending race. Dave Reeves had brought along a windtunnel model of what appeared to resemble the 1989 Type 89P. The new-for 1990-car would be named the 90AR but compared with the inspiration (89P) the rear part would be different since the 1990 Alfa engine was said to be smaller and lighter. Four examples of the car would be built exclusively for Alfa.
Another major innovation was that the new engine would be fitted with five valves per cylinder. (Three inlet and two exhaust valves, this was a trend that had also started in F1 and was applied by several engine builders. At that time, Alfa Romeo was still part of the FIAT group, as was Ferrari. The five-valve technology was also used on Ferrari V12 F1 engines while the Lotus F1 team used Judd engines with 5-valve cylinder heads made by Tickford.)
Lombardi was confident that this innovation would bring the Alfa engine on equal terms power-wise, if not beyond that, of the all-dominant Ilmor-Chevy.
There was less positive news, however, for Roberto Guerrero. His once near certain contract renewal was up in the air since Patrick Racing was to have new sponsors. New title sponsor Miller wanted to have a say in who would represent them, and names mentioned were John Andretti and Geoff Brabham. In recent years, Miller had also been represented by Danny Sullivan in the Miller-sponsored Penske entries.
With winning the 1985 Indy 500 and the 1988 CART Championship in cars they had sponsored, Miller had every reason to be content with Danny representing them in CART. But the connection between Miller and Team Penske was ended after the 1989 season since Marlboro would become the single team sponsor from 1990 on. This allowed Miller to become sponsor of the rejuvenated Patrick Racing team in 1990.
There were indeed serious options for both Miller and Sullivan to continue their relation at Patrick Racing. Autosprint was very enthusiastic about the idea of Sullivan teaming up with Alfa Romeo, given his reputation and experience in both F1 and Indycar and being a former Indy 500 winner
.
Autosprint once again mentioned the intended participation of the Patrick/Ganassi-owned PC18 chassis in the Alfa development process, this time with talk about the cars being modified after the last 1989 race to be fitted with the Alfa V8s for engine comparisons when fitted in a competitive chassis. Also, the possible plans of using the PC18s at Indy in 1990 resurfaced as insiders believed that the 1990 rules would be beneficial for older cars.
By the way, a similar suggestion was printed by Dutch magazine Autovisie in their report about the Laguna Seca race. So if anyone thinks that the people of Autosprint were fooled and misinformed, they were not the only ones.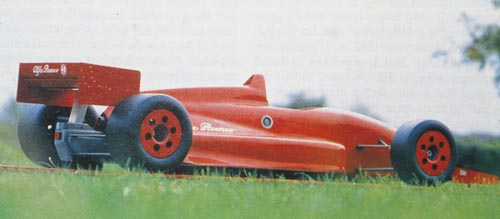 The very same Dutch magazine Autovisie that mentioned plans for the use of Patrick Racing Penske PC18s with Alfa Romeo engines also published this picture of a scale model of the 1990 March-Alfa. (photo copyright unknown, scan as appeared in Autovisie magazine)
Stranger things have happened in Indycar. But reworking the PC18s for tests with an Alfa V8 while in the US appears to be a more suitable option, timewise that is, than sending cars off to Italy to leave them at the mercy of Italian mechanics and depend on them for the kind of conditions in which they were returned to the US. If that could ever have happened also depended on the agreements between Ganassi and Patrick about the kind of activities that could be carried out with the cars and who had the final word about that. Could Patrick still arrange all this with the blessing of Ganassi?
Anyway, the only experience that the Patrick Racing PC18s provided to the development of Alfa's Indycar programme was that Roberto Guerrero was given the opportunity to drive one of the cars at a track near Memphis, where Guerrero was said to have set faster lap times than Fittipaldi. At least all people in charge with the entire programme were given a sign that from the threesome of 89CE & Alfa V8 & Guerrero, the driver wasn't the weakest component.
And so, at long last, we have come to the end of the March 89CE's active career in CART racing.