Alfa's first CA(R)Tastrophe
Part 5: Evaluations of the past year, closing the book and into the future
Authors
Henri Greuter & Aldo Canzian
Date
Related articles
March-Alfa Romeo 89CE - Alfa's first CA(R)Tastrophe, by Henri Greuter/Aldo Canzian
March-Alfa Romeo 90CA - Fiasco Italo-Brittanico, by Henri Greuter
March-Porsche 90P - The last oddball at the Indianapolis Motor Speedway, by Henri Greuter
What?

Almost certainly a March-Alfa Romeo 89CE

Where?

Amsterdam RAI car show

When?

1991
Why?
In this part we will look at the events as mentioned in Italian magazine Autosprint dealing with the Alfa Romeo Indycar project as they took place after the conclusion of the 1989 season. We are also going to evaluate the efforts of the Alfacorse project.
While these Italian articles will be the backbone for this part, we will add relevant information printed elsewhere that the Italians did not tell their readers, using italics once again. We will also evaluate the Italian articles, using both relevant information obtained elsewhere as well as the benefit of hindsight.
The 1989 CART Season was finished by now but Autosprint magazine did occasionally print some information about the progress of Alfacorse's Indycar programme into 1990.
Early November (the 7th to be exactly) Autosprint published a picture of a model of how the 1990 March-Alfa was supposed to look like. It was a picture of the model also presented at the final race weekend of the CART season a few weeks before, and the car was said to be different from the one been used this season. Some F1 influence was noticed in the shape as well.
The same article stated that rumours of Adrian Reynard having taken over the former Ralt factory for the Indycar project he was supposedly to have running after 1991 were not true.
How different things were to be within four years for both March and Adrian Reynard!
Then, the very same edition of the magazine also featured a review of the 1989 CART season. We will look into what the article said about the March-Alfa project later on.
Autosprint had further news on the 1990 March-Alfa in their edition of December 19th but again there were a lot of surprises. The magazine stated that according to representatives of March and both its engine partners Alfa Romeo and Porsche both the 1990 March cars were to be all-carbonfibre monocoques. Regulations permitted the use of all-carbonfibre monocoques as long as they achieved the same stiffness as the usual aluminium-honeycomb tubs. The confirmation of all of this had been made by Kirk Russell, CART's technical deputy.
As could be expected however, the news was not well received at all by the men who had the most to lose because of their involvement with chassis builders, either for themselves or supplying customer cars to others. Those two men (being Roger Penske and Carl Haas) but also a number of other team owners (the large majority of them customers with Carl Haas for Lola cars) feared that the all-carbon March cars would make their standard-design cars (aluminium bottom with carbon top construction) obsolete.
The curious fact about the contents of this article lies of course in the fact that there is talk about an all-carbon monocoque car for Alfa Romeo. In the British press material we had access to, such a project for an Alfa-powered car has never been mentioned, only for the Porsche-powered March project. But let's for the time being accept the news at face value and as correct, and look at the consequences if indeed both Alfa and Porsche would have entered all-carbon monocoque cars in 1990.
To make such a situation even more worrisome in the eyes of other CART entrants: these potentially superior all-carbon cars were not available to anyone else but the two teams that made use of factory-supported engine programmes. These engines were also unobtainable for anyone else in CART. So there was real danger of the series being overwhelmed by two factory-supported teams, each fielding cars entirely exclusive to them. At least one of those two teams (Porsche) had shown some real promise in the past season and was on the edge of becoming a formidable opponent.
And indeed, as history would prove, the last word wasn't spoken about this matter, not in 1989 and definitely not in 1990. But that is an entirely different story that we better leave untouched here.
There is however one small comment to make here.
In the British magazine Autosport dated January 18th, 1990 the magazine dealt with the outcome of this permission of all-carbon 'coques. As could be expected, permission was withdrawn. But according to this Autosport article, it was only the Porsche-engined design that was affected since Dave Reeves and designer John Baldwin had decided as early as September 1989 to continue with the aluminium and carbon monocoques for the Alfa project. Which, if true, makes you wonder why Autosprint suggested in its December 19th article that the Alfa-powered March for 1990 would be an all-carbon monocoque. Did they assume that if March did this for one of their partners, they would do the same for the other as well?
Anyway, this particular Autosprint article is certainly rather remarkable because of its mention of an all-carbon 'coque for the 1990 March-Alfa.
Because there were some other rule-making issues to settle as well, as it was announced that there would be a future meeting coming up to finetune certain rules. One of the issues that needed to be settled was the fact that it had become clear moving the rear wings forward on an chassis built in 1989 or older would render these cars uncompetitive anywhere else but at the superspeedways of Indianapolis and Michigan.
With all of this going on, Autosprint reported about another political 'tug of war' within CART, with CART president John Fresno shot out of the saddle to make way for no-one else but... Johnny Capels!
Which once and for all ended every involvement of Capels with Alfacorse.
As already mentioned, Autosprint printed a CART 1989 season review in their edition #45 dated November 7th. The conclusion about the Alfa efforts read somewhat familiar and refer to a situation of history repeating itself. Writer Alan Henry had written in his book about the March F1 and Indycars (published late 1989) about how in 1988 the new 88C had succeeded only in the hands of Team Galles. Alan Mertens, the main designer of the 88C, had left to become chief engineer at Galles. He managed to uncork all of the potential in his basic design by some major modifications, up to the extent that the car has been described by Alan Henry (in his book about March F1 and Indycars) as effectively having become a Galles.
The '89 March-Alfa, drawing back for so much on the basic 88C appears to have needed the same. Once the finished cars (remember, two 89CEs were supposedly built) appeared on track the progress they made during the season was limited at best. Autosprint rightfully concluded that the man who had designed the car, knew the most about it and had the ideas about the directions to take for further development was no longer involved in this process.
We can only speculate if and how much untapped potential was hidden within the 89CE, if Maurice Philippe would have been able to extract all that potential and how the 89CE would have looked compared with its opponents. But we'll never know. What is sure, however, is that March failed to find a man suitable to take over Philippe's responsibilities and make the best out of the situation. But was there even anybody vaguely in a position to step forward and take over Philippe's position?
According to Autosprint, the 89CE even went through the embarrassment that despite being a newer car it was inferior to its predecessor, the 88C.
This is quite a statement to make. But is it a valid one?
The thing is, there is another printed source suggesting the same.
In the 1989 CART Season Review as printed in Autosport magazine (publication date January 11th, 1990) author Gordon Kirby mentioned that the Alfa V8 was underpowered from the beginning and this remained so despite all efforts from the Italians. Now there is little reason to doubt any comment by Kirby who is known to be one of the best informed CART journalists of those years but even his article contains at least a curious hiccup.
According to Kirby, the team had used two different versions of what were updated 88Cs, the major difference being that one carried the old-style front suspension and the other had the new pushrod! And also according to Kirby, Guerrero preferred the older and lesser modified 88C!
Even if Kirby failed to identify the push-rod car as a different type of car, in addition to missing the fact that two such cars were in existence, he does suggest that the newer design was inferior to the 88C 'muletta'.
Apart from those two statements in print, can further evidence be provided?
Let's try to find an answer.
There have been a few occasions in which the team made use of an 88C instead of an 89CE. Assuming that in a direct comparison between the two Alfa V8-powered cars the older car was selected (as written by Autosprint and Kirby) then for sure the conclusion has to be that the 89CE was inferior to the older car.
But certainly early on in the season that Alfacorse competed, the 'muletta' was available, although primarily used for testing in Italy.
Now, if the 'muletta' had been located in the US and was readily available early on for the racing team over there, would it have been more competitive by then already?
Impossible to say, of course. But perhaps we can try to find some clues that provide an answer to this question as well as support the theory in general that the 89CE was inferior to the 88C.
The predecessor 88C was still used in the 1989 CART season but not by many teams and definitely not by top teams, and most of them irregularly during the season.
If there is one entry in the 1989 CART season that we can use to compare and validate the 89CE over the season, it must be Kevin Cogan's Machinists Union entry. Cogan used a March-Cosworth 88C. With the 89CE said to be an updated 88C, such a comparison appears to make sense. There is, however, more to tell about the 88Cs used by Cogan.
As a generic car, the 88C was designed to accept whatever engine the customer wanted to use. There is, however, word out that the three chassis supplied to Porsche had been modified slightly to suit installation of the German V8. But 88Cs had also been fitted with Chevy Indy V8s and Cosworth DFXs and at Indy even an example powered by a Buick V6, driven, crashed and DNQ'ed by Pancho Carter.
Kevin Cogan was among the 1988 drivers that used an 88C and one of the few that went up against the trend of teams parking the 88C during the season to switch to a Lola, be it a year-old T87/00 or the brand-new T88/00. At Indy, Cogan and his Machinists Union team raised some eyebrows when during the second week of practice at Indy in May 1988 they swapped their new Lola backup car for another 88C from Kraco Racing! But a direct comparison of the 1989 season performances between Cogan's 88C and the 89CE is not that straightforward.
The 1989 Hungness yearbook mentions that for the 1989 season Machinists Union had taken over two 88C chassis from Galles Racing. It is also mentioned that Rich Vogler got two 88Cs taken over from Kraco Racing. And now things become interesting yet also confusing.
It is well documented that the March 88C was very much an Alan Mertens design and that Mertens became the engineer for Galles Racing that season. Again it has been mentioned in print (Henry's March the F1 and Indycars) that during that season Mertens worked on his team's cars and had them modified to such an extent that the cars in some major specifications had little in common with the standard 88C.
Some details about the modifications carried out by Mertens over the year appeared in print in CART Men and Machines of IndyCar Racing about the 1988 season. The basic 88C was said to lack straightline speed and front-end grip which Mertens countered with a thorough redesign of the front suspension and revised aerodynamics. Especially at street courses the Galles 88Cs worked like a charm thereafter, the majority of the team's victories that year taking place at such venues.
Should we designate these upgraded Galles cars 88CB or 88C MkII? Anyway, these modifications were obviously a success. Galles driver Al Unser Jr was the only man winning races in the 1988 CART season with a March 88C, having been victorious on no less than four occasions! This was the kind of proof that the 88C had potential hidden in its construction, at least when fitted with the superior Chevy Indy V8, but it took a lot of effort and dedication to extract that potential. Another factor was no doubt that Al Unser Jr was one of the top drivers in the CART Series.
Anyway, Machinists Union is said to have obtained the two Galles 88Cs. And that raises the question: apart from taking out the Chevy engines, did Galles Racing also remove all the goodies they had put on the cars for Al Jr? Or were for example some of the suspension modifications so drastic for the monocoque that they couldn't be reversed, meaning that the chassis still retained some of these Mertens updates? Anyway, there is indeed a chance that Cogan had access to the improved 88Cs which could have been a factor in his performances on certain tracks.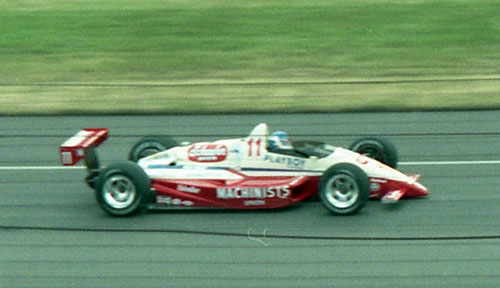 Kevin Cogan in his Machinists Union March 88C-17 during his first qualifying attempt on Sunday May 14th, seen in Turn Three. His engine expired in the attempt so as a result... (photo HG)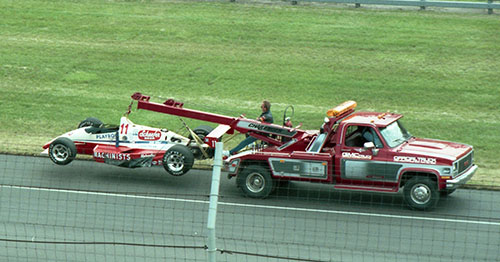 ...March 88C-17 on the hook. Eventually Cogan would qualify the car on the outside of Row 9. The next encounter of monocoque 88C-17 while on the hook... (photo HG)
However, there is yet another difficulty. The Machinists team had access to several 88Cs and it was not possible for us to find out exactly when during the season Cogan drove which car and if this was an ex-Galles car or not. As is described in Appendix 2, even determining the exact history of the car driven by Cogan at Indy is difficult due to the fact that there are several, not matching with other data published about them.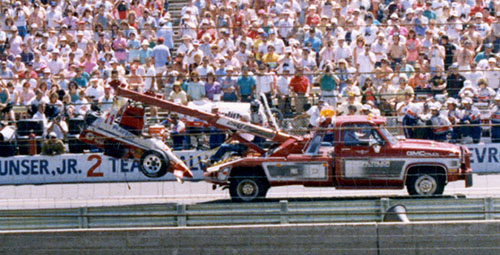 ...and what was left of the 88C-17 on the hook for the second time that year after the frightening crash on Race Day. (photo HG)
Anyway, it still remains very difficult to conclude if and when Cogan used the cars he and his team had used in 1988 and if or when he used one of these ex-Galles cars.
In his March tome, Mike Lawrence suggests that at least one more modification to the ex-Galles cars was still on the cars and thus identified. According to Lawrence, the cars did not use the standard 88C floor anymore but had been fitted with type-86C underbodies, this being one of the reasons why the Galles cars had gone so well in 1988, with Cogan being able to perform decently with them one year later. If anything, that shows how sound the design of the older 86C had been. Showing off the qualities of the man who designed it? The 86C was Adrian Newey's last Indycar design for March...
All of this makes a comparison between the 1989 results of Cogan in his 88Cs and Guerrero in the 89CE rather difficult. When are we dealing with what might still have been a Mertens-improved 88C and how does this affect the performance differences between Cogan and Guerrero?
Another complicating factor is the engine. There is some uncertainty about the power output of the Alfa V8. Was the power difference between the Cosworth and the Alfa V8 always in favour of the Cosworth?
We can still look at their respective qualifying performances to get at least some first insight. And while we're busy with results, apart from comparing the two men against another, it may also be helpful to compare Guerrero's achievements with the polesitter who most of the time drove a 1989-built car. Sounds simple, dig up the results, use a spreadsheet, et voilà! But it wasn't simple, since a few data could not be located because of not appearing in print in sources to which we had access. When we use everything we could locate, this is how the results look.
| | | | | | | | | | |
| --- | --- | --- | --- | --- | --- | --- | --- | --- | --- |
| Track | Pole | Cogan | Q-pos | Cogan | Guerrero | Q-pos | Guerrero | Difference | Guer/Cog |
| | Time | 88C | | %P | 89C | | %P | Guer-Pole | %P |
| Detroit | 1:41.681 | 1:46.387 | 13 | 104.6% | 1:48.623 | 23 | 106.8% | 0:06.942 | 102.1% |
| Portland | 0:57.643 | 0:59.411 | 13 | 103.1% | 1:01.510 | 23 | 106.7% | 0:03.867 | 103.5% |
| Cleveland | 1:04.636 | 1:07.577 | 13 | 104.6% | 1:08.597 | 21 | 106.1% | 0:03.961 | 101.5% |
| Meadowlands | 0:37.910 | 0:39.370 | 12 | 103.9% | 0:40.972 | 25 | 108.1% | 0:03.062 | 104.1% |
| Toronto | 0:59.499 | 1:02.617 | 21 | 105.2% | 1:02.524 | 19 | 105.1% | 0:03.025 | 99.9% |
| Michigan | 0:32.753 | 0:35.042 | 23 | 107.0% | 0:34.214 | 27 | 104.5% | 0:01.461 | 97.6% |
| Pocono | 0:42.510 | 0:46.035 | 21 | 108.3% | 0:46.209 | 22 | 108.7% | 0:03.699 | 100.4% |
| Mid-Ohio | 1:15.678 | 1:20.908 | 17 | 106.9% | 1:20.474 | 14 | 106.3% | 0:04.796 | 99.5% |
| Elkhart Lake | 1:50.367 | 1:56.692 | 15 | 105.7% | 1:58.783 | 20 | 107.6% | 0:08.416 | 101.8% |
| Nazareth | 0:20.610 | not entered | - | - | 0:20.679 | 16 | 100.3% | 0:00.069 | - |
| Laguna Seca | 1:12.348 | 1:15.994 | 19 | 105.0% | 1:16.522 | 21 | 105.8% | 0:04.174 | 100.7% |
As can be seen, on seven of ten occasions when Cogan and Guerrero were both entered, Cogan was the faster qualifier of the two. In the last column is calculated how much percentage Roberto's qualifying time was compared with Cogan's time, set as the 100% value. If we calculate the average of the ten values, it is 101.1%.
So at first sight it appears as if the statement that the 89CE was inferior to the 88C is indeed correct. But as already pointed out, there are a few factors involved, in particular with the exact kind of chassis Cogan was driving (upgraded 'Mertenized' ex-Galles cars or not) and on what kind of performance level the Alfa V8 was compared to the Cosworth DFX. The more inferior the Alfa V8 was, the more the car's results can be credited to the chassis (and blamed to the engine) and of course the other way around.
In hindsight, we know that Alfa never ever really got their engine on equal terms with the Chevy V8, despite all the work done during 1989 and 1990. Also, there are suspicions about the latest 1991 engines still having come up short against the allmighty Ilmor despite vigorous claims of the Alfa engine people that their engine was close to the Chevy, at least on the test benches in Italy. But then how often in the past have we heard from Italian race car builders how good their engines were and that the engine was probably the best part of the entire car?
One of the men involved in the design of the Alfa Romeo Indycar engine was engineer Giuseppe 'Pino' D'Agostino. In an article published in Autosprint in 2018, D'Agostino told the readers that one of Alfa's problems was the use of methanol fuel, since they lacked experience with that. He also revealed that in order to solve these problems the team eventually obtained cams and pistons from Cosworth (!) and once these were used they got themselves an engine that ran well when used in a Lola at Indy! The reference to a Lola means that this took place in 1991. If problems like these were cleared at last in 1991, what does that suggest for the engines used in 1989 and 1990 and their performance levels because of this persistent problem not having been cured yet?
Then, reflecting on the Alfa-powered cars fielded by Pat Patrick in 1990 and 1991, there is one thing coming up every time: comments about the engine simply not up to the task of taking on the Ilmor. In the first eight races of the 1990 season the team used the March 90CA and in nine starts (two cars at Indy) there was one single point-scoring result. In the second half of the season Roberto Guererro finished in the points three times in seven races, using a Lola T90/00. Now that was at least some progress in that second half of the season.
One year later, with Danny Sullivan in an Alfa V8-powered Lola T91/00 the team scored ten point-scoring results, most of those in the first half of the season but none of them on the podium. It has been printed that especially in 1991 the team was well-funded and the technical staff was more than capable for the task at hand.
Now, in both 1990 and 1991 a Lola driver won the CART title, thus putting any doubts to bed about the chassis.
Sadly for Alfa, this does direct much of the shortcomings of the Lola-Alfas towards their corner. Which leads to an unavoidable question.
How likely is it that an engine builder that was unable to field a top engine in the last half of its career started its career with a tremendous engine that was entirely wasted in what was at best a mediocre chassis?
Perhaps the statement above can be best proven by a comment that Johnny Capels wrote to Henri in 2012: "P.S. I thoroughly enjoyed my relationship with Alfa Romeo. [...] I also ran my Cosworth engines on the Fiat Abarth dyno in Torino so they would have a benchmark to shoot for which the engine never achieved.
It is just another example of how difficult it is to put all of the blame for the 89CE's disappointing performances entirely with the chassis. There is a lot to say about the 89CE chassis as the descendant of a poor design and its poor start having been made even worse when the man behind the actual design stopped being involved with its development, the 89CE becoming very much an orphan almost left to its own.
So it is easy to put all the blame entirely onto the chassis.
But when all is fair, that is doubtful. There is enough evidence to conclude that much of the blame has to be carried by the Alfa engine because in 1989 at least it simply was not that much better than the Cosworth and Judd engines, if it was better to begin with.
The Chevy V8 is, of course, no issue, and also the Porsche V8 definitely had the upper hand over the Alfa engine.
But let's add the following comment. There is a lot of talk about new engine specs being introduced by Alfa over time during 1989. So it is incorrect to state that Alfa did not take things seriously. But the fact remains that no matter what efforts they undertook they simply failed to result in a competitive engine from the very beginning. All developments appear to have come after looking in the wrong direction and were based on the wrong ideas and/or knowledge.
An opinion from the inside then. When asked about the progress the team had made during the season, Johnny Capels informed us that the car progressed to a certain point but from there on stalled. The engine development kept going all-out to the extent that so many new parts were tried that the entire programme began to suffer from reliability problems, thus affecting the race results. (This comment does proof that Alfa's lack of success was not for lack of trying at the Italian facilities.)
Capels also confessed that the pace and progress were different from what he was used to. Capels also recalled that Alfa Romeo had not been very satisfied with the progress his team had made.
In the final part of 1989, preparations for the new season took place, but a number of plans as mentioned in Autosprint never took shape.
With respect to the plans with the Patrick-Ganassi-owned PC18s, we contacted Chip Ganassi Racing to find out if Chip had any recollection about this part of his career as a car owner. Ganassi informed us that the intention had been that he was to take over the Penskes and the Chevy engine deal. In fact, according to Ganassi, he already owned all the team's hardware as early as January 1989, and he and Pat Patrick went their own ways in December 1989.
Plans to ship the cars to Italy for tests with the Alfa V8 had never been discussed with Ganassi and have never taken place, and neither have there been any talks that would have led to the PC18s remaining with a partner in the Alfa Romeo Indycar project. Such would have required that Ganassi Racing 'surrendered' the cars and obtained new cars for the 1990 season.
Ganassi's comment about him owning all of the team's assets during 1989 leads to one very interesting observation. Pat Patrick somehow managed to send off two Ilmor Chevy engines to Alfa Romeo in Italy for inspection during 1989. Given the fact that based on the comments by Ganassi the engines were not Patrick's property anymore, this act becomes even more questionable!
And to close off all talk about the Patrick-Ganassi Penske PC18s providing a possible gain for the Alfa Romeo Indycar program during the 1990 season because of having an advantage over the newly built 1990 cars: to some extent such makes little to no sense. Because unlike what was printed in the Italian (and Dutch) media such plans were impossible to happen to begin with, as there was never any chance that the cars could end up in the Alfa programme one way or another because the chassis were Chip Ganassi's property and he had every intention to use the cars himself. As indeed happened.
But in doing so, Ganassi Racing did provide proof for any such theoretical advantage in 1990.
Looking back on the 1990 season, the results clearly show this not to have been the case. The Ganassi-run Penske driven by rookie Eddie Cheever eventually finished ninth in the CART standings, behind eight drivers who used Chevy-powered 1990 chassis from either Lola or Penske. Nevertheless, the result was quite respectable since Cheever still beat one more driver using a 1990 Lola-Chevy as well as every non-Chevy-powered entry in a 1990-type chassis. Which probably explains the main factor why Cheever still beat every non-Chevy-powered 1990-built chassis. (We can only excuse one team for underperforming with a 1990 chassis against Cheever, as the politics against Porsche rendered their intended 1990 contender harmless even before the season started.)
As for the theoretical advantage at Indianapolis of a 1989 chassis modified to the 1990 rules: it definitely did not work out like that at all. During the first week of practice at the Speedway, every crash that took place was with a pre-1990 car. As a result there was a lot of lobbying for raising the limits on the older cars in order to make them competitive and safer again. Only one team (Truesports) that had heavily invested in modifying their 1989 chassis by developing an optimized underfloor was able to perform at a level close to that of the 1990 chassis.
Some loose ends to close off
One final point of evaluation about the 89CE can be made, although one could say: why even ask this?
How would the 89CE have performed when used by a topline CART team with an engine different from the Alfa Indy V8?
Stupid thought?
Remember that in the second half of 1988 it had been announced that Maurice Philippe was working on what was to be a customer CART chassis, the 89C. And then all of a sudden he was working for the Alfa project. So, although it was not announced as such, it looks like a design intended to be a car fitted with several competitive engines was transferred to a chassis dedicated for the Alfa V8.
However, we have already seen that there was little reason for any topline team to consider buying a March 89C. But imagine that such had happened after all by a team that used the Chevy Indy V8? What would such an 89CE have been capable of?
It's very likely that with more power and run by a team with a decent engineering staff results could have been better than what Morales Racing achieved with their Alfa-powered version. But remember that according to Johnny Capels the 89CEs had an error with regards to the strength and stiffness of the chassis. It is not impossible that this error was incorporated in the design before the 'customer 89C' became the 'Alfa-powered 89CE'.
It looks unlikely that an 89C with whatever engine other than the Alfa would have been a competitive car. It could well have ended up in a repeat of 1988, with teams starting the season with a March chassis but ditching it halfway into the season for a Lola, be it a new one or a second hand '88 or even '87 model. Based on what happened in '87 and '88 it was entirely justified that none of the regular CART teams opted for a 1989 March customer chassis, and looking at the results of the car that started its life as the intended customer car for 1989, that decision was confirmed as the correct one.
It has been published elsewhere how the 1990 Alfa Romeo V8 engine performed in a new chassis.
Use your own imagination as to how Chip's Penskes would have performed at Indy if they had somehow stayed in the Alfa Romeo enviroment. It's certain that a PC18 fitted with an Alfa V8 would have been slower than the Chevy V8-powered car driven by Cheever but there is not enough data or evidence available to work out if such a PC18-Alfa would have been slower (or faster) than the 1990-type March-Alfa that was eventually used.
And now that the 1990 CART March-Alfa is mentioned yet again: that is another story, already dealt with elsewhere. But then, remembering that particular story, one final conclusion still can be made about the March-Alfa Romeo 89CE. Alfacorse's 1989 efforts can not be called a success at all. But compared with the events of one year later, both Alfa Romeo and the people at March who were assigned to the Alfa project had better excuses for their disappointing 1989 results than both technical partners had for the CA(R)Tastrophe that unfolded with Pat Patrick Racing in 1990.
Even the mess that the March company got into from 1989 on as a whole can not be enough of an excuse to explain and justify what happened in the 1990 season.
About the existing March 89CEs after their active career
It would be normal to close off the entire story with an overview of what happened with the cars after their careers came to an end, but we have already pointed out that even in literature printed at that time there is confusion about the number of cars built as well as massive differences in specs between the cars. Recent research on location by Aldo, however, learned there is even more confusion about how many cars were built, their current condition, their exact identity and their whereabouts.
Elsewhere in an 8W article, several assumptions and possible data about two cars believed to be the 89CEs are given, but some of the information recently obtained in Italy makes some of those details even more doubtful than they already were.
Since it is impossible to give a trustworthy and reliable update of data and facts, supported with dependable information, let alone proof, we will not include such a part in this write-up as yet (the time being mid-March 2022).
So even a proper, undisclosed conclusion without any doubts of the 89CEs' aftermath has been denied to them, since even after their retirement the cars were treated with a total lack of respect and admiration from the people who laid their hands on them, all resulting into this confusion. How sad.
To close off with another sad thought: the 89CE was a CART contender, and could be called an Indycar. But neither of the 89CE Indycars ever made it to the Indianapolis Motor Speedway for whatever purpose and/or reason. While as an ultimate touch of irony, the very car that became the starting point of the entire Alfa Indycar project, the Ferrari 637, never ever did a single race but still has been on the Speedway grounds and on exhibition at the Speedway Museum.