The history of Delahaye 145 V12 chassis no. 48775
Author
Date
Related articles
Who?

Gianfranco Comotti

What?

Delahaye 145

Where?

Pau

When?

1938 Pau GP (photo Jean-Maurice Gigleux collection)
Why?
Let's not leave the 1938 Pau GP where René Dreyfus drove his car to victory and take a look at the other Delahaye 145 V12 with chassis number 48775. This is the car that came third in this same race, car no.4 driven by Gianfranco Comotti. For this race and right up to the Saint-Cloud GP on June 9, 1946, where it ran as car no.7, it sported a very elegant coachwork with the traditional heart-shaped Delahaye grill, a triangular air scoop feeding the carburettors, flaired-in headlamps, and a rather big head rest for the driver. This fourth car was visually very different from the three other Type 145 racing cars in existence at the time, and the last one built.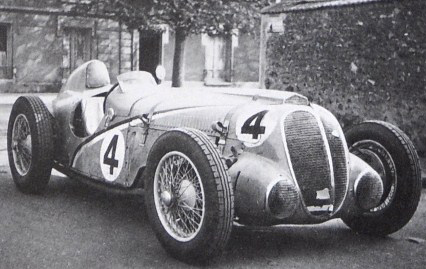 Just ahead of the 1938 Pau GP, the car no.4 to be driven by Comotti
| | | | | |
| --- | --- | --- | --- | --- |
| date | race | no. | driver | place |
| 10/04/38 | Pau GP | 4 | Comotti | 3rd |
| 29/04/38 | Cork GP | 12 | Comotti | DNF |
| 21/08/38 | Swiss GP | 18 | Dreyfus | 8th |
| 09/07/39 | ACF GP | 30 | Dreyfus | 7th |
| 23/07/39 | German GP | 30 | Dreyfus | 4th |
| 06/08/39 | Comminges GP | 12 | Dreyfus | DNS |
| 27/08/39 | Liège Expo GP | - | Dreyfus | Race cancelled |
| 09/06/46 | Saint Cloud GP | 7 | Chaboud | DNF |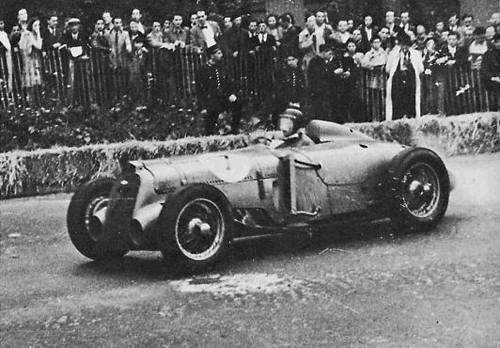 At the 1946 St. Cloud GP, as the no.7 raced by Eugène Chaboud, with the ugly oil cooler on the left-hand side
(photo Jean-Maurice Gigleux collection)
Early 1949, the car was rebodied by Valtat and equipped with a 6-cylinder, 4.5-litre Type 175S engine on loan from Delahaye, and was subsequently raced until July 1950. For publicity reasons, it was often referred to as the 175S racing car, but it was in fact a 145 with a 175S engine.
| | | | | |
| --- | --- | --- | --- | --- |
| 25/06/49 | Le Mans 24 Hours | 4 | Flahaut/Simon | DNF |
| 07/08/49 | ACF GP Comminges | 18 | Pozzi | 1st |
| 09/10/49 | Coupe du Salon | 26 | Pozzi | 3rd cat.race |
| 25/06/50 | Le Mans 24 Hours | 8 | Pozzi/Flahaut | DSQ |
| 30/07/50 | Rouen circuit | 4 | Pozzi | 2nd |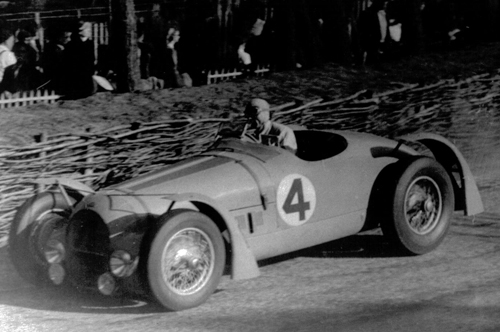 Pierre Flahaut and André Simon drove the now fendered car in the 1949 Le Mans 24 hours,
sporting its new Valta bodywork.
Charles Pozzi had been the car's owner since 1943, when it was registered in Paris as 1003 RN4 in July, with chassis no. 48775.
But in 1950 it was no longer competitive and Pozzi decided to convert it into a town car, a similar exercise that befell the other three Type 145s. First he fitted a Type 235 engine, then acquired a Ford "Comète" coupe body, which had exactly the same wheelbase and tracks as the 145 chassis. Pozzi had the conversion done by a coach builder in Aix-les-Bains, where the car was painted black with tan leather interior. This conversion, however, necessitated a change of chassis number by the Service des Mines. So it became a Type 235 MOD, with chassis no. 14548775, which was registered in Paris as 23 DN75 on January 12, 1955 by Ludovic Colombelli, a well-known second-hand car dealer in the Rue Bayern.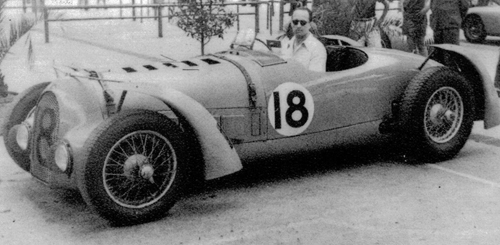 Charles Pozzi won the 1949 Comminges GP with our car.
Colombelli then sold the car on to the Mermoz Garage where, on October 25, 1955, it was registered in the Savoie Department as 898 BB73. Four more changes of hands followed. First, the car was repainted white, sold to Jean Commare who, on March 10, 1956, registered it in the Yvelines department as 1623 BR78. Three and a half years later, the car was sold to the Royal Garage of the Rue Guersant in Paris where on August 28, 1959 it was registered 9508 JE75. Then, on December 8, 1959, the car came into the possession of Garage Waller on 24, Avenue de la Porte de Versailles in Paris' 17th district. Waller was specialised in Delahaye and its sales manager was also the founder president of the Delahaye Club, Jean-Pierre Bernard. Bernard managed to find a caring new owner in the person of Serge Pozzoli, a well-known historian and museum owner.
For a few years, Pozzoli kept the car in storage under the race track at Monthléry - yes, that's literally underneath the banking - a place where other cars of the AAHA (Association des Amis de l'Histoire Automobile) were stored as well. For several years, Pozzoli looked around for missing parts, in particular a 145 V12 engine to replace the 235 engine, in order to recreate the racing car the chassis once was.
In 1967 reconstruction finally began. The catalyst was the acquisition of a magnesium alloy V12 engine, unfortunately almost empty, from the Technical School of Montgeron. This had been a gift from Delahaye to the school in order to train its apprentices. The engine having been dismantled and reassembled many times, many parts were either lost or broken. But with his immense knowledge of cars and numerous contacts, Pozzoli was able to find most of the parts. He had other parts made. Jean-Pierre Bernard gave him a magnesium alloy manual gearbox, with only a few parts missing. Pozzoli also traced down the rear part of the original coachwork.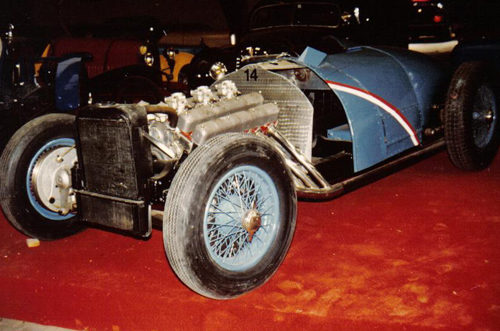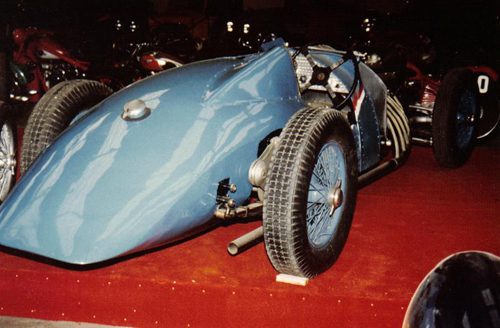 The racing car as reconstructed by Serge Pozzoli in the late eighties.
In 1987, Pozzoli sold the car to Jim Hull and Peter Mullin who began a restoration at Crostwaithe and Gardiner in England. A new all-aluminium coachwork was created in the style of the 1938 Mille Miglia cars, which doesn't correspond with any of the bodies previously used on this car. In 1990, Mullin became the sole owner and after a few years of use decided to have the car restored again since its engine was not at its best. This work began in 2005 and was carried out in the workshops of High Mountain Classics in Colorado.
In 2006, this magnificent racing car was presented at the Concours d'Elegance at Pebble Beach. It is now in Mullin's museum in Los Angeles, but it doesn't stay there all the time. On May 14-15, 2011, the car took part in the Historic Pau GP, to be re-united with the circuit on which it finished third all the way back in 1938...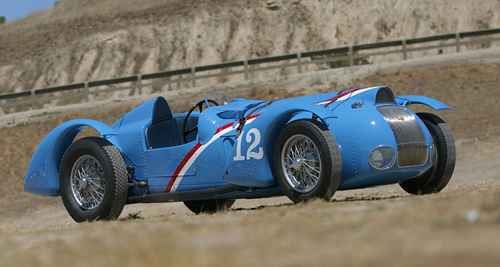 48775 as it is now, in Peter Mullin's California collection. (photo Supercars.net)