The Delahaye years
1936: dominating the 1936 French racing season
Author
Date
Related articles
Who?

Jacques Ambaud

What?

Delahaye 138

Where?

Monte Carlo

When?

1936 Rallye Monte Carlo
Why?
After the victories in the Paris-St. Raphael and Paris-Nice rallies, as well as at the La Turbie hillclimb, the next big race was the Marseille 3 Hours. This was the first race to be run according to the new French 'Sport formula'. Delahaye came in force with 11 cars, six of them brand new, and nearly performed a clean sweep.
date
event
car
driver
result
24/05/36
Marseille 3 Hours
6047RK4
'Michel Paris'
1st
46835
Laury Schell
2nd
9715RK3
Robert Brunet
3rd
47188
Albert Divo
4th
47187
René Le Begue
5th
47186
Philippe Maillard-Brune
6t.
46094
Joseph Paul
8th
7442RJ4
Germaine Rouault
9th
45538
Jacques Ambaud
12th
46626
Louis Villeneuve
14th
47189
Albert Perrot
DNF
6047RK4: This is the second Delahaye bought by 'Michel Paris', alias Henri Toulouse, who registered it in Paris in May 1936; the chassis number is unknown. After his accident at the Marne GP, the car was sold to Eugene Chaboud, then to John Snow and a few other Australians who continued to race until the early fifties. The car returned to England where it was restored over a period of 26 years. It is now owned by Peter Mullin in the USA.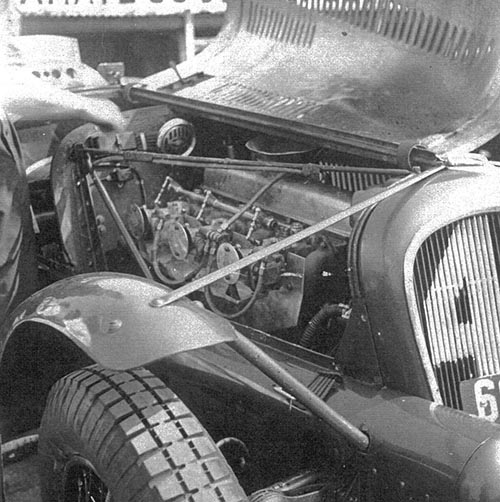 The engine compartment of the 'Michel Paris' 135S/6047RK4 at the 1936 ACF GP.
9715RK3: Sold new to Robert Brunet and registered by him in Paris as 9715RK3 in May 1936, chassis number unknown. Having done a few races in 1936 and '37 the car disappeared after the 1937 Le Mans 24 Hours.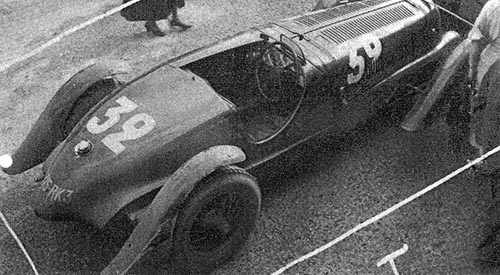 A very rare bird's eye view of Robert Brunet's 9715RK3 at the 1936 Marne GP.
47188: This is the first works car driven by veteran Albert Divo. After the Marne GP, Delahaye closed its racing departement and the car was sold to Tommy Clark in England. After a few more owners it came under the ownership of the Rob Walker family in England, where it is today, still bearing its original registration number DUV870.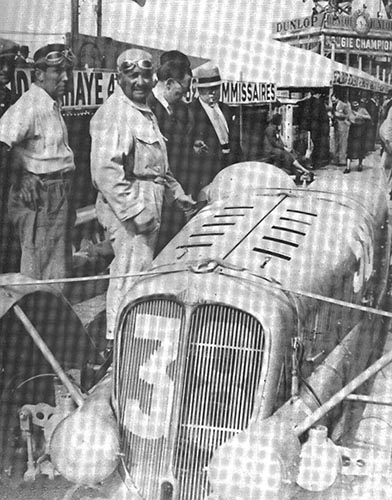 41-year-old Albert Divo and the works 135S/47188 at the 1936 ACF GP.
47186: Jacques Menier, the multi-millionaire chocolate king, bought two 135S racing chassis from Delahaye early in 1936. These were 46627 and 47186. He had them registered in the Seine et Marne department in July. Menier owned some fifty cars at the time, including a racing stable of no less than five MGs. 46627/9551QU4 never raced but was used for personal travels. Menier had it bodied in his own workshops to look like an MG, which it did! 47186/9552QU4 had a very short career: it only did four races before the war, driven by Philippe Maillard-Brune, and having seen a few more owners after the war, it raced again in the early fifties, driven by René Cotton. It is now in the collection of Jonathan Proctor in England.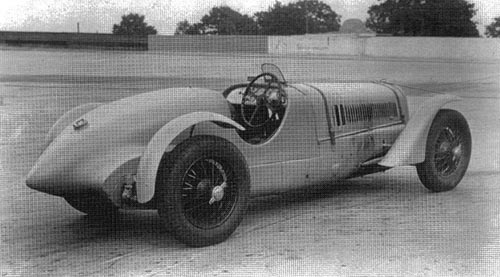 A very early photo taken by the works at Monthléry in the spring of 1936.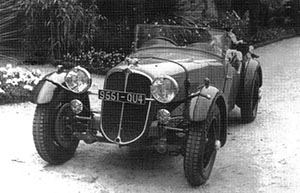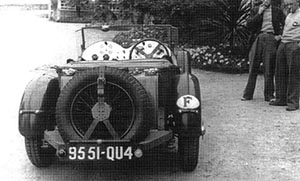 Jacques Menier's 135S/46627, the MG look-alike that never raced.
45538: This old 138, which wasn't previously described here, was sold new to Jacques Ambaud and registered by him in Paris as 6201RJ8 in June 1935. It was coachbuilt by Chapron. After the war it was used by the AGASI as a training car for new pilots and after a couple of owners is now in the Honneger collection in France.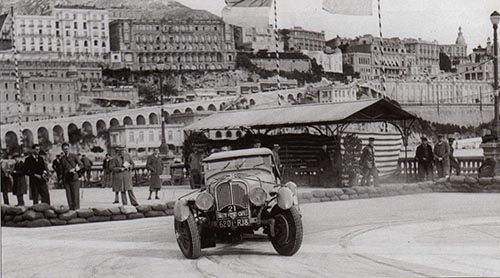 Jacques Ambaud taking a sharp curve with his 138/45538 at the 1936 Monte.
46626: The veteran independent driver Louis Villeneuve bought this car new from Delahaye in May 1936 and registered it in Paris as 6885RK3. It only had four owners after him. This contributed to it still being in original condition, including its engine and coach work by Figoni. Before the war, it was raced intensively by its owner, including three attempts at the Le Mans 24 Hours. After the war, it was entered in over a 100 historic races. It continues being raced by its present owner, Hervé Charbonneaux in France.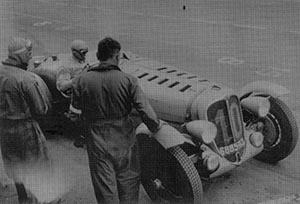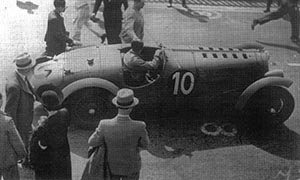 Louis Villeneuve's 135S/46626 at the 1937 Le Mans 24 Hours. Left: Maurice Sineau, Villeneuve's mechanic, with on his left Louis villeneuve and René Biolay at the wheel. Right: René at the wheel, the pair came in fourth.
The XIV Grand Prix d'Endurance, also known as the Le Mans 24 Hours, received over 60 entries by the end of February 1936. Of these, 27 came from England, 25 from France, four from Germany and two from Italy. Delahaye pulled out all the stops, bringing nine cars, including four new ones, an absolute all-time record for any one marque, as detailed in the following table:
| | | | | | |
| --- | --- | --- | --- | --- | --- |
| no. | engaged by | first driver | second driver | race no. | car no. |
| 25 | Delahaye | Albert Perrot | Marcel Dhome | 16 | 47189 |
| 26 | Delahaye | Albert Divo | Armand Girod | 18 | 47188 |
| 27 | René Le Bègue | René Le Bègue | Jean Danne | 21 | 47187 |
| 28 | 'Michel Paris' | 'Michel Paris' | Marcel Mongin | 15 | 6047RK4 |
| 29 | Jacques Menier | Maillard-Brune | Druck | 19 | 47186 |
| 30 | Mme. Lucy Schell | Laury Schell | René Carriere | 12 | 46810 |
| 31 | Daniel Porthaud | Daniel Porthaud | Renée Marie | 20 | 46084 |
| 32 | Louis Villeneuve | Louis Villeneuve | ? | 14 | 46626 |
| 62 | Eugene Chaboud | Eugene Chaboud | Jean Trémoulet | 22 | 46078 |
However, the race that was scheduled to start on Saturday June 13 was cancelled because of numerous strikes and general social and political unrest.
47187: This was the second Delahaye racing car bought by 22-year-old René Le Begue, who had it registered as 2204YB6 in the Seine et Oise department in May 1936, but this time it was a 135S, known in England as Blue Buzz III, part of the Schells' Ecurie Bleue. Despite a win in the Spa 24 Hours, with Marcel Mongin acting as co-driver, the 1936 season wasn't very successful and Le Begue sold the car at the end of the year. The new owner did a few races in 1937, but none in 1938 or '39. After the war, it was rebodied twice as a cabriolet, then as a coupe. The present owner, Jean-Claude Miloe in France, undertook a complete rebuild to return it into the state it was in 1937.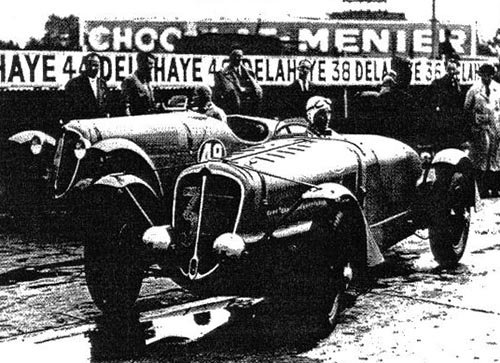 Albert Perrot at the wheel of the works 135S/47189 at the 1936 ACF GP.
46810: This was the third 135S bought by the Schells, just in time for the Le Mans 24 Hours, the race that was cancelled. The 1707RK registration of the Schells' first car was used for the first half of the season before it was registered in Paris as 9591RK4 in July 1936. In England, the car was known as Blue Buzz II. The 1936/'37 seasons weren't very rewarding, and the car was sold early 1939, which wasn't a very good season either. After the war, the car was rebodied as a three-seater coupe. It then had several owners until the present one, Roger Tainguy in France, rebuilt it into its original configuration.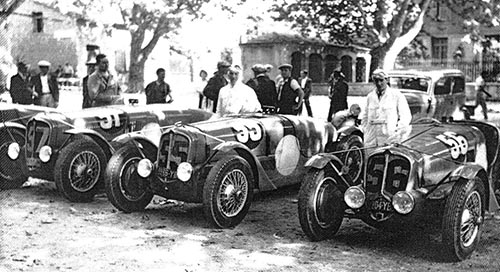 At the Mont Ventoux hillclimb in September 1936 .On the left, with no. 57, Rene Carrière broke the all-time record driving 46810 at the Mont Ventoux. In the middle, with no. 55, are Laury Schell and his 46835. On the right, with no. 56, are René Le Begue and his 47187. Missing from the photo is no. 60, André Janin and his 47194.
46084: Built in December 1935 with aluminium coachwork by Marcel Pourtout and sold new to 'Danniell' alias Daniel Porthaud who registered it in Paris as 7012RK1 in February 1936, this car had a very long and distinguished racing career, spanning well over 50 races, with very good results including a second place in the 1938 Le Mans 24 Hours, when driven by Gaston Serraud and Yves Giraud-Cabantous. After the war, it had half a dozen owners, during which time it was rebodied three times. Its present owner, Roger Tainguy in France, undertook a complete rebuild to return it to its original 1937 guise.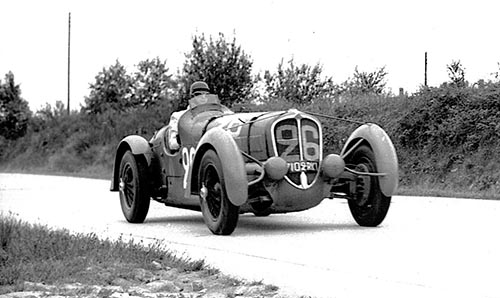 'Danniell' drives his 135S/46084 at the 1936 ACF GP.
46078: Rich banker and accomplished sportsman 'Heldé' or 'LD', alias Pierre-Louis Dreyfus, bought four Delahaye racing cars but never raced them. Instead he sold them to privateers and to the Schells, as we shall see. 46078 was built at the end of 1935, and bodied by Henri Chapron. It was a very elegant roadster based on a Delahaye 135 Competition short chassis, and was registered in Paris as 777RK in November 1935. 'Heldé' sold it to 29-year-old Eugène Chaboud who entered it for the 1936 Le Mans 24 Hours. It was later seen in Holland but its new owner remains unknown.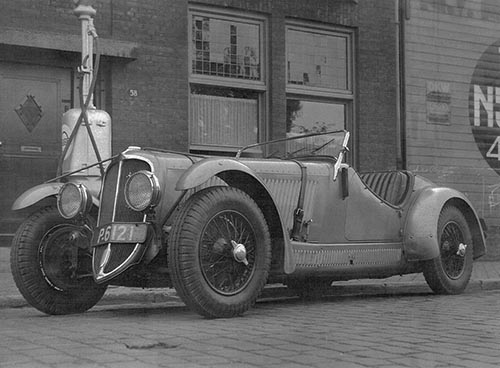 A late picture of 46078 when it was in Holland, date and owner unknown.
On the same date as the cancelled 24 Hours an overseas race took place in Algiers. In this Algerian GP, or Targa Bouzareah, two new cars and an old 138 were entered.
| | | | | |
| --- | --- | --- | --- | --- |
| date | event | car | driver | result |
| 14/06/36 | Algerian GP | 45513 | Georges Soulié | 1st |
| | | 47194 | André Janin | 2nd |
| | | 46808 | Dagnan | 4th |
45513: This was Albert Perrot's works car, a very fast 138 with numerous victories to its name, as we have seen before. It was registered in Paris as 2536RJ1 in May 1934 by Delahaye, and was sold to Georges Soulié in Algiers at the end of 1935. After two more owners it disappeared at the end of the forties.

Soulié's very fast 138/45513 at the 1936 Targa Bouzarea.
47194: This 135S was ordered by André Janin of Algiers at the beginning of 1936. It was coachbuilt by Figoni and registered in Algeria as 9103AL13 in May 1936. After a few races in Algeria, France and Tunisia, Janin sold the car to Robert Mazaud who continued racing in 1938-'39 until the car was requisitioned by the occupying Nazi forces who used it as a postal car, until it disappeared in the forties.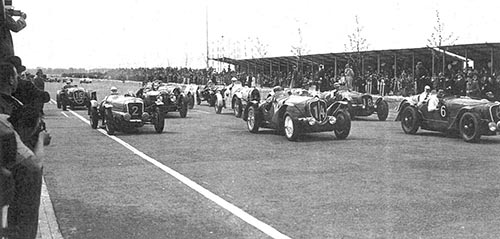 Robert Mazaud in his 135S/47194 (no.14) at the start of the 1938 Antwerp GP, in which he was victorious.
46808: This 135 Coupe des Alpes racer, bodied by Henri Chapron, was delivered to monsieur Lanoé of Oran, Algeria in June 1936. The car returned to France after the war and had a couple of owners before disappearing in the early fifties.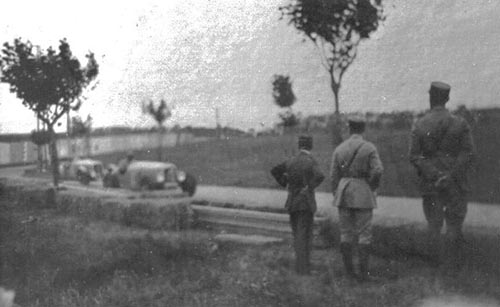 The second car in the picture is Dagnan driving 46808 at the 1936 Algerian GP.