The Delahaye years
1945-'46: After five years of war
Author
Date
Related articles
Who?

George Grignard

What?

Delahaye 135S

Where?

Bois de Boulogne

When?

1945 Coupe des Prisonniers
Why?
After the end of the war production started again at Delahaye despite immense difficulties, shortage of materials, lack of machine tools, and numerous strikes due to political and social unrest.
In 1945, Delahaye managed to build 1300 trucks and 150 cars, including a handful of the first post-war 135Ms.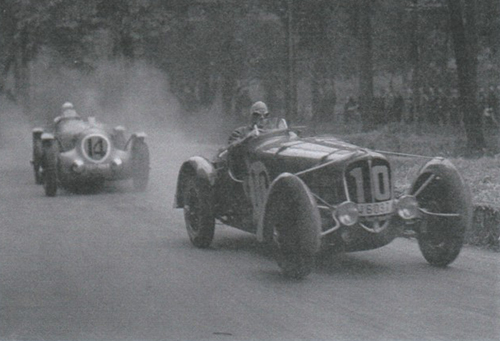 Emile Cornet driving 46084, "Daniell"'s old car, at the Coupe des Prisonniers in September 1945.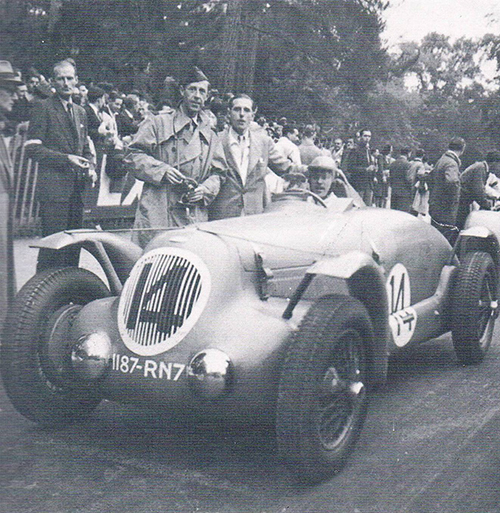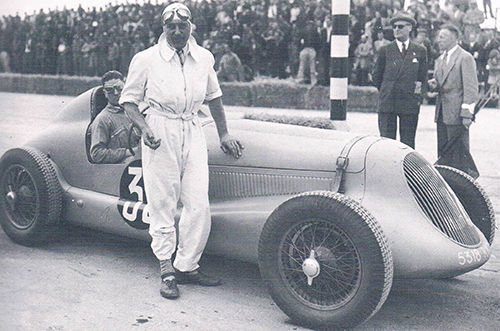 "Michel Paris"'s old 138, now very much modernised and owned by George Grignard, was raced at the Coupe des Prisonniers in 1945 (with the registration number of his town car, 1187RN7, top photo) and at the 1946 Nice GP (bottom).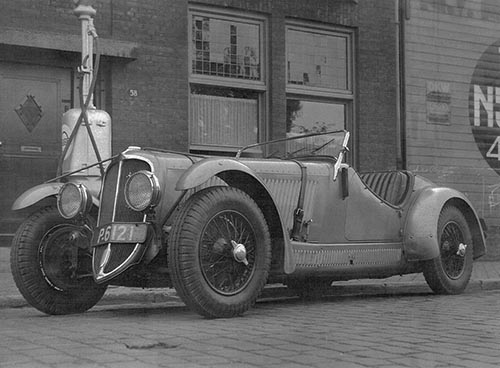 The ex-"Helde" and Chaboud car changed hands to Robert Tielens of Holland, presumably sometime in 1945/'46.
Of the original 40 racing/sports/rally cars, 16 emerged from their hide-outs and raced post-war; they are identified in the following table:
type/no.
1939 owner
licence no.
date
1945/'46 owner
licence no.
date
138C/45513
Pastoriano, Algeria
?
End 36
Henri Rigodon
5568AN5
03/47
138C/45497
"Michel Paris"
9782RJ6
04/35
George Grignard
5318RN7
09/45
135cc/46078
"Helde"
777RK
11/35
Robert Tielens,
on-going research
P6121 (Holland)
?
135S/46094
Ecurie Francia,
Joseph Paul
4400YB5
03/39
Ecurie France,
Paul Valee
4400YB5
09/45
135S/46084
"Danniell"
7102RK1
02/36
Baron Marcel Cornet,
Brussels
16097B (Belgium)
1945
135S/46835
Joseph Chotard
?
End 1938
Serge Pozzoli
?
1947
135S/46626
Louis Villeneuve
6885RK3
05/36
Louis Villeneuve
6885RK3
05/36
135S/?????
John Snow, Australia
6047RK4
05/36
John Crouch, Australia
?
1940
135S/47188
Rob Walker, England
DUV870
End 1938
Rob Walker, England
DUV 870 (England)
End 1938
135S/47189
Schell ELORS
MC2115 (Monaco)
01/38
Roger Wormser
?
1945
135S/47192
Germaine Rouault
6880RL8
03/38
Eugène Chaboud
6880RL8
03/38
135S/47193
Ecurie Francia,
Marcel Contet
190YC2
03/39
Marcel Trillaud
?
09/41
135S/47186
E.Dinoire
5249RL4
01/38
Maurice Borie
9658U75
03/51
145/48775
Schell ELORS
Never licensed
-
Charles Pozzi
1003RN4
07/43
155/48774
Schell, ELORS
Never licensed
-
Ecurie Blanche
et Noire, Ernest Friderich
Never licensed
Early 1946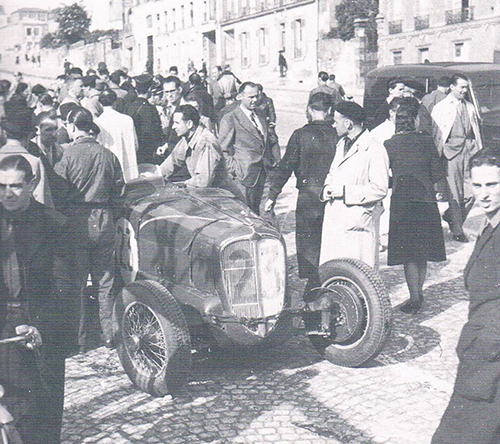 Pozzi drove his 46084 at the Saint Cloud GP in June 1946, and lent his 48775 V12 to Chaboud in the same race.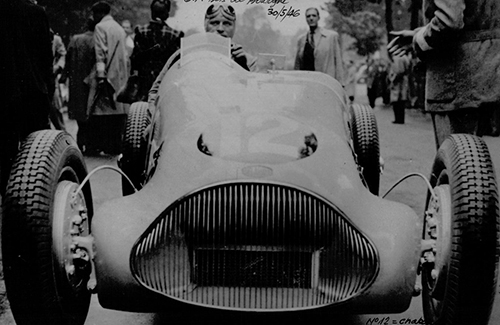 An impressive photo of Chaboud and his 47192, ex-Germaine Rouault with the Figoni coupé, at the Bois de Boulogne GP in May 1946.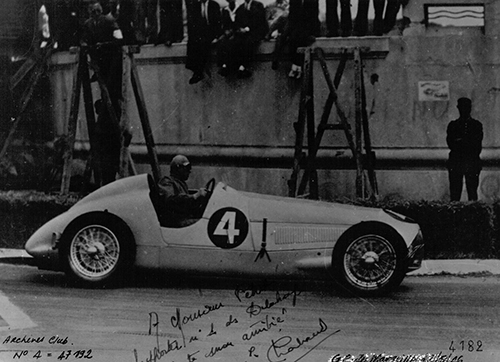 Same car, same driver at the Marseille GP in 1946.
The Schell team had disappeared from the racing scene and new racing stables emerged, notability Ecurie France, owned by Paul Vallée, a business man in need of publicity… Eugène Chaboud, Charles Pozzi, Marcel Trillaud and Yves Giraud-Cabantous were the pilots using their own cars, which all four were rebodied in exactly the same style by Chappé Frères.
There was only one race in 1945, and 13 in 1946. Most of the original racing cars, now ten years old, were modernised and 'racefied' as can be seen from the photos.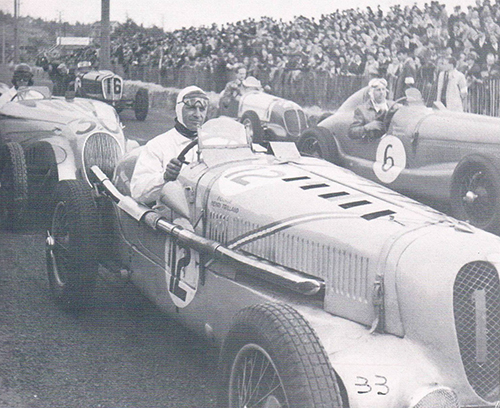 Trillaud in his 'racefied' 47193, an ex-Schell car, at the GP du Forez in May 1946.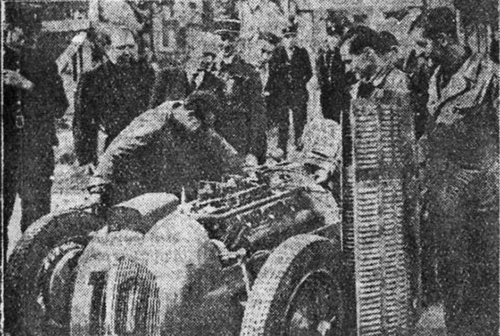 A recently discovered photo of the ill-fated V12 single-seater at the GP des Trois Villes in August 1946, then owned by Jean Achard and already in trouble.
date
event
car no.
chassis no.
driver
result
09/09/45
Coupe des Prisonniers
8
46094
Chaboud
3rd
11
47193
Trillaud
4th
12
46835
Chotard
6th
9
46626
Villeneuve
7th
10
46084
Cornet
DNF
14
45497
Grignard
DNF
17
47189
Wormser
DNF
22/04/46
GP de Nice
18
47192
Chaboud
3rd
32
45497
Grignard
4th
34
46084
Pozzi
8th
12
47193
Trillaud
DNF
44
48774V12
Friderich
DNA
12/05/46
GP de Marseille
38
45497
Grignard
3rd
40
46084
Hillier
6th
4
47192
Chaboud
7th
36
48774V12
Friderich
DNF
60
47189
Wormser
DNA
42
60116
Larrue
DNQ
19/05/46
GP du Forez
4
47192
Chaboud
3rd
12
47193
Trillaud
6th.
16
46084
Pozzi
7th
6
45497
Grignard
DNF
20
46835
Chotard
DNA
30/05/46
Coupe de la Resistance
12
47192
Chaboud
6th
32
47193
Trillaud
9th
34
46626
Villeneuve
DNQ
14
45497
Grignard
DNA
09/06/46
GP de Saint Cloud
24
47192
Cabantous/Chaboud
6th
8
45497
Grignard
7th
9
47193
Trillaud
9th
23
46084
Pozzi
11th
7
48775V12
Chaboud
DNF
10
48774V12
Friderich
DNF
16/06/46
GP de Belgique
68
47192
Chaboud
1st
66
45497
Grignard
4th
58
47193
Trillaud
5th
65
46626
Villeneuve
DNF
67
46084
Pozzi
DNF
70
46835
Chotard
DNF
57
?
Lacour
?
61
?
De Wit
?
30/06/46
GP du Rousillon
8
45497
Grignard
4th
6
47192
Chaboud
7th
10
46626
Villeneuve
8th
07/07/46
GP de Bourgogne
8
45497
Grignard
2nd
10
46084
Pozzi
4th
6
47192
Chaboud
DNF
16
48774V12
Friderich
DNA
28/07/46
Circuit de Nantes,
"Prix des 24 Heures du Mans"
6
45497
Grignard
4th
22
46084
Pozzi
5th
32
46835
Serraud
6th
12
47193
Trillaud
7th
4
47192
Chaboud
ACC
25/08/46
Circuit des Trois Villes
4
47192
Chaboud
3rd
6
45497
Grignard
4th
12
47193
Trillaud
5th
22
46084
Pozzi
7th
10
48774V12
Achard
DSQ
01/09/46
Gran Premio del Valentino
10
47192
Chaboud
4th
12
45497
Grignard
DNQ
29/09/46
Circuito di Milano (final)
10
45497
Grignard
DNQ
30
47192
Chaboud
DNQ
44
47193
Trillaud
DNA
06/10/46
Coupe du Salon
36
47193
Trillaud
5th