The Delahaye years
1947-'48: racing with cars over 12 years old
Author
Date
Related articles
Who?

Jean Achard

What?

Delahaye 155 V12

Where?

Albi

When?

1947 Albi GP
Why?
Gone for ever were the pre-war years when Delahaye could line up almost a dozen cars in an international race… and win! In 1947, 24 races were entered, with three first places, one second place and three third places. In 1948, the calendar had somewhat shrinked, with only 16 races entered, resulting in three wins, one second place and a third place.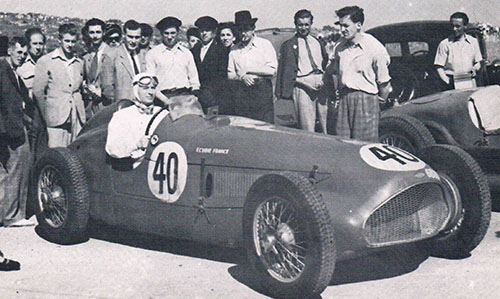 Chaboud at the Nimes GP in 1947, with the new bodywork by Chappé Frères on his 47192.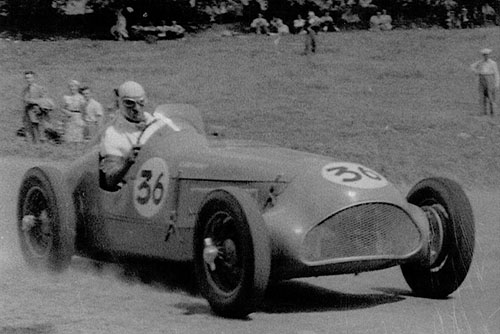 Cornet driving Pozzi's car at the 1947 Belgian and European GP.
New pilots had arrived: Henri Rigodon, Serge Pozolli, Pierre Meyrat, Jean Braud and his team mate André Marechal, Guy Mairesse, Guy Jason-Henri in England, Pierre Larrue, Roger Loyer…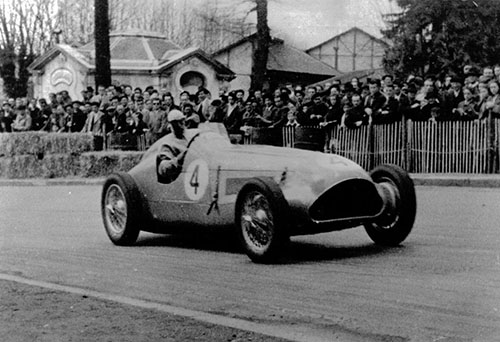 Trillaud driving his 47193 with the new bodywork by Chappé Frères at the 1947 Pau GP.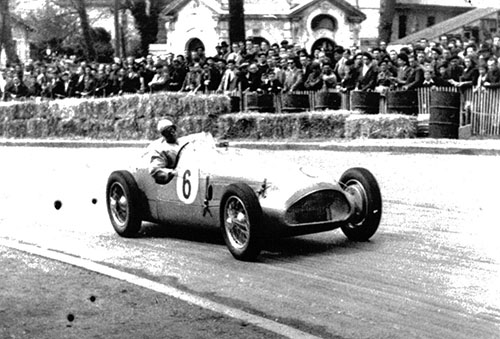 Chaboud at the 1947 Pau GP, the fourth of the newly bodied cars by Chappé Frères.
The 1935/'36 racing Delahayes were now over 12 years old, still going strong if not fast, but a new 'Delahaye' was built early 1948 by Fernand Lacour for Eugène Chaboud, a single-seater no less, carrying chassis number 001. Although Delahaye had nothing to do with the construction of the car, they accepted that it could be called a Delahaye. It was made using an old 135S chassis reinforced by two tubular cross members, a Cotal MK38 gearbox, a type-145 front and rear suspension. IT could accommodate either a 3.5-Litre 135S engine, A 4.5-litre 175S engine or a 4.5-litre 145 V12. Sadly though, the results weren't up to expectations and Chaboud ceased racing it at the end of 1949.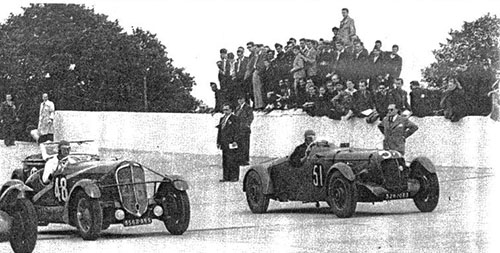 Henri Rigodon at the start of the Challenges AGASI in June 1947.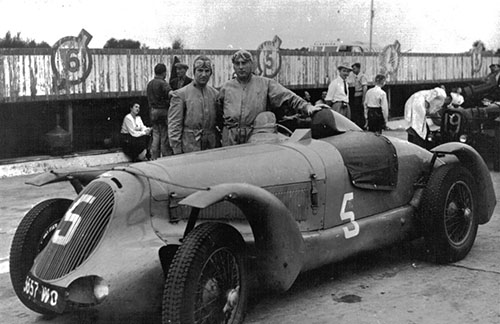 Gaston Serraud and Pierre Meyrat take the pose with the latter's 45497 at the 1948 Paris 12 Hours.
For the first event of the year, the four Ecurie France cars arrived too late because of the frozen fjords in Sweden. They all looked alike with their new bodies made by Chappé Frères.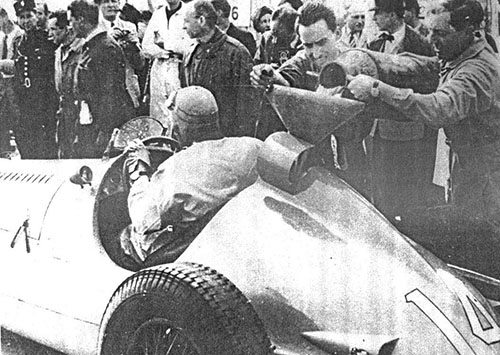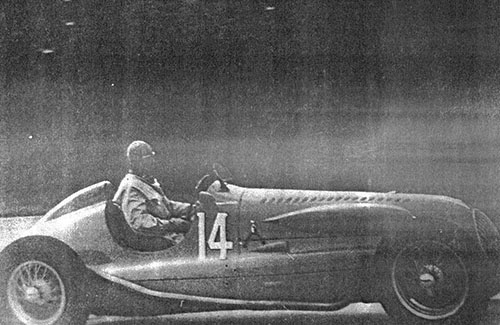 Chaboud refuelling and driving his new 'Chaboud Special 001' at the 1948 Paris GP.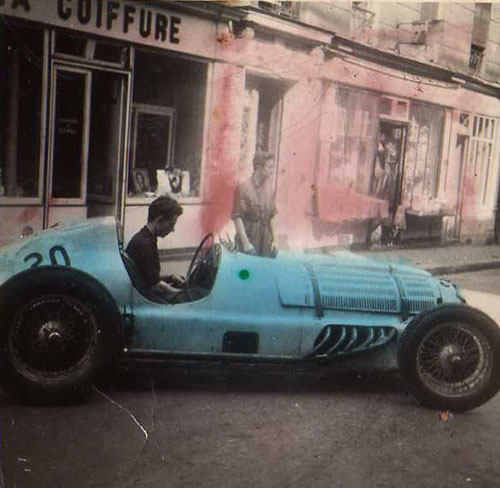 A rare colourized photo of Achard's Delahaye 48774V12 monoplace after the 1947 Albi GP.
date
event
car no.
chassis no.
driver
result
2/2/47
Swedish GP, Rommehed
5
47192
Chaboud
DNA
6
46084
Pozzi
DNA
7
47193
Trillaud
DNA
8
46094
Giraud-Cabantous
DNA
16/2/47
Reopening Monthléry
?
45513
Rigodon
3rd cat. Sport
?
60116
Larrue
4th cat. Course
?
48774V12
Achard
?
16
45497
Grignard
?
23/2/47
Swedish GP, Vallentura
5
47192
Chaboud
3rd.
8
46094
Giraud-Cabantous
4th.
?
46084
Pozzi
5th.
6
47193
Trillaud
?
7/4/47
Pau GP
6
46094
Cabantous/Chaboud
6th
24
46084
Pozzi
DNF
4
47193
Trillaud
DNF
27/4/47
Roussillon GP
6
46094
Giraud-Cabantous
3rd
20
45497
Grignard
5th
4
47193
Trillaud
7th
18
46084
Loyer
DNF
6/5/47
Jersey GP
29
46835
Pozolli
10th
11/5/47
Bellevue hillclimb
?
45497
Meyrat
1st
?
45513
Rigodon
2nd
18/5/47
Marseille GP
24
46094
Giraud-Cabantous
7th
26
46084
Pozzi
DNF
28
47192
Loyer
DNF
26/5/47
Frontieres GP, Chimay
36
46094
Giraud-Cabantous
DNF
30
46835
Pozolli
DNS
1/6/47
Nimes GP
46
46084
Pozzi
5th
44
47193
Trillaud
9th
42
45497
Meyrat
12th
54
48774V12
"Levegh"
DNF
40
47192
Chaboud
DNF
8/6/47
Swiss GP
4
47192
Chaboud
16th
6
?
Giraud-Cabantous
DNA
8/6/47
AGASI Challenges
48
45513
Rigodon
3rd.
29/6/47
Belgian/European GP
47192
Chaboud
34
DNF
36
46084
Cornet
DNF
6/7/47
Reims GP
48
47192
Chaboud
4th
46
46084
Pozzi
7th
44
46094
Giraud-Cabantous
DNF
13/7/47
Albi GP
46
46084
Pozzi
3rd
48
47192
Chaboud
DNF
20
48774V12
Achard
DNF
20/7/47
Paris/Evian rally
48
45513
Rigodon
1st.
20/7/47
Nice GP
22
46084
Pozzi
5th
?
47192
Chaboud
8th
3/8/47
Strasbourg GP
3
47192
Chaboud
6th
26
45497
Meyrat
8th
36
46835
Braud
DNF
10/8/47
Comminges GP
42
46835
Braud
6th
68
46094
Serraud
10th
40
45497
Meyrat
15th
10
48774V12
Achard
DNA
30
46084
Pozzi
DNF
38
60116
Larrue
DNF
7/9/47
Italian GP
22
46084
Pozzi
7th
12
47192
Chaboud
8th
21/9/47
ACF GP Lyon
32
46084
Pozzi
5th
40
45497
Meyrat/Varet
8th
12/10/47
Torino GP
2
47192
Chaboud
2nd
16/10/47
Coupe du Salon
12
46084
Pozzi
3rd
14
45497
Meyrat
9th
26/10/47
Coupe Congres Technique
?
46835
Braud
1st
?
45513
Rigodon
3rd
29/3/48
Pau GP
10
47192
Chaboud
DNF
18/4/48
Course Nationale Sport ACIF/USA
15
45497
Meyrat
1st
?
46835
Braud
3rd
16
46094
Mairesse
4th
2/5/48
Nations GP Genève
26
47192
Chaboud
4th.
16/5/48
Monaco GP
10
001
Chaboud
7th.
16/5/48
Frontières GP, Chimay
52
46094
Mairesse
1st
?
45497
Meyrat
DNF
25/5/48
British Empire Trophy
52
47188
Jason-Henry
7th
30/5/48
Paris GP
14
001
Chaboud
3rd
30
46094
Mairesse
4th
22
45497
Meyrat
9th
18
46084
Flahaut
11th
24
46835
Braud/Serraud
?
20
47193
Trillaud
DNF
27/6/48
San Remo GP
42
001
Chaboud
9th
4/7/48
Swiss GP
6
001
Chaboud
DNQ
11/7/48
Spa 24 Hours
?
46835
Braud/Marechal
2nd
?
46094
Mairesse/Mouche
4th
18/7/48
ACF GP
12
001
Chaboud
8th
1/8/48
Comminges GP
28
45497
Meyrat
5th
24
48774V12
Simon
7th
22
46094
Mairesse
DNF
29/8/48
Albi GP
40
001
Chaboud
5th
46
45497
Meyrat
8th
5/9/48
Italian GP
50
001
Chaboud
10th
12/9/48
Paris 12 hours
?
46835
Braud/Marechal
1st
5
45497
Meyrat/Serraud
2nd
8
46084
Pozzi/Chaboud
DNF
10/10/48
Coupe du Salon, Coupe Robert Mazaud
25
46094
Mairesse
5th
25
46094
Mairesse
6th