Everything is Ferrari
Author
Date
Related articles
Who?

Michael Schumacher, Rubens Barrichello

What?

Ferrari F2004

Where?

Monza

When?

LXXV Italian GP (September 12, 2004)
Why?
With Jarno Trulli set to remain Italy's single representative in the 2011 F1 season, France is not the only nation from motorsport's heartland to suffer a major talent crisis. While France followed the sinus curve of alternately bolstering and wavering nationalism, Italy became the victim of something else. Two things actually, Britain and Ferrari, helped by Italian industry's steady decline on the scale of international economic importance.
If France is the cradle of motorsport, then Italians are its parents. At the dawn of the sport, their relation to fast competition cars was one of selfless, unconditional love whilst at the same time pushing away that niggling thought in the backs of their minds that some time, some day, the infinitely more organized British and Germans would marry their offspring and finally turn them into grow-ups. Today, the passion remains a fire out of control but the parental guidance has gone somewhere else.
No other country took road racing to its heart as much as the Italians did, from the days of city-to-city racing and the moment red became Italy's national racing colour during the Gordon Bennett races, to the Targa Florio, the Mille Miglia and the many, many circuiti and gran premi that swelled the GP calendar when racing resumed after the Great War. For Italy, the twenties indeed roared. Italian names dominated the entry lists. Their drivers won the big races, the big marques all came from Italy's industrious subalpine region: FIAT, Alfa Romeo, Maserati. And Ettore Bugatti was half-Italian, wasn't he? Numerous small manufacturers now victimized to history's forgetfulness – from Isotta-Fraschini to Itala, from Ceirano to Ansaldo, from OM to Diatto – had their moments in the Italian sun.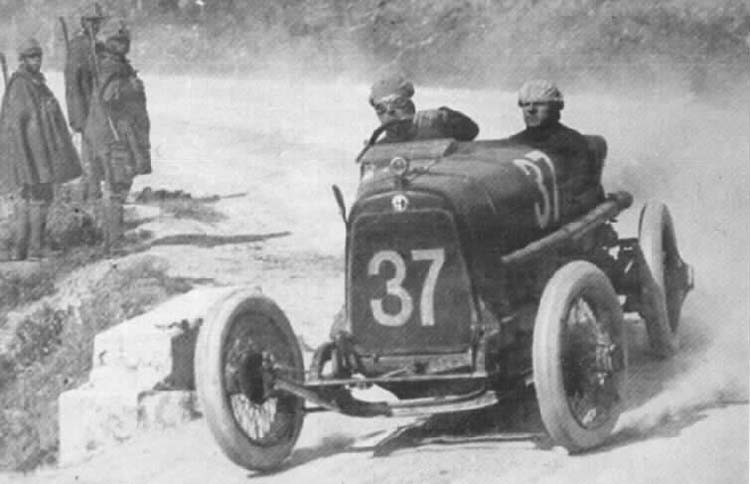 Enzo Ferrari in his Alfa Romeo 20-30 ES attacking the 1922 Targa Florio. Nobody could foresee that this man would create a myth so powerful that it virtually crushed the myriad diversity of the Italian motor racing industry.
The pre-World War II domination by Germany was considered a blip. A freak anomaly that would have taken care of itself if the war hadn't intervened. Normal service was resumed in the immediate post-war era and into the first years of the World Championships for both Drivers and Makes. If anything, an additional Italian marque – Ferrari – would only help to advance the country's position as the leading motor racing nation in the world.
The ball was dropped in a matter of years. First, Alfa Romeo pulled out, leaving Ferrari to dominate with Ascari. No problem then, was the initial reaction – an Italian was still winning in an Italian car. Furthermore, Lancia quickly stepped into the void. A renewed German blitzkrieg of less than two years made the motor racing world once again tremble on its shock absorbers, however, and showed how easy the Italians could be swept away, if one would only put in some effort. As time would show, it didn't even need the works-masterminded German invasion overspending their way past the best that Ferrari, Lancia and Maserati had on offer. Smart lateral thinking in small, close-knit organisations would do the trick as well, as the British would prove.
Today, the country is still waiting for a successor to Alberto Ascari. It's been 57 years now since the last Italian World Champion was crowned. However, the Italians don't seem to care. Their undying passion for motor racing competition has been taken over by another madness. Ferrari.
Ferrari above Italy
The Scuderia Ferrari has been the biggest detractor from the cold and factual conclusion that Italy has long lost its position in the center of the motor racing world. Its founder managed to create his own myth, one that soon turned into a religion that since his death only gained in power and belief. Ferrari's prominence masked Italy's downfall when its 'Sharknoses' trounced the Brits in 1961, and the Scuderia's subsequent Le Mans form kept the myth going until Luca di Montezemolo and Niki Lauda built a new platform from which the Ferrari Grand Prix religion ('Ferrari = F1') was preached.
The evangelical work was no longer done with Italians, though. Drivers with an 'Italian heart' would do for the tifosi – ranging from Gianclaudio Regazzoni to Mario Andretti and Jean Alesi – but quickly 'heart' would do the trick as well – see Villeneuve and Mansell. Soon a supporting myth was created – that the Commendatore in fact preferred non-Italian drivers, and that Italians would only be jinxing the red effort.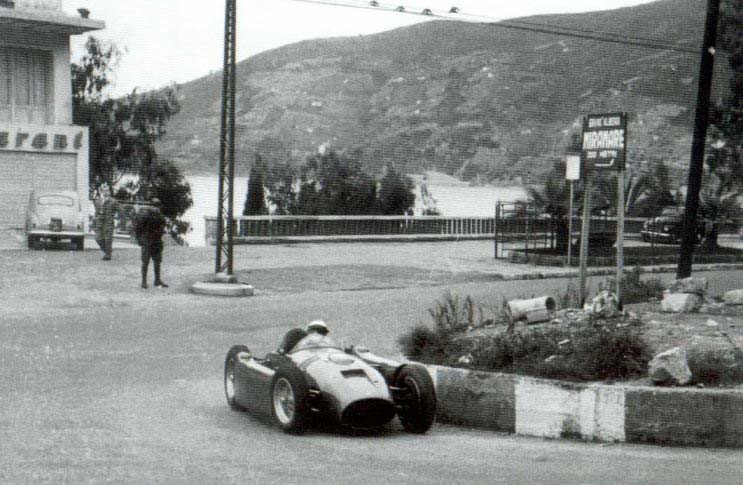 Eugenio Castellotti testing the new Lancia D50 at San Remo's Ospedaletti track. His subsequent loss was deeply felt, and helped spawn the idea that Italian drivers in Italian cars were jinxed.
The feeling stemmed from Ferrari losing Luigi Musso and Eugenio Castellotti to the hungry Gods of motor racing, later followed by Bandini and Giunti's equally miserable fate. When Musso and Castellotti lost their lives, Italy was still in its motor racing prime, or so it seemed. Like West-Germany, which was celebrating its Wirtschaftswunder, Italy was having an industrial miracle of its own. As a whole, the Italian economy boomed in the early fifties, happily coinciding with Alfa, Ferrari and Maserati dominating the Grand Prix scene. The bustling era also spawned typically overzealous attempts at Grand Prix glory such as Piero Dusio's Cisitalia project and Lancia's D50 machine which costly effort, amongst other contributing factors, proved to be almost suicidal to the historic marque. Meanwhile, a legion of privateer teams and drivers kept the customer car business thriving, especially at Maserati.
The two Italian fatalities, added to also losing Peter Collins and Mike Hawthorn, momentarily knocked the wind out of a Ferrari team run by a stubborn and self-guided man who let his pride stand in the way of a worthwile innovation even when it was presented to him right under his nose. Ferrari, however, wouldn't be the real victims of the rear-engined revolution. In two years, the British effectively took over the sport almost completely. Alfa and OSCA had already left, and Maserati followed suit when the writing was on the wall. Manufacturer-based Grand Prix racing was rapidly coming to an end, replaced by the garagiste way-of-life. In effect, the Italian model was making way for the British model, and Ferrari was the only Italian manufacturer that successfully made the transition. Big enough to rally the Italians behind the single true factory effort remaining in F1 – Ferrari was a grande costruttore, wasn't he? – but in fact just about small and efficient enough to still challenge the British on a fairly continuous basis. (Although many of Ferrari's foreign drivers had lots to say about that efficiency after they left, internal politicking usually causing the Scuderia to shoot itself in the foot until Di Montezemolo came along to create some order.)
A growing myth
It was at this junction in time that the Ferrari myth really started to gain strength, since Enzo Ferrari's operatic demeanour never stood in the way of practicality and acute political awareness – with the possible exception of the angry-at-Laura affair at the end of 1961 in which he fell back into his drama-queen role but got stuck in it a touch too long for his histrionics to have their desired effect. The strong Ferrari comeback of 1961 – with horses behind the cart – clouded the fact that the British had indeed taken control of the sport, to never let go of it again. Here was Ferrari steamrollering the British teams (having sold them a dummy with the Intercontinental Formula) and easily fencing off the fresh German onslaught from Porsche as well. How could Italian racing be in a slum? Look at Ferrari!
Well, look at Ferrari indeed, as everything else around it disappeared or singularly failed to make the needle register a seismographic impact on the Richter scale of Grand Prix racing. The ATS project, done the old-fashioned Italian way, never came close to new British standards and vanished through the back door. Another Ferrari offshoot, the Serenissima project, never reached the circuit. Alejandro de Tomaso's efforts were hardly worth noticing either. At the same time, Ferrari was handling the heroics department with zest, fighting off the millions of Ford both on and off the circuit, as it did everything to bolster the Prancing Horse's manufacturer image by prioritising Le Mans above F1. The Old Man further cultivated this image in the FISA/FOCA war of the late seventies and early eighties.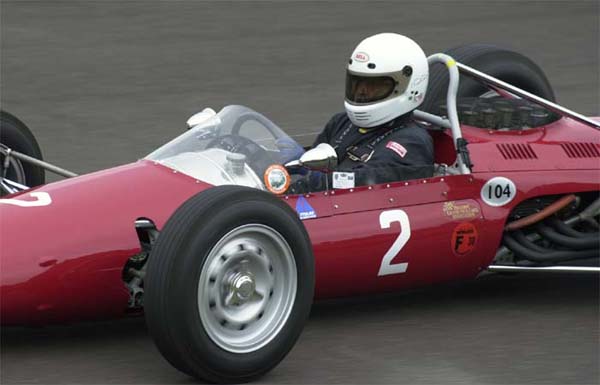 The ATS Tipo 100 was left behind by the British speed of development. Here the restored car is seen during the 2003 Revival Meeting at Goodwood. (photo Frank van de Velde)
With its new 312B engine the Scuderia staked a new claim on Grand Prix prominence and almost won the 1970 championship, inspiring small Italian constructors who were trying to occupy their part of Italy's main motor racing stage. Funnily enough, however, Tecno and later Minardi chose to forego on their kit-car roots which gave them so much success in the lower formulae. The Ferrari influence on Italian thinking was so big that these new constructors felt they needed to emulate the reds by challenging them with their own complicated 12-cylinder engine (Tecno) or putting their faith behind an ex-Ferrari man's V6 turbo project (Minardi with Carlo Chiti's Motori Moderni). The same happened with Alfa Romeo's second Grand Prix incarnation and Osella in turn using Alfa's engines, with the disgraceful Life W12 the most typical and most chaotically Italian of them all.
In fact, each of them were copying Ferrari's grand manufacturer approach but with limited resources. Even 'big' Alfa Romeo, which had won sportscar titles against fading opposition, became a semi-works effort when they were forced to hand the team over to Euroracing while their company was losing millions and had to be rescued by Ferrari parent Fiat. It forced Chiti to leave Autodelta in anger to start Motori Moderni. The turbo engine rejected by Ligier and the failed F1/Group C/ProCar V10 and Indycar V8 projects were the nails in Alfa's single-seater coffin.
By the time several of these small Italian outfits finally tried to copy British methods – Minardi, Osella, Coloni – the Italian economy had slumped, condemning them to eternal life at the back of the grid in cars liveried by a patchwork of tiny sponsor decals while the British garagistes continued to collar all the big money. In a simple but effective Cosworth-powered Minardi, Pierluigi Martini briefly showed flickers of promise, leaving everyone guess what could have been had they gone down that route from the start.
A modest resurgence of Italian talent
These minnows had reached F1 on the wave of Italian drivers flooding the Grand Prix scene from F2. This was a wave that had started to rise when the preceding wave of French drivers was starting to roll ashore to deliver its talent to F1. In the mid-seventies, F2 was nicknamed 'Formula Elf' for a while because of the omnipresence of Elf-funded French drivers at the top of each year's championship standings. Towards the end of the seventies, though, with the best French talent having reached F1, Italians were gradually taking command in F2: Giacomelli, Patrese, Colombo, Ghinzani, Gabbiani, De Angelis, followed in the early eighties by Stohr, De Cesaris, the Fabi brothers, Alboreto, Baldi, Martini and Nannini. They found a growing local platform when Mugello, Vallelunga, Enna and Misano all became part of F2's European calendar.
Suddenly a second Italian force next to Ferrari had emerged, and it was called Marlboro Italia. The company funded several driver careers and went on to support Alfa Romeo's works effort while Andrea De Cesaris was there. Incidentally, judging by the evident lack of cash coming from Turin itself, Marlboro's money was bitterly needed. Then, in the late eighties, when the tide of Italian Grand Prix drivers was hitting its high mark (14 in 1989!), they also backed BMS Scuderia Italia's Dallara effort. So it's ironic that Philip Morris eventually became title sponsor of Ferrari, befitting the Scuderia's role of Italy's Great Usurper.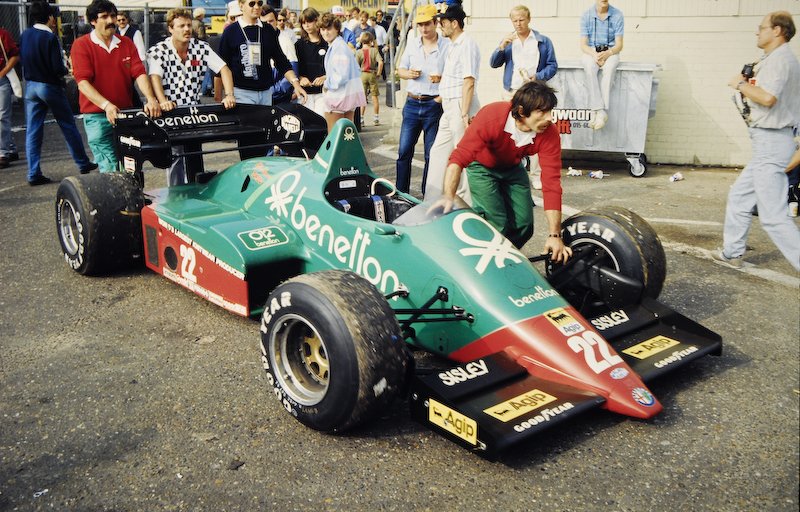 The pretty but ineffective Euroracing-run Alfa Romeo 184T in Benetton livery, here seen as it is rolled to face post-race scrutineering at Zandvoort in 1984.
Although significant, it wasn't all about Marlboro Italia. The seventies and eighties were the only Italian period since the early days in which some sort of national pride – always hard in a nation as young as Italy still is – was allowed to bloom besides Ferrari's roses, as Lancia's sportscar and rally efforts were supported by Martini and Benetton was coming to Euroracing Alfa's rescue. Martini had originally entered F1 with Tecno, then took their money to Brabham where they were soon joined by Alfa Romeo's engines. Soon though, their funds were spread out internationally, and across other lines of motorsport. Meanwhile, Benetton switched from Alfa Romeo and Tyrrell to take over Toleman, becoming the British-based team it remains to this day, even in Renault guise. It is no coincidence, though, that at the same time Ferrari was going through its all-time longest championship-losing streak.
And the Italian minnows? They cannibalised on each other until nothing was left. Osella became Fondmetal, and Fondmetal became Fomet, until Fomet became a British-based design agency and Fondmetal owner Gabriele Rumi transferred his funds to British-based Tyrrell. Coloni gave up, along with BMS Scuderia Italia, some years after the record number of Italian drivers in F1 was reached before starting to tumble. Enzo Coloni is now doing what he does best: running what amounts to a 'Formula 2' team in GP2, and an entire lower-category championship, AutoGP, which uses the former A1GP machinery. Giancarlo Minardi hung on longest, initially merging with Scuderia Italia before handing the majority of his team to Gabriele Rumi, with Flavio Briatore also getting involved. A mere advisor to his own team when its ownership changed to foreign hands – Australia's Paul Stoddart – he left when Austria's Dietrich Mateschitz of Red Bull took over and renamed the team Toro Rosso. Tellingly, Minardi became a driver talent consultant to the Italian governing body, the CSAI, joining the small minority of Italians actually looking to Italian drivers instead of cars.
Ferrari and Italy reconciled?
Since the return of Luca Di Montezemolo and his new Niki Lauda, Ferrari is right back in the centre of Italian motor racing – and not just in F1. With a serious Italian Le Mans prototype effort lacking since Ferrari abandoned its 333SP, Ferrari has been Italy's most important presence in sportscar racing all the same. The continuation of its GT2 programme through the 360, 430 and now 458 was only slightly rivalled by Lamborghini, whose sportscar efforts are conceived and run by a German company, Reiter Engineering. Maserati's GT1 success, remember, in the Enzo sister car MC12 has also been reflecting back on its new parent company.
As far as F1 goes, nothing else counts but Ferrari. Just as France has seen its driver presence in Grand Prix racing dwindle to nought, Italy is now only represented by oldtimer Jarno Trulli. Along with Giancarlo Fisichella, he was one of the last remaining drivers of the final Italian generation allowed to graduate to F1 due to Minardi being the other Italian outfit on the grid. Trulli himself has spoken out over the situation, squarely putting the blame with Ferrari and his countrymen's obsession with the marque, an obsession that further mushroomed since Michael Schumacher put the Scuderia right back on the map.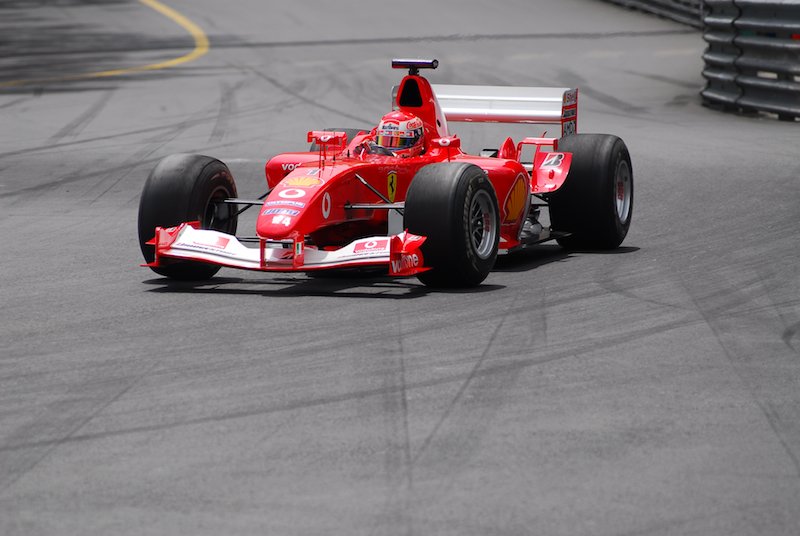 The Marlboro-Shell-Vodafone years. Here is one of the all-conquering cars, demoed on the streets of Monte Carlo during the 2008 GP Historique. (photo Frank van de Velde)
It is perhaps a matter of chicken and egg but there's certain overlap with Ferrari rising to powers unseen before and other Italian F1 teams disappearing off the charts. Simultaneously, Italy's major single-seater championship fell into crisis. In the seventies, the Italian F3 series was known for producing champions of repute such as Riccardo Patrese, Elio De Angelis and Piercarlo Ghinzani. In the eighties, Italian F3 champions still included Ivan Capelli, Nicola Larini and Gianni Morbidelli. Giancarlo Fisichella was the 1994 Italian F3 champion but after he left the championship's quality collapsed within a handful of years until an embarrassing low ebb was reached around the turn of the millennium, with virtual unknowns (Davide Uboldi, Lorenzo Del Gallo, Fausto Ippoliti) crowned the winners of a highly devalued series.
Recently, the Italian F3 championship has seen some sort of a rebirth, thank to fresh engines from Fiat, but it would still need a miracle Italian driver to boost the series' street cred within its own borders and abroad. Added to that, the newly founded Ferrari Driver Academy didn't help the national cause when it cut the two most prominent Italian talents, Daniel Zampieri en Mirko Bortolotti, from its programme. Even though we fully understand that such an academy has to have an broad international scope, ranging from French GP2 driver Jules Bianchi to 11-year-old Canadian karting sensation Lance Stroll, it did start out with quite an Italian emphasis in the lower regions of its talent ladder. So the long-term plan of the academy might still succeed.
In recent years, Ferrari's F1 employee roster has already become less international and more Italian. And with Ferrari naming its latest F1 challenger the F150, celebrating the 150-year anniversary of the Italian Republic, it's now slightly less of a utopian thought that Ferrari will be working with Italy instead of crushing everything tricolore around it. Ferrari's latest choice of type number is anything but frivolous and must be seen with a wider view. Luca Di Montezemolo's political aspirations could well be the key to a concerted effort to finally oust Alberto Ascari from the record books as the last Italian World Drivers Champion.