Penske-Mercedes PC23-500I - Mercedosaurus Rex at Indianapolic Park
Appendix 7: a review of Beast by Jade Gurss
Author
Date
Related articles
March-Alfa Romeo 90CA - Fiasco Italo-Brittanico, by Henri Greuter
March-Porsche 90P - The last oddball at the Indianapolis Motor Speedway, by Henri Greuter
Penske-Mercedes PC23-500I - Mercedosaurus Rex at Indianapolic Park, by Henri Greuter
Who?

Al Unser Jr

What?

Penske-Mercedes PC23-500I

Where?

Indianapolis

When?

1994 Indianapolis 500
Why?
At 8W, we're not used to claiming bragging rights, but since it was first published in the fall of 2009, Henri Greuter's 30-part series on the Penske-Mercedes PC23-500I was the only work in the world that solely focused on that most amazing of Indy 500 wins: the one-shot-to-get-it-right victory taken by Al Unser Jr in 1994 driving a Penske PC23 powered by an Ilmor-designed and Mercedes-Benz-badged, purpose-built V8 turbo engine with 'stock-block'-inspired pushrod valve actuation.
Leaving few stones unturned, Mercedosaurus Rex at Indianapolic Park reads as the definitive account of this thrilling episode in Indy history, first setting the scene with detailed descriptions of all the pieces of the puzzle (Penske, Ilmor, Mercedes, the wretched equivalency formula, the preceding stock blocks and the rule changes that opened up the gap that Penske and Ilmor jumped into), going on with a diary of events during the Month of May, before closing off with the dramatic turn of events in 1995 and beyond. In the meantime it debunks a handful of myths, and offers a very sharp analysis of all the events and opinions surrounding this magical machine and its remarkable power unit.
Yet for all its merits, Mercedosaurus Rex cannot be said to be an inside story, despite Henri having talked to several of the project's key players including Nigel Bennett, Nigel Beresford, Chuck Sprague and Paul Tracy.
This has now changed with Beast.
Beast is a new book by Jade Gurss that, like Henri's Web series, deals with one topic, and one topic alone: the 1994 Indy 500 and the 'beast' that won it. The difference is that, more than anything else, Gurss' book is about the people behind it and the challenge they faced. Beast gives you the true inside story of one of Indy's most controversial wins, since Gurss was able to speak with all parties and people involved – and if he didn't, you are never given the impression that he missed out on anyone. And even if that still happened to be the case, the writer was clever enough to inject some of their quotes to the press.
Beast starts out in novelistic style, recounting one of Paul Morgan's epic flights on board of his World War II fighter plane rushing vital new engine parts from Ilmor's Brixworth base to Southwest London to get them onto Concorde's morning flight across the Atlantic. While the first four of five chapters are superbly written and certainly do well to set the stage, their literary approach might leave the fact-obsessed reader wanting. He is soon rewarded, though. The many chapters covering the step-by-step development of the 265E engine – the challenges, the pitfalls, the dilemmas, the breakthroughs, the stamina and endurance needed, against a clock counting relentlessly – are true page turners since the story is told from every possible angle by practically all the key people involved.
Two absolute highlights are the decisive moments of inspiration that in hindsight meant all the difference in the make-or-break six months in which the engine was reared from a wild idea into reality and its shocking one-time win. The first one is Ilmor's 'professor' Jeff Williams going against his boss Mario Illien by insisting on his 'softer' valve-train design, which to everyone's amazement suddenly released the mighty engine's power. The second one is the last-minute switch to Delco's Gen-IV ECU, that was said to be unadaptable to the 265E's V angle until Ilmor was told it was actually not that difficult. Again, it was a case of some of Ilmor Engineering's bright minds showing initiative of their own, as Indycar development chief Alexander Hurley and software man 'Dyno Don' Norton involving the software wizards at Ascent Technologies meant an amazing turnaround. The book would be vital study material in a project management and leadership course, but also shows that pure human brilliance, devotion and stubbornness are success factors that still can't be beaten. Sadly, they can't be planned either.
If we say that Gurss talked to everyone, we may name one exception – and I'm not talking about Paul Morgan, who is sadly missed since his fatal aeroplane accident in 2001. Although we do get to hear Mike Devin's often frank and honest views, USAC's technical director (who also cooperated with Mercedosaurus Rex) was mostly the man stuck in the middle in the growing feud between CART and IMS. Although the late decision to render the purpose-built pushrod engine uncompetitive for 1995 and beyond was indeed USAC's, it was surely inspired by the IRL's new regulations, that incidentally also killed off the Greenfield entry and infuriated the Menard team to no end – precisely the grass-roots operations that Tony George said he wanted to propel to the forefront in his new 'American' Indy Racing League.
Even though Tony George's role does feature in the book, the man himself is ostensibly absent in it. Although cast as the evil villain he isn't allowed to take centre stage but remains a brooding character looming darkly in the background. Of course, there is no denying that Tony George is almost singlehandedly responsible for the destruction of American single-seater racing, handing the ball to NASCAR by forcing the split between CART and IRL, but it is still a shame that Gurss so plainly chooses sides in chapter 21, mentioning George's part in the conflict in such judgemental terms. First of all, the reader would like to be the judge of that, and apart from that, his harsh words come as something of a surprise after all those chapters quietly yet thrillingly describing the 265E's developmental stages. Fortunately, chapter 45 summarizing the aftermath of Penske's legendary win shows in more factual terms why George's decision ultimately proved disastrous.
It is one of the book's qualities, though, that we are made well aware of the fact that the 500I was developed during a highly volatile period in Indycar racing – and not just Indycar racing. We are also reminded of the fact that F1's last weekend of tragedy – Roland Ratzenberger and Ayrton Senna getting killed at Imola – took place during the same Month of May that was leading up to Al Unser Jr's famous win. On the other hand, Beast doesn't grant itself as many sidesteps as Henri Greuter does in his magnum opus for 8W. The Greenfield entry is only mentioned in passing, and the Penske drama of 1995 (almost a full reversal of fortunes compared to 1994) can almost be said to have been glossed over. Then again, that's what a book is about – especially one that is meant to be read instead of leafed through. It has to tell a story – one story – to its absolute best, and not attempt at covering every issue. In his acknowledgements Gurss is thankful to Henri – which is very much appreciated – and to his mother as well, but not in the way every other author would like to thank his spouse, parents or children for their support and inspiration. Beast had to pass the rigorous 'mom test', i.e. his mother – well versed in neither motor racing nor technology – had to be able to understand every word, sentence and paragraph Gurss had written. As one who is familiar with both, I can say that Gurss has succeeded. Even the stuff that is self-explanatory to most race fans is insightful and enjoyable to read. A fine accomplishment for a book aimed at both the motor racing anorak and the public at large.
So, in the end Beast and Mercedosaurus Rex prove to be perfectly complementary. Beast tells you the story like no other, Mercedosaurus Rex will make you think about the facts twice.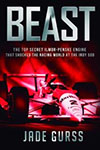 Jade Gurss. Beast. The Top-Secret Ilmor-Penske Engine That Shocked the Racing World at the Indy 500. Octane Press, 2014. ISBN 978-1937747336.
Henri Greuter's post scriptum: Beast contains all the information and stories I could have wished for use in Mercedosaurus Rex. But even if I had had access to them, I would never have been able to do anything like what Jade Gurss managed to do with Beast. Jade Gurrs has proved without a shadow of a doubt that the feelings that I had in 2009 when I started to write Mercedosaurus Rex were right. The story of the Ilmor 265E simply begged to be told in a decent way, because of all the inside stories that were still out there, left to be told. Now it is finally done, and in a manner as convincing and impressive as the subject of the book, the Ilmor 265E, managed to complete its mission.