Mercedosaurus Rex at Indianapolic Park
Part 19: A possible twist of fate for Rahal-Hogan and Penske as a legacy of the 500I
Author
Date
April 29, 2010; updated July 21, 2014
Related articles
March-Alfa Romeo 90CA - Fiasco Italo-Brittanico, by Henri Greuter
March-Porsche 90P - The last oddball at the Indianapolis Motor Speedway, by Henri Greuter
Penske-Mercedes PC23-500I - Mercedosaurus Rex at Indianapolic Park, by Henri Greuter
Who?

Bobby Rahal

What?

Rahal-Hogan Penske-Ilmor PC22

Where?

Indianapolis

When?

1994 Indianapolis 500, Carb Day
Why?
If we use all the misery that befell all Penske-equipped drivers in 1995 in order to take another look at 1994, and also combine some known facts and theories, we end up with a scenario that's entirely different to what could have happened at Indianapolis in 1994. A scenario with some twists of fate for both Team Penske and, in the worst possible case, for Rahal-Hogan Racing. Let's try to envision such a worst-case scenario. And I must point out here that this is very much a case of assuming and guessing, based on what we saw happen and on the knowledge and facts that are known.
Imagine that the Mercedes Benz 500I had never been built for 1994.
Then Unser, Fittipaldi and Tracy then would have driven PC23-Ilmor/D cars.
In that case, the cars wouldn't have suffered from power understeer because of the torque of the 500I engine and have had a better overall balance.
Now we know that the lousy performance of the '95 car was likely mostly because of the setup change inspired by Fittipaldi at the Phoenix test. We can safely assume that such a similar stiff front anti-roll bar setting as was used in 1995 was not on the PC23 cars in 1994.
It remains a matter of doubt whether Johansson in 1995 used a similar kind of setup on his PC23 as on the Team Penske PC24s. I think that the chances are minimal. Now we must keep in mind that it is entirely possible to assume that Team Bettenhausen was unable to extract all potential from their PC23. And regrettably, when Fittipaldi drove the IC108-powered PC23-007 on Monday May 15th, Johansson did not practice either of his Penskes, so we have no direct data to compare Fitti's achievements with PC27-007 and Johansson's efforts. We also don't know for 100% sure whether Fitti used a 1994 setup or that he as well put on the stiffer rollbar settings, but based on the comments by Nigel Bennett I am pretty sure it was indeed on the car. So all we have is Fitti's statement that the car behaved just about the same as the 1995 car, and his top speed of 220.75mph. Johansson's fastest lap was a 226.60 in the 16T on May 12th while in the other car (#16) he achieved a 225.32 on May 13th. Another uncertainty is in how much the track conditions played a part in the speeds that Fittipaldi achieved that Monday, but the day before, Johansson achieved a 220 and a 222 in his two PC23s, about the same as what Fittipaldi did the following day.
Now we know that when the PC24 was tried in November, run with a more conventional setup again, it was faster than it had been in May. All of this makes me believe that Johansson (faster than Fittipaldi in a PC23-IC108) didn't use that Fittipaldi-inspired stiffer front roll-bar setup. And if he had used it, it seems plausible he would have been slower.
In 1995, the PC23s had to use tyres less suited for that than the ones used in 1994.
I instantly admit I may have overlooked a few details and important matters in this equation and that it is actually difficult to estimate how a factory-supported car would have performed in its first year, based on its performance one year later in private hands. But let's assume that for the time my reasoning is still valid enough to continue, and we're going back to 1994.
Now imagine that, as suggested, the PC23 chassis indeed had something of a cornering problem already, not related with the stiffer anti-roll bar settings as inspired by Emmo. And imagine if the PC23s were fitted with the Ilmor/D instead of the 500I. Then it would have lacked the acceleration and top speeds of the PC23-500I, thus being slower than that combination. And, in case of the ultimate 1994 nightmare scenario imaginable: perhaps even not fast enough to qualify that year already!
Should such a feat indeed have been the case, Unser, Fittipaldi and Tracy may well have had some of the same difficulties Unser, Fittipaldi and Johansson had in 1995. But in case of failing PC23-Ilmor/Ds, Team Penske's '94 threesome could have saved face using the year-old PC22's. Although there were only two of those on the Speedway grounds, for sure that a third one could have been rushed out in time, miraculously being admitted as an official entry, and be prepared for the race. Remember that back in 1987 Team Penske had entered PC16-Chevys but managed to quickly replace them with March 86C chassis of which one was fitted with a Cosworth instead of an Ilmor-Chevy.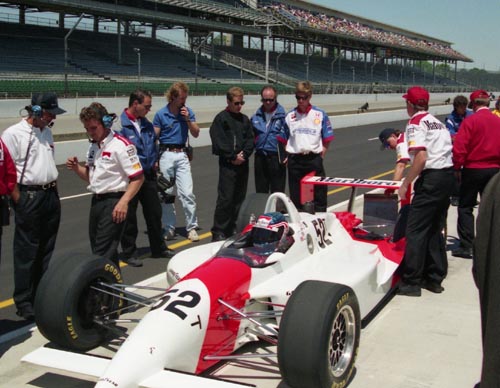 Paul Tracy was the only Team Penske driver who at least briefly drove one of the two entered PC22 backups.
(photo HG)
In 1994 the two available '93 PC22 backup cars were eventually hired by Rahal-Hogan drivers Rahal and Groff to replace their way too slow Lola-Hondas. Remember, Rahal finished third.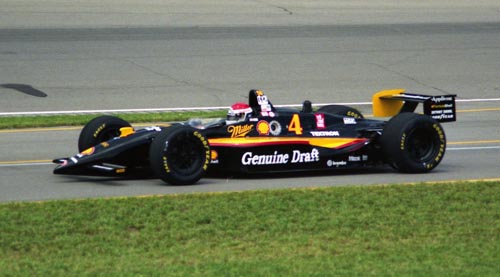 Bobby Rahal on Carb Day 1994, the hired Penske now painted as a twin to his regular Lola-Honda he drove that year. (photo HG)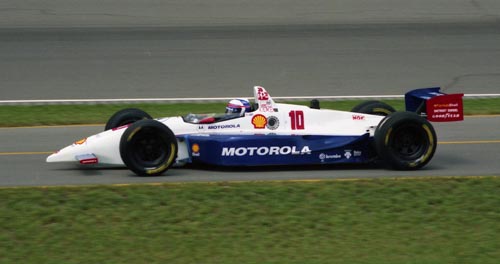 This is how the Penske backup #52 looked on Carb Day '94 (and in the race) with Mike Groff behind the wheel.
(photo HG)
But then, had Penske needed the '93 PC22s for his own drivers because of the failing '94 PC23-Ilmor/Ds, he would have been unable to make those cars available to Rahal and Groff who would have had to look around for other cars!
If the failing '94 PC23-Ilmor/Ds had been replaced by PC22 backups, it would not have made Team Penske certain winners. But Rahal's third place is a strong indication that had Penske drivers been driving them (even if they were forced to) they would have been a force to be reckoned with.
But because of discoveries I did in May 2014 I am pretty certain that such a scenario wouldn't have happened if the PC23s had been Ilmor/D-powered. Maybe they wouldn't have qualified as fast as they eventually did but it is near certain that they would have made the field and been very competitive on Race Day.
The original verdict on the PC23 as published in the initial version of this chapter that was online until mid-2014 was more negative on the car because of the signals that the car might have been less convincing at Indy, if not rather mediocre, if it had been fitted with a regular quadcam V8. Since these signals are false, I must backtrack on my original verdict and that is why that part has been removed in this new and updated version.
If the Penske PC23 had a weakness it was that it was less superior in qualifying trim than it was in race set-up. This is a distinction it shares with one of the most dominant F1 cars ever, the 2002 Ferrari F2002. Juan Pablo Montoya managed to beat Ferrari drivers Michael Schumacher and Rubens Barrichello on a regular basis during qualifying in 2002, but in 15 starts the F2002 only lost a single time, a near similar kind of domination compared to what Penske achieved in 1994 with the PC23.
The Penske domination was helped by the fact that Lola appeared to have made little progress with the '94 car over the '93 car if it came to race day performance. Yet in qualifying at certain tracks it could definitely put up a challenge against the Penskes. And Reynard, impressive as their debut year was, were still new in the CART business and had yet to learn a lot. Their car still had some weak points. With both opponents supplying less than optimal contenders, it left the Penske PC23 as the top contender. Perhaps the domination appeared to be larger because of the fact that the two opponents had either a lesser year or were in their learning year, but so be it.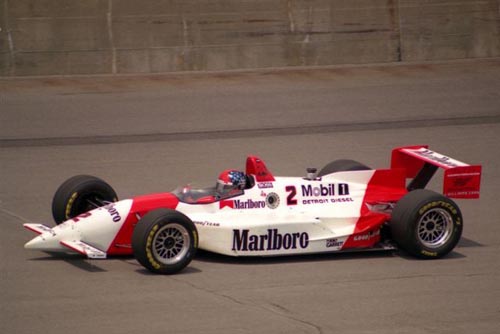 Fittipaldi was the fastest of the three factory Penskes in qualifying at Michigan in 1994. With the much lower Ilmor/D engine in the back the superspeedway version of the PC23 looks more elegant. (photo by Mark Windecker, used with permission)
The '95 PC24-IC108 was a lousy performer at Indianapolis but nearly won Michigan. Which indicates that a bad car at Indianapolis isn't necessarily bad at Michigan too. Or that a car that runs well at Michigan will do well at Indianapolis too!
In addition to all this, the 1995 Lola was a major improvement on the '94 car, enabling the company to make up lost ground again. Reynard used the experiences gained in 1994 to make their 1995 car a much improved contender. The 1995 Penske had been improved less over its 1994 predecessor. Therefore the three 1995 chassis were much more equal to their opponents than their 1994 predecessors had been. Each one had its own strong points that made it the best choice for certain tracks while on other tracks the other cars performed better. For the Penske it meant that at Indianapolis it had to bite the dust.
For quite some time I believed there were reasons enough for the possibility that if the PC23s had used Ilmor/D engines at Indy, they could have been mediocre performers, if not actual failures. I won't exclude that option entirely but I do rate the chances of such a thing to have happened as highly unlikely. Most of all because there is enough evidence provided by post-500 tests that the PC23-Ilmor/D did work at the Speedway, secondly because several factors contributing to the Penskes' downfall at the Speedway in 1995 weren't there yet in 1994.
USAC technical director Mike Devin for example, had an entirely different opinion about what a '94 PC23-Ilmor/D could have achieved on the Speedway. He believed such a car would have been much more balanced and potentially more dominant then the PC23-500I eventually was.
Nigel Beresford commented on this subject that he not necessarily believed that the PC23-Ilmor/D would have struggled at Indy either. The balance of such a car would have been much better compared to the PC23-500I with its 500I torque-induced powersteer.
The "1994 Penske Worst Nightmare Scenario" I presented at the beginning of this chapter is highly unlikely to have happened. Though I think that, had it indeed taken place, it would have created quite a story too, as did the eventual events of 1994.
Fast at Michigan, failure at Indianapolis: déjà vu experiences for Penske
A decent Michigan performer could be a so-so entry at Indianapolis. That had been proven by Penske themselves already in 1992. The PC21-Ilmor/B of that year was qualified at Indianapolis by Fittipaldi and Mears. But neither of them shone in practice or qualifying. As already mentioned in the introduction of the 1994 PC23, the 1992 type PC21-Ilmor/B was very much the end of the line for a generation of cars that all found their roots in the basic design of the 1988-type PC17.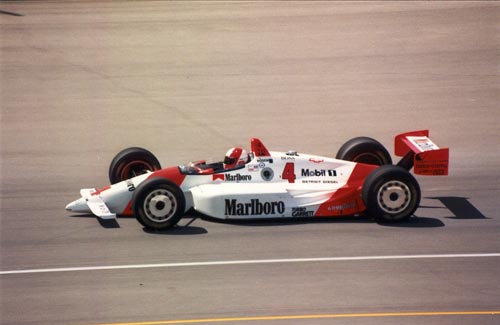 Little did we know in 1992 that Rick Mears was to drive his last ever "500", using this Penske PC21-Chevy/B. Nigel Beresford was Rick's engineer that year. (photo courtesy Bill Ashby, used with permission)
Both Fittipaldi and Mears were eliminated from the race too early to make a decent conclusion about their victory chances, but at the time of elimination they were no contenders for the lead positions. Also, in practice they had appeared less dominant than the Penske cars of recent years. Later on in the year however Paul Tracy, driving the so-so Indianapolis contender PC21-Ilmor/B, gave Scott Goodyear quite a handful in the fight for victory in the Michigan 500.
Nigel Beresford recalled about this race that it effectively was one which the team had given away. Tracy suffered from too much understeer in the final phase of the race to overtake Goodyear. Nigel Bennett had advised to add a touch of front wing during the final pit stop but this advice was ignored.
Now it must be remembered that the PC21-Ilmor/B was a fairly decent car: it took a double victory in its debut race (Australia) and Fittipaldi won four races that season. Yet reliability was a bit troublesome so Emerson finished fourth in the season standings. Second driver Rick Mears got injured and was forced to sit out most of the final part of the season, being replaced by Paul Tracy, initially the third driver of the team.
In 1993 however, four PC21-Ilmor/Bs appeared at Indianapolis, driven by Eddie Cheever and Mark Smith, each driver having two cars at their disposal. Both men qualified their primary mounts with shaky speeds, got bumped, qualified their backups and were bumped again!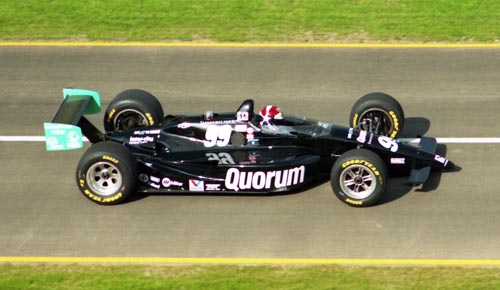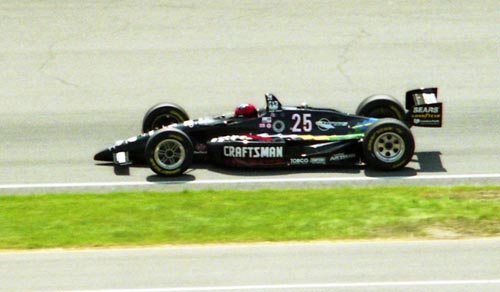 Two of the four PC21s entered in 1993, the 99 is Eddie Cheever in one of his two cars, the 25 is one of Mark Smith's cars. The year before all PC21s entered were primarily white, this year they were primarily black. (photos HG)
Later on in the year Mark Smith scored some decent qualifying positions with his PC21 but no impressive finishes. It did prove however that the PC21 did not like Indianapolis very much for whatever reason. But Penske knew it and the '93 replacement was a much better car at Indianapolis, Fittipaldi not dominant all month but there all the time and ready to pounce when it really mattered.
Penske wasn't the only one who had this "Indianapolis so-so, Michigan quite-a-go" happen in 1992 by the way. The Truesports chassis, driven by Scott Pruett, didn't set the world on fire at Indianapolis in 1992 either, even though Pruett qualified it for the race.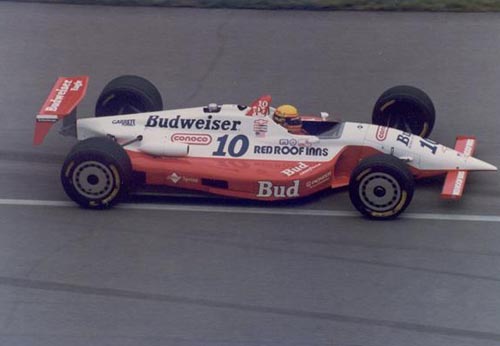 The 1992 Truesports-Chevy was looking distinctively different from any other car entered that year. Would it have been a better car had it looked more conventional? (photo courtesy John Darlington, used with permission)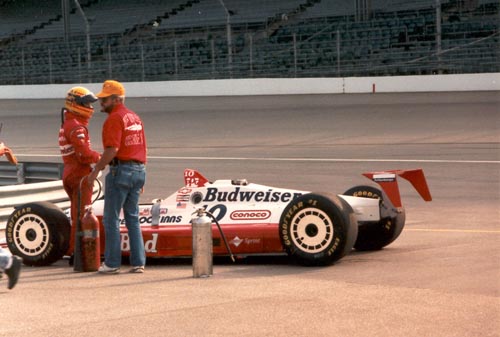 No full car visible but another look on the unusual rear end of the Truesports.
(photo courtesy Bill Ashby, used with permission)
He was however an early retirement (engine failure) so the car never got the chance to show its true potential in the race. Thus the theory can't be excluded that the car in race trim on Race Day was a better car then its practice and qualifying performances suggest. At Michigan however, Pruett qualified 11th and finished 5th. But renaming the chassis in R/H 001 (Rahal/Hogan) and fitting it with the latest Ilmor/C engine didn't help Bobby Rahal at all at Indianapolis one year later, and he failed to qualify!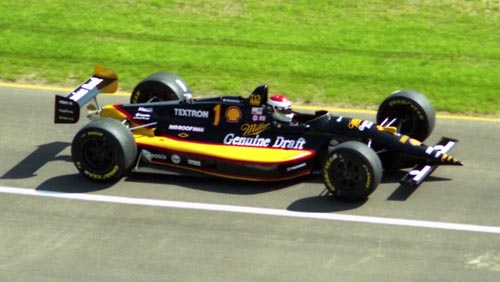 In 1992 this was a Truesports 92 with Chevy A engine. One year later it was renamed R/H 001 and powered by a Chevy C engine. This is the actual car that Bobby Rahal qualified in the field in the first qualifying weekend but got bumped with. (photo HG)
Irrelevant and not of any significance but there is a very curious detail about the '92 Penske PC21 and the Truesport 92C. The cars shared a number of facts in performance records and statistics but there was something else the cars shared.
In 1992 the Truesports colors had been primarily white with red as a secondary color, just like the '92 Penskes had been. And, just like the '92 type Penskes entered for Cheever and Smith, in 1993 the primary color of the Truesports car, now called R/H was black! Coincidence of course, curious nonetheless.
And so, after all the 1995 events, and with all this additional knowledge, time to renew our conclusions and opinions about the Penske PC23 and the "Mercedosaurus Benz".